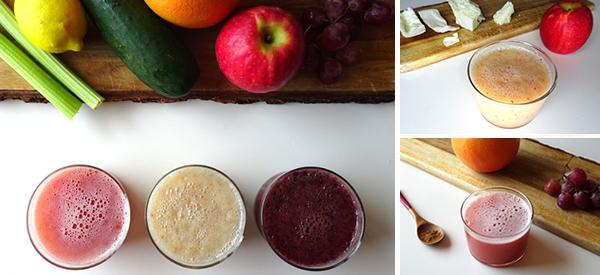 Juice Recipes For Weight Loss
If you're looking for some juice recipes to help with weight loss, there are some wonderful ingredients that can help. When trying to lose weight, it's important to still include a balanced and nutritious diet. That means eating a wide variety of foods so you get all the nutrients your body needs and not following a fad diet of eating 1 type of fruit or vegetable for 2 weeks (for example). You'll end up tired and cranky and it's difficult to follow such a strict regiment and easy to fall back into old habits after the "diet".
As well as eating healthily exercise should always play an important role in any weight loss program.
I'm going to show you how to make 3 juice recipes that are great for weight loss:
Grapefruit, grapes & cinnamon
Cabbage, apple, ginseng & apple cider vinegar
Lemon, cucumber, ginger, celery & blueberries
Let's look at how the ingredients can help with weight loss first and then how to make the juices.
How These Juices Help With Weight Loss
Before delving into the individual ingredients, it's worth pointing out that all of these recipes contain water. The humble water is essential for weight loss because it helps to burn more calories and to suppress your appetite too by making you feel full. Drinking plenty of water during the day is a cheap, easy, and healthy way to boost weight loss.
The first juice calls for grapefruit, grapes, and cinnamon. Here is how these ingredients promote weight loss:
Grapefruit – is known for having enzymes that help burn fat. Chemical properties in grapefruit also reduce insulin levels and encourage weight loss.
Grapes – full of resveratrol and other phytochemicals they help to stimulate fat breakdown and inhibit new fat cells from forming.
Cinnamon – decreases blood sugar levels which is a key factor in weight loss. It also boosts your metabolism because it takes more energy to process cinnamon than other foods. It's also full of fiber so you will stay fuller for longer and less likely to crave food again so quickly.
The second juice calls for cabbage, apple, ginseng, and apple cider vinegar. Here is how these ingredients promote weight loss: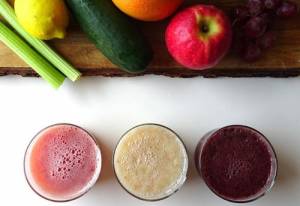 Cabbage – low in calories and fat but high in fiber, cabbage has long been used in weight loss routines.
Apple – with a low glycemic index they help to keep hunger at bay longer. They are also high in fiber which will help to keep you full.
Ginseng – has properties that help convert fat into energy by altering gut bacteria in a positive way.
Apple cider vinegar – very low in calories, it also contains acetic acid which improves your metabolism, reduces fat storage, and lowers blood sugar levels.
The third juice calls for lemon, cucumber, ginger, celery, and blueberries. Here is how these ingredients promote weight loss: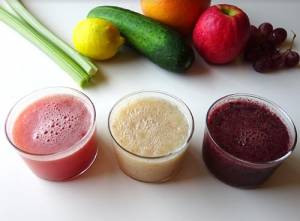 Lemon – has diuretic properties which help detoxify the body and burn fat.
Cucumber – high in water content and fiber, it's also low in calories.
Ginger – helps to stimulate digestion and also suppresses your appetite.
Celery – is mostly water and low in calories with just 10 calories in 1 large stick. Being a high fiber food it also keeps you full for longer.
Blueberries – have properties that can influence genes that regulate fat storage and fat burning, which can help to reduce belly fat.
On top of the weight loss benefits these ingredients provide, all of them have a plethora of other health benefits. Including them in your diet as a juice is a quick and easy way to consume multiple at once.
How To Make 3 Great Juice Recipes For Weight Loss
I recommend making these juices with a blender rather than a juicer. That way you will get all of the fiber from the fruits and vegetables which will keep you feeling fuller for longer. Of course, you're also welcome to use a juicer as you'll still benefit from the other weight-loss advantages of the ingredients and get some of the fiber.
Utensils
Blender
Chopping board
Sharp knife
Hand juicer (for the citrus fruits)
1. Grapefruit, Grapes & Cinnamon Juice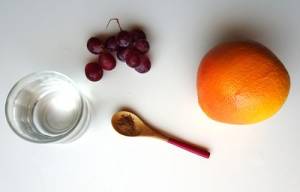 This juice has 101 calories per serving and the quantities below are for 1 person.
Ingredients
½ Teaspoon of cinnamon powder
1 Grapefruit
10 Red or green grapes
1 Cup of water
Method
Wash 10 grapes and add them to your blender.
Squeeze 1 grapefruit and add the juice to the blender.
Add ½ teaspoon of cinnamon and 1 cup of water and blend until smooth.
2. Cabbage, Apple, Ginseng & Apple Cider Vinegar
This juice has 155 calories per serving and the quantities below are for 1 person.
Ingredients
5 Ounces of cabbage
1 Red or green apple
1 Dropper (1ml) of ginseng
1 Tablespoon of apple cider vinegar
1 ½ cups of water
Method
Peel the outer layers of your cabbage off and wash the rest well under running water. Cut 5 ounces into fine chunks.
Wash 1 apple and cut it into small chunks, discarding the core and seeds. Add the cabbage and apple pieces to the blender.
Add 1 dropper of Ginseng, 1 tablespoon of apple cider vinegar, and 1 ½ cups of water.
Blend until everything is mixed. This juice is quite chunky so feel free to add more water if you'd rather have a thinner juice and continue to blend until you have your preferred consistency.
3. Lemon, Cucumber, Ginger, Celery & Blueberries
This juice has 122 calories per serving and the quantities below are for 1 person.
Ingredients
1 small lemon
3 Inches of cucumber
1 small knob of ginger (maximum 2 grams / 1 teaspoon of finely chopped ginger)
2 Celery sticks/ribs
5 Ounces of blueberries
1 Cup of water
Method
Wash 1 cucumber and cut 3 inches off it and further cut this piece into smaller chunks.
Peel and dice 1 small knob of ginger.
Take 2 celery sticks/ribs and wash these and cut them lengthways and then into smaller pieces.
Cut 1 small lemon in half and squeeze the juice from it.
Wash 4.5 ounces of fresh blueberries (or you can use frozen).
Add everything to your blender with 1 cup of water and blend until smooth.
You can drink each of these juices up to one time per day. You could have one of each of them per day if you wish. Feel free to add ice if you prefer a colder drink, just make sure to drink your juice as soon as possible after making it to benefit from all of the nutrients as much as you can.
You may also like:
How to Make A Weight Loss Tonic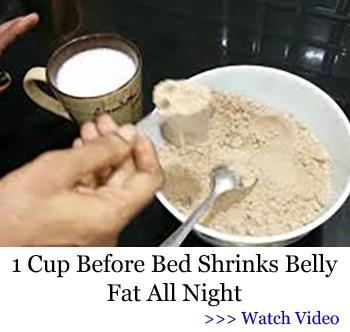 Add This "Unusual Nutrient" to Coffee or Tea, to Effortlessly and Fully Empty Your Bowels Every Single Morning (Video)
How To Make A Fat-Burning Tincture