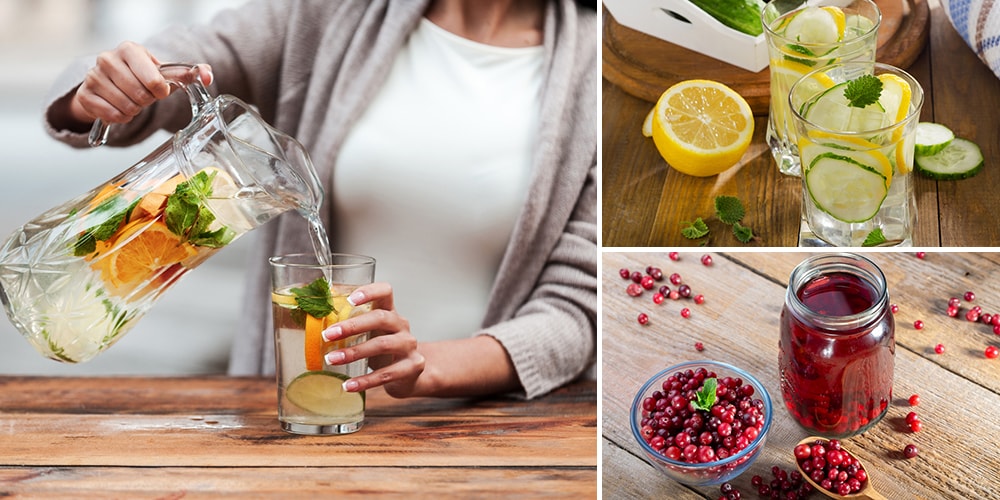 7-Day Drinks Plan for Complete Detox
Detoxifying is cleansing the body from the toxins that build up in the system. Toxin build-up may stem from food, pollutants, heavy metals and synthetic chemicals generated from unhealthy lifestyles. Toxins contaminate the body and may attack the organs and cause diseases.
Cleansing the body from the inside is challenging. The products that you use and marketed as "detox" may or may not work. Your best bet is organic and uncontaminated products with high antioxidant properties that flush away toxins.
Water, juice, herbal teas and smoothies combined with powerful herbs can eliminate toxins in the body. Infused water is one of the healthiest and easy-to-make drinks you can prepare at home. Simply mix water with herbs or fruits, or a combination of both.
Why Detoxify?
Detox or cleansing diets are popularly believed to clean the body from toxins. Consequently, it promises to promote weight loss and boost overall health and wellness. A good cleansing program can help manage blood sugar, blood pressure and even prevent cancer. It also reflects in your skin, digestive and lung health, and improves neurodegenerative diseases.
Detox drinks work with the liver and kidney, the organs that mainly handle metabolic wastes.
The body has a natural process of eliminating waste. Waste elimination is most effective if you have healthy and fully-functioning organs. Taking detox drinks rich in antioxidants optimizes the cleansing process for a better result.
Antioxidants
Antioxidants are the compounds that inhibit oxidation in the body. They bind with the toxins and free radicals and flush them away from the system. Without the accumulation of free radicals, the exposure to toxins is reduced and prevents oxidative damage to the cells.
7-Day Detox Drink Recipes
If you are looking for a simple, safe and easy way of internal body cleansing, here is a week-long detoxifying drink plan to try. You can take them anytime during the day but it is best and most effective on an empty stomach in the morning.
Day 1: Cucumber and Lemon

Ingredients: ½ cucumber, 1 lemon, 8 cups cold water, sprigs of mint.
Thinly slice the cucumber and cut the lemon into wedges.
Put them in a pitcher and slightly mush them to release their juices.
Add cold water and mint and refrigerate for an hour before serving.
Drink the detox water throughout the day.
An infusion of cucumber and lemon is like giving your body an internal shower. Cucumber (Cucumis sativus) is made up of about 96% water that rehydrates and inhibits cancer cells. It improves the functions of the kidney for effectively flushing body waste.
Lemon (Citrus limonum) is an alkaline and tonic fruit that builds immune resistance against pathogens. It detoxifies the blood and affects the skin's health for a brighter glow. This detox drink is low-calorie and also aids in weight loss.
Day 2: Green Tea and Lemon

Ingredients: 1 tea bag of green tea, ¼ lemon, boiling water.
Place the green tea in a cup and add boiling water.
Squeeze the juice out of the lemon over the tea.
Drink the tea while it is still hot. You may add stevia or honey if desired.
Green tea and lemon are a powerful combination that effectively detoxifies the body. Green tea is a well-known detoxicant and liver tonic with excellent antioxidant properties. It also hydrates the body and fights stress and infections.
Day 3: Turmeric and Black Pepper

Ingredients: 1 tsp turmeric powder, ½ tsp black pepper, 1 tsp coconut oil, 1 cup water, ½ lemon
Mix turmeric, black pepper and coconut oil in a cup and add warm water.
Mix well and squeeze in lemon juice. To improve the taste, you can also add some ginger and mint.
Turmeric is a powerful detoxicant that can help treat most known health maladies. It is rich in antioxidants that effectively get rid of contaminants from the body. Black pepper is a synergistic spice that increases the absorption of turmeric and imparts its own healing properties. It is also a good metabolic booster which makes this a super-effective detox beverage.
Day 4: Cumin Seeds Detox Water
Ingredients: ½ tsp cumin seeds, 1 cup water, honey, to taste
Soak cumin seeds in water overnight.
Drain the water into a cup. Stir in honey to sweeten. You can also add lemon juice or basil if you like.
Take cumin seeds detox water before breakfast to manage digestive symptoms and cleanse the body. Cumin (Cuminum cyminum) is a spice effectively consumed for digestive problems. It is a potent diuretic with antioxidant properties that also aids in body detoxification. Cumin is rich in iron which increases red blood cells to easily transport blood throughout the body.
Day 5: Beetroot, Cucumber and Mint Smoothie
Ingredients: 1 beetroot, ½ cucumber, a handful of mint, a pinch of salt
Wash and cut the beetroot into cubes and put them in a blender.
Add in the cucumber, mint leaves and salt and blend until smooth.
Beetroot (Beta vulgaris) is a blood tonic that purifies the blood and detoxifies the liver. It is extremely useful against alkalosis – a condition when too much bicarbonate pools up in the blood.
Beetroot combines well with mint and cucumber to cleanse the body and bring back its balance. They also aid the kidney and remove impurities to boost its function by properly eliminating toxic substances.
⇒ Vegetables That You Can Stockpile Without Refrigeration For A Full Year (Video)
Day 6: Apple, Ginger, Kiwi and Spinach Smoothie
Ingredients: 1 green apple, 2 pcs 1-inch ginger, 1 kiwi, 1 cup spinach, 1 cup water, crushed ice, cinnamon powder.
Core and slice the apple and kiwi into cubes.
Cut ginger into pieces.
Put all the ingredients except cinnamon in a blender and blend until smooth. Adjust the consistency by adding more water if you like. You may also use unsweetened milk instead of water.
Pour into a glass and top with cinnamon.
Both ginger and apple are known for keeping illnesses at bay. Ginger is a detoxicant, tonic and anti-inflammatory herb that cleanses the liver and blood. Meanwhile, apples are rich in vitamins and minerals, phytochemicals and antioxidants. Combine these properties with the anti-anemic and anti-aging properties of spinach and you can enjoy a refreshing detox smoothie.
You can choose to vary the topping with the spices that you like instead of cinnamon. You can try chia seeds, nuts and berries of your choice to boost the healing property and improve the taste.
Day 7: Cranberry and Apple Cider Vinegar

Ingredients: 1/8 cup unsweetened cranberry juice, 1 tbsp unfiltered apple cider vinegar, 1 cup water, juice of ½ orange, crushed ice, lemon wedge or mint leaves
Mix all ingredients in a glass until well combined.
Top with crushed ice and garnish with lemon wedges or mint.
Cranberry is a superfood packed with antioxidants, vitamin C and anthocyanins. It is a popular remedy for urinary tract infections for its effective anti-bacterial and detoxification properties. Cranberries also improve blood flow to prevent plaque deposition and reduce inflammation.
Unfiltered apple cider vinegar contains good gut bacteria with enzymes and minerals useful for both internal and external detoxification. When taken internally, apple cider helps remove heavy metal contaminants in the body and improve the gut and immune functions.
Finish your seven-day detox plan with this super effective beverage to thoroughly eliminate body impurities.
Takeaway
Choosing organic is the basic requirement in detox. It ensures that the product is free of pesticides and contaminants – the main causes of sludge waste in the body.
Many other fruits, herbs and spices are effective in detox due to their antioxidant properties. They cleanse the bladder, flush the liver, reduce inflammation and rejuvenate the mind.
But to completely cleanse the body, drinks need to be supplemented with a healthy lifestyle. Eat a balanced diet, get physically active, get more sleep and reduce your intake of processed foods and alcohol.