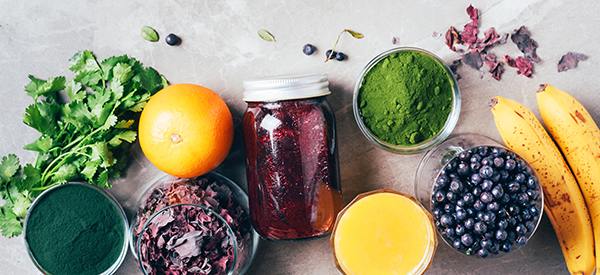 Foods and Herbs For Heavy Metal Detox
Many aspects of this modern life can make us feel sluggish and fatigued and suffer from a few or many chronic conditions.
Suppose you lead a relatively clean lifestyle where you eat the right foods and look after yourself holistically. In that case, you might be surprised when you start to display symptoms that lead you to believe there is something medically astray.
In almost every way of life, you will find a high level of toxicity. While much of this toxicity can be avoided or eliminated through exercise, healthy eating, and good living processes, a group of toxins can accumulate in your body over time and create some very worrying symptoms.
Heavy metal toxicity is a significant threat to our health and well-being.
Mercury, aluminum, copper, cadmium, nickel, and lead are just some metals we have toxic exposures to already. Heavy metal accumulation is one of the most significant threats to our overall health.
Over time, heavy metals can oxidize and cause damage to surrounding tissues. When this happens, inflammation may occur as a result.
Heavy metal toxicity is a common condition, but it is not commonly diagnosed. This makes heavy metal toxicity an elusive character that hides within our bodies, never revealing itself unless you are actively looking for it.
So how do we naturally eradicate heavy metal toxicity to ensure we are as healthy as can be?
Let's look at some powerful herbs and spices that can help cleanse and eliminate some of the heavy metal build-ups in our bodies.
Basil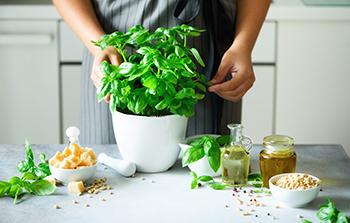 Basil is an excellent way for your body to protect against toxins that enter it by increasing the levels of antioxidant enzymes. Superoxide dismutase (SOD) and catalase are two types of antioxidants you can find in basil.
Basil protects your body from damage caused by toxins, which is why it's included in a heavy metal detox.
However, there are also various other benefits to taking basil daily as part of your regimen: it helps create more efficient liver enzymes.
It will eliminate those harmful substances from the body safely, which can be toxic due to their overproduction or because they have been accumulated for an extended period.
Here is the best way to include basil in your diet to assist in cleansing metals:
Easy Pesto Recipe

85g fresh basil leaves
250ml olive oil
80g grated Parmesan cheese
70g pine nuts
2 cloves garlic, crushed
1 teaspoon salt
1 pinch of nutmeg
Place basil, olive oil, Parmesan cheese, pine nuts, garlic, salt, and nutmeg into a liquidizer. Blend until smooth.
Cilantro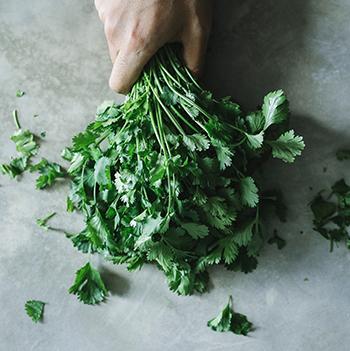 Cilantro is a fresh herb related to parsley, and both have a savory flavor.
Cilantro also has very high levels of beneficial antioxidants, which may support the removal of toxins in your body.
Cilantro helps you flush out heavy metals like mercury while supporting the excretion of lead via the kidneys.
A fresh Cilantro salad is the best way to incorporate this beautiful herb into your diet.
Fresh Cilantro Salad
1 Cucumber
1 red and yellow bell pepper
Fresh cilantro
Black pepper
Lime juice
Extra virgin olive oil
Directions
Dice or slice the cucumber.
Dice the bell peppers and add to the cucumber
Roughly chop the cilantro and add to the cucumber and pepper; proceed to the season with salt and pepper.
Emulsify the liquid elements of the lime juice with the olive oil, generously season.
Combine the dressing with the salad and accompany with fresh trout or salmon.
Garlic
Garlic has been proven to have detoxifying properties.
Garlic oil is a sulfur-containing compound that can help support heavy metal detoxification.
It works by amplifying and speeding up the function of metabolizing liver cells, which are responsible for processing the harmful chemicals in our bodies.
Once the harmful metals have been caught up during the liver's clever metabolization, they can be flushed from the body permanently.
Garlic is such as versatile ingredient.
It can give value and detoxification properties to most dishes, but this is one we love.
Wild Rice with Roasted Shallots and Garlic
3 cloves of garlic
4 whole shallots, peeled, sliced in half
2 cups homemade or low-sodium chicken stock
1 cup wild rice, rinsed well
1⁄2 tsp salt
1 tsp dried thyme
Directions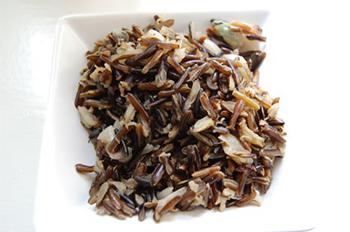 Preheat an oven and place the garlic and shallots in a roasting pan and cook until soft and golden in color.
Remove from the oven and set aside until they are cool enough to handle and roughly chop.
Bring your stock to a boil and add the rice with salt, and your thyme.
Bring back to a boil, cover, and transfer the pan to your oven.
Cook further until rice begins to split and is tender (45 to 50 minutes.)
Stir the roasted shallot mixture together with the rice and serve warm.
Garlic Confit. Spread on a piece of bread or toast and add some freshly ground black pepper and a pinch of salt. Mash into a vinaigrette. Mash into the pan juices after cooking meat or vegetables. Work into softened cheese for a spread or pasta topping. The ways to incorporate garlic into your diet can be endless.
Parsley
Parsley is an excellent source of antioxidant compounds that helps clear out toxins and heavy metals from your body.
It also has a diuretic effect that supports the detox process, helping eliminate toxins via the urinary system.
Parsley can be helpful in supporting healthy kidney function during this period as well.
For quick and detoxification dishes, we love this one:
Egg and parsley salad with watercress dressing

6 fresh and free-range eggs
small bunch of parsley leaves, freshly picked
1 medium shallot, peeled and sliced into very thin rings
½ tsp dried chili flakes
For the watercress dressing
70g watercress
75ml olive oil
Bring a pot of generously salted water to a rolling boil and boil the eggs whole for 9 mins. Drain, cool, peel, and halve.
Blend the watercress and oil together with a pinch of salt and set aside.
Mix the chili flakes with some flaky salt and set them aside. Everything can be prepared the day before eating it and chilled.
Scatter the eggs with the parsley and shallots, then drizzle everything with the watercress oil and do a final season with the chili salt.
Rosemary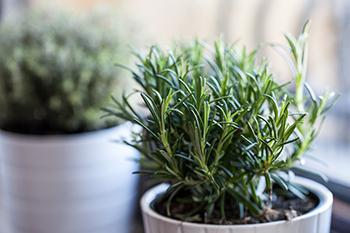 Rosemary has been known to help support the detoxification process.
It helps excrete bile, which is a fluid that comes from the liver and gallbladder of animals. It is deemed as a cholagogue herb for this reason.
The toxins are then removed through feces or urine- both natural ways they can be eliminated from your body.
Again, Rosemary is one of those incredibly versatile herbs that add so much flavor and cleansing to most savory dishes; however, we love rosemary tea, and here's how to make it!
Rosemary Tea

Boil a pot of water
Add 2 sprigs of fresh Rosemary.
Fill up a pot with the boiling water and allow to steep for 5 minutes.
Add a touch of agave and squeeze lemon juice from 1 wedge of lemon.
This is required to get the best flavor as the Rosemary may be too overpowering.
Other Foods to eat
Some foods can help you detoxify by getting rid of heavy metals from your body. These foods bind to the metals and remove them in the digestive process. Eating foods high in vitamins and minerals can have protective effects for those exposed to heavy metals.
Heavy metal detox foods to eat include:
oranges
grapefruit
kale
red pepper
beets
barley grass juice powder
atlantic dulse
curry
tomatoes
Also, if you aren't getting the recommended daily intake of vitamins, consider taking supplements. Vitamin B, B-6, and C deficiencies are associated with poor tolerance of heavy metals and easier toxicity. Vitamin C has been reported to have chelating effects on iron.
Heavy metal detox is something that can be really simple to do with the inclusion of herbs and spices in your food. The ones we have indicated here are some of the best that taste great and have some excellent antioxidant properties.
You may also like: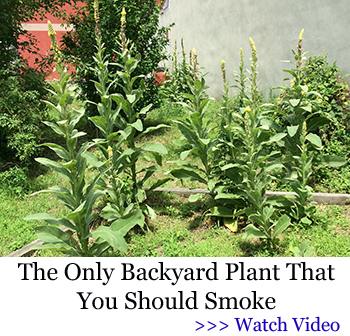 How To Protect Yourself Against Radiation With These 5 Herbs
The Forgotten Shelf Stable Food You Need for Healthy and Vital Fats (Video)
DIY Colon Detox with Ingredients You Have in Your Kitchen Right Now
Homemade White Cell Boosting Juice