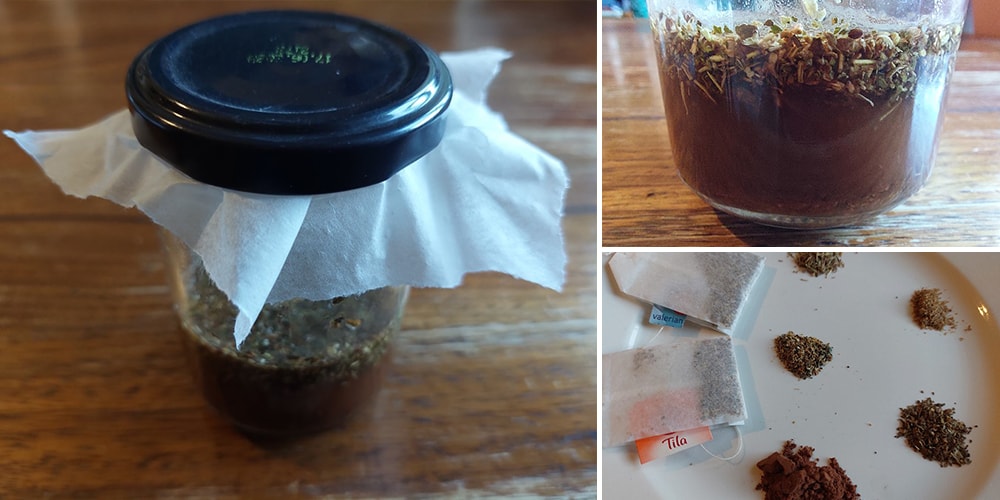 Natural Sedative for Anxiety and Panic Attacks
There is an abundance of natural, alternative therapies and remedies for reducing anxiety and panic attacks: aromatherapy, meditation, breathing exercises, massage and of course, plant extracts. This article is a summary of some of the plants you can use to calm anxiety and how to best extract them for the most effective results. Obviously, this is not a complete list, but a good start on some common plants that you may find in your area or maybe even grow in your own garden.
There are many ways to extract beneficial compounds from plants; oil, alcohol, vinegar, water and glycerin. Many of the plant compounds used for treating anxiety are either water or alcohol soluble, but research shows that magnesium is important for treating anxiety. For this reason, today's remedy for a natural sedative involves vinegar extraction, since minerals don't extract into alcohol.
Plants for a Vinegar-Based Sedative
Technically all plants contain some magnesium, but cocoa powder (Theobroma cacao) takes the prize, so try adding a teaspoon into your vinegar tincture.
The leaves of Creeping primrose-willow (Ludwigia repens) produce a sedative effect in mice that is comparable to Diazepam. This popular aquarium plant can be found naturally in US waterways.
Cramp bark (Vibernum opulus) is a well-known uterine anti-spasmolytic, but it can also be used as a general muscle relaxant and sedative. It is a popular hedge plant so it's common in many gardens.
Research on Holy basil (Ocimum tenuiflorum) shows that the alcoholic extract is a reliable treatment for stress and anxiety and can produce an effect similar to Diazepam and fluoxetine, but a vinegar extract of holy basil will contain more minerals such as magnesium. When kept indoors, it will grow all year.
Valerian root (Valeriana officinalis) reduces anxiety and can improve sleep quality. There is some degree of conflict in the research about whether valerian is also a sedative or not, but studies on mice show it might reduce anxiety without making you feel tired. It's possible to brew valerian root tea, but a vinegar tincture is more effective.
St John's wort (Hypericum perforatum) is an accepted treatment for anxiety and depression in many countries due to the compound hyperforin and other flavonoids present in it. It can be prepared as a tea or a vinegar tincture. St John's wort grows all over the world and is considered a weed in many countries so it shouldn't be too difficult to find in open fields.
Passionflower (Passiflora sp.) has a mild sedative and anti-anxiety effect which can be enhanced by combining it with valerian root. Brewing tea is the easiest way, but a vinegar tincture is also effective. Passionfruit vines need protection from cold weather.
Linden or basswood (Tilia sp.) flowers contain flavonoids that have a sedative effect. You can brew tea or make a vinegar tincture. Tilia trees are quite large, but they are often planted in public spaces and found naturally across the northern hemisphere.
⇒ Better Than Spinach: The Plant You Should Look for If You're Always Tired (Video)
Natural Sedative Recipe
Ingredients

Those who can't grow their own sedative plants should look in the tea aisle in your local supermarket. Many brands sell tea blends that contain some of the above-mentioned plants which can be used to make your vinegar tincture.
And don't stress if there are a couple of extra ingredients in your chosen tea blend; for example, I found a valerian tea that also contains passionflowers, mint and sage, which I will use for this remedy.
Method
Take about half a teaspoon of each of the above-mentioned plants (fresh or dry) and place them in a small glass jar, preferably one with a plastic lid. I'm using a combination of teabags and dried herbs.
Fill the jar with vinegar so that you have roughly twice as much vinegar as herbs.
Put the lid on tight and place in the fridge for 2 weeks. Give the jar a shake every other day. If you're using a jar with a metal lid, protect it from corrosion by placing a piece of baking paper under the lid.
Strain your vinegar tincture and it's ready to use.
Storage: Vinegar-based tinctures are recommended to be refrigerated, and can last up to a year. They can also be stored in a cool, dark cupboard.
Dosage: Shake the jar and take 15 drops of vinegar tincture either every day or when needed.
Conclusion
In stressful times, it's good to know that there are some common plants that can be easily foraged or grown to make a natural sedative. And if not, you can still use teabags to make a simple vinegar tincture to help you manage your anxiety and reduce the occurrence of panic attacks.