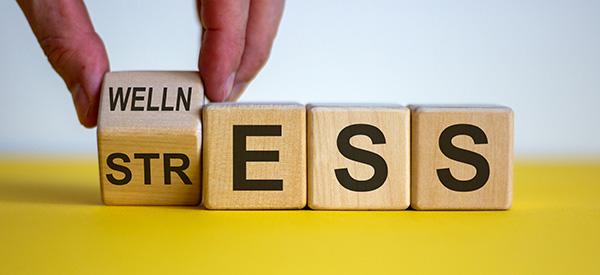 The Key to Handling Stress
Stress is part of modern life. From minor issues like a boss who keeps calling after hours to a major crisis like the pandemic, there's always something that worries us and disturbs our equilibrium. In some cases, the stress we feel can be so intense that it causes illness, reduces productivity, and can even lead to conditions like post-traumatic stress disorder.
While you can't always control your circumstances and world events, you can manage how you respond to them. Stress-induced physical and mental illness should always be assessed by a healthcare professional, but there are steps you can take to nourish your body, calm your mind, and prevent stress from taking more of a toll on your wellbeing.
Foods to Help Combat Stress
Stress can be exacerbated by a poor diet. Consuming high-fat, sugary foods can provide a temporary sense of relief (a phenomenon known as emotional eating) but the subsequent impact on your health may add to your stress levels over the long term. If you consume a lot of refined carbs, like potato chips and cookies, your blood sugar can spike, only to crash later and lead to more anxiety.
Over time, consuming a healthy diet can help you combat stress. Let's take a closer look at some foods that can improve your energy and better regulate your mood.
Dark Chocolate
According to this study, eating up to 30 grams per day of dark chocolate with 85% cocoa can improve mood and lower stress. This outcome may be due to its high amount of tryptophan, which the body uses to create serotonin. To avoid taking in too much fat or sugar, this article recommends a maximum daily intake of no more than 60 grams.
Bananas

Bananas contain the amino acid tryptophan along with vitamins A, B6, and C, fiber, potassium, phosphorus, iron, and carbohydrate. Carbohydrates aid in the absorption of tryptophan in the brain, while vitamin B6 converts it into the mood-lifting hormone serotonin. If you don't eat bananas regularly, try eating one as a daily snack or slicing it onto your cereal in the morning.
Whole Grain Rice
Consuming carbohydrates releases serotonin. Because they take longer to digest, complex carbohydrates reduce stress levels better than simple carbohydrates. Regular consumption of whole grain rice helps to control your blood sugar levels and provides a steady flow of serotonin throughout the day.
Spinach
B vitamin deficiencies have been linked to depression, as low B vitamin levels can inhibit the production of serotonin. Folate, vitamins B3, B6, and B12 are among the most important B vitamins, and eating leafy green vegetables like spinach can help to keep your levels up and manage stress more effectively. A cup of cooked spinach provides nearly 30% of your recommended daily allowance of key B vitamins, so you should eat a spinach salad for lunch or add the greens to stir-fries and soups.
Herbal Remedies That Boost Your Mood
Try herbal support. Sometimes we need a little extra help, especially if we are facing a particularly stressful life event. Herbal remedies are a gentle and effective way to brighten your outlook and soothe your spirit. Dr .Nicole's favorite calming and adaptogenic herbs include: Ashwagandha, Lemon Balm, Lion's Mane Mushroom, and Reishi Mushroom, which you can find in the Anxiety & Stress Tincture.
Herbs can offer a range of health benefits, including reducing stress and anxiety. Other stress-related illnesses, such as insomnia, depression, cardiovascular disease, and gastrointestinal problems, can also be treated with appropriate remedies.
Valerian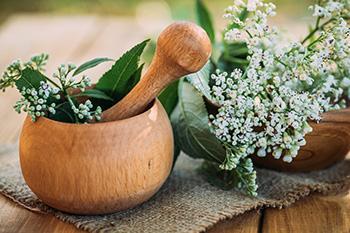 Valerian root (Valeriana officinalis)is commonly used to treat insomnia and anxiety. Native to Europe and Asia, this plant contains analgesic, antibacterial, antispasmodic, and sedative properties that can help relieve stress and anxiety.
In adults, Valerian is usually taken in doses of 300-600 mg a day for up to six weeks.
Chamomile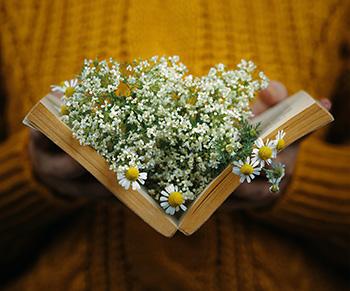 For centuries, chamomile (Matricaria recutita) has been used as a natural remedy to treat nervousness and anxiety.
The phenolics in chamomile, such as flavonoids, quinones, phenolic acids, and antioxidant compounds, help to reduce stress. According to one study, chamomile teas can have a positive impact on cognition and mood in healthy adults.
Lavender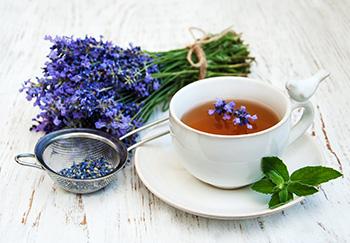 Lavender (Lavandula angustifolia) has traditionally been used to support relaxation and mitigate anxiety as well as a post-traumatic stress disorder.
Lavender essential oil is used most frequently in aromatherapy. It helps to reduce cortisol in the body, which further controls symptoms of anxiety.
You can also make a soothing and aromatic tea with lavender.. This study found that lavender consumption can reduce anxiety significantly.
Holy Basil
Holy basil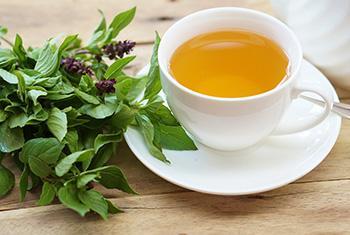 (Ocimum tenuiflorum) has high levels of antioxidants, making it an excellent herbal option for fighting depression, anxiety, and stress. It has been used for years to keep cortisol levels balanced and deal with stress-related conditions such as nausea and headaches, and studies show that its stress-reduction benefits are widespread.
To make holy basil tea, boil 1 1/2 cups of water, add 1/2 tsp of dried or one tsp of fresh leaves, and boil over medium heat for 10 to 15 minutes, stirring occasionally. After straining out the leaves, add lemon juice and/or honey to taste.
Exercises and Activities
Certain exercises and activities are particularly useful in relieving stress because they energize the body or calm the mind.
Take Daily Walks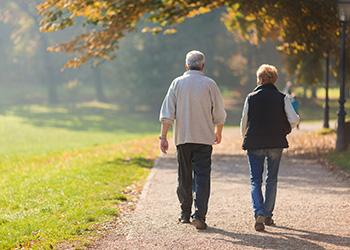 Even if you walk for only 10 minutes every day, it gives you a change of scenery, which can boost your mood and benefit you in terms of exercise. Whether you want to take a walk around the office after a stressful meeting or stroll through the park on a weekend, walking is a simple but effective way to refresh your mind and body. One study found that people who walked for 15 minutes at least four times per week live longer and healthier lives compared with those who are more sedentary.
Practice Yoga
Yoga combines physical movement, meditation, gentle exercise, and controlled breathing-all of which provide quality stress relief. A single yoga session may provide immediate emotional benefits, but you're more likely to see long-term benefits if you incorporate yoga into your daily routine consistently.
Start by taking a class, enrolling in an online program, or using an app. Regular yoga practice lowers breathing heart rate, blood pressure, and cortisol levels, all of which can enhance well-being, according to this study.
Meditate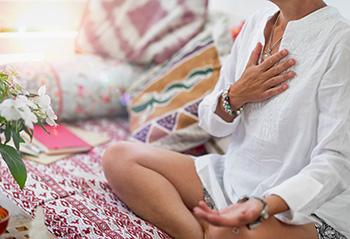 Meditation is a short-term stress reliever as well as a lasting stress management tool. There are a variety of meditations you can try, each with its unique history, techniques, and overall appeal. For example, you may take slow, deep breaths while repeating a mantra in your mind or practice mindfulness, which involves being present. Pay attention to what you see, hear, taste, touch, and smell.
When you are focused on the here and now, you won't be able to ruminate over the past or worry about the future. Mindfulness and meditation take practice, but they can help you reduce stress by bringing you to the present moment.
Coloring
Adult coloring has become so popular in recent years that you can find supplies in most bookstores and there are even coloring Facebook groups and meetups! According to this article, there are three main reasons why the activity can reduce stress.
It's a simple, low-stake undertaking that doesn't demand perfection or professionalism
Your brain tends to relax because you're focused on a simple activity
You are drawing attention away from yourself and staying in the moment
With the pandemic affecting our daily lives and so many uncertainties in the distance, coloring might just be the ticket to help you unwind and re-center.
There are various stress-relieving activities available, each of them ideal for different preferences and availability schedules. Instead of selecting one technique, experts recommend trying a few to see which is best for you. You should practice for at least 20 minutes every day, although even a few minutes can help. However, the more you practice these relaxation techniques, the greater the benefits and the more you can reduce stress.
You may also like: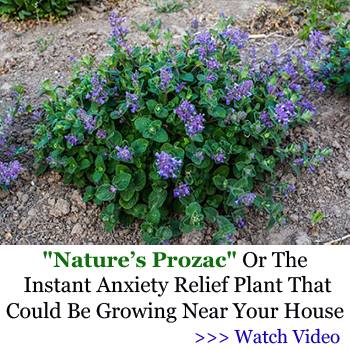 Soak Your Troubles Away With Homemade Tub Tea
Ancient Japanese Tonic Melts 54 LBS Of Fat (Video)
30 Anti-Anxiety Remedies You Didn't Know About
Kava: The Most Powerful Herb To Reduce Stress
The Legal Narcotic You Can Grow In Your Backyard (It's Not Cannabis)