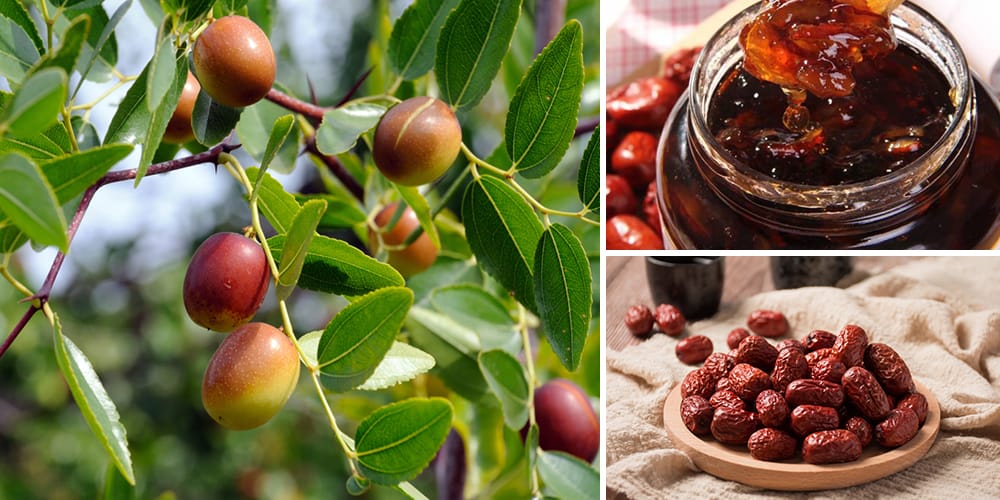 When you hear the word jujubes, you might picture a bright green box of sweet jelly candies at a movie theater, or the little hard globes found inside a box of Jujyfruit.
But if you've only ever had the candies, you're missing out! Real jujube fruit is already a delicious snack on its own, and has a ton of medicinal benefits to boot. Skip the commercialized stuff and go straight to the source: jujube is already nature's candy!
Jujube Fruit Basics

Though now common in most parts of the world, jujube fruit (ziziphus jujuba) originated in Southern Asia. It's also known as red or Chinese dates, because when ripe, they look a lot like dates! They have dark red or purple skin and often appear to be slightly wrinkled when ripe.  They grow on large flowering shrubs or trees, and have a pit inside them.
There are an incredible number of ways the jujube fruit can be enjoyed, but they're great on their own. Jujube are also amazing because you can eat them at any stage of ripeness! Green, pale yellow, or more commonly, dark red—they're good at any part of their lifecycle. If eaten fresh, the inside of a jujube is white and has the taste of a crisp apple. If eaten dried, jujubes have a mild and sweet flavor that's very similar to dates.
You might also try them in different ways, including:
homemade candies
as a replacement for dates in a variety of recipes
smoothies
syrups for cocktails or other beverages
soups and stews
vinegar
baked goods like muffins and scones
traditional Chinese Hot Pot
Medicinal Benefits of Jujube Fruit
You know that jujube is delicious, but there's even more reason to incorporate more of this fantastic fruit in your diet: it's also incredibly good for you! There are a variety of health benefits associated with jujube fruits. They are high in magnesium, Vitamins C and A, and fiber, which all help support the body and a well-balanced diet. They are also rich in antioxidants! Eating one to three jujube fruit a day could help improve your digestion and overall well-being. Here's the one thing you should add to your coffee to instantly boost your resting metabolic rate. 
Jujube is also used to aid in sleep quality and brain function. Because they are high in antioxidants, they may help lessen sleeplessness and anxiety, and improve memory. Additionally, they help boost the body's natural immunity. If you're struggling with a cold or insomnia, turn to jujube!
When and How to Harvest Jujube

Jujube fruit trees can be grown from seed in warm climates (zones 7-10). All you need to do is crack open the pit inside the jujube fruit, dry out the seed in a paper bag for about a week, then plant your new jujube! They need little care once in the ground, but do need to be regularly watered during the hottest parts of the year.
If you're lucky enough to have a jujube fruit tree in your yard or neighborhood, start paying attention to your trees in late summer and early fall. Jujubes will have developed peak flavor when they are full and completely dark brown, though you can pick and eat them starting when they're about half green and half brown.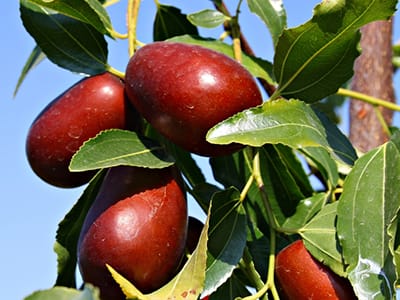 The fruit will feel firm to the touch when they are at peak ripeness, and lose moisture the longer they stay on the tree. You can either pick the fruit when it's ripe and full, harvesting them to dry them on your own, or let nature do the work and let them dry on the tree. Rather than picking the fruit from the stem, try and cut the stem with the jujube so they aren't damaged in the picking process.
⇒ This Once-Banned Berry Helps People with Diabetes (Video)
Once you have your jujube fruits, store the fresh fruit in a cool, dry place to keep them ripe as long as possible. If you're drying your jujubes, find a basket or woven mat that has air circulating through it, and place your jujubes out in full sun for two to three days. Store your jujubes for up to six months in an airtight container to continue enjoying them! You can also freeze your dried jujube fruit and eat them throughout the year.
Jujube Fruit Recipes
Though there are thousands of ways to enjoy jujube, here are two recipes to get you started! One is a delicious and heart-healthy soup, and the other transforms the jujube into a jam that's delicious on toast or crackers. Enjoy!
Chicken and Jujube Soup

Take about 2 lbs. of chicken breast and place in a large pot, then fill the pot until the breasts are just covered in water.
Bring the chicken breasts to a boil, then add about 2 tablespoons of minced ginger and a 1 chopped onion to the pot. Turn down to a simmer and let cook, covered, for about 40 minutes.
After the chicken is cooked through, remove from the pot and shred the chicken. Add about two cups of shredded chicken back to the pot, reserving the rest for another use, and add in about 8 jujube fruit and 3 small peeled carrots.
Simmer, uncovered, for an hour, then add a tablespoon of dried jujube berries in the last ten minutes of cooking.
Jujube Jam

Wash 1 lb. of fresh jujubes, remove the pits, and halve them. Set aside.
Combine 2 lbs. of sugar with 3 cups of water on the stove, and simmer until the sugar dissolves and a thick syrup forms.
In a large pot, pour ½ the syrup over the jujube fruit and boil on low heat for about an hour.
Let the mixture sit for 6-8 hours, then return to the stove and pour the second half of the syrup over the jujubes.
Boil for another hour, or until desired thickness is achieved.
Distribute jam evenly into clean and dry jars, and refrigerate for up to a month.
Takeaway
Incorporate jujube fruits into your diet as a delicious and easy way to support your immune system, improve your sleep quality and memory, and generally help your overall wellbeing. These little fruits might not be the candies you remember from childhood…they're much better!
You may also like: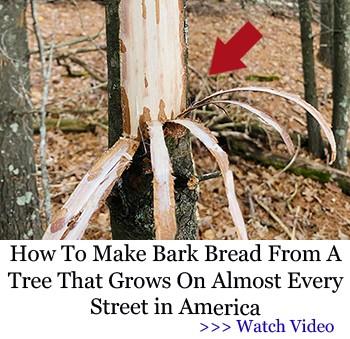 Homemade Adaptogenic Bars With Ashwagandha

The SHTF Medicinal Garden You Should Have in Your Backyard (Video)
Anti-Inflammatory Ginger Gummies
Homemade White Cell Boosting Juice