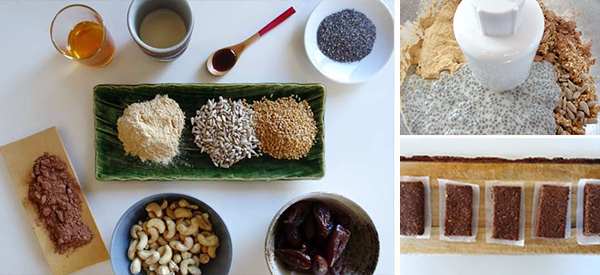 Homemade Adaptogenic Bars With Ashwagandha
Adaptogens are non-toxic plants used in herbal medicine to help the body 'adapt', counteracting the effects of stress in the body. They work with your body to resist emotional and physical stressors. Historically used in Ayurvedic and Chinese healing traditions, they are popular in all corners of the globe now that people continue turning to viable natural remedies.
Today I'm going to show you how to make homemade adaptogenic bars with Ashwagandha – its botanical name Withania Somnifera'.
Health Benefits of Ashwagandha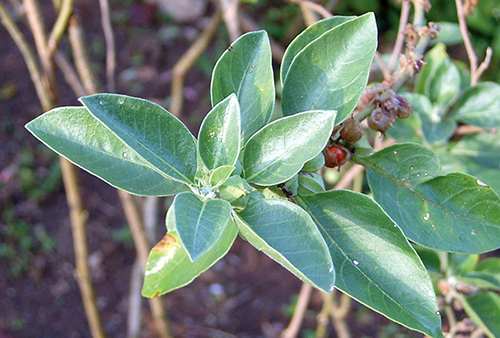 Its history has been traced back to 6000 BC when it was first used as a medicine in India. According to Ayurveda, it is used for reducing inflammation and restoring balance in the body.
Many studies have been done in recent times and you will find hundreds of health benefits cited as being associated with this herb. However, it is best known for:
Protecting against stress (physically and mentally), and anxiety.

Increasing energy levels and reducing fatigue.

Reducing joint pain and inflammation.

Lowering cholesterol levels.

Reducing blood sugar levels.

Improving brain function and enhancing memory and concentration.
There are other powerful adaptogens but not all of them have been confirmed, and there are equally as many that the health and wider community don't agree on. Some common adaptogens, which are also useful and generally accepted to fall under the adaptogen term are:
Schisandra / Magnolia berry (Schisandra Chinensis) – improves vitality and helps boost memory and mental performance.

American Ginseng (Panax Quinquefolius) – boosts the immune system and promotes calmness.
How To Make Ashwagandha Medicinal Bars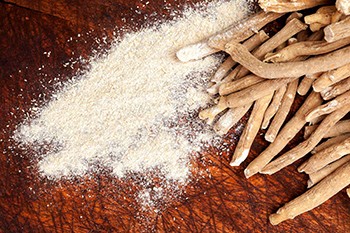 Given the abundance of medicinal benefits Ashwagandha holds, there has been a prolific rise in its availability and in consumption. However, it's still a matter of personal opinion or taste as to how you incorporate it into your diet.
While you can take Ashwagandha in tea, it's not known for its pleasant flavor. Most people find it is slightly bitter but it is easily masked by incorporating additional ingredients.
Please don't be put off, you won't even notice it in this recipe! Using it in bars also gives you a great excuse and reason to make tasty snacks that are full of additional nutrients too.
If you're watching your calorie intake, each bar has 177 (if you divide the mixture into 10 bars as I do for this recipe).
Ingredients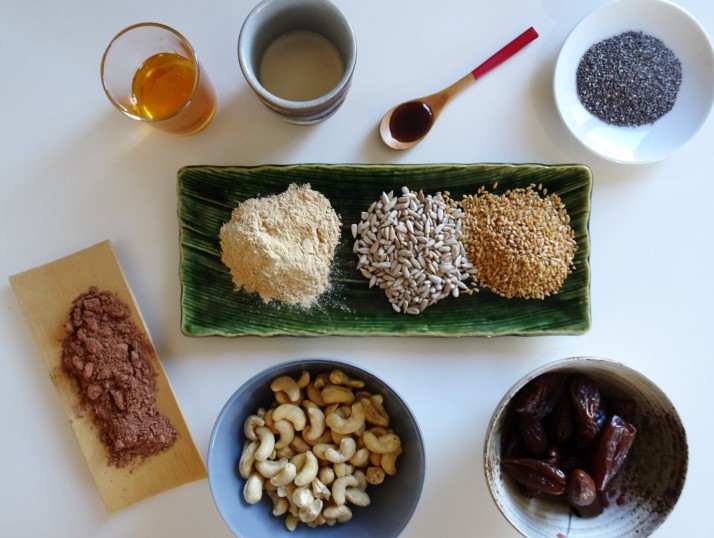 2 tbsp organic ashwagandha powder

2 tbsp flax seeds

2 tbsp sunflower seeds

1 tbsp chia seeds

6 tbsp almond milk

6 oz cashew nuts

4 oz dates

2 tbsp cocoa powder

1 tsp echinacea root extract

2 tbsp honey
Nutritional Benefits
Aside from the Ashwagandha powder, you will find these bars contain other nutritional benefits. Some of these include:
Vitamin E from the sunflower seeds helps protect cells from free radicals that are known to cause illness and aging.

Omega-3 fatty acids from the chia seeds help to protect brain health.

Lignans (antioxidants) in the flax seeds help protect against cancer.

Copper, magnesium, and manganese in the cashews maintain healthy bones, regulate blood sugar levels, and improve thyroid health.

Phenols in the echinacea root extract give it beneficial antioxidant properties.
Of course, this list is by no means exhaustive. Most of the ingredients in this recipe hold a multitude of health benefits that you probably are aware of and using some of them in recipes already. If you're not, the good thing about these small but potent ingredients is you can use them in so many different recipes so they'll never go to waste.
Equipment
You'll need the following equipment to make these bars:
Food processor – This is essential so that you can finely dice the dates, nuts, and seeds and blend the rest of the ingredients into the mixture.
Rectangular cake pan – Use a small metal pan because you will be putting your mixture into the freezer when you have finished. I used a pan that measured 10.5 x 7 inches.
Fine grinder – This is to grind the flax seeds, and you can use a pepper grinder, flax mill, coffee bean grinder, or a pestle and mortar.
Parchment paper – You will need this to line your cake pan and to separate the bars once you cut them.
Freezer – You will put the mixture in the metal cake pan into the freezer at the end of the process to set it.
Instructions
1. Chia seeds
 Add 6 tablespoons of almond milk to 1 tablespoon of chia seeds and leave for at least 30 minutes, mixing halfway to ensure all the seeds are getting some access to the milk. Wait until they are just about ready before continuing with the next steps.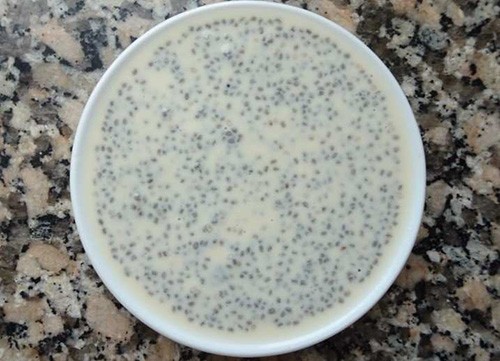 2. Flax seeds 
Grind 2 tablespoons of flax seeds – grinding them makes them easier to digest, meaning you absorb more of the nutrients. You can grind flax seeds using a pepper grinder, flax mill, coffee bean grinder, or a pestle and mortar.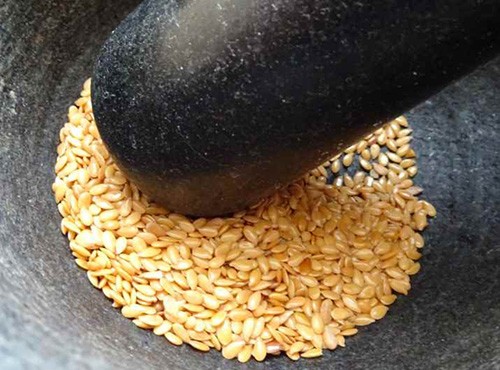 3. Dates
 Put 4 oz of dried, pitted dates into your food processor and mix on high until they are broken down.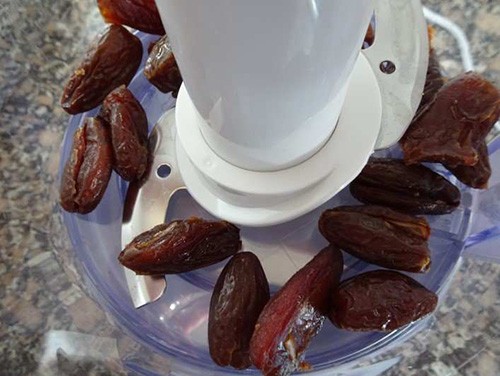 4. Cashew nuts
Add 6 oz of cashew nuts to the food processor and blend until the mixture is fine and you can see that the dates and nuts are evenly combined.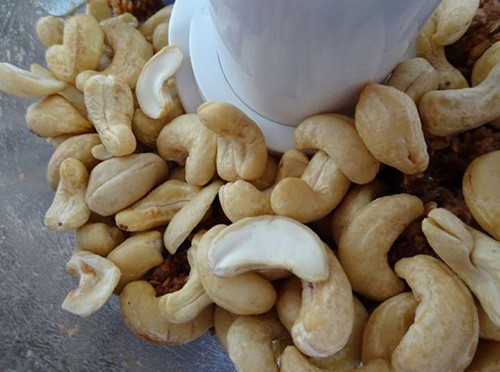 5. Final ingredients
Now you're ready to add the rest of the ingredients to the food processor (2 tbsp ashwagandha powder, 2 tbsp pure cocoa powder, 1 tsp echinacea root extract, 2 tbsp sunflower seeds, 2 tbsp honey, chia seeds & milk mixture, flax seeds).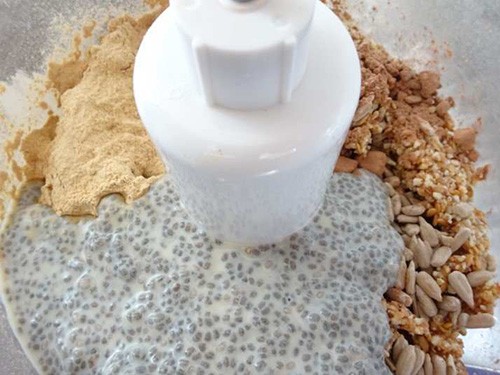 Before I started the food processor again, I used a spoon to roughly mix the ingredients together – this is to keep the powders down so they don't fly everywhere and you have to push them down later.
Start mixing at low speed for 10 seconds then turn the food processor on to high speed. Once your mixture starts forming into a ball it's ready.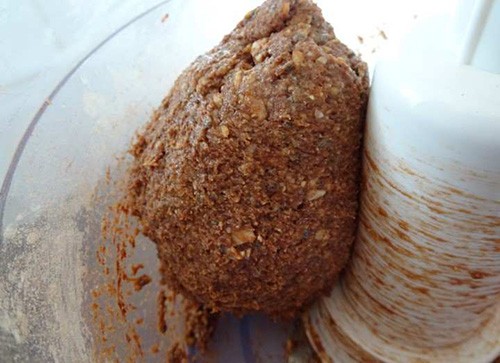 6. Parchment paper 
Line your cake pan with a piece of parchment paper. If it's a roll of parchment paper and you need to cut it yourself, make it nearly as large as you would an oven tray/sheet pan. You will fold it over your mixture so it needs to be large.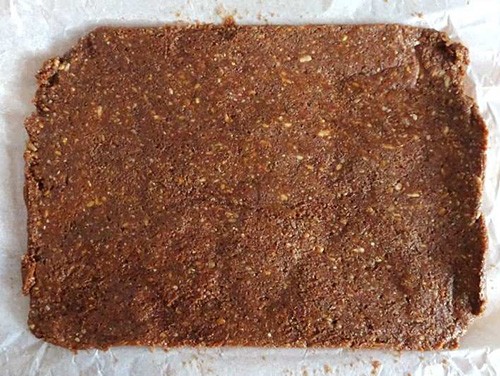 7. Mixture
Scoop your mixture out with a spoon and place it on the parchment paper in the pan. Press the mixture roughly with your hands so that it is evenly spread out. It will be sticky and not perfectly even but you will flatten it out in the next step.
8. Fold the paper
 Fold the rest of the parchment paper over the mixture and press down firmly with your hands, getting it as even as possible. Use your fingers to get the mixture to spread to the corners of the pan.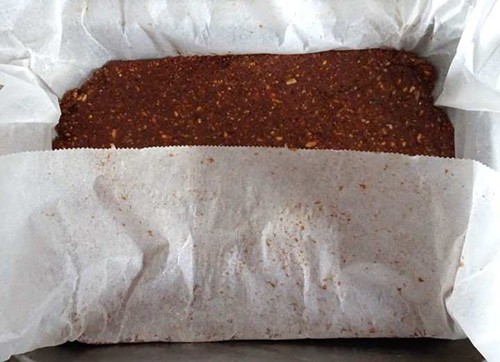 9. Freezer
Keep the mixture covered with the paper and place your pan in the freezer for 30 minutes to help it set faster.
10. Remove And Cut
Remove the pan and lift the parchment paper directly out with the mixture in it. Place this on a chopping board and cut the adaptogenic bars to the size you want (I cut 10 bars). They are now ready to eat.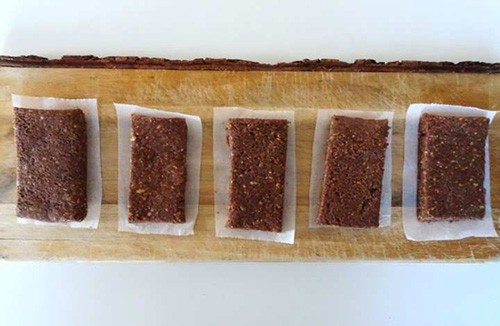 11. Storage
Cut the parchment paper into strips just larger than the size of your bars and use these to separate your bars in a storage container and keep them in the fridge. By separating the bars with a strip of paper, you will prevent the bars from sticking together and make it easier to remove them later.
How Long Will They Keep?
These will keep in the fridge for five days and in the freezer for up to six months.
If you put them in the freezer you can eat them virtually as soon as you take them out. They will be cold but refreshing in the warmer months, and they are soft enough you don't need to 'defrost' them.
You may also like: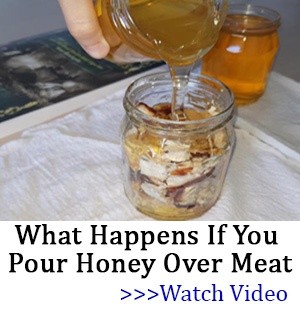 How to Make Medicinal Kombucha at Home
Add This "Unusual Nutrient" to Coffee or Tea, to Effortlessly and Fully Empty Your Bowels Every Single Morning (Video)
How to Make a Vitamin Bar to Increase Your Immunity
Foods You Can Make At Home That Are Also Natural Remedies