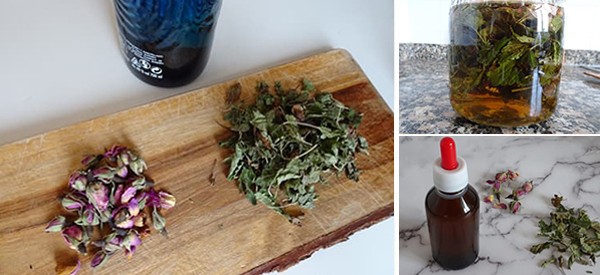 DIY Spring Fever Tincture
Spring is finally here and you may already be excited about it and feeling like you have a bit of Spring Fever. What's Spring Fever? While not necessarily a bad thing, it generally evokes restlessness and brings about a change in our mood. Thanks to the longer days and all that sunshine after a long winter it can make you feel more positive about everything, even giddy. Sometimes, this is a little too much and can make it hard to focus.
For that reason, we're going to make our own DIY tincture to combat Spring Fever and bring us back down to earth so we can get things done and calmly make our way through the beautiful spring. The ingredients in this tincture will help to balance your mood and ease restlessness.
Medicinal Benefits of this DIY Tincture to Combat Spring Fever
One of the main ingredients in this tincture is lemon balm (Melissa officinalis). It's believed that lemon balm has been used as a medicinal herb as far back as 2,000 years ago in Greece and Italy. After that, it made its way to Spain and spread across Europe. Now, it can be found in the Americas and around the world.
It can be used topically and ingested for health benefits. It's a naturally soothing herb that reduces anxiety and balances the mood. It has calming effects on the mind and nervous system. It's common to take lemon balm leaves in tea to reduce restlessness and relax the mind. Lemon Balm tincture is available for purchase in the Apothecary. Check it Out!
Roses are the other beneficial ingredient in this tincture. Roses also help the nervous system as they have a restorative effect. Roses are high in Vitamin C and antioxidants and will relieve jittery feelings. Historically, they've been used to treat a huge variety of ailments and were originally grown with these in mind rather than for their beauty. In Chinese medicine, they use dried rosebuds to provoke a feeling of ease, believing that roses balance Qi (vital energy or life force).
Tips for Other Spring Fever Symptoms
Another less common take on Spring Fever is virtually the opposite of the restlessness and buzz that are the most typical symptoms. This is sometimes referred to as Spring Fatigue and is where some people find they are lazier, more tired, or even experience physical changes that appear with spring. These are often brought on by changes to diet, exercise, and sleep patterns.
Regardless of whether you're feeling overstimulated and excited or listless, it's worthwhile monitoring what you're eating and how (if at all) this has recently changed. Consider whether you're getting enough sleep too as the longer days can make it easier to stay up later and wake up earlier. And don't forget to make the most of spring and go for walks or at least get outside and enjoy the changes of the season.
How to Make this DIY Spring Fever Tincture
I've used alcohol to make this tincture recipe as it lasts longer (up to three years). You can substitute this for apple cider vinegar if you prefer. If you use vinegar then store it in the fridge for up to three months. If you use vodka there will be approximately 4 calories per dropper (1ml). There will be less than 1 calorie if you use apple cider vinegar.
Ingredients
Dried lemon balm leaves
Dried rose petals
Alcohol over 40 proof like a strong vodka (or apple cider vinegar)
Note: You can also use fresh lemon balm leaves and rose petals if you have access to organic plants. Make sure you wash them first before continuing to step one in the method below.
I haven't listed the quantities because it will depend on how large your jar is and how much tincture you want to make. I made quite a large batch since it's with alcohol so I can store it for a long period of time.
Utensils
A wide-mouthed canning jar or glass jar with a screw lid
Tincture bottles
A wooden spoon or spatula
A sieve
Cheesecloth
A container with a lip (to catch the liquid once ready) or a container without a lip and a small funnel
Method
You want to roughly measure out a 2:1 ratio of lemon balm leaves to rose petals or dried buds. Dry leaves will absorb more of the liquid so you don't want to fill your jar more than half full. It's important to leave at least one inch between the liquid and leaves and the lid so you can shake it over the coming weeks. If you're using dry leaves you may need to top the mixture up so less is more in this case.
Once you've put your leaves in the jar, pour your alcohol or vinegar over it. You want about double the liquid if using dried leaves, otherwise, you can just cover your fresh leaves by about one inch.
Push everything down with a wooden spoon and give it a stir. Leave it for 30 minutes and pour in more liquid if you need.
Put the lid on your jar and store it in a cool, dark cupboard.
Check on your tincture every few days to make sure the liquid is covering your leaves and give the jar a shake. Place the jar back in the cupboard and repeat.
After 4-6 weeks your tincture is ready so you can take it out of the cupboard.
Place some cheesecloth over a strainer and rest it on a container to catch the tincture mixture. Pour your leaves and liquid in then you can discard the leaves.
Pour your tincture into a tincture bottle/s (however many you need) and it's ready to use and store.
If you've used alcohol you can store your tincture bottle/s in a cool, dark cupboard for up to three years. If you've used apple cider vinegar, you should store it in the fridge and it will last up to three months. You can take one dropper (1ml) up to three times a day.
Warning and Cautions:
While generally safe, consult with your healthcare professional before using lemon balm if you are pregnant, breastfeeding, or currently taking medications. Discontinue use if you experience headaches, nausea, bloating, gas, indigestion, dizziness, or allergic reactions. Since the herb can cause excessive drowsiness when combined with medications used for surgery, stop using lemon balm two weeks before a scheduled surgery. Those with thyroid disease should avoid using lemon balm as it can lower thyroid hormone levels and interfere with hormone therapy.
Since rose contains high levels of Vitamin C, those who have Vitamin C-related conditions should refrain from taking it. Too much Vitamin C may lead to kidney stone formation, heartburn, diarrhea, etc. It can also worsen the symptoms of people suffering from iron-related disorders given how it increases the body's iron absorption rate.
You may also like: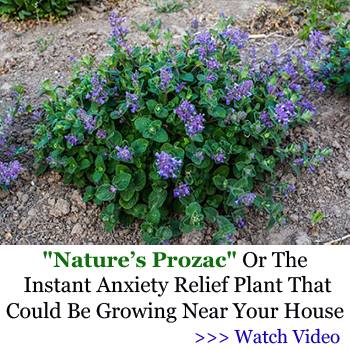 My Seven Favorite Herbs for the Allergy Season (and Asthma Too!)
The Unnoticed Symptom That May Point to an Internal Inflammation (Video)
How To Make Herb-Infused Energy Balls