Foraging Calendar: What to Forage in March
The birds are flying North again. The sweet smell of new grass growing is on the wind, and spring is here again. It's time to put the snow boots into storage and pull out your hiking shoes. While enjoying this brisk lighter weather, here are some plants to keep an eye out for while foraging this March.
The USDA Hardiness zone Map is an attempt to divide the country into zones that give us some idea of whether certain plants can be grown in any given area.  The primary piece of data used to delineate the zones is the average annual winter temperature experienced in that area. This could just be a list of forageables but the temperature varies so much across the U.S.A. The Lost Herbs wants this to be a list for every one of our readers no matter the zone you live in.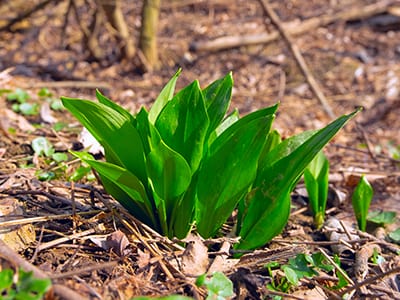 Wild garlic (Allium ursinum)  is a medium-sized bulbous perennial with a distinctive and pungent garlicky smell. The leaves are long, pointed, and oval with smooth edges. They grow from the plant base and the bulb and have a strong garlic scent. Its flowers are small, and white, with six petals on a thin stalk. This punchy springtime herb can be used in pesto, garlic butter, soups, marinades, and more. Wild garlic (also called ramps), has become one of the food joys of spring. It grows in abundance, it's easy to identify, the whole plant is edible, and it can be enjoyed raw or cooked. Wild Garlic grows on the eastern side of the United States as far south as South Carolina in zones 5-9.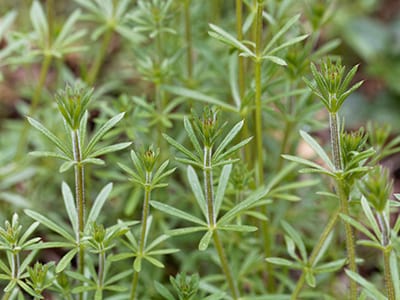 Cleavers (Galium aparine) is a straggly scrambling or climbing plant with weak branched stems. The stems are hollow, square in section with ridges at the corners. The leaves form whorls of four to eight at nodes on the stems. They have no leaf stalk. Worldwide, Cleavers' most common use has been as a cleansing herb for treating ailments from kidney and urinary disorders to infections and itching. It is excellent for skin conditions like eczema. Its chopped leaves and stems can be made into soups and stews. The tender shoots can be boiled and buttered as a vegetable. Cleavers belong to the coffee family and its seeds have been ground to make cleavers coffee. Cleavers grow across the continental United States in zones 3-9.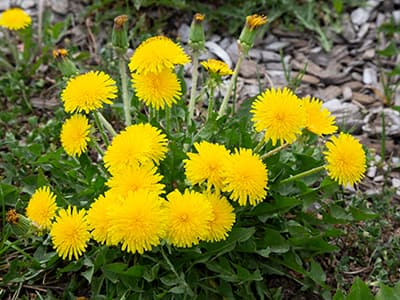 Dandelion (Taraxacum) is a flowering weed with a bright yellow flower and distinguished sharp leaves. This plant is a hardy perennial that can grow to a height of nearly 12 inches. Dandelion greens are high in vitamins A, C, E, and K and Calcium.  The leaves have a slightly bitter and tangy flavor that can be used similarly to spinach. The flowers are also edible and can be used to infuse honey and vinegars. Dandelions are found across the United States but in more Northern states they won't appear until the end of March.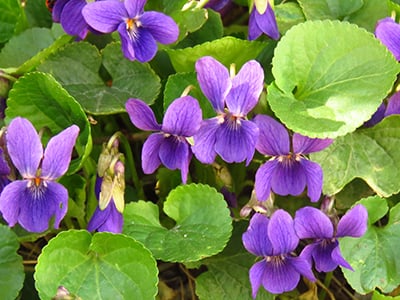 Sweet violets (Viola odorata) usually have blue-violet flowers or white flowers, but occasionally pink and even yellow forms occur. The sweet scent is therefore usually the best clue to its identification. A key feature of Sweet Violet is that the leaves and flower stems arise from one central point. The roots and parts that grow above the ground are used to make medicine. Sweet violet is used for stress, fatigue, insomnia, symptoms of menopause, depression, common cold, influenza, and many other conditions, but there is no good scientific evidence to support these uses. It also can be blended into sugar to add a floral note or in teas. This plant is the first sign of spring for many across the United States in zones 5-9.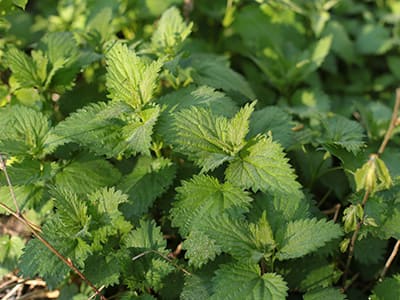 Stinging Nettle (Urtica dioica) stems are quite slender, square and grow 6 to 8 feet tall, with occasional thin branches. Leaves are thin, dark green, 2 to 4 inches long, with a tapered tip. The edges of the leaves are toothed and the leaf surface is distinctly veined and rather rough looking. The leaves are opposite along the stem. Stinging nettle has been used for hundreds of years to treat painful muscles and joints, eczema, arthritis, gout, and anemia. Today, many people use it to treat urinary problems. It also can be blanched and eaten like spinach. Stinging Nettle grows in the eastern United States and hardiness zones 4-10.
⇒ What to Forage When The World Runs Out of Food (Video)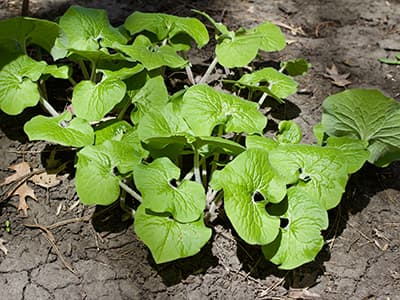 Wild ginger (Asarum canadense) is a colony-forming, low-lying plant with a solitary red-brown flower that has three pointed lobes. The rootstalk has a distinct smell of ginger and grows along the ground's surface. The leaves are rough, about six inches wide, and in the shape of hearts. Its leaves can be confused for coltsfoot. Wild Ginger has a variety of medicinal and traditional uses to the native South African people. The rhizomes and roots are chewed fresh to treat asthma, hysteria, colds, coughs and flu. It is used to treat malaria. This plant grows in the South Eastern United States in zones 4-9.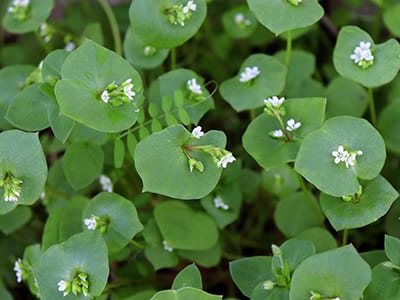 Miner's lettuce (Claytonia perfoliata) has two leaves fused together with the stem and white flowers in the center. They have a distinct look to them, looking like a circle or heart shape with a deep, smooth green color and little flowers or bulbs in the center. Miner's lettuce is best suited for both raw and cooked applications such as steaming, boiling, stir-frying or sautéing. Used similarly to spinach, Miner's lettuce is most commonly used fresh in salads with other greens or displayed on appetizer plates as an edible garnish. Miner's lettuce grows in the North Western United States in zones 6-9
While all of these are located in America, we don't want to leave our overseas readers out of the loop. Countries like Canada and Australia are also abundant with delicious plants. 
Canada's weather aligns more with the United States and many of the plants above can grow in Canada's ecosystem. Canadians can use the hardiness zones to apply to their regions.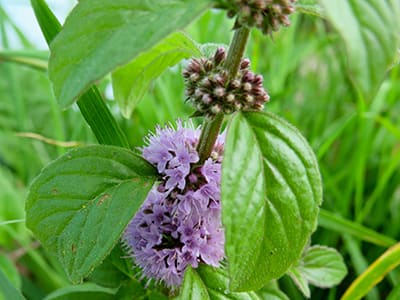 Wild Mint (Mentha arvensis) generally grows between 6" to 18" tall with a square angular stem covered with fine hairs. The stem is stiff with little branching and will vary in color from red to bright green. Its leaves are opposite, egg-shaped and elliptic with a pointed tip and serrated edge. Mint leaves can be used as a natural treatment for minor ailments from headaches to anxiety. But have you ever wondered what happens if you smoke mint?
The Mint plant or its leaves can be used also as a natural pesticide or air freshener, and make a nice ground cover in gardens. Wild mint grows in USDA zones 3-8.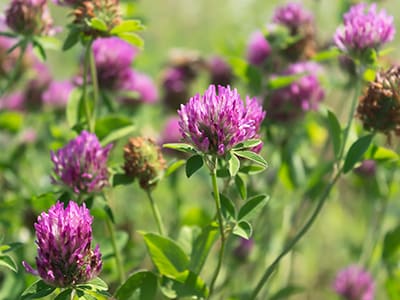 Red Clover (Trifolium pratense) or purple clover, is easily identified by its large, pinkish-purple flower heads. Its leaves are trifoliate, with a pale V-shape usually in the middle of each leaflet.  The flower heads are composed of many small flowers that can be separated and used as tiny garnish pieces. The flowers are easier to digest if they are soaked beforehand. Historically, red clover was used for asthma, whooping cough, cancer, and gout. Today, extracts from red clover are most often promoted for menopause symptoms, high cholesterol levels, or osteoporosis. Red clover grows in hardiness zones 4-10.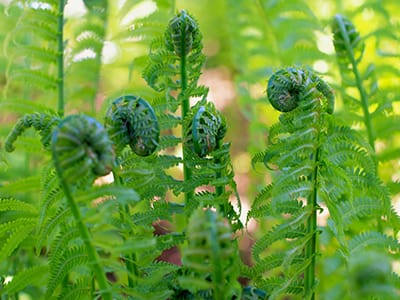 Fiddlehead fern (Matteuccia struthiopteris) has a deep "U"-shaped groove on the inside of the smooth stem. There are thin, brown, paper-like scales covering the newly emerging fiddleheads. The scales fall off as the fiddlehead grows and elongates. Fiddleheads are the sprouts of ostrich ferns. The young shoots of ostrich fern, known as fiddleheads, are used to make medicine. Ostrich fern is used as a gargle for sore throat, as a laxative, and for wounds and boils on the skin, but there is no good evidence to support any use. In foods, fiddleheads are regarded as a seasonal delicacy. Ostrich ferns grow in hardiness zones 3-7.
Australia lies in Plant Hardiness Zones 7 through 12 with some variations across regions and seasons. The caveat with foraging in Australia is it is completely illegal without a permit except private properties in some places. Without the 104$ permit you can be fined anywhere from 10,000 to 110,000 dollars depending on where you foraged. If you have a license or are on your own land you can forage freely.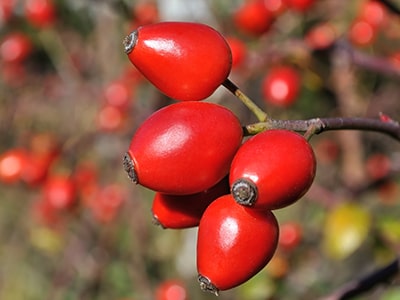 Rose Hips (Rosa canina) are the fruit of any rosebush. They are red to orange in color, oblong or round in shape, often with small wisps of "hair" protruding from the bottom of the rose hip. Rose hips come in all shapes and sizes, from large to small. Some rose hips, such as those from the dog rose, are more oblong in shape. All Rose hips are edible. Rose hips make great jellies, sauces, syrups, soups and seasoning. You can even make fruit leather to add vitamins to your meals. Rose Hips grow in hardiness zones 3-9.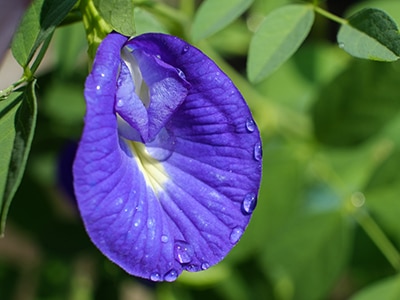 Asian Pigeonwings (Clitoria ternatea)  is a perennial herbaceous plant, with elliptic, obtuse leaves. It grows as a vine or creeper, doing well in moist, neutral soil. Its most striking feature is the color of its flowers, a vivid deep blue, solitary, with light yellow markings. The fruits are long, flat pods with six to ten seeds in each pod. They are edible when tender. It is rich in antioxidants and may be linked to several health benefits, including increased weight loss, better blood sugar control, and improvements in hair and skin health. It's also versatile and associated with very few side effects, so it's a great potential addition to your diet. It makes a beautiful garnish and a floral tea. Asian Pigeon Wing grows in zones 9-11.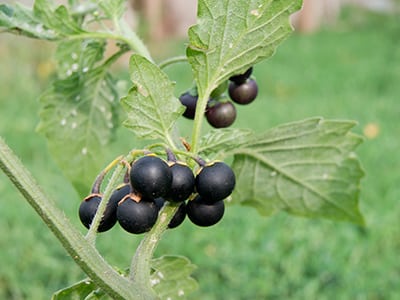 Blackberry nightshade (Solanum nigrum) Its stems are rough in texture and its leaves are slightly hairy or hairless. Its small star-shaped flowers are white (often tinged with purple) and borne in small clusters in the leaf forks. Its fruit is dull green when young, turning purplish-black and remaining dull in nature as they mature. The ripe fruit is soft and contains numerous small seeds.
The entire plant is considered toxic, however, ripe berries and cooked leaves of edible strains are used as food in some locales, and plant parts are used as a traditional medicine. Eating green berries may cause headaches, nausea and mild stomach upset. Blackberry Nightshade grows in zones 9-11.
Enjoy the spring winds on a morning hike with these wonderful treats on the way. Have you picked any of these in the past springs? Let us know what are your favorites to forage this time of year in the comments!
You may also like: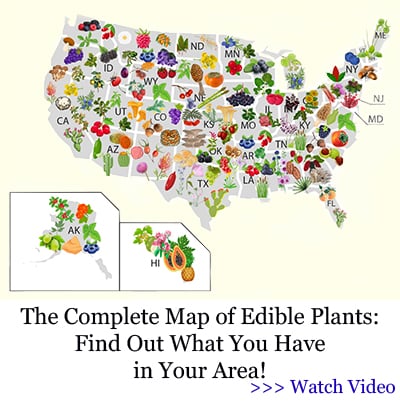 The Medicinal Benefits of Your State Flower
Vegetables You Can Stockpile Without Refrigeration For A Full Year (Video)
10 Flowers You Did Not Know You Can Pickle
Yaupon: America's Forgotten Tea
10 Medicinal Plants People Confuse With Their Poisonous Look-Alikes