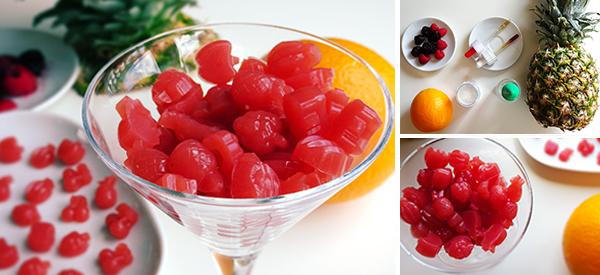 Natural Collagen-Boosting Gummies
Collagen is the most abundant protein found in our bodies. It's in our skin, blood vessels, bones, digestive system, muscles, and tendons.
There are two parts to the collagen process. This first is eating foods containing collagen so we can add to our collagen stores (mainly meat and dairy products). Then there are foods that boost collagen production and help the body make it on its own (foods containing amino acids, vitamin C, zinc, and copper).
The Health Benefits Of Increasing Collagen Production
Collagen produces a large number of health benefits. The first we usually think about is in relation to the skin. When we produce high levels of collagen, it helps the skin cells renew. We use collagen to keep our skin soft and firm. Collagen molecules are too large to enter the lower layers of skin so the best way to boost your intake is by consuming collagen-enhancing foods.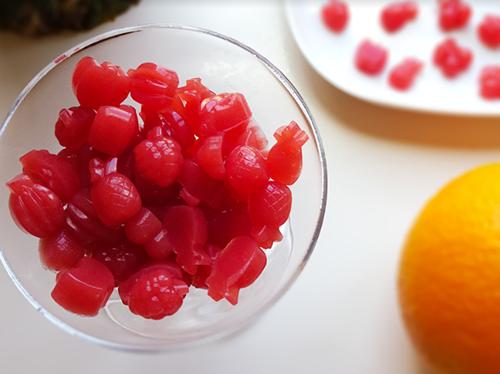 Collagen also provides strength to our bones and muscles, helping relieve back and joint pain. This can help people suffering from osteoarthritis.
It can also help relieve muscle soreness so makes it beneficial in relation to exercise. As well as these physical qualities, it can help improve energy levels by enhancing the quality of our sleep.
These gummies are a natural way to boost collagen production owing to some of the nutrient and vitamin-rich ingredients: pineapple, orange, blackberries, raspberries, licorice root extract, and Panax ginseng extract.
How Do These Ingredients Boost Collagen?
Amino acids, vitamin C, copper, and zinc promote collagen production in the body.
Amino acids are largely found in meat and dairy products. However, one of the essential amino acids for collagen synthesis is called proline which is also found in oranges.
The ingredients in this recipe that contain vitamin C are pineapple, orange, blackberries, and raspberries. Vitamin C also helps produce pro-collagen, the precursor to collagen. Pro-collagen also helps to keep your collagen intact and stops the body from breaking it down.
Zinc is known as a "co-factor" in the collagen production process. It activates certain proteins that are vital for collagen synthesis. Raspberries and blackberries are two of the fruits that contain the highest amount of zinc.
Copper's main role in collagen production is activating an enzyme that is necessary for collagen maturation. Pineapple and blackberries are two of the fruits that have the highest amount of copper in them.
The Panax ginseng extract in this recipe increases the circulation of the skin's smallest blood vessels and boosts the synthesis of collagen. The licorice extract is also beneficial because it enhances the effectiveness of collagen production.
Of course, there are many more health benefits that the fruits and herbs in this recipe provide aside from boosting collagen. This makes these gummies a great guilt-free treat that is nutritious at the same time.
How To Make Natural Collagen Boosting Gummies
These gummies are fairly simple to make and this recipe makes four portions which will each contain about 73 calories. They take around 30 minutes to make and then you will need 30 minutes to 1 hour to let them set.
Ingredients
10 oz pineapple
1 orange
5 blackberries
5 raspberries
1 tsp Licorice root extract (or 3 droppers' worth of 1ml)
2 tsp Panax Ginseng extract (or 6 droppers' worth of 1ml)
2 tsp Agar-agar powder
Stevia (optional)
Equipment
Blender (or juicer)
Fine-mesh strainer (if you're not using a juicer)
Bowl or container (if you're not using a juicer)
Small saucepan
Whisk
Bowl (to transfer the mixture after heating it)
Silicone molds and dropper
Method
Put your silicone molds into the freezer to chill them while you prepare your mixture.
Cut 10 oz of pineapple into small pieces and place these in your blender (or juicer). You won't blend anything until step 5 when all of the fruit is in there.
Wash 5 blackberries and 5 raspberries and add these to the blender.
Cut and juice 1 orange. You can use an orange squeezer or just squeeze it into a bowl first by hand and make sure you remove the seeds. Then add the orange juice to the blender.
Blend everything together on high for at least 30 seconds until all the fruit has blended and the mixture is liquidy.
If you are using a juicer you can jump to step 7. If you have used a blender, place your fine-mesh strainer over a bowl or container that's wide enough to catch the juice. Pour your mixture from the blender over the strainer and then push the pulp down until you cannot extract any more juice (I got just over 1 cup of juice). You can keep the pulp from the fruit in a container in the fridge and use it in another recipe (e.g. try it for breakfast on natural yogurt).
Pour your juice into the saucepan and add 2 teaspoons of agar-agar powder. I didn't add any sweetener because I like the slightly tangy effect of the pineapple and mine was quite sweet already, but you could add Stevia to taste. Set the heat to high.
Mix it all well then keep whisking slowly until you see your first bubble/s appear (approximately 5 minutes). The aim is to keep the mixture smooth. If you're using gas or you have a powerful electric hob 3 minutes should be enough.
Take it off the heat immediately and transfer the mixture into another bowl so it can cool faster. Add your ginseng and licorice extract and stir them through. Leave it for 5 minutes to cool down, stirring once or twice.
Now, you're ready to put it in the molds. Don't worry if it's not fully cooled down. It sets quite quickly so you want it to still be warm when you add it to the molds. Take the molds out of the freezer and with your dropper add the mixture to the molds.
Put the molds in the fridge and leave the gummies for 1 hour or you can put them in the freezer for 30 minutes if you're in a rush. Take the molds out and pop the gummies onto a plate then you can eat some right away and/or save some in a sealed container.
Make sure they are in an airtight container or covered before you store them in the fridge and they will keep for up to five days. This will depend on what stage your fruit was at before making them. If they were definitely on the riper side I would suggest eating your gummies within three days or less. You can also keep them in the freezer for up to one month and take them out when you want them.
You may also like:
Anti-Inflammatory Ginger Gummies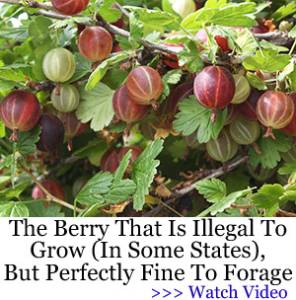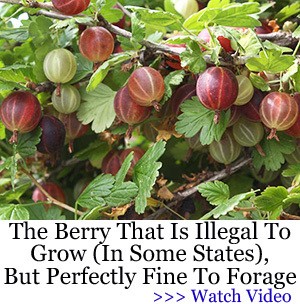 Ancient Japanese Tonic Melts 54lbs Of Fat (Video)
Collagen Complex (Type I, II, and III Collagen)
DIY Colon Detox with Ingredients You Have in Your Kitchen Right Now
How to Make an Immunity Boosting Shot with Celery, Spinach, Ginger, Lemon, and Manuka Honey