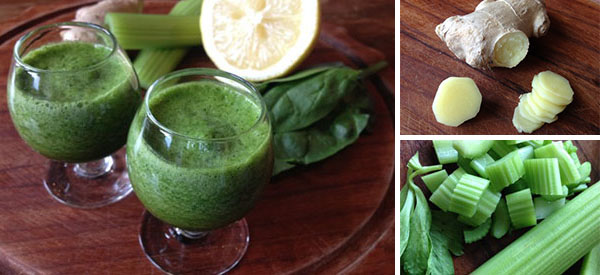 How to Make an Immunity Boosting Shot with Celery, Spinach, Ginger, Lemon, and Manuka Honey
As the heavy restrictions of Covid-19 are starting to be pried back, it's more important than ever to stay vigilant about your health and immune system. Even with regular exercise and healthy eating, sometimes we all could do with a little pick-me-up to help our bodies ward off illness from germs and diseases.
There are essentially three main vitamins that are known to assist your immune system:
Vitamin C is involved in making white blood cells, which fight infections and diseases. It's also an antioxidant and is required to make collagen for healing wounds and tissue.
Vitamin B6 is essential for kick starting your immune response so that your body can defend itself against harmful pathogens.
Vitamin E is also an antioxidant so it protects your body's cells from inflammation and damage. It is also thought to prevent blood clots.
Any good immunity booster shot should be full of these three vitamins.
One of the best ways to get a high intake of vitamins is to eat raw fruits and vegetables. There are a few vegetables that maintain some of their nutrients and vitamins after they are cooked, but many don't survive the cooking process.
Blending up your own immunity shot means you can get a good dose of raw fruits and vegetables, which are full of the three essential vitamins that keep your immune system at its peak.
Plus, you can mix it the way you like it, improvise and add your own touch. It's easy and allows you to incorporate certain foods into your diet that you normally wouldn't. You don't need a fancy juicer or blender, an average handheld mixer does the trick if you chop everything up first.
Here is what you will need:
Lemon
Lemon is legendary for its high vitamin C content. This gives it antioxidizing and therefore, anti-inflammatory capabilities. In addition to numerous other health benefits (smooth skin, digestion, antibacterial), lemon also aids the liver to do its job – to remove toxins.
Ginger
Ginger enhances immune response, especially in the thyroid, by increasing the number of antibodies and red blood cells in your body. It's good for digestion and is also favored as a prevention against some types of cancer.
When eaten raw, fresh ginger has a very distinct taste that some people find quite strong.
Celery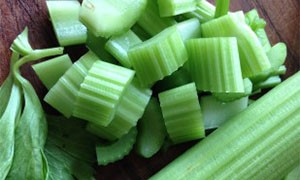 Celery is 95% water, but it still has minerals which are alkaline, so it can neutralize acidic foods such as lemon. It's high in fiber so it can help with digestion.
Celery also contains some anti-oxidants, as well as trace amounts of vitamins.
Manuka Honey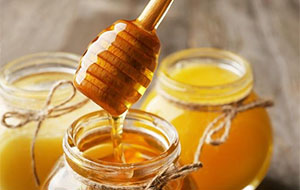 In addition to being an anti-inflammatory and containing antioxidants, Manuka honey is famous for its antibacterial effect. It may even prevent ulcers, as well as numerous other illnesses and diseases.
If you don't have Manuka honey, then any raw honey will be just as good.
Spinach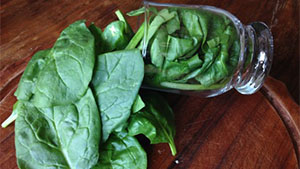 Not only is spinach high in vitamin C, but it also contains vitamin E and is packed full of vitamin A as well.
One cup of raw spinach can provide you with almost 15% of your recommended daily allowance of vitamin C (and a whopping 60% of vitamin A).
Recipe for Immunity Boosting Shot
The ingredients you will need are:
2 cups of spinach;
1 large stalk or 2 small stalks of celery;
¼ of a lemon;
1 or 2 slices of ginger;
¼ cup of water;
1 ½ tablespoons of honey.
Chop up the spinach, celery, lemon and ginger.
Blend all of the ingredients.
Serves 2 – 3 shots.
It is possible to strain the mixture to remove the pulp, however the pulp is essentially the fiber from the ingredients, so it's much more beneficial to drink whole.
This shot can be a bit unappealing to kids, but blending in a piece of fruit can completely change the taste. I can definitely recommend kiwi fruit. It really compliments this shot, and is also fantastic for the immune system.
You may also like: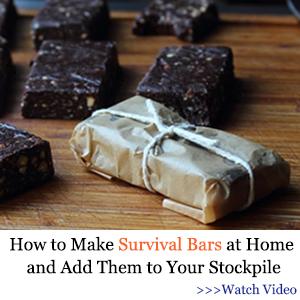 How I Make My Own Cough Mixture
The 10 Medicinal Seeds You Should Plant for a Complete Backyard Pharmacy (Video)
21 Wild Edibles You Can Find in Urban Areas
Why Put Onions in Your Socks Before Sleeping
How to Make a Healing Salve with Cabbage and Aloe Vera