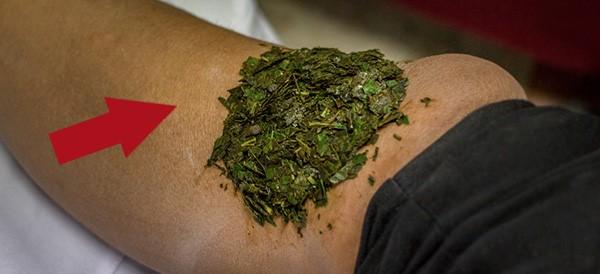 How To Make A Herbal Poultice For Joint Pain
There are many common plants that can be plucked straight from the garden or foraged from the wild and made into a soothing poultice to ease joint pain. Plants that have been traditionally used to treat pain and inflammation have been proven to work effectively, and some of the extracts have been found to be as effective as commercially produced products.
When making a poultice, it's better to use fresh herbs and plant material and apply it immediately. This will ensure a higher potency as well as making it easier to create a sticky paste.
This poultice is best used on joints that are close to the skin, such as hands, wrists, elbows, feet, ankles, and knees. For any new ingredient, the first test is whether you are allergic to it by applying a small amount to your skin.
The following article describes a number of medicinal plants that can be found in the garden or foraged from the wild. There is also a list of essential oils that are recommended for treating joint pain.
Herbs And Wild Plants For Joint Pain Relief
Below is a list of common herbs and wild plants that have been thoroughly studied for their ability to treat arthritis and joint pain and are recommended ingredients for an herbal poultice.
False hellebores (Veratrum spp.) are highly poisonous when ingested due to the incredibly high concentrations of veratrum alkaloids. However, these alkaloids are very similar to steroids which are often prescribed to treat severe arthritis. For this reason, the roots were traditionally used as an external poultice for joint pain. Do not apply anything containing false hellebore to broken skin.
Indian tobacco (lobelia inflata) and some other tobacco plants from the genus Nicotiana contain anatabine alkaloids and salicylates. Anatabine alkaloids and salicylates can significantly decrease inflammation and joint pain in most people. Any part of the plant can be used externally for a pain relief poultice.
Yerba buena (Clinopodium douglasii), wild basil (Clinopodium vulgare) and other Clinopodium species have analgesic properties and are especially effective for ligament and muscle pain and less effective for the treatment of osteoarthritis and rheumatism.
Willow bark contains salicin which is as effective at reducing pain as aspirin and is also a traditional remedy for all types of pain.
Ginger has been found to block the production of some of the compounds that cause inflammation, as well as block the signal pathway for pain.
Turmeric has compounds that increase circulation while decreasing the concentration of two types of enzymes that are responsible for inflammation. A poultice that contains turmeric will definitely stain your skin.
Most plant-based oils contain anti-inflammatory properties, however, soybean, almond and olive oil penetrates significantly deeper into the skin than other oils, so they are often used to enhance the penetration of medical creams.
Essential Oils For Joint Pain Relief
Another option is to add 5 or so drops of essential oil to your poultice. There is ample research proving the anti-inflammatory properties of a huge number of essential oils, and the brief list of oils below have additional benefits for treating joint pain.
Cloves contain close to 80% eugenol which is a known anesthetic and anti-inflammatory.
Lemongrass was found to reduce the amount of pain associated with arthritis when used topically due the citral-based anti-inflammatory. Fresh lemongrass can also be used in a poultice, but lemongrass essential oil is more potent.
Frankincense and myrrh have been proven to complement each other to reduce inflammation and joint pain.
Lavender has the ability to both relax muscles and reduce inflammation.
Eucalyptus is a popular ingredient for joint pain treatment due to the high concentrations of tannins which have powerful anti-inflammatory properties. Fresh leaves can also be effective in a poultice.\
How to Make an Herbal Poultice For Joint Pain
Ingredients: 
1 tablespoon of false hellebore roots

5 – 6 Indian tobacco leaves

5 – 6 Yerba Buena or wild basil leaves

1 tablespoon of finely chopped willow bark

1 tablespoon of chopped ginger

1 teaspoon of soybean, almond or olive oil

Essential oil (cloves, lemongrass, frankincense, myrrh, lavender and/or eucalyptus)

OPTIONAL: 1 tablespoon of turmeric powder
Method
Place all of the fresh ingredients except for the essential oils into a mortar and grind it into a paste with a pestle. When the paste is ready, add 1 drop of each essential oil (approximately 5 – 6 drops in total) and mix into the paste.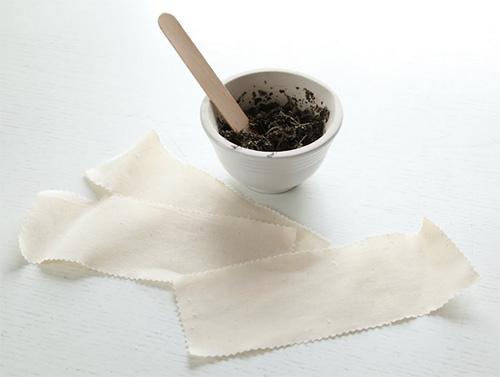 How to Apply
Apply the paste liberally to the affected area.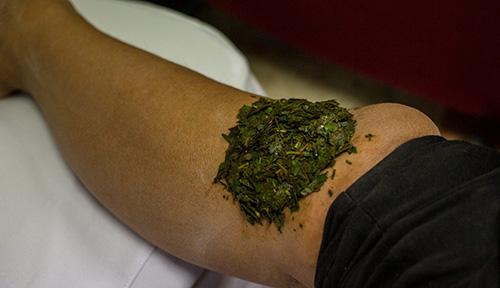 The general rule of thumb is to cover about twice the size of the affected area and to make it at least ½ an inch (1.3 cm) thick. Secure it with a piece of cheesecloth, bandage, or plastic wrap.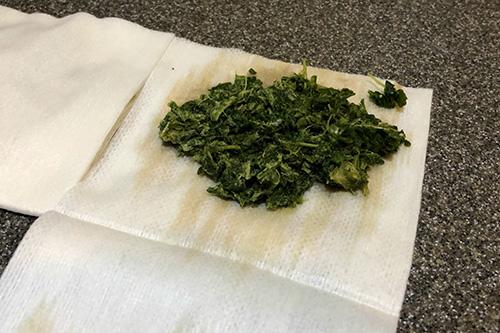 For hands and feet, an old pair of gloves or socks is a great way to keep the poultice in place. Don't wrap it too tightly since you want to maintain normal blood flow to the affected area.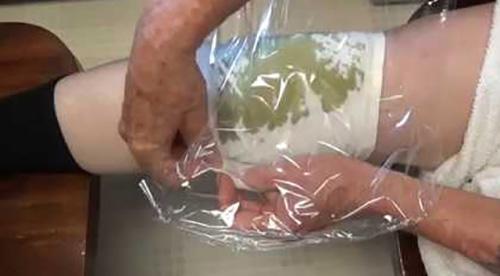 In some cases, the most convenient time to apply a poultice is overnight. This way the poultice and bandage won't be a hindrance during the day, and it can be easily washed off in the morning.
It's possible to partially freeze the paste while wrapped up in a cloth and apply the poultice as an herbal ice pack instead.
You may also like: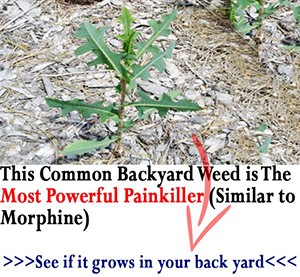 Homemade Ginger And Chickweed Poultice For Circulation And Sore Muscles
Why You Should Put Garlic in Your Ear Before Going to Sleep (Video)
How to Make Your Heal-All Remedy
When Painkillers Won't be Available, Try This