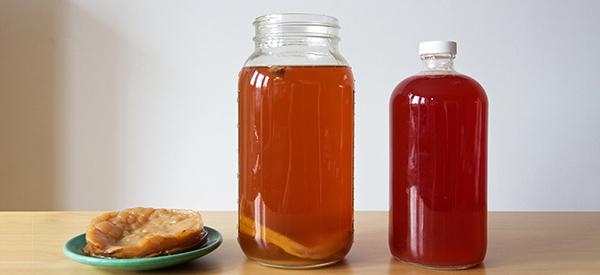 How to Make Medicinal Kombucha at Home
Have you ever wondered what kombucha is and how to make it? Kombucha, which is basically a fermented tea, is a wonderful drink with many health benefits for your body. Making kombucha at home is very simple and safe.
To make kombucha, you need to use a symbiotic culture of bacteria and yeast (SCOBY). It's formed after the completion of a unique fermentation process of lactic acid bacteria, acetic acid bacteria, and yeast. Many substances that have a positive effect on humans are created in kombucha, and these beneficial effects have been known for thousands of years.
What Kombucha Contains And Its Positive Effects
SCOBY, which is an accumulation of bacteria and yeast, can differ in appearance from one culture to another. A healthy SCOBY always looks like a wet and slimy mushroom. It is the most important part of the kombucha making and will be added into our mix. The mix contains water, tea, sugar, and, in our case, medicinal plants. During the fermentation process, a number of reactions take place in sweetened tea, resulting in the formation of healthy substances.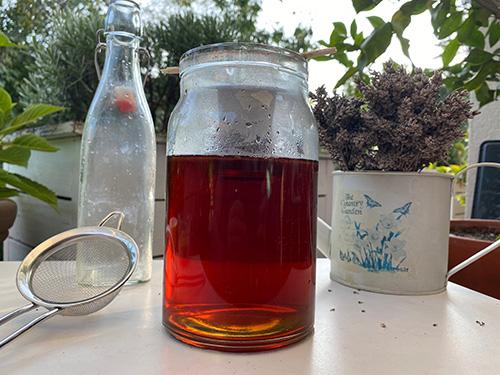 Thanks to fermentation and brewing, kombucha is rich in probiotics, which have positive effects on the digestive tract and immunity. In the formation of kombucha, sugar is consumed by the yeast, releasing various valuable substances, such as iron, potassium, calcium, magnesium, sodium, zinc, and vitamins B1, B2, B6, B12, C, D, E, and K. In addition, you will also find alcohol, acetic acid, oxalic acid or gluconic acid, carbon dioxide, and yeast.
Benefits:
Strengthens the immune system

Has antibacterial and antifungal effects

Detoxifies the body

Supports digestion and the activity of the small and large intestines

Strengthens brain activity and regenerates the nervous system

Reduces physical fatigue and relieves tension

Activates metabolism

Supplies energy and vitality
Preparation
You can make your own kombucha at home and enjoy its benefits. It's easy and a lot of fun. When making kombucha, you have to realize that you are working with a living culture that reacts to the outside world. It can react with oxygen, temperature, its alimentation, or the sun. That's why you will never make kombucha that looks or tastes the same.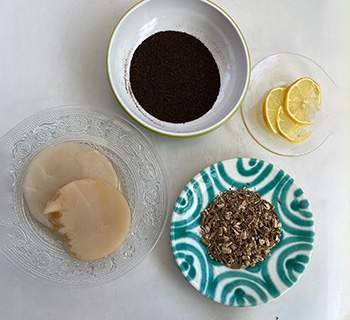 Ingredients:
Glass jar (0.5 gallon or more)

Filtered water (0.5 gallon)

Black or green tea (2 ½ teaspoons or 10 teabags)

Dandelion root (3 teaspoons)

A few slices of a lemon

Sugar (3.5 oz. or 7 tablespoons)

SCOBY culture or culture from a previous kombucha

Filter paper or linen
Note: Prepare kombucha in a glass container as glass is the safest of the available materials. If you prepare it in metal or plastic, it could cause unwanted chemical reactions and degrade it. When making kombucha, do not forget to observe maximum hygiene and cleanliness.
Recipe
Boil half a gallon of filtered water, and make a strong sweet tea using quality black or green tea and organic sugar. To make half a gallon of tea, you will need approximately 5 tea bags and 7 tablespoons of sugar.

Then add the dandelion roots.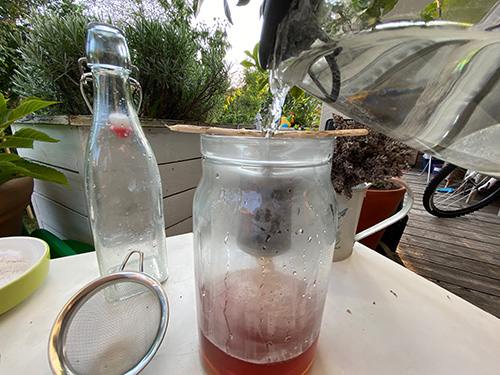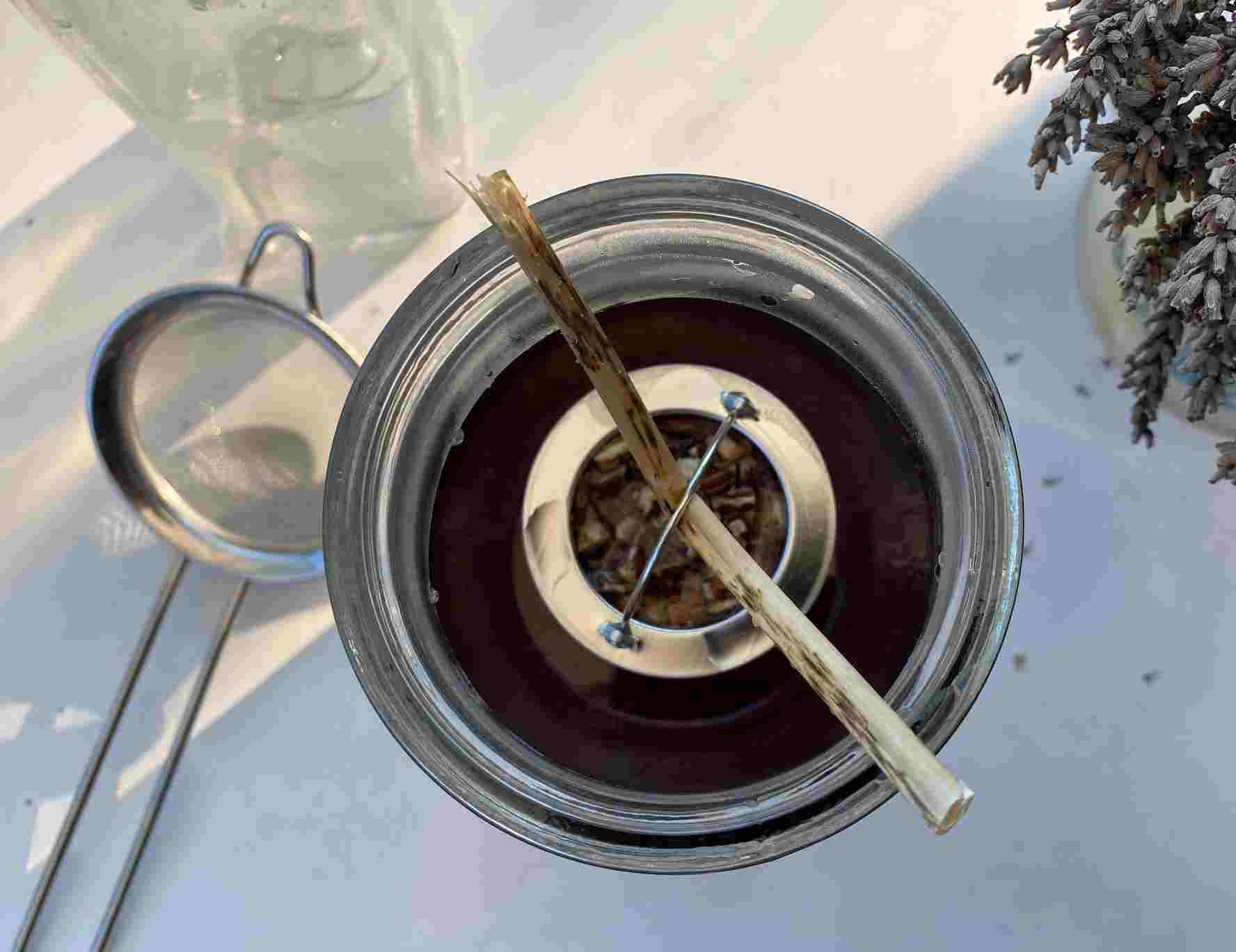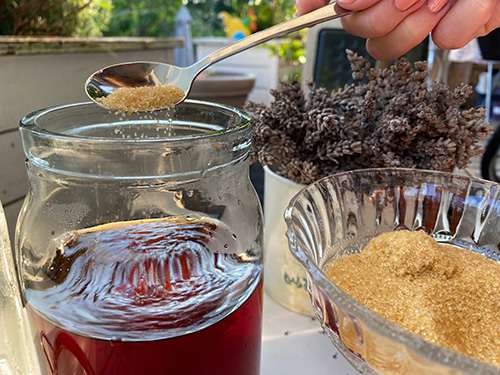 Allow the tea to cool to room temperature. This is an important step because if you put your SCOBY in hot water, you will kill it.

When the tea is at room temperature, pour it into a glass jar. It is best if you still have some free space in the container after pouring the tea in. 

If you are just starting out with kombucha, you will have the culture purchased in the store. Add kombucha infusion to the tea, and insert the kombucha culture.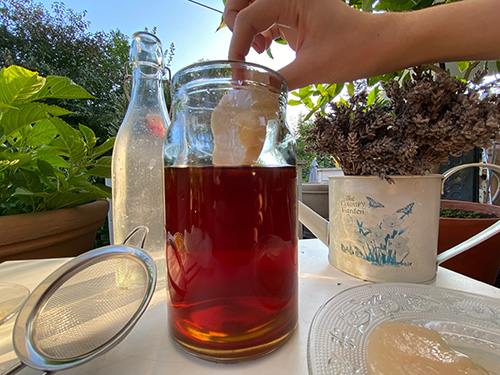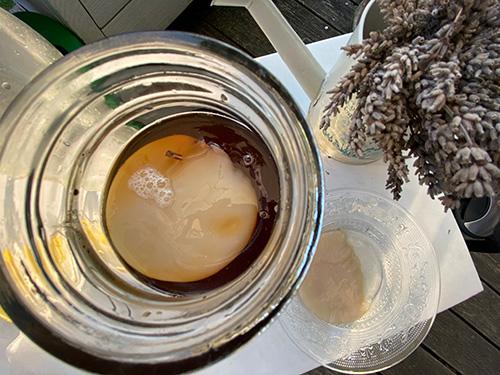 The kombucha needs to breathe oxygen, so you should cover the jar with filter paper or linen and hold it in place with a rubber band. Look for any openings and cover them to prevent insects from entering. Remember that insects are dangerous for your kombucha.

Place the jar in a room with a consistent temperature, preferably at a room temperature of around 25°C with no sunlight, and leave to ferment for 7 days. We do not recommend lower temperatures, as temperatures below 18°C are unsuitable for kombucha and will prevent fermentation.

After a week, pour the kombucha through a sieve into a clean cup, add lemon (as much as you wish), close with an airtight cap, and store in the refrigerator.
TIP: For a more pronounced taste and more bubbles, pour it into a new glass container after a week and then let it ferment for another few days.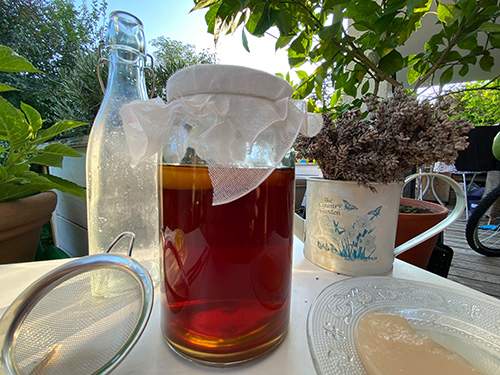 If you want to use kombucha for further fermentation, carefully take the cultures that have formed on the surface, together with the parent culture, out of the jar, rinse them with water, and put them into a new jar filled with tea.
You may also like: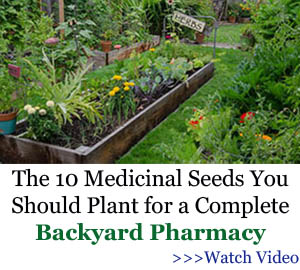 The 7 Most Powerful Medicinal Tea Blends
Erratic Blood Sugar? Never Eat This Veggie (Video)
10 Natural Sweeteners and Sugar Alternatives
How to Make Immune Boosting Elderberry Syrup