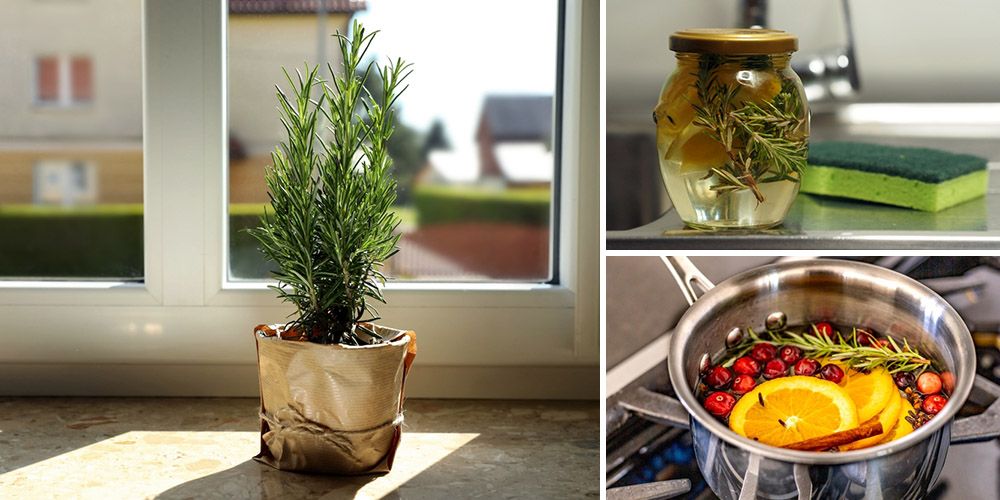 15 Household Uses for Rosemary You Didn't Know About
Rosemary is a prized herb recognized for its culinary value. It infuses a distinct aroma to enhance the way food tastes. A sprig of rosemary completes the delectable flavor of lamb and steak, making it a staple herb for such recipes.
But there is so much more about rosemary than just cooking. It has an important repertory in the history of medicine. Rosemary has been a popular constituent in many tonics and liniments used for boosting memory. It can promote overall mental health and relieve other health problems too.
There are numerous reasons why you should incorporate rosemary into your diet. Outside of the kitchen, this seemingly common culinary herb has a plethora of other uses.
15 Household Uses of Rosemary
Air Freshener

Get rid of the pungent odors in your home with rosemary leaves, vodka, and a few drops of essential oil. Rosemary air freshener is a green alternative to chemical air fresheners. You can use this anywhere in the house. It can battle even the worst smell in your bathroom and kitchen area.
To make your own rosemary air freshener, gather about half a cup of fresh rosemary sprigs. Add it to one cup of cheap vodka and let it infuse in a dark place. After at least two weeks, take the infusion and strain it into a 1-liter spray bottle. Top it up with water, add 5 to 10 drops of rosemary essential oil and shake well before using.
Potpourri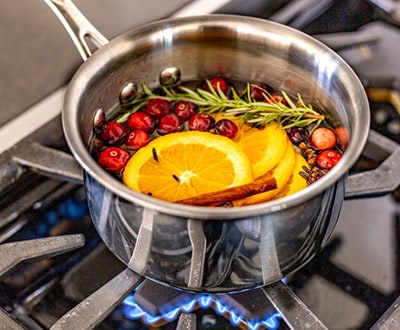 Potpourri is a mixture of dried herbs and flowers that exudes not only a fragrant scent but also adds a decorative value. You can place them in a corner of your home or at center tables for an instant and all-natural air freshener. Rosemary is one of the viable plants you can add to the potpourri bowl.
The secret to a refreshing potpourri is avoiding using too many powerful aromatic plants and herbs together. If you want a calming freshness in your home, try this rosemary-orange potpourri mix: 4 cups fresh rosemary (1 cup if dried), the peel of one orange, cut into strips and thoroughly dried, 1 cinnamon stick and 1 cup cranberries.
Snip the needle-like leaves of the rosemary off the stem if using fresh plants. Allow them to dry for three to five days, evenly spaced in a dry newspaper. When dry, crush the leaves to release their scent. Arrange the rosemary, orange peel and cinnamon stick decoratively in a bowl or glass jar. Place the potpourri in any corner of your home. Alternatively, you can simmer the mixture in low heat to release its potent fragrance anytime you need it.
All-Purpose Cleaner

Rosemary contains an ample amount of ursolic and rosmarinic acid, the compounds that inhibit microbial activity. Its powerful antibacterial, antifungal, and antiseptic properties make rosemary an excellent herb for a homemade cleaner.
Rosemary blends well with lemon and vinegar to create a potent but inexpensive all-natural surface cleaner. Combine two sprigs of rosemary, peels of 2 lemons or oranges, 2 cups water and 2 cups white vinegar in a jar with a cover. Let it sit for 10 to 14 days to allow the oil to infuse. The longer the liquid is left, the stronger the aroma will become.
Strain the infusion and transfer it into a spray bottle for general-purpose cleaning. You may add fresh rosemary and lemon to the bottle before using it to intensify the fragrance.
Pest Control
The pungent scent of rosemary can deter many of the notorious pests like mice, cabbage moths, flies, mosquitoes and other bugs. It works well during hot weather when pests are most active. All you have to do is place rosemary in various places around the house. Plant them in containers to make it easier for you to move them around. Or, you can harvest their leaves and throw them into the coal for the smoke to keep mosquitoes at bay.
⇒ 10 Plants That You Should Never Plant Together (Video)
Rosemary Candle

Botanical candles are not only romantic for candlelit dinners but also bring about health benefits. Adding rosemary to a candle releases its active compounds. Inhaling rosemary can improve focus and memory and puts up a warming fragrance in a room.
Many commercial botanical candles use dried herbs but Fire Administration frowns on the idea. To avoid an accidental fire with dried twigs and leaves, use essential oil instead.
In a double broiler, bring a pot of water to a boil. Add one pound of paraffin wax into it until it melts. Remove from fire and let it cool to 185⁰F before stirring in 40 drops of rosemary essential oil. Pour into prepared jars with a wick, making sure that the wick is secured and centered. You can use a clothespin to hold the wick in place as the wax dries. Let the candle cure for 48 hours before lighting.
Bath Salt

Say yes to bath salts that clear away your worries and reinforce your mind with positivity! The goodness of bath salt infused with rosemary promotes better mental health and reduces stress and anxiety. Just prepare 2 cups of Epsom salt, 2 tbsp baking soda, 4 drops of rosemary essential oil, 1 tablespoon of fresh needles and mix well. You may add 2 drops of food coloring or a few drops of lemon juice if you want. Transfer it into a clean and dry mason jar and use it for a relaxing bath.
Salve

Rosemary has anti-aging properties that bring out the skin's youthful glow when applied topically. Its antimicrobial and antiseptic properties can relieve skin problems and inflammation. A lotion made of rosemary can keep the skin hydrated and lock in moisture that is perfect for dry weather.
You'll need: ½ cup olive oil, 3 to 4 rosemary sprigs, fresh, 1/3 tsp beeswax, ¼ cup coconut oil and 1 tsp vitamin E oil.
Prepare the rosemary-infused oil by heating olive oil and rosemary in a saucepan to 180⁰F. Allow to cool and strain the oil to remove the rosemary fragments. In a glass jar, put the infused oil, beeswax and coconut oil. Place the jar over a saucepan with water or a double boiler and heat until melted while stirring well. Remove from heat and add the vitamin E and mix well before pouring into a mold. Use this salve anytime you need it, especially for alleviating rough skin during less humid weather.
Deodorant

Rosemary may sound like an unconventional ingredient for deodorant, but it is a thing and it does do the work. The astringent and antiseptic properties of rosemary prevent the growth of odor-causing germs. You can use it mess-free by infusing rosemary twigs and leaves in your bath water. Or follow this simple recipe:
Microwave ½ cup coconut oil until fully melted and add ¼ tsp rosemary essential oil. Add ¼ cup baking soda and ¼ cup cornstarch and mix until smooth. Pour the mixture into a jar or empty deodorant tube for a mess-free application.
Hair Rinse
An infusion of rosemary in water makes an excellent hair rinse that will solve scalp problems. It is most beneficial in preventing hair loss and baldness. Rosemary hair rinse is also great for conditioning and promoting healthy tresses.
Mouthwash

Complete your DIY rosemary apothecary with a mouthwash that promotes good oral health. Rosemary cleans the teeth, flushes away germs and alkalizes the mouth to curb bacterial growth. Rosemary mouthwash is easy to make. What you need is a teaspoon of rosemary leaves, mint leaves and cloves boiled in water for five minutes.
⇒ How to Take Care of Toothaches and Mouth Infections When You Can't Visit a Dentist (Video)
Facial Toner
Boost your skin health by incorporating rosemary into your daily beauty regimen. Rosemary facial toner is effective in rejuvenating skin to reduce age spots and blemishes. It can also treat acne and prevent skin infections.
Concoct your own facial toner by boiling 2 sprigs of rosemary in 2 cups of water. Reduce the heat and simmer until the liquid is reduced to half. Cool, strain and add 3 tbsp apple cider vinegar, then transfer it to a reusable container.
Rosemary Skewers
Here is another unconventional use of rosemary: turn it into a natural barbecue skewer. It will not only hold the grilled pieces but also infuses its delectable flavor as it cooks. Use a fresh plant long enough to handle the food and insert it in a pre-bored hole in meats or veggies.
Refreshing Lemonade
Get the most out of the healing properties of rosemary by adding it to your drinks. You can steep rosemary in drinking water or prepare a sweet lemonade cocktail out of it.
In a saucepan, bring 1 cup water and 1 cup sugar to a boil, stirring constantly to make syrup. Remove from heat and add a couple of sprigs of fresh rosemary. Let cool for 30 minutes and strain the syrup into a pitcher. Pour in about 4 cups of cold water and 1 cup of freshly squeezed lemon juice. Top with ice cubes, garnish with a rosemary sprig and enjoy the lemonade cold.
Rosemary Salt

Turn an ordinary dish into a gourmet meal using flavored salt. Rosemary salt is a great spice for meat, poultry, and practically any food that needs an upgrade. You can make one at home by pulsing 1 cup coarse sea salt, 3 tbsp rosemary leaves and lemon zest in a food processor. Spread them on a baking sheet and bake in low heat for 15 minutes to dry.
Rosemary Tincture

The best and most potent form of rosemary is in its tincture form. It can be used in many ways, from soothing an upset stomach, enhancing the mood, or alleviating pain and illnesses. Traditionally, men used it for enhancing beard growth just as women used it for keeping their hair healthy.
Keep a bottle of rosemary tincture handy anytime you need its therapeutic benefits with these simple ingredients: 1 cup fresh rosemary (1/2 cup if using dried) and 1 cup 80-proof vodka (40% alcohol)
Chop and lightly crush rosemary leaves, then place them in a clean glass jar. Pour in vodka to cover the leaves completely. Cover the jar and put it in a dark and cool place to infuse, shaking the jar regularly. After 4 to 6 weeks, take out the jar and strain the tincture with a fine sieve into a sterilized jar. Store the tincture in a cabinet.
Rosemary tincture can last for about 5 years when stored properly. If you want an alcohol-free tincture, you may use vegetable glycerin or apple cider vinegar instead of vodka.
Takeaway
It is surprising to know that rosemary uses are not limited to the confine of the kitchen or as herbal medicine. It possesses potent properties that are also useful for home cleaning and beauty regimen. There are plenty of other ways of using rosemary in your drinks, food, cleansing, beauty and decorative products.
Rosemary leaves are versatile and hardy. Shape them into a wreath or hang them around your home for a whiff of fragrance and added aesthetic display. Rosemary symbolizes love, loyalty, and remembrance, which is great for bringing good vibes into your home.