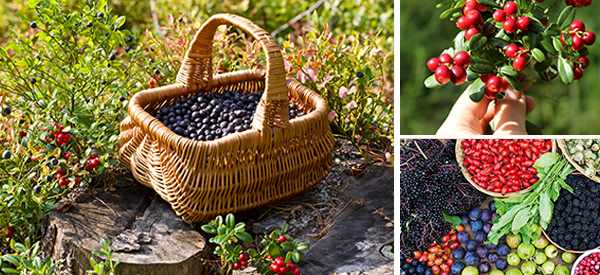 10 Berries You Should Look For In The Woods
Walking in the woods is such a serene experience. When walking in the woods, you may often come across some elements of nature that you know nothing about and wonder what they are and what they do!
Berries are one of those elements! With over 400 varieties of berries in America alone, it's often difficult to recognize the edible from the inedible and the good from the not-so-good.
Berries that grow in wooded areas can vary significantly in size, shape, color, and of course, variety. But how on earth do we tell which ones are which? And how do we know whether they have hidden benefits or hidden risks underneath the often attractive exterior?
Let's take a wander through 10 of the varieties of berries you might find while out in the woods and how you can use them when you come across them.
Blackberries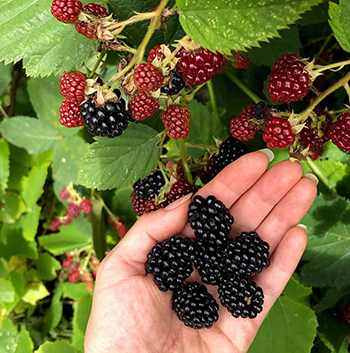 Scientific Name: Rubus
Where To Find Them: Eastern America/Pacific Coast
When To Find Them: July-August
Blackberries are amongst the most common berries found in woodland areas the world over and can grow in vast amounts year after year.
They grow on thorny bushes and look similar to raspberries in their appearance but are distinguishable by their deep purple/blue color.
How To Use Them: 
Blackberries are incredibly versatile, and when they are ripe, you can eat them straight from the bush!
Given their high antioxidant properties, eating them in any way will be particularly good for your health!
You can use blackberries to make jams, fruit pies, or make the most beautiful blackberry-infused tea, by steeping the berries in hot water. This is equally delicious to drink as Iced tea too!
Buffaloberries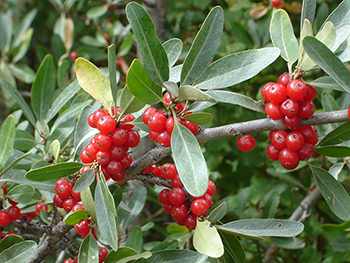 Scientific Name: Shepherdia Argentea
Where To Find Them: Central and Western North America
When To Find Them: July-September
Don't let the strange name fool you into thinking these berries are big!
These tiny little bright red berries grow in clusters on banks and hillsides and are very similar to cranberries in appearance, and pack a seriously sour punch!
Native to Central and Western North America, to can find these berries from California to Arizona.
How To Use Them: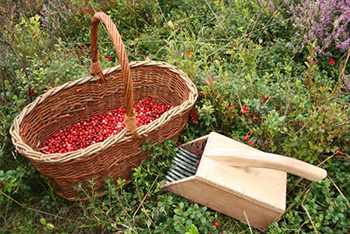 These berries can be eaten whole, but it can be a very sharp experience!
We recommend using these in the more sugared preparations such as jams or in a sweet and sour sauce and the sour component.
These tiny red gems are rich in lycopene, which is said to reduce the risk of some types of cancer.
Barberries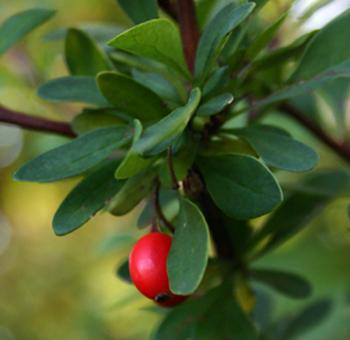 Scientific Name: Berberis
Where To Find Them: Southern/Central North America
When To Find Them: August/September
Barberries are a red color and can be found on thorny shrubs across all Southern parts of North America, but the Barberry originates from Europe!
Small and elongated in shape, Barberries are particularly difficult to pick, given the spiky surroundings of the bush.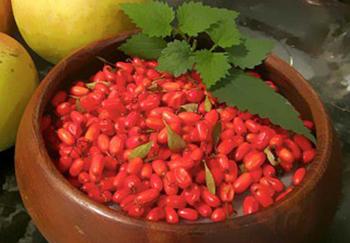 How To Use Them:
Rich in vitamin C, these small pale red berries can be dried and freeze-dried for use in rice dishes and earthy dishes that require a sour punch.
The Barberry will benefit from adding sugar or syrup if they are being used as an ingredient in the kitchen, so dishes such as summer puddings and chutneys may be an appropriate use!
Chokeberrie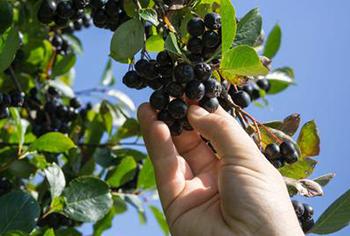 Scientific Name: Aronia
Where To Find Them: Eastern North America
When To Find Them: September- December
Now, these berries have a name that raises the alarm! But this is only a part-caution to these deep purple, medium-sized berries.
While they may not actually choke you in the asphyxiation sense, they are so bitterly sour they may make your face reflect the overriding sourness!
They hold many antioxidants that may help to relieve symptoms of some chronic illnesses, such as high blood pressure and inflammation.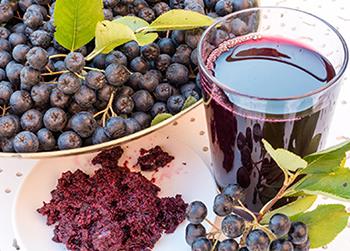 How To Use Them:
Chokeberries can be eate
n raw with no culinary intervention; however, any additional sweetness would counteract their sharpness given their natural tart flavor.
You may also find chokeberry inside some health capsules as a supplement.
Click Here for a Complete Guide to 400 Wild Plants That You Can Forage For
Cloudberries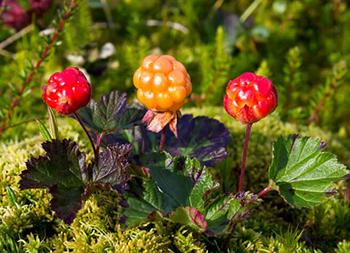 Scientific Name: Rubus chamaemorus
Where To Find Them: Alaska, Maine, Minnesota, New York, and New Hampshire.
When To Find Them: May-August
The cloudberry is a mix of blush peach and pink in color and forms the "berry" with small segmented clusters of juicy pockets, similar in appearance to a raspberry or blackberry.
Cloudberries grow on the ground in far northern parts of America, Canada, and Alaska and are incredibly tart to taste!
How To Use Them: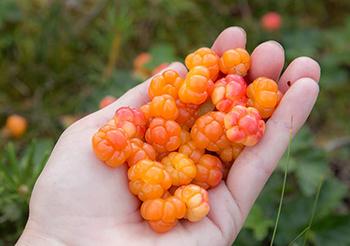 Extremely high in vitamins
A & C, Cloudberries may help the body protect itself from ailments such as cardiovascular disease and may help to strengthen the immune system.
Again, their sharp flavor would benefit from additional sweetness for cooking, such as sugar syrup, meringues, and sweetened whip!
Dewberries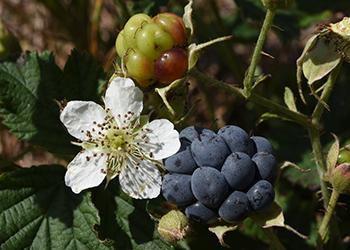 Scientific Name: Rubus caesius
Where To Find Them: Southern North America
When To Find Them: March-April
Dewberries are very closely related to the blackberry and raspberry, and this is evident in the segmented appearance of the whole fruit, although smaller in size.
Found growing low on woodland floors or the roadsides, they creep as they grow and have very spiky surroundings, which may be to protect the very delicate fruit itself.
How To Use Them:
The Dewberry is a wholly beneficial plant as the leaves can be safely consumed too (Usually herbal tea).
However, the dark purple-to-blue berries are naturally sweet to be eaten at source or added to other berries for a summer Berry salad or in jello for an adult dessert.
Saskatoon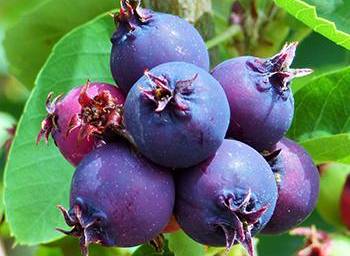 Scientific Name: Amelanchier alnifolia
Where To Find Them: Central North and Western North America
When To Find Them: June/July
Saskatoons are a berry that is a doppelganger for a blueberry, but instead of growing in a carpet style, they grow in tiny clusters on trees.
Deep blueish color with a dusty coat, saskatoon berries are packed full to the brim with antioxidant properties that will see you in good health.
How To Use Them:
Although not as sweet as a blueberry, saskatoons have the delicate flesh you'd expect from a berry and can still be eaten straight from the tree, as well as be used in pancakes, smoothies, and scattered on desserts.
Cowberries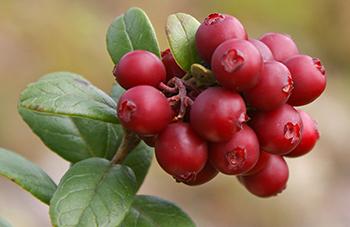 Scientific Name: Vaccinium Vitisidaea
Where To Find Them: Pacific Northwest to Alaska, Massachusetts, and Maine
When To Find Them: June-August
Cowberries grow beautifully in clusters, and the berry itself is a plump, shiny red jewel.
Similar in berry status to the cranberry, these small and perfectly round berries are pretty firm and have a sharp and tart taste.
How To Use Them:
They are packed with vitamin C, much like the cranberry, and lend themselves perfectly to preserves and baking.
They would also be a tremendous and contrasting accompaniment to a cheeseboard.
Huckleberries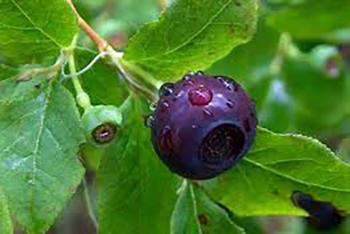 Scientific Name: Vaccinium membranaceum
Where To Find Them: Widespread Clusters, Specifically Northwestern Territories
When To Find Them: July-August
You will find Huckleberries in mountainous, cool, and moist woodland settings, hiding amongst the lush green leaves of their host!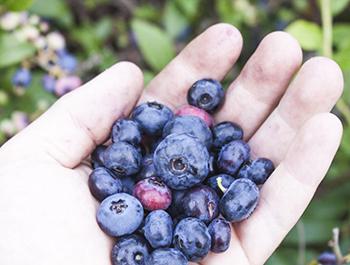 You'd be forgiven for easily mistaking them for a blueberry, and if it wasn't for the fact that the huckleberry grows on trees as opposed to a floor-level blanket style, you might easily get the two confused!
The huckleberries are very similar in color to a blueberry, too, sporting a deep purple/blueish color.
The deep color often denotes the level of goodness in fruit by way of antioxidants, and the huckleberry is no different.
How To Use Them:
Well, you can use these berries similarly to blueberries, so using them in breakfast dishes, baking and smoothies will all get the best out of this beautiful berry.
Full of antioxidants, the huckleberries will bring an extra layer of health benefits to your day.
Elderberries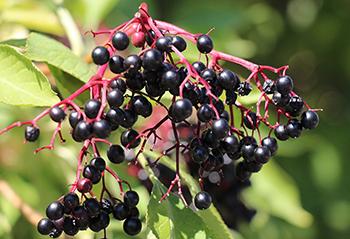 Scientific Name: Sambucus canadensis
Where To Find Them: East Of The Rocky Mountain, and Southward
When To Find Them: July-September
Elderberries are an immune-boosting dream berry!
Packed with immune-boosting properties and minerals, elderberries grow in large bunches of tiny dark purple berries on red stems.
Elderberries thrive in cooler climates and will grow in large numbers for a well-established bush.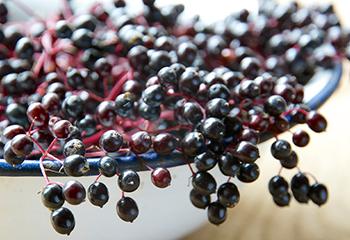 How To Use Them:
Given that they can grow in huge numbers in the right environment, elderberries are usually cultivated and used in health-boosting products for natural wellbeing.
You will find elderberries the perfect berry for conserves, cordials, and put-in summer drinks for that special health-conscious touch.
Cooked ripe elderberries are perfectly edible. Unripe elderberries are poisonous. Raw berries can cause nausea, vomiting, and diarrhea, among other symptoms, so be sure to cook them before eating. Cooking the berries also improves their flavor.
There is such a rich abundance of wild berries you can look for when out on a woodland walk, and many of these are edible right from the tree or bush and so full of great things for your health and immune system.
Of course, finding certain berries on your travels will totally depend on where you are in America and what berries are native to your local area; there will likely be many more you find on your travels!
Have fun finding berries, but always make sure that you can identify them successfully before you decide to consume them in any way!
You may also like: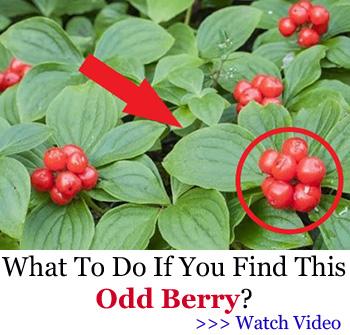 Coffee Berry, Nature's Wasted Superfood
100 Foods That Last 10 Years (Video)
How To Make Your Own Raspberry Vinegar
Elderberry Syrup With Echinacea and Goldenseal