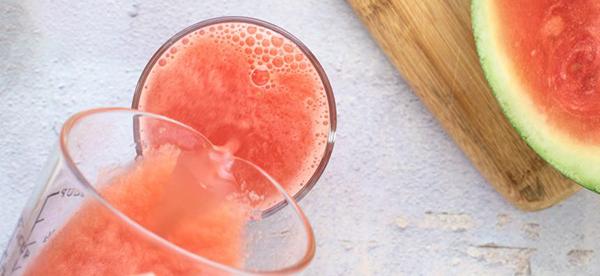 If you're looking for the best way to stay hydrated this summer and quench your thirst, this juice will definitely help. Drinking water is obviously important but did you know you can get a considerable amount of your daily water from fruit and vegetables? This not only helps you consume more water because of the variety of flavors you can enjoy but some even contain electrolytes helping you to maintain fluids, not to mention plenty of other nutrients.
The ingredients in this recipe are some of the most hydrating possible and are well known for their high water content and nutritional value. Celery is made up of 95% water, watermelon is 92% water, and cucumber 90%. For this reason, they're a great choice for hydration and they also contain very few calories so taking them as juice isn't a problem and will make it easier to consume more of them. Let's look at what these three nutritious ingredients can do for you.
Medicinal Benefits Of This Drink
Staying hydrated is important for everyone, even more so in summer or before and after exercise. Sometimes a glass of water feels like it goes straight through you and you're still thirsty afterward. When we sweat we lose water and salt. Our bodies partly use salt to release retained water. Salt also helps absorb water and stay hydrated longer. The celery in this drink can help with this.
The Health Benefits Of Celery
Celery contains around 215 milligrams of sodium per cup. This electrolyte helps you to maintain fluids. Combined with the other hydrating ingredients, it will give you an instant boost as well as have a longer-lasting positive effect. As well as helping to hydrate, celery can treat and/or prevent these health conditions:
Rheumatoid arthritis – it reduces chronic joint pain and can even prevent pain by acting as a diuretic and removing build-ups of uric acid crystals that form around joints.
Cholesterol – reduces the amount of bad cholesterol found in the bloodstream.
Blood pressure – increases blood flow and lowers blood pressure, reducing the risk of a heart attack or stroke.
Cancer – it can help prevent and slow cancer cells from forming thanks to the polyacetylenes and luteolin found in it.
Skin conditions – it helps to kill pathogens that are responsible for certain skin conditions like eczema and psoriasis.
Allergies – it can help people with asthma and rhinitis by reducing inflammation and allergic responses.
Celery can also help flush out toxins in the liver and has powerful antimicrobial properties that boost immunity. On top of this, celery contains important minerals and vitamins such as folate, manganese, pantothenic acid, calcium, potassium, zinc, copper, biotin, and vitamins B6 / K / C.
Related: What Happens If you Drink Celery Juice for 30 Days?
The Health Benefits Of Watermelon
Apart from being delicious and sweet, watermelons have many health benefits. Before I go into these, if you have a lot of seeds in your watermelon you can turn these into a highly nutritious snack. Simply sprout them or toast them in the oven for maximum benefit. However, they are perfectly safe to eat raw so if a few go in your drink that's fine too.
As well as helping to hydrate, watermelon can treat and/or prevent these health conditions:
Cancer – the lycopene and cucurbitacin E found in watermelon can help prevent cancer.
Blood pressure – it increases nitric oxide levels making your blood vessels expand, in turn lowering blood pressure.
Age-related macular degeneration (AMD) – can help prevent this age-related eye problem which is common in older adults.
Rheumatoid arthritis – its beta-cryptoxanthin can protect joints from inflammation, lowering the risk of developing arthritis.
Watermelon can also lower inflammation thanks to powerful antioxidants. Inflammation is a key risk factor for developing many chronic diseases so it's excellent for maintaining overall health.
The Health Benefits Of Cucumber
Cucumber has been used in India for medicinal purposes for thousands of years. Cucumber contains electrolytes that help keep you hydrated. As well as its refreshing quality, it also offers a number of health benefits and can treat and/or prevent the following conditions:
Osteoporosis – the calcium and vitamin K in cucumbers help to keep bones healthy and ward off osteoporosis.
Cancer – the cucurbitacin found in cucumbers can prevent cancer cells from reproducing.
Diabetes – it can aid in the prevention and management of diabetes by lowering blood sugar levels.
Kidney stones – it can play a role in preventing kidney stones by helping you to flush out toxins from the body and regulating uric acid levels.
The peel is also high in antioxidants which help fight inflammation, making cucumber useful in protecting against a number of diseases. As well as this, it contains many essential nutrients including vitamin C, magnesium, manganese, and potassium.
Despite all of their wonderful healing properties, people with kidney problems may need to limit their intake of cucumbers because they can increase potassium and water levels in the body. If you take blood thinners, the vitamin K found in cucumbers (and celery) aids in blood clotting, so you should keep vitamin K levels consistent daily and steer away from any sudden increases. Having said that, for most people cucumber is safe, and along with all of its medicinal properties, it also helps relieve pain thanks to the flavonoids and tannins.
How To Make This Hydrating Juice
You can whip this juice up in five minutes and the portions outlined below will give you two large glasses of juice. Each glass will contain 74 calories. Of course, you can halve this recipe if you just want one glass. Or you can keep it in the fridge and consume it on the same day or the following day. If you keep it in the fridge, add some lemon to the drink and keep it in an airtight container to slow down the oxidation process.
Ingredients
2 ribs of celery
½ Of a cucumber
10 large chunks of watermelon (approximately 15 oz without the rind)
½ Cup of water (if using a blender)
Equipment
Blender or juicer
Chopping board
Sharp knife
Method
Wash your cucumber and celery ribs.
Cut half of your cucumber and save the rest for another dish or snack. Cut your remaining half in half again and then into small semi-circles. If you're using a juicer, just cut the cucumber in half lengthways so that it fits into the chute.
Cut off both ends of your celery ribs. Then slice them in half lengthways and cut them into small chunks all the way down. If you're using a juicer, cut the celery ribs into 2-inch pieces so the celery strings don't get caught in the mechanism.
Cut your watermelon into approximately 10 large chunks removing the rind. Scoop out any large seeds and reserve them for sprouting or toasting in the oven (this is purely an optional step to use them as a nutritional snack another time).
Add the ingredients to your blender or juicer. Include ½ a cup of water if you're using a blender to get things started and mixing easier.
Blend until you get a smooth consistency.
Your refreshing drink is now ready to enjoy.
Feel free to add ice if you like, especially if it's a hot day and your ingredients weren't cold. Once you try this juice you will see why it's better than water alone when you really need to hydrate and quench your thirst. Of course, it's still important to drink water throughout the day but it's nice to know while you're drinking this that you are getting added nutrients at the same time which have medicinal benefits to heal and replenish many parts of your body.
You may also like:
Add This "Unusual Nutrient" to Coffee or Tea, to Effortlessly and Fully Empty Your Bowels Every Single Morning (Video)
What Happens If You Drink Grapefruit Juice With These Common Meds?