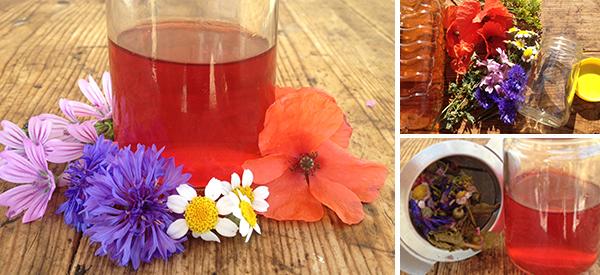 How To Make a Tincture Using Apple Cider Vinegar Instead of Alcohol
Any herb, fruit, nut, root, bark, leaf, or flower can be turned into a tincture. It's a convenient method of preserving the medicinal properties of your harvest, especially if you have a particularly abundant one. A tincture is one of the best ways to preserve medicinal properties that are heat-sensitive, such as vitamin C and Thiamine (vitamin B1), but there are a number of reasons to substitute the traditional alcohol-based tincture with apple cider vinegar (ACV) and a few of them are outlined below.
Alcohol Versus ACV
Alcohol can disrupt the absorption of thiamine (vitamin B1) and minerals such as zinc, so if you are targeting this vitamin or mineral, you should definitely use ACV instead of alcohol. Certain compounds dissolve better in the water while others such as mucilage, minerals, and polysaccharides don't dissolve at all in alcohol.
Magnesium requires oxygen to become water-soluble and any compound that contains potassium is also water-soluble so will extract better in ACV compared to alcohol.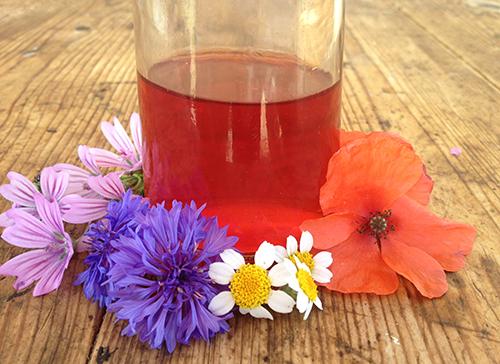 Making a tincture with ACV can be as effective as an alcohol-based one, but it will have a shorter shelf-life due to the higher water content of ACV. ACV is approximately 94% water whereas 40% alcohol has roughly 60% water. This water actually oxidizes vitamins and minerals, so the higher the water content, the more oxidation that occurs which will reduce the potency over time. Any vinegar-based tincture will last 1 – 2 years, whereas an alcohol-based one will last 2 years or more if prepared correctly.
But the higher water content of ACV can also mean that more water-soluble vitamins and minerals can be extracted out of the plant material. These include vitamin C, the vitamin B complex, mucilage, polysaccharides, sugars, and proteins.
Another reason to use ACV instead of alcohol is that it's safe to use it with children and people with alcohol sensitivities or those who abstain from alcohol.
How to Make an ACV tincture
The method is the same as an alcohol-based tincture and the ratios are pretty much the same:
Two-thirds of a jar packed with fresh plant material then fill with ACV
One-third of a jar filled with dried plant material then fill with ACV
These ratios are a guide only. I stuff, ram, and pack the jar two-thirds full of fresh herbs, scrunch up some baking paper to put on top to keep the herbs submerged, and then pour the ACV in until the jar is full.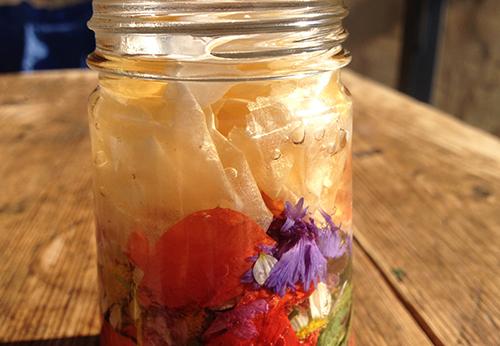 If you are using a jar with a metal lid, make sure to cover the top of the jar with plastic wrap or baking paper before you screw the metal lid on, otherwise, the vinegar will corrode the metal and it will start to rust.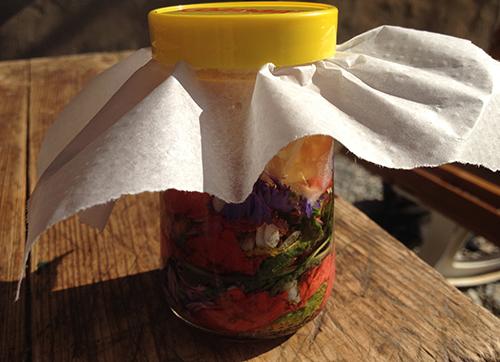 Place your tincture in the fridge for a week and give it a little shake every day. You may need to top up the ACV on day two as the air bubbles rise to the top.
Most compounds are extracted from leaves and flowers after a week and their concentration doesn't increase significantly after the second week, whereas bark, seeds, and nuts require at least 2 – 6 weeks to extract their medicinal properties.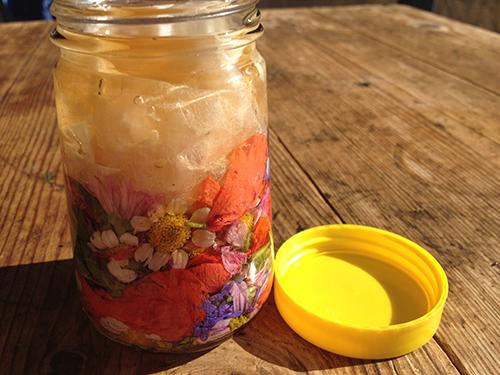 Once your tincture is ready, strain it and store it in a glass jar with a plastic lid (or add a piece of plastic food wrap or baking paper to protect metal lids from corroding).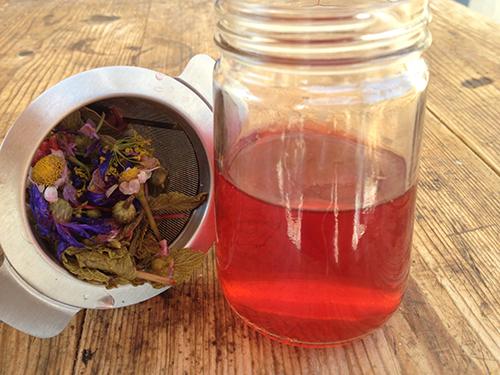 Storage, Usage, and Shelf-life
Store your ACV tincture in the fridge. You can then add it to salad dressings, smoothies, or in just water.
Dosage will depend on what herbs or plants you put in your tincture, but a general rule of thumb is approximately a teaspoon 1 – 3 times a day.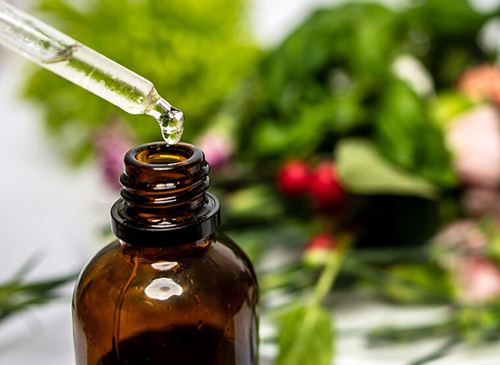 This ACV tincture will last about 1 – 2 years if you have sterilized everything and it's stored in the fridge or in a dark cool location. If you are using fresh herbs, an ACV tincture will last about a year and if you are using dried herbs, it will last closer to two years.
Plants Suitable for an ACV Tincture
So, next time you have some extra herbs on hand, try whipping up an ACV tincture to preserve their benefits. It's so easy that you can start preparing a tincture straight away. And to help get things started below is a very brief list of some plants that are relatively high in the medicinal properties that work well in ACV.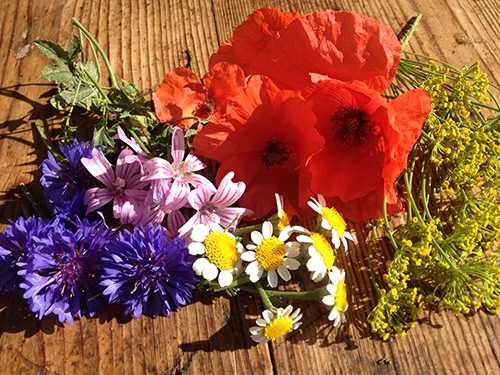 | | |
| --- | --- |
| Plants high in thiamine (vitamin B1) | Plants high in zinc |
| Coriander leaves A wide variety of seeds, especially sunflower seeds A wide variety of nuts A wide variety of beans | A wide variety of seeds such as poppy and cardamon seeds A wide variety of beans A wide variety of nuts |
| Plants high in vitamin C | Plants high in mucilage |
| Thyme Dill Saffron Pepper, paprika, and chili A wide variety of fruit Chestnuts | Marshmallow Burdock root Hibiscus Slippery Elm bark Comfrey roots Irish moss Coltsfoot Indian Gooseberry |
| Plants high in magnesium | Plants high in potassium |
| A wide variety of fruit A wide variety of seeds | Cottonseeds Turmeric Paprika |
So, in summary:
ACV should be used to extract water-soluble vitamins, sugars, proteins, alkaloids, trace minerals such as zinc, and compound minerals such as forms of magnesium and potassium.
Avoid using alcohol to extract vitamin C, vitamin B complex, and minerals.
You may also like: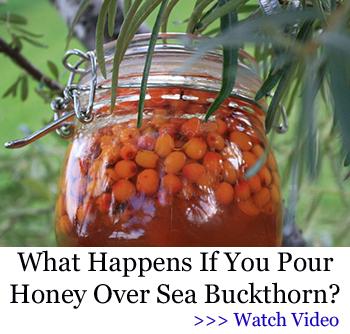 50 Essential Uses of Apple Cider Vinegar
How To Make an Elderflower Probiotic (Video)
How To Make a Cinnamon Painkilling Tincture
10 Remedies You Can Find In Your Kitchen