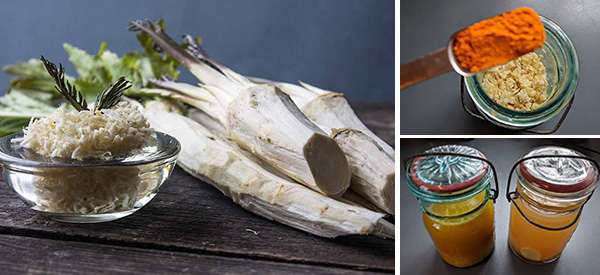 How To Make A Horseradish Tonic For Nasal Congestion
Nasal congestion or sinus congestion is not only annoying but also one of your body's warning systems, letting you know there is a possible infection brewing or that you need to give ourselves something to clear this mucus out.
Sometimes nasal congestion hangs on so long you just put up with it, just like waiting for spring while you put up with the rest of winter. Here are a few ways to clear out nasal congestion so that you can breathe easier and enjoy a good transition from winter to spring.
Horseradish – The Plant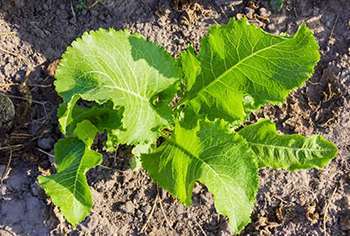 Horseradish is a food that has been used as medicine for centuries. It is from the brassica family of plants like mustard and cabbage which also hold many medicinal benefits. Horseradish is well-known as an accompaniment to heavy meals such as roast beef as it has complimentary flavor, aids digestion while adding comfort.
Growing horseradish might be the easy part, they say. It is one plant I have been unable to grow, sadly, so I can't say for sure.
Apparently, once horseradish is established, it can be difficult to get rid of as the long deep taproots will regrow new plants year after year after year. My father-in-law has a wonderful patch growing that he digs in the fall, harvesting large roots. He peels them and puts them in freezer bags to use as needed throughout the year. He has mastered horseradish sauce, which we all love. He gave me the pieces of horseradish root from his stash for these recipes.
If you don't have horseradish growing, you may have a neighbor growing some, or you might be able to obtain some from a grocery, health food, or online supplier.
Horseradish Benefits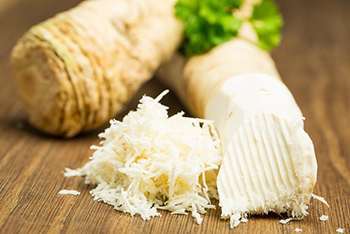 Horseradish benefits are plentiful! Horseradish is making a name for itself, showing promise with its anticancer potential. Highly nutritious, this root is high in vitamin C, folate and B vitamins, manganese, and magnesium making it excellent to fight colds, aid in a healthy pregnancy, keep nerves calm, and even aiding in a good night's sleep.
Importantly, it is a powerful decongestant. It also has anti-inflammatory, antimicrobial, and antifungal compounds to help combat any infection.
More love for this plant for its benefits on circulatory, respiratory, and cardiovascular health. Of course, always seek advice from your professional healthcare provider when suffering from ongoing symptoms or starting new complementary medicines.
The Horseradish Tonics
We will be using horseradish to make a gentle tonic that is ready to help clear those plugged noses. We will also be making a honey infusion to use as a daily morning tonic starter, combining horseradish with other incredible decongesting, cold-fighting, and immune-boosting ingredients. As no horseradish tonic conversation would be complete without discussing Fire Cider, we will be making my take on the Master Tonic also known as Fire Cider.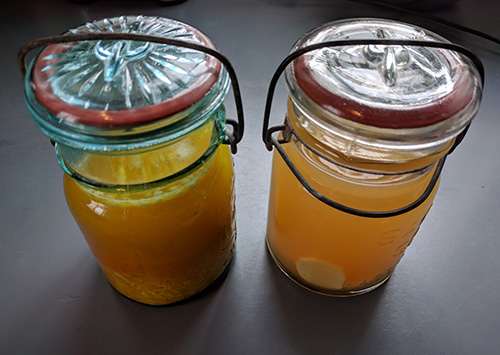 I have been using a gentle horseradish morning tonic for years and it is continually getting more elaborate. I do strive to keep it simple. The original was just "hot lemon". High-quality organic lemon juice and hot water as the first thing to drink in the morning. Then came the obsession with apple cider vinegar (ACV), so that was added to the mix. Basically, about a tablespoon each lemon juice and ACV in warm water. Each of the following recipes is elaborated on this basic morning tonic. Here, of course, we are fighting nasal congestion, so horseradish is in the center ring.
Gentle Tonic Recipe 
Ingredients:
1 Pint Jar

1-ounce sliced horseradish

½ cup honey

½ cup organic lemon juice

½ cup raw, unfiltered, unpasteurized apple cider vinegar
Step 1
Slice about one ounce or an inch of horseradish root.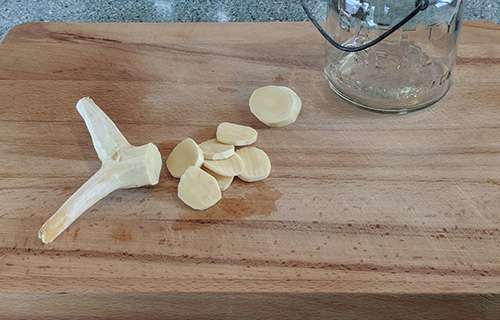 Step 2
Put in a jar and cover with honey.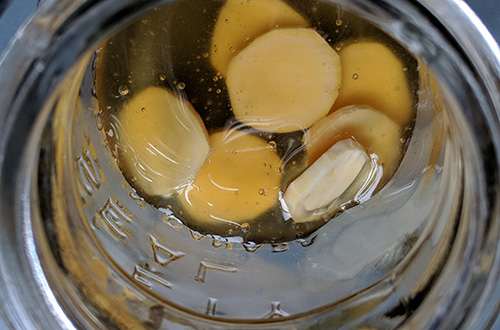 Step 3
Put in ½ cup each of lemon juice and ACV. Top up with high-quality water.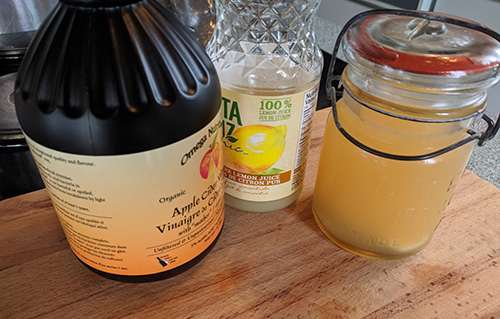 Step 4
Allow resting for 24 hours. Mix a tablespoon with 1 cup of warm water as a morning decongesting tonic. If treating a cold, flu, cough, or nasal congestion, repeat up to 6 times daily. Can be taken by the spoonful for a more potent effect. Also, makes a delicious ingredient to add to salad dressing.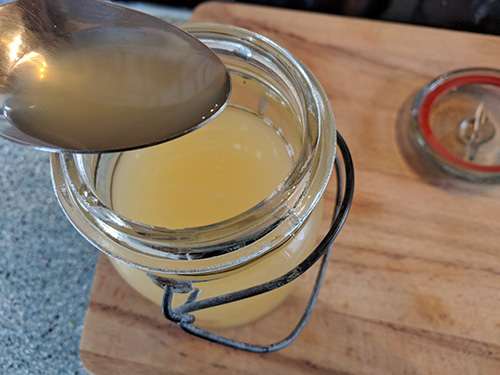 Infused Honey Tonic Starter Recipe
Ingredients:
1 ½-Pint Jar

1 tablespoon ground fresh horseradish root

1 tablespoon ground fresh garlic

½ tablespoon ground fresh ginger

1 cup honey
I grind the horseradish, garlic, and ginger in a small food processor. Finely chopped would do the trick. Horseradish can burn the eyes, similar but worse than onions. Some people where goggles when handling horseradish. Combine ingredients together. Allow the concoction to infuse for a week or so.
Step 1
Put 1 tablespoon of infused honey in a drinking glass.

Step 2
Put 1 tablespoon of each organic lemon juice and raw, unfiltered, unpasteurized apple cider vinegar.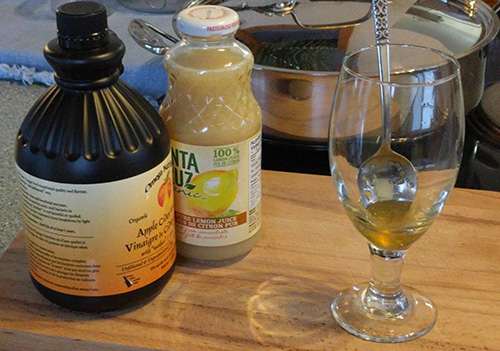 Step 3
Mix well.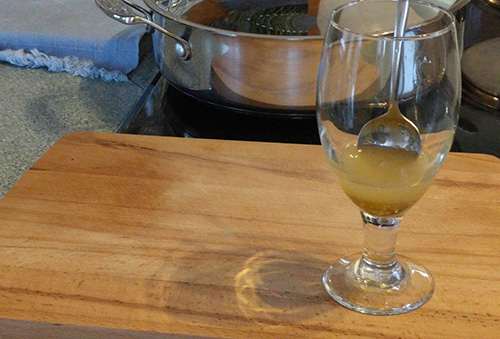 Step 4
Add warm water and stir. I use warm water from the kettle that is not yet at boiling point. This drink is chunky. I just drink the horseradish, garlic, and ginger bits. Refreshing! Others might prefer to pass it through a sieve for a less chunky experience.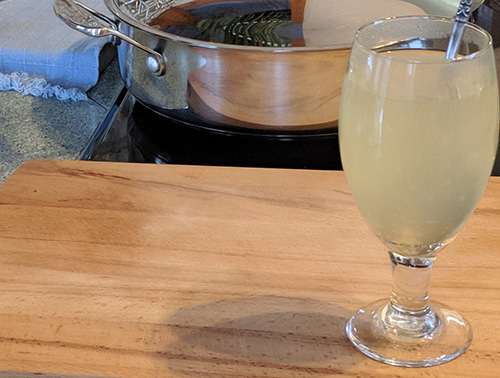 Easy Master Tonic (Fire Cider)
1 Pint Jar

2 to 3 ounces chopped horseradish

2 to 3 ounces chopped garlic

1 to ½ ounces chopped ginger

1 teaspoon ground turmeric

Less than 1/8 teaspoon cayenne pepper

½ cup organic lemon juice

1 cup raw, unfiltered, unpasteurized, organic apple cider vinegar
This is a bit of a cheat on a full-sized Fire Cider recipe. Often people make 1 to 2 gallons at a time and use fresh hot peppers and fresh turmeric. Usually, recipes call for a large quantity of white onion as well. In the summer or fall when more of these ingredients are readily available, this would be great. That way you would have your Fire Cider ready for when the sniffles, colds, and nasal congestion arrive. Since we are in the full throughs of winter, this is a small batch made with what we have on hand. It could easily be multiplied and made with fresh ingredients. It will have me thinking about making a larger batch come September.
Step 1
Gather ingredients.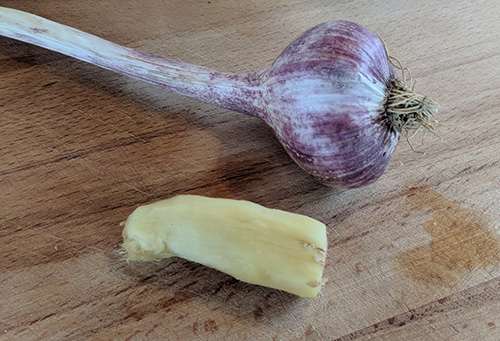 Step 2
Place horseradish, garlic, ginger, and some of the lemon juice into a small food processor.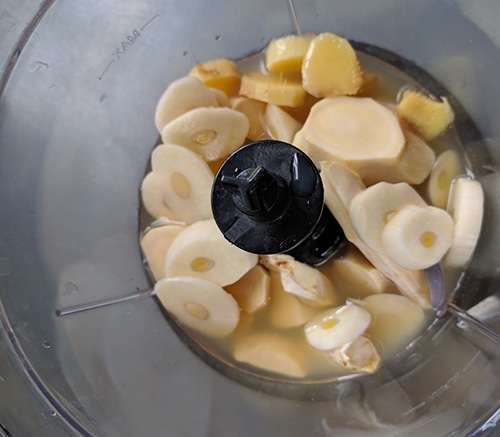 Step 3
The process roughly, not too fine, and place in the jar.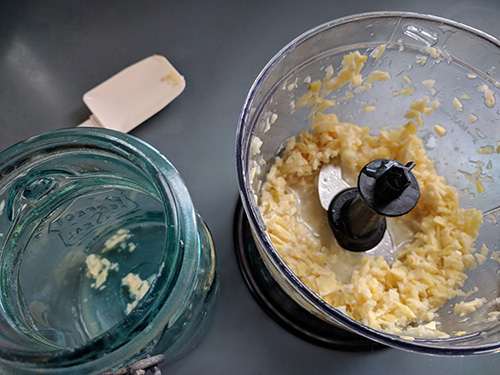 Step 4
Add turmeric.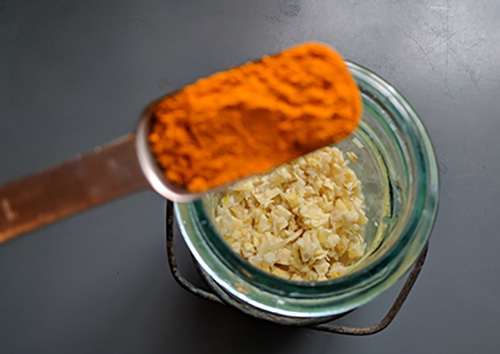 Step 5
Add a pinch of cayenne pepper.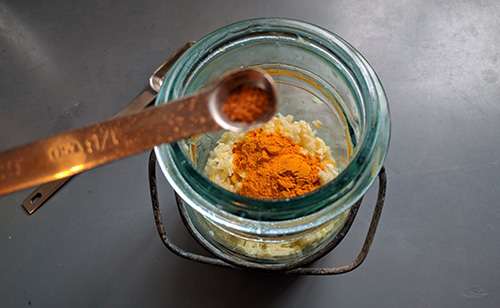 Step 6
Cover with remaining lemon juice and ACV.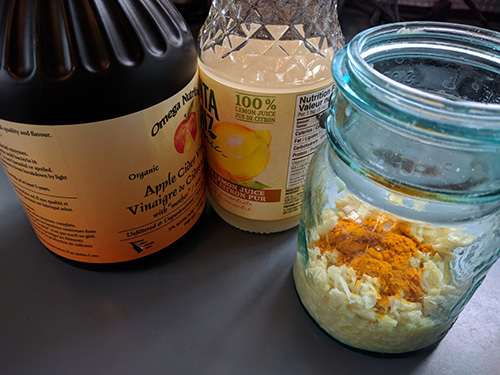 The Master Tonic is best to let rest for 2 to 4 weeks in a cool, dry, dark place. At that point, it is best to strain off the beneficial liquid into its own jar. It can be used as a stronger version of the gentle tonic. It could be mixed 1 tablespoon to 1 cup of warm water. It could be taken straight by the tablespoon or shot glass. It might be best to start with a small amount to feel its powerful effects. It may be more enjoyable sweetened.
Cautions
Horseradish has powerful volatile oils. Take caution when handling, like you would when handling hot peppers. As mentioned above, always follow the guidance of your medical caregivers and let them know of any complementary medicine you are taking.
We hope using horseradish to open the airway and clear out nasal congestion will allow you to enjoy the remaining beauty of this winter season.
You may also like: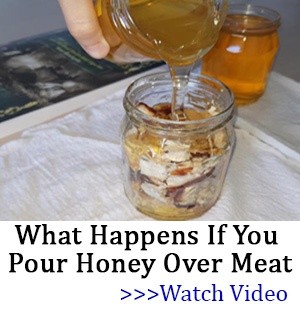 50 Essential Uses of Apple Cider Vinegar
Similar to Morphine: The Best Natural Painkiller that Grows in Your Backyard (Video)
How To Make Fire Cider The Ultimate Natural Remedy To "Burn" Your Cold Away
5 Herbal Antibiotics You Can Use To Fight Infection