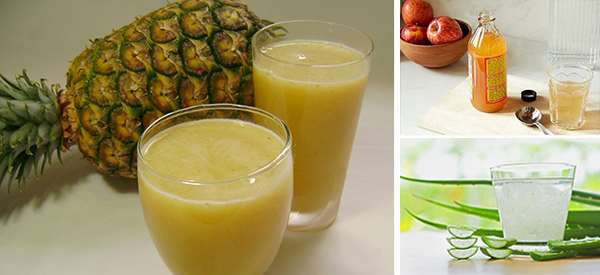 Bedtime Drinks That Burn Belly Fat
As we grow older, our metabolism isn't as fast as it was before. Trust me, you're not the only person who struggles with losing unwanted belly fat! I do, too. There are many of us out there who want to get rid of the extra flab, but always have a hard time doing so.
Sometimes, diets and exercises don't help either. With a hectic and busy life schedule, you cannot always insert such strenuous routines anymore. So the best way to help burn belly fat is through these helpful drinks! These miracle drinks help burn fat even when you are in deep slumber.
Aloe Vera Juice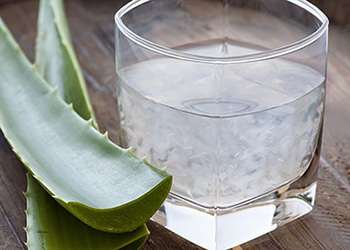 Aloe vera has calming properties that help you sleep. Some studies also show how aloe vera boosts the body's metabolism.
It may increase the calories you burn as well as reduce the fat accumulation in the body – particularly on your belly.
What You Need:
1 aloe vera leaf

2 cups water
Preparation:
Cut 1 aloe leaf and wash it properly.

Using a pair of kitchen scissors, cut the thorny sides from both sides of the leaf. Remove the outer layer of the aloe leaf using a sharp knife. Make sure to remove all the green and yellow parts in the leaf as these are all toxic.

Scoop the aloe gel from the leaf. The color of the gel must be clear and white without any hint of green or yellow. So make sure that you do not scrape at the rind.

Put 2 tablespoons of the aloe gel in a blender. Add 2 cups of water.

Blend the mixture until desired consistency is achieved.

Pour in a glass and drink.
It is best to take ½ to 1 cup of aloe juice before bedtime. Do not over consume aloe as it may lead to diarrhea.
Turmeric Milk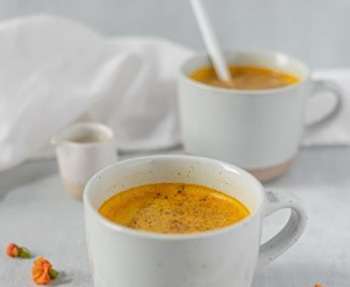 The combination of turmeric and milk may sound a little off.
But hey, it's a great drink for losing belly fat while sleeping!
Milk has calcium and proteins needed for a good night's sleep, while turmeric boosts metabolism and aids in digestion.
It's very easy to prepare too!
What You Need:
1 cup of milk of your choice (I prefer almond milk)

½ tsp turmeric powder

1 cinnamon stick (optional)
Preparation:
Boil milk in a saucepan and add the turmeric powder. Reduce heat and simmer for 3 minutes.

Remove from heat and transfer to a glass. Drink hot or warm for the best result. You may or may not add cinnamon sticks for taste.
Drink the milk just before you go to bed. If you are lactose intolerant, then you can replace milk with buttermilk. Buttermilk has lower lactose levels than regular milk. Most people with lactose intolerance can tolerate it.
Parsley, Cucumber, and Lemon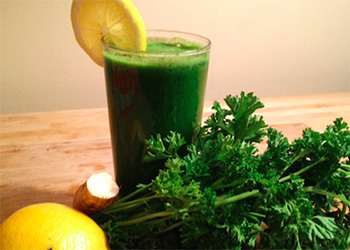 These three ingredients have amazing benefits to the human body on their own. But combining all of their powers will result in a flat belly in no time!
What You Need:
1 small cucumber, peeled and diced

Parsley, enough as tolerated

½ tsp lemon juice

½ cup water
Preparation:
Mix all ingredients in a blender.

Blend until all ingredients become juice. Check for taste, and add more water as necessary.

Transfer to a glass and drink fresh.
Drink the concoction every night after dinner for better sleep.
Apple Cider Vinegar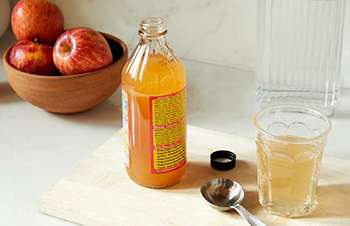 ACV is well-known for its many health benefits, one of which is weight loss. It helps lower down fasting blood sugar levels.
So if you can tolerate the taste of ACV, then drinking this at night will surely help burn your belly fat.
What You Need:
Preparation:
Mix ACV with warm water. Drink it before bed.
Since drinking a lot of water can keep you up at night to go to the washroom, it is best to keep the water level to a minimum.
Dandelion Tea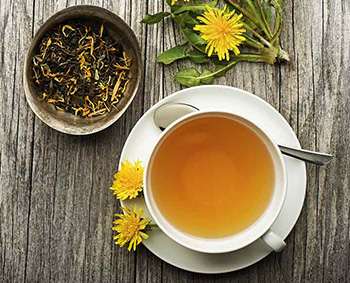 Dandelion may be a weed, but it has liver-cleansing properties.  A clean, healthy liver helps balance sugar levels to prevent blood sugar fluctuations, which cause insomnia. Additionally, dandelion contains potassium.
It helps the body release urine to minimize water weight and prevent bloating. Thus, leading to weight loss.
What You Need:
10 dandelion flowers

1 cup water
Preparation:
Boil 1 cup of water in a saucepan.

Place dandelion flowers in a cup and cover with boiling water.

Steep for 20 minutes, and strain.
While drinking the tea helps burn your belly fat, make sure that you give enough time between your sleep and washroom break. So drinking it an hour or two before hitting the bed is highly-advised.
Ginger Tea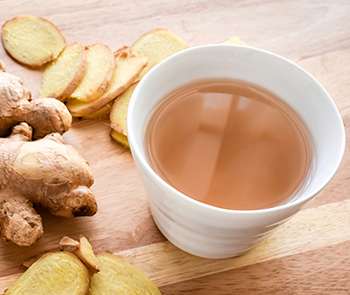 Ginger is one of the best teas after a heavy meal. It improves digestion as it helps wash away toxins and waste from your body.
Consequently, aiding in effective weight loss and burning of belly fat.
What You Need:
½ tsp grated ginger

1 cup water

1 tsp honey
Preparation:
Boil water in a small saucepan and add ginger once boiling.

Reduce heat to a simmer. Simmer for 5-10 minutes depending on how strong you want your ginger tea to be.

Strain the drink and add a teaspoon of honey.
While some people may argue that ginger is not good to drink before bedtime, it is naturally caffeine-free. Drink the tea after your dinner and it'll help you snooze off well while burning your belly fat too.
Grapefruit and Pineapple Smoothie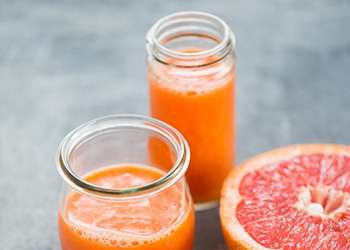 Whenever you're tired of the usual teas and juices, why not make a smoothie?
Studies show that people who eat grapefruit daily reduced their waist size! It also contains an antioxidant that aids in sleep called lycopene.
Meanwhile, pineapple contains melatonin. Your body needs melatonin to maintain a regular circadian rhythm.
The yellow fruit is also a good source of fiber and improves digestion leading to weight loss.
What You Need:
1 grapefruit, peeled and sliced

2 cups pineapple, fresh or frozen

½ cup milk

1 tbsp chia seeds
Preparation:
Blenderize all ingredients on high for 60 seconds or until desired consistency is achieved. You can add more ice or milk depending on the texture you want.

Transfer the drink into a glass and enjoy!
You can add more ingredients if you want to. Some even add ginger and lemon to their smoothies! Drink this at least thrice a week an hour before bed.
Pineapple Juice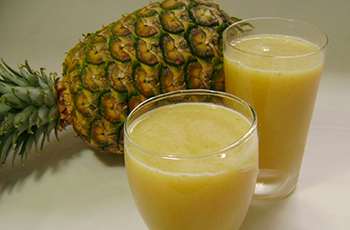 Now if you want a more convenient approach to bedtime drinks that burn belly fat, then I suggest a simple pineapple juice.
Don't get the store-bought juice though as they are often laced with artificial sweeteners and preservatives.
It is best to freshly squeeze out the juice from the fruit itself just before you drink it.
What You Need:
Pineapple chunks
Preparation:
Add pineapple chunks into your fruit juicer and follow the operator's manual on how to take out the juice.

Drink and enjoy.
Pineapple fruit juice makes a wonderful drink every night at bedtime. You can keep the unused portion in a refrigerator for 24 hours.
Strawberry Smoothie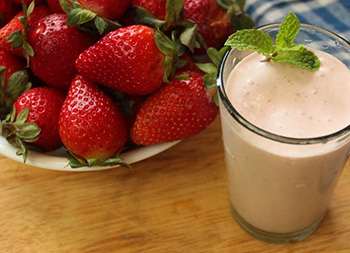 Several studies suggest that strawberries help in the production of adiponectin and leptin.
These two hormones help enhance metabolism and burn fat in the process. On top of that, it also contains vitamin C and melatonin, which promote better and healthy sleep.
What You Need:
3 cups strawberries, fresh or frozen

1 ½ cup milk of choice

1 tbsp raw honey (add more to taste)
Preparation:
Place all ingredients in a blender and cover.

Puree everything until smooth or desired consistency is achieved.
You can drink the smoothie every night an hour or two before bedtime.
Chamomile Tea
Despite being a mild sedative, chamomile still aids in sleeping and relaxation. Chamomile also supports weight loss as it manages carbohydrate digestion, glucose level, and sugar absorption.
What You Need:
1 tsp dried chamomile flowers
1 cup water
Preparation:
Boil water in a small saucepan. Remove from heat once boiled.

Add chamomile flowers and steep for 5-10 minutes.

Strain to a cup and drink.
Drink the tea 45 minutes before bedtime. You can drink this every night too!
Why struggle with belly fat when you can burn it even when you are sleeping? These healthy and easy bedtime drinks that burn belly fat are there to help!
You may also like:
Erratic Blood Sugar? Never Eat This Veggie (Video)
How to Make Medicinal Kombucha at Home
How To Make A Fat-Burning Tincture