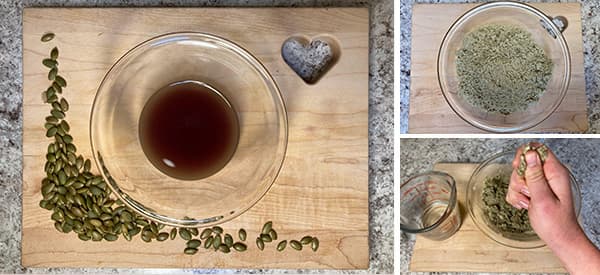 Homemade Pumpkin Seed Oil for Hair Growth
Pumpkins go hand in hand with the fall holidays of Halloween and Thanksgiving. Besides making a delicious snack, pumpkin seeds offer a wealth of health benefits.
In general, plant-based oils are becoming increasingly popular. Many provide a good source of healthy fats, vitamins, and minerals that make them wellness superstars. While many are well-known, like coconut oil and jojoba oil, some may come as a surprise.
Pumpkin seed oil is one of those underrated sensations. It stands up to the nutritional standard of many plant-based oils, and it offers its own wellness specialty. Pumpkin seed oil fosters healthy hair growth! Learn all about the nutritional and cosmetic uses of pumpkin seed oil below and follow our recipe to make your own.
What Is Pumpkin Seed Oil?
Pumpkin seed oil is pressed from pumpkin seeds which contain vitamins, minerals, and nutrients, that support a healthy heart, skin, and hair. It's sold in stores, but it's fairly simple to make at home from raw pumpkin seeds.
Pumpkin Seed Oil Health Benefits
Pumpkin seed oil has a number of health benefits. This natural oil is rich in unsaturated fatty acids, primarily oleic and linoleic acids. Unsaturated fatty acids are generally healthier with a number of cardiovascular benefits. Specifically, both oleic and linoleic acids improve blood pressure, metabolism, and heart health. Pumpkin Seed Oil is also a good source of vitamins and minerals, including magnesium, potassium, zinc, vitamin E, and vitamin K. These nutrients give the oil anti-inflammatory and antioxidant properties.
Pumpkin Seed Oil for Healthy Hair
Along with being generally nutritious, pumpkin seed oil supports healthy hair growth. By preventing hair loss and providing critical nutrients, pumpkin seed oil nourishes each strand of hair from follicle to tip.
Prevents Hair Loss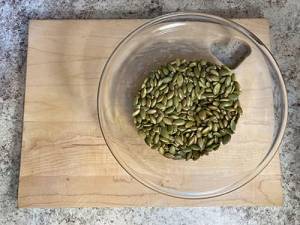 Recent studies on both humans and animals have demonstrated that pumpkin seed oil can slow down or prevent hair loss. The prevailing theory on how pumpkin seed oil prevents hair loss is due to compounds called phytosterols. Phytosterols are commonly found in nuts and seeds. They are already respected in the nutrition world as they help manage cholesterol levels. But what does that mean for hair health? One theory is that phytosterols block the enzymes and hormones that cause hair loss.
Both of these studies focused on Male-Pattern Hair Loss (MPHL) associated with testosterone levels, so more research is needed on broader demographics. These studies used both orally ingested oil and topical application.
Losing hair? Do this for 1 minute before bed to regrow your hair.
Promotes Healthy Hair
Along with preventing hair loss, pumpkin seed oil offers a number of benefits to hair health. The healthy fatty acids and vitamins support collagen production, which can strengthen hair. When applied topically, the oil acts as a moisturizer, quenching each strand with a nutrient-dense bomb that increases the thickness and resilience of your hair.
How to Make Homemade Pumpkin Seed Oil?
Making your own oils at home can seem intimidating at first. But you don't need any fancy presses or machines. Just using a few simple tools you have around your kitchen, you'll have pumpkin seed oil in less than an hour. The following recipe uses 2 cups of pumpkin seeds to make ⅓ cup of pumpkin seed oil.
Materials
To make homemade pumpkin seed oil, you'll need:
2 cups Raw Pumpkin Seeds (pepitas)
Electric Spice or Coffee Grinder
Double Boiler Set Up (I kept it simple with a pyrex bowl over a pot)
Sheer fabric, like chiffon (12 x 12" square)
Step 1: Make Pumpkin Seed Flour
Using the grinder, grind the pumpkin seeds into a fine powder, about the texture of flour. Work in increments to not overwhelm the grinder.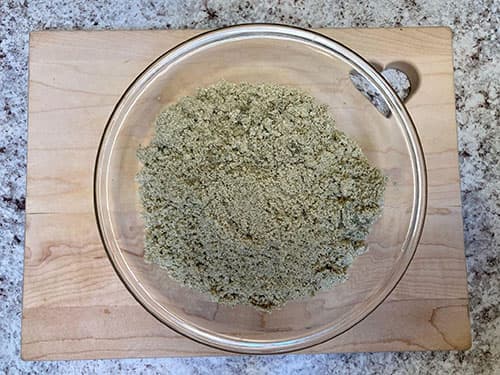 Step 2: Pumpkin Seed Paste
Add 2-3 tablespoons of water to the pumpkin seed flour. Stir until distributed and it reaches a consistency of holding an imprint when pressed. Creating a paste will help the oil extract more evenly.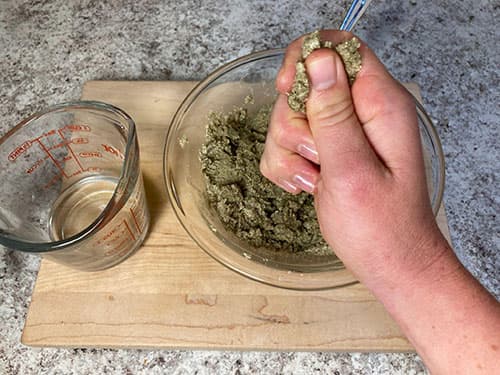 Step 3: Double Boil
Once you have your pumpkin seed paste, place it in a double boiler. You can create your own double boiler by placing a pyrex bowl over a small pot with water. Warming the pumpkin seed paste helps extract the oils from the seeds. To evenly heat the paste, stir consistently. As the paste warms, it will start to look shiny from the oil extraction. This should take about five minutes. Remove from heat. It's critical to not get the paste too hot during this step. Heating the paste above 120°F can damage the cells.
Step 4: Press the Oil
To press the oil from the paste, you'll need the square of fabric and a clean bowl. Spoon about ⅓ to ½ cup of the pumpkin seed paste into the center of your chiffon cloth or other fine mesh fabric. Wrap tightly and squeeze over the bowl. It will take a bit of elbow grease, but you should start seeing the oil extrude from the fabric. Squeeze the pouch until the oil isn't coming out as freely and discard the seed pith. Work in increments with the remainder of the paste until it's all been pressed.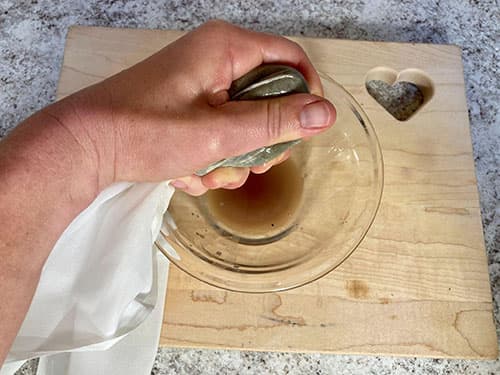 How to Use Pumpkin Seed Oil for Hair Growth
As with most plant-based oils, pumpkin seed oil has a wide variety of uses. The multipurpose oil can add nutty nuance to your cooking, or work as a skin moisturizer. But here, we're focused on its benefits for hair growth. There are a few different ways you reap the benefits of pumpkin seed oil for hair health.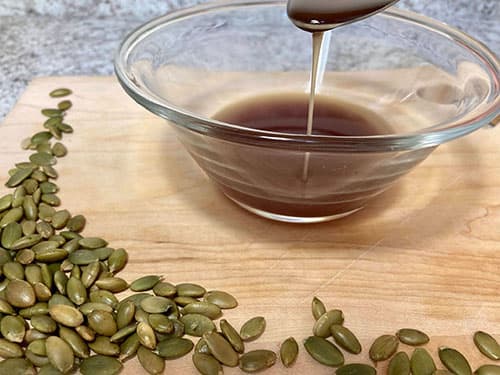 Ingestible
The beneficial compounds of pumpkin seed oil work wonders when ingested orally. Pumpkin seed oil is sold as a supplement in gel capsules. Of course, if you make your pumpkin seed oil at home, you can fill your own capsules with the oil, but siphoning off tiny portions isn't necessary.  From your homemade oil, you can sip a teaspoon one to three times every day.
As with all dietary supplements, stop use if you notice any side effects like an upset stomach or an allergic reaction.
Topical
Pumpkin seed oil also works as a topical application. For a luxurious at-home spa treatment, use your pumpkin seed oil in hair wrap. Warm pumpkin seed oil in a double boiler (don't let it get too hot!). Massage into your scalp. Wrap your hair in a towel or micro-fiber cloth and let it sit for at least 20 minutes. To rinse out, hop in the shower and shampoo and condition like normal.
Repeat once or twice each month.
The Bottom Line
We never get tired of the amazing world of plant medicines! From tinctures to teas, plants offer so many solutions to our everyday pain and problems. Using pumpkin seed oil for hair growth is one of many applications of our herbal recipes. Check out our other ideas for supporting hair growth like this herbal mist or this lovely lavender spray.
You may also like: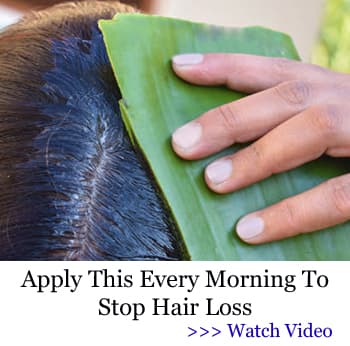 Homemade Remedies Using Leftover Pumpkins
This Annoying Plant Actually Fights Hair Loss (Video)
DIY Bedtime Herbal Hair-Growth Spray
Stop Hair Loss With This DIY Rosy Rogaine