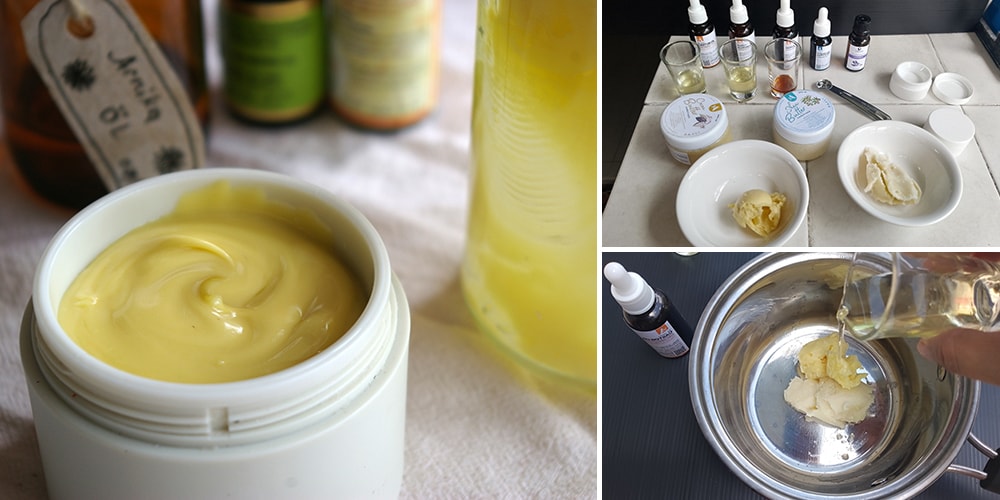 Homemade Psoriasis and Eczema Salve
You might be able to weather pains, but you can't say the same for itching. And when the smarting pain and itching happen at the same time, it can drive you to your wit's end.
Psoriasis and eczema are among the common problems that may happen year-round but get worse during humid and dry seasons. These skin diseases do not have a cure but can be managed by corticosteroid creams and home remedies.
While you can't eliminate their symptoms, there are different ways you can alleviate itchiness and pain. It includes colloidal baths, therapeutic baths, herbal oils, gels and balms. Don't worry, I will provide the necessary details in this article.
The Difference Between Psoriasis and Eczema

Psoriasis is an autoimmune disease where there is excessive skin growth. The immune system attacks the white blood cells which leads to the skin cells replicating more than normal. It results in scabs and itchy and scaly patches on the skin.
Psoriasis is a chronic inflammatory disease. It is not contagious so other people should not worry about acquiring it from others. However, it may cause social problems in some individuals which can lead to depression.
Eczema, or atopic dermatitis, is also an inflammatory skin condition. It sometimes arises from a genetic condition where the skin is unable to provide strong protection. It cannot retain moisture which makes it prone to bacteria and irritation. Allergens, weather changes and environmental factors cause eczema flare-ups.
Whether it is eczema or psoriasis, you need a remedy and you need it to act fast during a breakout!
Natural Remedies for Psoriasis and Eczema
Botanicals, especially herbal oils, are as effective as OTC creams in alleviating skin itching and pain. Virgin oils, essential oils and therapeutic herbs can do wonders in relieving inflammations and keeping irritations at bay.
Neem Oil: From disinfecting cuts and wounds to alleviating eczema and psoriasis, neem brings a superior effect when used topically. It is processed as neem oil and applied to infected body parts. It heals inflammation, reduces the flaky skin on the scalp and cures other worst symptoms of psoriasis.
Castor Oil: Initially, castor beans are toxic. But the production process deactivates its toxic enzyme making the final product castor oil safe for various applications. Castor oil is used in many pharmaceutical, medicinal and industrial products. In cosmetic products, its main use is providing hydration to the skin with ricinoleic acid. It soothes inflammation and heals wounds and skin problems.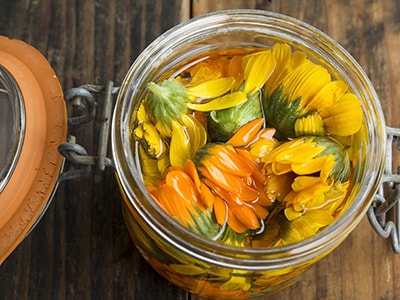 Calendula: Calendula officinalis is best for healing many types of skin inflammations. Its extracted oil is an effective topical for eczema, psoriasis, rosacea, dermatitis and even the contagious impetigo. Calendula really is a heal-all plant when it comes to any type of skin issues. To soothe my eczema rash, I bought these seeds to grow my own plant. Now I can harvest fresh flowers and prepare home remedies often.
Olive Oil: Olive oil is considered one of the healthiest oils that also proves its potency in treating skin diseases. It is a rich source of Vitamin E which possesses a strong emollient action. Applying olive oil to the skin penetrates its cell structure and rejuvenates the connective tissues to alleviate dry skin and inflammation.
Aloe Vera: People suffering from psoriasis, eczema and itching may benefit from the topical application of aloe vera gel. It fights skin allergies and kills bacteria on the surface.
Tea Tree Oil: Tea tree oil is generally used in alleviating skin conditions. It is highly effective against skin abscesses, acne, psoriasis and atopic dermatitis. In fact, tea tree is a generally used oil for all types of skin problems, including psoriasis and eczema.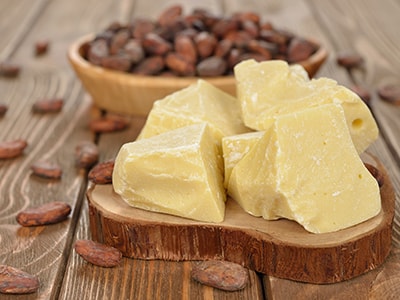 Cocoa Butter: Cocoa butter is a moisture-rich topical treatment for eczema and psoriasis. It can ease the itching and reduce flare-ups of skin problems. Cocoa butter is also rich in Vitamin E for good skin health and helps lower the risk of skin diseases by offering UV protection.
Shea Butter: Rich in fatty acids that improve the skin barrier and protection, shea butter is a common ingredient in skin care products. Shea butter protects the skin from environmental damage and harmful UV radiation. It also heals many types of skin inflammations and prevents their breakouts.
Turmeric: If you are suffering from recurring skin problems, drinking turmeric may help greatly. It treats the inflammation from its root, tames the immune response and purifies the blood to cure skin diseases. When applied on the skin, turmeric paste may reduce itching and has actions like topical corticosteroids. It may leave a temporary stain but will also leave you with smooth and glowing skin.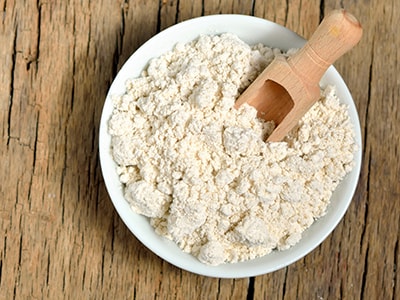 Colloidal Oatmeal: Colloidal oatmeal or finely ground oat grain (Avena sativa) is different from the oatmeal that we eat. This grain is used in oatmeal baths for treating recurring skin problems. Mixing it into the bath water and soaking in it can ease skin dryness and itchiness. It also improves the skin's microbiome to cure bacterial infections.
This Psoriasis and Eczema Protocol from The Holistic Guide to Wellness: Herbal Protocols for Common Ailments is also extremely useful. It contains instructions on how to prepare the most suitable herbal remedies, baths, topical treatments and more. It also provides detailed information on the appropriate diet, vitamins, supplements and other helpful tips & tricks for keeping psoriasis and eczema at bay.
Homemade Psoriasis and Eczema Salve Recipe
Here is a DIY salve you can make at home which combines powerful ingredients. It is great for alleviating the annoying symptoms of atopic dermatitis and psoriasis. It can provide relief from itching and inflammation while boosting the skin's protective barrier.
You can buy these ingredients from online stores that supply raw materials and botanicals for skin products.
You will need:
0.5 oz./ 15g cocoa butter
0.7 oz./ 20g shea butter
¾ tbsp. / 10g castor oil
1 tbsp./ 15g sweet almond oil
⅓ tbsp./ 5g neem oil
30 drops of lavender oil
10 drops of Vitamin E oil
Weighing scale
Double boiler (or any metal container)
Jar container
Steps:
Put the cocoa butter, shea butter, castor and sweet almond oil in a double boiler or metal pan over hot water.
Heat it evenly and thoroughly until the oils liquefy. Stir well, let cool.
Set aside in the freezer until the oils thicken. Let it stay in the freezer for about 3 minutes until it becomes opaque and viscous but not too hard to mix. Take them out of the freezer and beat in the remaining oil.
Spoon the oil into the jar and let it set before using.
This recipe can make about 2 oz. /60 grams of the salve which you can pack in a larger jar. I used a smaller 10-gram jar which packs roughly six.
How to Use
You can use this salve like you would with any topical cream needed for skin relief. You can use it for virtually any kind of skin problem, bug bites, or as protection from harsh weather.
Please note that this salve contains oils that some people may be sensitive to. Before applying this balm, do a patch test on a small portion of your skin to make sure you are not allergic to its ingredients.
With the neem and lavender oil, dilute them first in a carrier oil like olive or sweet almond. These oils are concentrated and potent. They may cause dermatitis when applied directly to the skin.