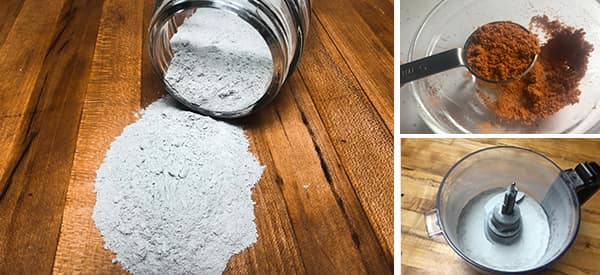 DIY Antifungal Powder for Toenail Fungus
Nothing can make you want to crawl under a rock (or at least stick your feet under it) as much as a raging case of foot fungus can. Thick, discolored nails and a wretched smell can make this condition humiliating. And though it may be irritating, toenail fungus and its coexisting nuisances are not all that uncommon.
Toenail Fungus Causes
Several factors can contribute to this condition. And if toenail fungus goes untreated, it can become painful and possibly even an open wound. When the fungus is present between your toes, it's known as "Athlete's Foot."
The majority of fungal strains grow best in warm, humid conditions like sweaty shoes and tile shower floors. However, you can also contract fungal infections like Athlete's Foot from wearing someone else's shoes or walking on the same surface as an affected person. Additionally, people with specific co-factors may be at higher risk for developing foot fungus.
These co-factors include:
Diabetes
Auto-immunity
Blood flow problems
Skin conditions such as psoriasis
Older age
Damaged nail beds
More often than not, toenail fungus won't go away on its own, and though it's not really dangerous, it isn't very pleasant either. So then the question becomes… what can you do about it?
Toenail Fungus Remedies
There are numerous toenail fungus treatments. Many are over-the-counter, and there are prescription medications available that can help. But is all of that necessary… or safe?
In short, not usually. In fact, store-bought powders often contain artificial fragrances and talc. Talc may contain the known carcinogen asbestos, and it's probably best to avoid using those kinds of chemicals whenever you can.
Luckily, I've got a cheap and easy-to-make option for you. Toenail fungus powders, like the one below, can be rubbed on the feet or added to shoes and socks. Foot powders are great because they soak up moisture and last a long time. Let's briefly look at some ingredients to understand better how they work.
Bentonite Clay for Fungus
Bentonite clay works great as a toenail fungus eliminator because It's detoxifying. Bentonite clay absorbs positively charged bacteria, fungi, and even many heavy metals. It also has antibacterial properties that can help fight infections that might arise from a prolonged fungal issue—making it the ideal powder base for your homemade toenail fungus powder. And as if its absorption capacity isn't enough, bentonite clay contains many skin-loving minerals, including calcium, magnesium, silica, sodium, copper, iron, and potassium. As a result, it nourishes the skin by balancing the oils, removing dead skin cells, and clearing clogged pores.
Cayenne Pepper Powder for Fungus

As usual, it's the capsaicin in cayenne pepper you're after for this recipe. Capsaicin helps get rid of the fungus and keeps it from coming back. It's also a warming spice that dries the moisture that encourages fungal growth. Plus, it can help with any soreness caused by a fungal infection.
Cayenne powder is made by grinding dried cayenne peppers into fine powder. I made my own for this recipe using the flour setting on my blender. Be sure to let it rest before removing the lid if you do the powder yourself. Inhaling even a little cayenne powder is sure to cause a coughing fit. Otherwise, cayenne pepper powder is readily available to purchase online.
Cinnamon and Fungus Control
Cultures across the globe have used this common spice for centuries for both culinary and medicinal purposes. Cinnamon oil is excellent for helping to clear up infections and is particularly helpful for fungal infections caused by candida yeast—like Athletes' Foot. Cinnamon is also anti-bacterial, anti-inflammatory, and a potent anti-oxidant that can help soothe itchy-inflamed feet. This popular bark spice is the perfect addition to any toenail fungus remedy.
Clove for Fungus

Even if you're not a fan of clove, there is no doubting its therapeutic properties, especially when treating toenail fungus. This spice (often recognized for its contribution to the yearly Christmas ham) is a powerful anti-inflammatory and mold and fungus killer. Eugenol is the main component of clove and is known to attack the cell membrane of various types of fungus, leading to their cessation.
Frankincense for Foot Fungus
While frankincense (or Boswellia) is anti-bacterial, it's also an antiseptic and reparative oil. As a result, frankincense can prevent the spread of fungal infections and even decrease inflammation. Further, it helps rebuild healthy skin tissue, which makes it extremely valuable for treating toenail fungus at home.
How to Make Antifungal Powder for Feet
Making your homemade toenail fungus treatment is as easy as mixing some essential oils into bentonite clay. I recommend using a food processor to ensure all the oils are evenly distributed into the clay powder, but you can mix it by hand if you want to.
You will need:
½ cup of Bentonite Clay powder
2 tsp. of Cayenne Pepper powder
6 drops of Cinnamon Essential Oil
6 drops of Clove Essential Oil
6 drops of Frankincense Essential Oil
A container with holes to shake out your foot powder (or you can spoon it out)
Steps
Measure out the Bentonite Clay into your food processor or bowl if you intend to mix it up by hand.
Add the cayenne powder.
Add the essential oils one at a time.
Process on low for about 30-seconds or stir well with a fork or whisk.
Add the finished powder to a container that is easy to scoop or shake out.
Warnings and Cautions
Some people may be sensitive to some of the oils in this recipe. It's best to test a little bit on a small skin patch to ensure you don't have any reactions before wearing it on your feet all day. And to avoid any skin irritation, always wash your hands thoroughly after handling the powder. DO NOT touch your eyes or face until your hands are completely clean. It is best to wear gloves when handling anything with cayenne.
If your powder becomes moist, you can add dry rice to it just like you would with table salt. Try using a salt shaker to add foot powder to your socks or shoes. And if you try this recipe, don't forget to let us know your thoughts. Enjoy!
You may also like:
4 Natural Antifungicides That Can Replace Over-The-Counter Drugs (Video)
How to Treat Fungal Infections with Oregano