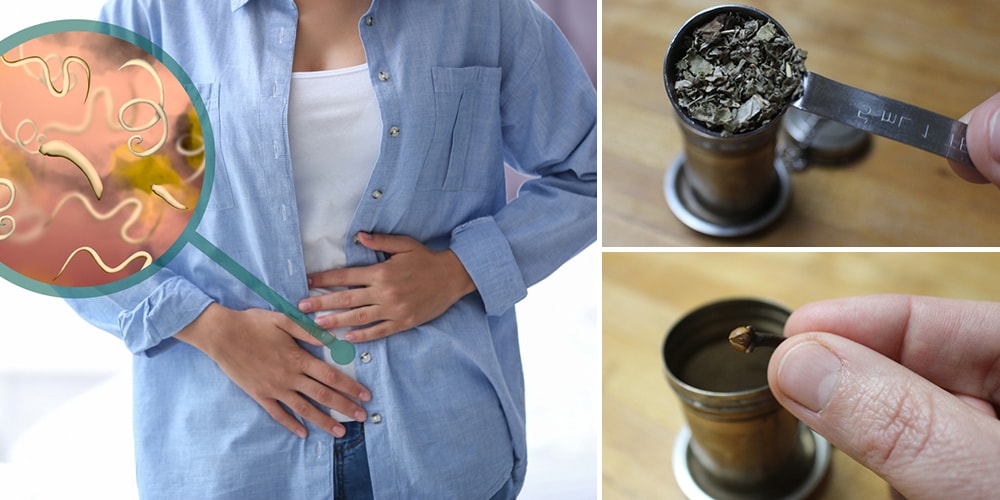 Eliminate Parasites from Your Body with This Remedy
I bet you didn't know that parasites are our planet's most prevalent life form or that elephantiasis—a tremendously disfiguring disease—is caused by roundworms. Or that roughly 209 million people around the globe are infected with pinworm.
The truth is that parasites are nearly unavoidable and way more present than most of us dare to imagine. You read that right. They are common! They are in our water supply, dirt, food and more.
In fact, many diagnosed and undiagnosed health issues can actually be from undetected parasitic infections. Humans can become the residence of over 300 different kinds of parasitic worms and over 70 species of protozoa.
Parasites In Humans
Obviously, discussing over 370 kinds of parasites would take a lot of time, so instead, let's briefly discuss the top five parasites in the U.S., according to the CDC:
Chagas disease: Trypanosoma cruzi, the parasite that causes Chagas disease, has infected more than 300,000 people in the United States, and more than 300 infants are born yearly with it. The triatomine bug bites a human and then deposits its excrement in the opening, which is how Chagas disease spreads. Long-term digestive, cardiac and neurological conditions can result from Chagas disease.
Toxoplasma gondii: Toxoplasma is frequently transmitted by playing with or caring for cats, hence the nickname "cat poop parasite." More than 60 million Americans have toxoplasma gondii infections that are persistent. Additionally, unwashed fruits and vegetables and undercooked meat can harbor the parasite. Toxoplasma can increase the chance of birth defects if a pregnant mother is infected.
Trichomoniasis: Trichomoniasis is a sexually transmitted infection prevalent in the United States, though it is very treatable. In the United States, 3.7 million people are affected by the protozoan parasite, but only about 30% of people will have symptoms.
Toxocara: The good news about this one is that approximately 13.9 percent of the population has antibodies that will fight against this parasitic infection. But for the rest of us… we risk contracting it whenever we touch a cat or a dog. Most of these infections occur in children, who often subsequently suffer from eye disease and even blindness.
Cysticercosis: The brain and muscles of people are among the regions affected by this tapeworm parasite, and it comes from eating raw pork. This parasite's larval cysts develop inside the body and cause seizures and other problems. Every year, at least 1,000 people are hospitalized with cysticercosis in the United States.
Now… that was some brutal truth, but necessary to know because you really don't want to let parasites live in your body. Besides, plenty can be done to remove parasites naturally.  And that is what we're discussing today.
The Importance of Parasite Detox
Not only can many parasites be removed with natural parasite protocols, but you may even want to consider doing it regularly, like once a year.
Listen, it's better just to accept that you're highly likely to contract one or some of the little squirmers sometime in your life. Some people don't want to know about it, and maybe it's true… you could go your whole life and never experience a single symptom. But whether you know about them or not, they affect you one way or another. Moreover, parasites can be behind perpetual health issues like anemia, digestive problems, and chronic fatigue.
Here are more health problems links to parasites you may not have known about:
Joint and muscle pain
Skin problems (such as skin rashes)
Sleep problems and restlessness
Stomach pain
Neurological disorders (including autism)
Fever
Eye problems
Bedwetting
UTI's
Intestinal issues (like leaky gut)
Nausea and vomiting
Seizures
Headache and disorientation
Several variables affect how parasites act, like the type of parasite, your health, age, and the duration of the infection. However, many multifaceted herbs can be used for multiple parasitic infections. For example, walnut hulls are known to kill: ringworms, threadworms, gut protozoa, fungus, pinworms, tapeworms, and other intestinal parasites. So, if you think it may be time to do a little parasite cleanse, you might find the below home remedy for killing parasites rather helpful.
Many herbs and foods can be used to kill off parasites, like garlic, pumpkin seeds, coconut oil, thyme, wormwood and oregano. Adding these herbs and foods to your diet will help double your parasite detox efforts over the next few weeks. You should also steer clear of sugar and grains… even fruits, because these things are food for parasites. Stick to vegetables, seeds, and nuts while on your parasite cleanse for the best results.
Natural Remedy for Parasite Cleanse
Ingredients and their purpose:
10 drops cinnamon oil or 1 teaspoon powdered – kills disease-causing fungi, viruses, and parasites and is antibacterial and soothing to the digestive tract.
½ teaspoon powdered ginger – the volatile oils and abundant antioxidants in ginger fight several parasites, including giardia.  It's also antibacterial, antifungal, and calming to the digestive tract.
6 whole cloves – Cloves can dissolve the casing around parasitic eggs.  Studies have proven the beneficial effects of clove against the intestinal protozoans Blastocystis and Giardia and the blood fluke Schistosoma.
7 drops of olive leaf extract – Olive leaf extract fights over 50 common disease-causing organisms, including herpes, influenza A, Polio, Salmonella typhimurium and Candida. It also eradicates Amoebi, cryptosporidia, giardia, pinworm, tapeworm, ringworm, malaria protozoa and roundworm.
7 drops of black walnut hull extract – kills worms mentioned above, Acanthamoeba, and the protozoan Toxoplasma gondii—works on adult parasites, larvae, and eggs.
1 teaspoon base herb – like raspberry leaf, white peony, or lemon balm leaf.
These are the 10 medicinal seeds you should plant for a complete at-home farmacy.
Instructions:
Heat water to a scald.  Meanwhile, add your base herb, ginger, and clove buds to a tea ball or cloth.
Once your water is ready, pour it over the tea ball and let it steep for 5-7 minutes.  Meanwhile add the cinnamon oil, olive leaf, and walnut hull extract to the tea.
This herbal parasite remedy is potent.  You can add a bit of stevia extract or monk fruit sweetener if you want to sweeten it up a bit, but avoid honey or sugar as these only feed parasites.  If it's too spicy maybe use less cloves too.
Enjoy!
How to Use
The following recipe is for an anti-parasitic tea that you can drink once daily to help kill off and eliminate multiple parasites.
After completing a parasite cleanse, it is usually advisable to allow some time before starting another one. For maximum parasite detox, drink your homemade parasite tea every day for two weeks, then take a week off, followed by another two weeks on the tea. Then resume your diet as usual. This allows the body to rest and replenish its natural balance. Depending on the individual and their circumstances, this rest period can range from a few weeks to several months.
The Bottom Line
It's important to remember that prevention is crucial when it comes to parasitic infections. Practicing good hygiene, maintaining a healthy diet, and ensuring proper food preparation can all contribute to reducing the risk of parasitic infections.
If you suspect you have a parasitic infection or have concerns about parasites, it's best to seek guidance from a healthcare professional to determine the appropriate timing for subsequent parasite cleanses based on your specific needs.