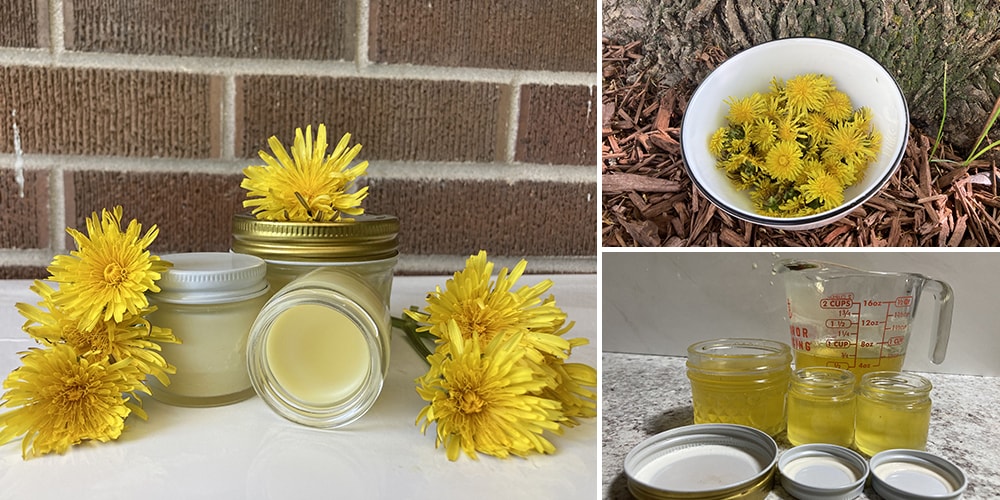 Healing Dandelion Salve for Sore Joints
When you hear the word "dandelion," what comes to your mind? Perhaps you just picture a pesky weed. Or maybe you already appreciate the herb for its vast culinary uses. Along with being a fibrous and protein-rich addition to salads and a substitute for coffee, the whimsical dandelion flowers can also be made into a nourishing salve that can alleviate sore joints.
The bitter plant acts as a natural diuretic that cleanses toxins from the body. When the root is taken orally, it acts similarly to the body's natural gastric juices, improving digestion and alleviating inflammation. But along with nourishment and seasonal support, the plant's benefits can be extracted into topicals. Using extraction techniques, we can draw out the medically active compounds from the dandelion to use in a relieving salve.
Health Benefits of Dandelion

Dandelions are the unsung hero of our backyards. Lost in plain sight, these sweet yellow flowers offer a plethora of benefits. For starters, every part of the plant is edible, from the roots to the flowers. The young leaves make a delightful addition to salads (with more protein and fiber than spinach or other leafy counterparts). The roots can be dried, ground, and made into a calming coffee substitute, and the flowers have been made into dandelion wine for centuries.
In traditional Chinese medicine, dandelion was used to treat hepatitis, upper respiratory tract infections, bronchitis, and pneumonia. Arabian physicians documented their use of the herb in their treatments for liver and spleen diseases.
But that's not all. Dandelions are a rich source of vitamins and minerals that are vital for maintaining healthy joints. They contain generous amounts of vitamins A, C, and K, all of which play key roles in the proper functioning of joint tissue and cartilage. Additionally, dandelions are abundant in calcium, magnesium, and potassium, essential minerals that contribute to bone strength and overall joint stability.
Benefits for Joint Health

This unassuming flower contains a wealth of nutrients that can support your joints and promote healing from within. Most backyard dandelions are the species common dandelion (Taraxacum officinale), but you may come across red-seeded dandelion (Taraxacum erythrospermum) as well since it has been introduced in North America.
The three main benefits of dandelions are anti-inflammatory, anti-oxidative, and anticarcinogen. All three of these powers are tied to the taraxasterol, sesquiterpene lactone, and sitosterol compounds. Each of these types of molecules is commonly found in plants in the Asteraceae family. If you're more familiar with the use of Arnica in salves, dandelions have similar properties! The compounds have a wide range of uses. They have been shown to help bodies fight tumors and other cancers, improve digestion, and support liver and pancreatic health, among other benefits. But research (and centuries of herbalism) has indicated that each of these compounds can be used for their anti-inflammatory and analgesic properties. Essentially, they are a great pain reliever!
Whether caused by injury, overuse, tendonitis, or a type of arthritis, sore joints are often tied to inflammation. The pain-relieving properties provide some initial relief, and then consistent use will help reduce the inflammation for a longer-term solution. Along with the active compounds, dandelions are packed with powerful antioxidants, those magnificent warriors that neutralize harmful free radicals in our bodies. These antioxidants help reduce the oxidative stress that can lead to inflammation in our joints. By alleviating this inflammation, dandelions contribute to easing the pain and swelling that restrict our movements.
Also, you could learn how to make cabbage bandages for inflammation and joint pain. Cabbage leaves are a great anti-inflammatory and contain compounds that can soothe sore joints.
How to Make a Healing Dandelion Salve
Before making an herbal salve, you need to infuse your oil. Though the recipe is pretty simple, it does call for the magical element of time. To extract the medicinal compounds from the dandelion flowers, we use a two to three-week oil-based infusion. Once you have the infused oil ready, finishing the salve will be quite simple. This recipe makes 12 oz. of the finished salve. We poured it into small jars for ease of use.

Ingredients
1 cup fresh dandelion flowers (½ cup if dried)
1 cup coconut oil
½ cup sweet almond oil
1 oz. beeswax
1 oz. shea butter
10-15 drops of essential oil of choice (I used jasmine)
Step 1: Gather and Wilt Your Dandelions
First, gather your dandelion flowers! Choose a foraging location that is away from the road to avoid any plants that have been exposed to pollutants. I simply turned to my backyard to find the flowers.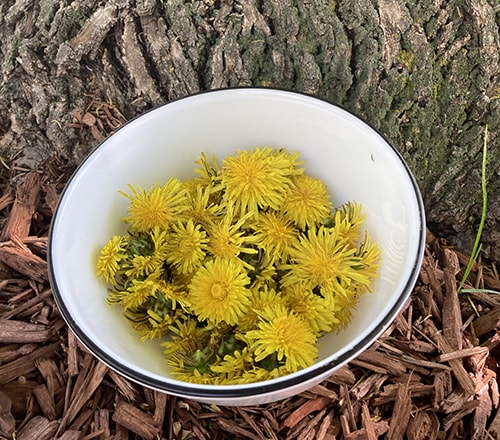 After gathering, I laid out my blossoms on a drying rack to wilt. This helps evaporate moisture and prevent the oil from going rancid. Depending on your climate, leave them out for 12-24 hours.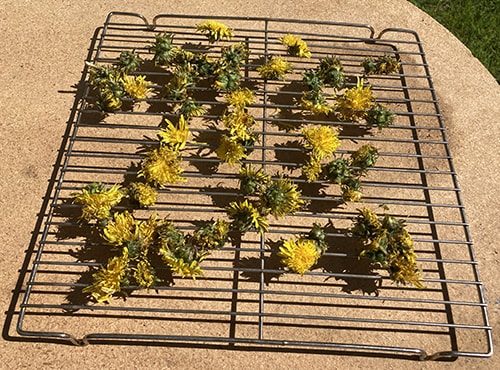 Step 2: Make Your Oil Infusion
After your blossoms have wilted, put them into a pint jar. Melt one cup of coconut oil then mix in ½ cup of sweet almond oil.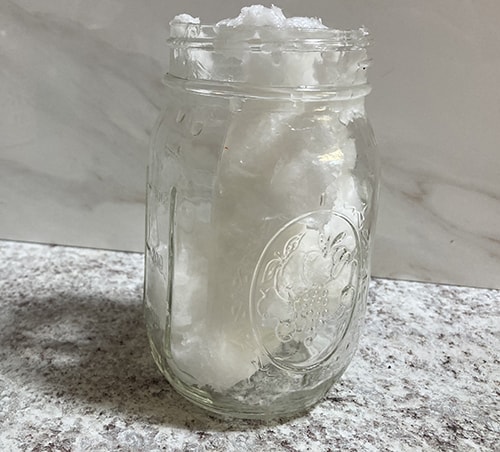 Pour the oil mixture into the dandelions. There shouldn't be any plant matter peaking up above the oil. Use a coffee filter or layered cheesecloth and the screw ring of the jar lid to cover. Let sit for 2-3 weeks, until the oil starts to take on the color and odor of the dandelion flowers. If you can, give the jar a swirl every few days.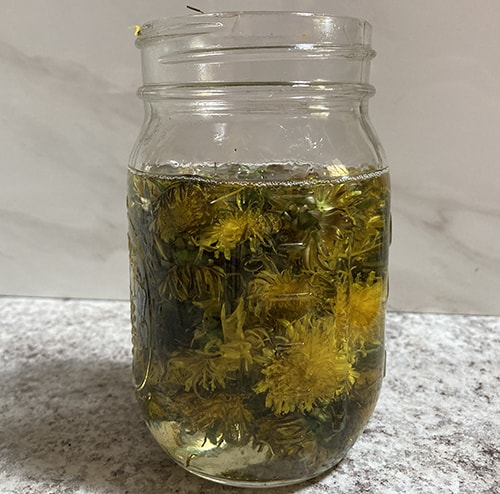 Step 3: Strain the Oil
After letting the oil infusion work its magic, strain out the dandelion flowers with a fine mesh strainer or cheesecloth.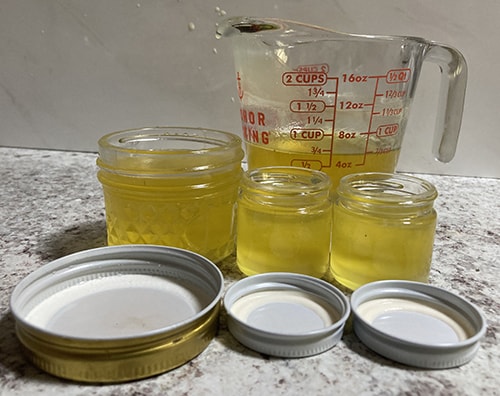 Step 4: Make the Dandelion Salve
In a double boiler set up, slowly warm the dandelion oil and the ounce of beeswax until the wax melts. Stir in the shea butter until everything is thoroughly mixed. Remove from the heat and drop in your chosen essential oils.
Step 5: Decant and Set
Carefully pour the salve mixture into your chosen tins or jars and let cool until the salve is set. Label and date the containers.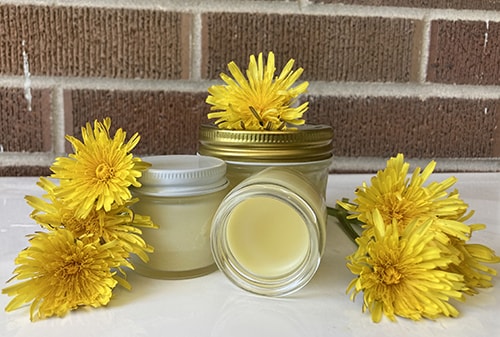 Storage: If stored in a cool, dry place, the salve will keep for up to a year. You can store the salve in the fridge if desired. In fact, refrigeration can help prolong the shelf life of the salve.
How to Use This Remedy
Before applying any salve or ointment, make sure to clean the area around your sore joints thoroughly with mild soap and water. Pat the area dry with a clean towel.
Warm up the salve: You'll need to warm it up to make it easier to apply. Place a small amount of salve in your hands or a clean container and rub it gently until it melts.
Apply the salve: Take a small amount of the warmed dandelion salve and gently massage it into the sore joints. Use circular motions and apply a light to moderate pressure. Ensure the salve covers the entire area around the joint.
Massage the area: After applying the salve, you can perform a gentle massage on the sore joint. Massage can help improve circulation and enhance the absorption of the salve into the skin. Focus on the joint and the surrounding muscles.
Let it absorb: Allow the dandelion salve to absorb into your skin for at least 15 to 20 minutes. You can cover the area with a clean cloth or wrap it with a bandage if desired.
Repeat as needed: You can use the dandelion salve multiple times throughout the day, depending on your needs and the severity of your joint pain.
The Bottom Line
Chronic joint pain can take an emotional toll. It can be disheartening to witness our bodies struggle with even the simplest of movements as if our joints have turned against us. Hopefully, this dandelion salve can offer some of the bitter plant's healing properties.
The salve will be soothing and moisturizing! My knees and ankles take a pounding from trail running, so this salve is just in time for a summer of exploring the trails. I like to add dandelion salve to my evening ritual and rub some into my sore joints daily.