23 Plants for Alzheimer's and Dementia
Alzheimer's and dementia affect a pretty big portion of the population. In the United States alone, about 5.8 million people have some sort of dementia or memory decline. This includes many over the age of 65 and 200,000 others under 65.
Whether you have a loved one who is starting to show signs of a memory disease or you want to prevent it from happening to you, there are quite a few plants that can help with cognitive decline and memory loss.
Ginkgo (Ginkgo biloba)

Those who know the ginkgo plant may be more familiar with its ability to help with respiratory disorders and blood circulation. This is what it is most prominently used for in China. However, it has also been shown to help with memory loss that comes with improper blood circulation in Iran.
Nothing has been officially confirmed, but intensive studies have been conducted to see the full benefits of ginkgo on cognitive disorders. Some clinical trials involving placebos have been found to help with dementia and prevent the degeneration of neurons as well. Some of these studies go back as far as 1976, so they have long-term results.
Ashwagandha (Withania somnifera)
Ashwagandha has been shown to reduce stress and reverse memory loss when taken at levels of 500mg per day. A couple of studies have been done on ashwagandha and it has been found to not only help with enhancing memory and improving cognition but increasing acetylcholine levels as well.
Turmeric (Curcuma longa)

The benefits of turmeric are not yet agreed upon. There are many different health benefits listed, including aiding with chest infections and colds, weight loss, whitening teeth, and reducing inflammation. People have been using it for over a millennium for various health purposes.
Some suggest it can also help with dementia and Alzheimer's due to its ability to reduce inflammation, even in the brain. New studies into these diseases show that inflammation in the brain may be somewhat responsible. If this ends up being the case, then turmeric may be beneficial, though no further studies have been done.
Studies have shown that even at low doses, it can reduce the plaque in the brain by as much as 43% and that low doses over longer periods have more of a benefit.
Jyotishmati (Celastrus paniculatus)

Jyotishmati has been shown to prevent neuronal cell damage since it is an antioxidant. Studies showed that it was able to reduce damage due to the toxicity of both hydrogen peroxide and glutamine. When extracted aqueously, it has also been shown to enhance cognition.
Guggulu (
Commiphora Whightii)

Guggulu has been shown to help reduce memory problems, especially due to scopolamine.
Further studies suggest that it reduces the acetylcholinesterase levels in the hippocampus.
Jatamansi (Nardostachys jatamansi)

Studies have shown that Jatamansi has been able to increase both memory retention and learning abilities.
Some studies have shown that it can even reduce or reverse amnesia caused by both diazepam and scopolamine. Memory loss due to stress has also had positive results.
Shankhpushpi (Convolvulus pluricaulis)

Shankhpushpi has often been used as a memory-enhancing agent. It also helps to calm the nerves and regulate stress hormones. However, this herbal remedy doesn't seem to work as well in its natural state. Most studies involve using aqueous and ethyl acetate extracts of the plant to get the most effects.
Gotu Kola (Centella asiatica)

Gotu kola contains many beneficial compounds such as tannins, saponins, asiaticosides, and sciatica acid. It has been used for many different health problems from depression to epilepsy. It is considered a diuretic, antispasmodic, anticonvulsive, stimulant, antioxidant, and spermatogenic.
Fresh leaf extract of gotu kola was shown to enhance learning ability and memory retention.
Coriander (Coriandrum sativum)

Coriander, also known as cilantro, has been shown to help with cognitive function. The study was small, focusing only on male rats, but positive results were showing that coriander may be able to help with amnesia, inflammation, and lower cholesterol. It also has antioxidant properties.
Common Fig (Ficus carica)

The common fig is another plant that may be able to help with Alzheimer's and dementia. It can help with retrieval, retention, and spatial recognition. It contains a compound known as quercetin which is an antioxidant that has been studied previously for its ability to help memory loss and Alzheimer's.
Studies have shown that it has been almost as beneficial as standard Alzheimer's drugs, and higher doses do better at increasing learning behavior.
Yerba Mate (Ilex paraguariensis)

Yerba mate, a common drink used as a tea or coffee replacement, has been shown to have several health benefits. It contains essential vitamins, including B12, B1, and C. It can also help memory, both long and short-term, and has been previously used as an antidementia agent.
Studies have shown that it helps with neurodegenerative disorders such as Alzheimer's.
Licorice (Glycyrrhiza glabra)

Licorice has all sorts of health benefits. It can help with ulcers, lung congestion, hoarseness, and throat problems.
Its root extract carries many medicinal values. It is an adaptogenic herb that is beneficial for regulating hormonal balance to stimulate good mental health. Thus, it can ward off the effects of stress, depression, and anxiety.
Studies have also revealed that it can enhance memory.
They also show that 150mg per kilogram of weight is the most effective amount.
Maca (Lepidium meyenii)

Maca has been shown to help with learning ability and memory function, including in patients with Alzheimer's.
The reason for this is that it can increase acetylcholine and reduce the effects of ovariectomy.
Asian Ginseng (Panax ginseng)

Asian Ginseng is a root that is widely used in many traditional Chinese medicines. It is said to help with both learning and memory.
It has many other benefits as well, including preventing cerebral ischemia, improving heart health, and having antioxidant properties.
Here's how to quickly recognize a stroke and the first thing you must do immediately afterward. 
Sage (Salvia officinalis)

Sage is an herb often used in cooking and is a pretty plant full of a relaxing fragrance. Some studies have shown that using sage can inhibit an enzyme that breaks down acetylcholine. While there aren't studies that have confirmed that low acetylcholine can lead to Alzheimer's, research has shown that those with the disease do tend to have lower levels.
Additionally, a placebo study was conducted using sage oil, and the results were that people with sage often did better with memory and cognitive performance.
Nutmeg (Myristica fragrans)

Nutmeg contains a lot of beneficial compounds that make it a useful herb for nervous disorders, digestive disorders, body aches, vomiting, tachycardia, dizziness, and of course, memory. It is considered a hypolipidemic, antidepressant, antioxidant, and antibacterial. Studies found that 5mg per kilogram of body weight is the most effective. A study in 2004 provided validation of nutmeg seeds in Alzheimer's and memory deficits.
Moringa (Moringa oleifera)

Moringa oleifera is believed to have anti-inflammatory, antibacterial, antiviral, antifungal, and antidepressant properties.
This plant has been found to contain amino acids, proteins, antioxidants, flavonoids, glucosinolates, and a wealth of minerals and vitamins. As a leaf extract it has vitamins C and E as well as memory-improving properties.
It provides both nootropics activity and reduces stress. This is because it alters the monoamines that are part of the memory process.
Slender Dwarf Morning-Glory (Evolvulus alsinoides)

It is widely used for treating sleeplessness, anxiety, and stress. Administered orally, extracts of slender dwarf morning-glory have been found to reverse amnesia.
It can also be compared to piracetam, which is a standard drug for memory loss.
Butterfly Pea Plant (Clitoria ternatea)

There are proteins inside the butterfly pea plant that some studies have shown can protect the neurons that are often degraded from Alzheimer's and dementia.
While the studies did confirm that butterfly pea plants can help with protecting the neurons, many people have already said that they have been sharing the plant to help with memory issues anyway.
Waterhyssop (Bacopa monnieri)

Waterhyssop, in combination with gotu kola and slender dwarf morning-glory, has been found to treat memory disorders, including Alzheimer's.
It has been found to help with memory, and is adaptogenic, neuroprotective, and antimicrobial.
Lemon Balm (Mellisa officinalis)

Lemon balm is often used to reduce inflammation and depression.
The delicious aroma of Melissa officinalis essential oil contains citral, neral, and citronella. These powerful attributes act to calm the central nervous system making lemon balm a wonderful relaxing aromatherapy option.
In a random trial, it was found that 60 mg every seven days improved both memory and cognition with no side effects shown.
⇒ Interested? Try some of the above herbs, found in the Brain Bundle. 
Rosemary (Rosemarinus officinalis)

Rosemary, the herb most commonly associated with flavoring food, has additional benefits. It can help with inflammation and memory. Since it is closely related to sage, it isn't much of a surprise that they may share similar health benefits.
Some controlled studies found that it may have the same benefits as many Alzheimer's medications. Both the ingestion of this herb and the smell are useful, so adding more rosemary to your meals and using rosemary essential oils can both be useful strategies.
Cluster Fig (Ficus racemosa)

There haven't been many studies on the use of cluster figs for memory loss.
However, they do contain properties that can increase acetylcholine in the hippocampus.
This has led some scientists to speculate it could also potentially treat memory issues, especially in patients with Alzheimer's.
Takeaway
These herbs can definitely help and alleviate your symptoms, but practicing mental exercises to keep the memory fresh, manage stress and keep the brain working properly should also be done alongside using herbal remedies.
You may also like: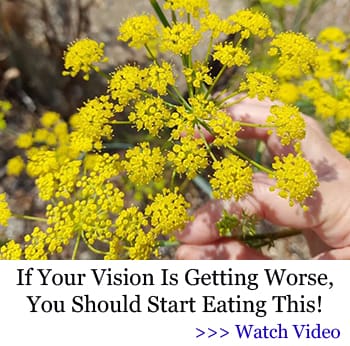 Homemade Lion's Mane Tincture for Brain Fog
How To Make A Scalable Self-Sustaining Greenhouse (Video)
10 Herbal Remedies to Delay Aging