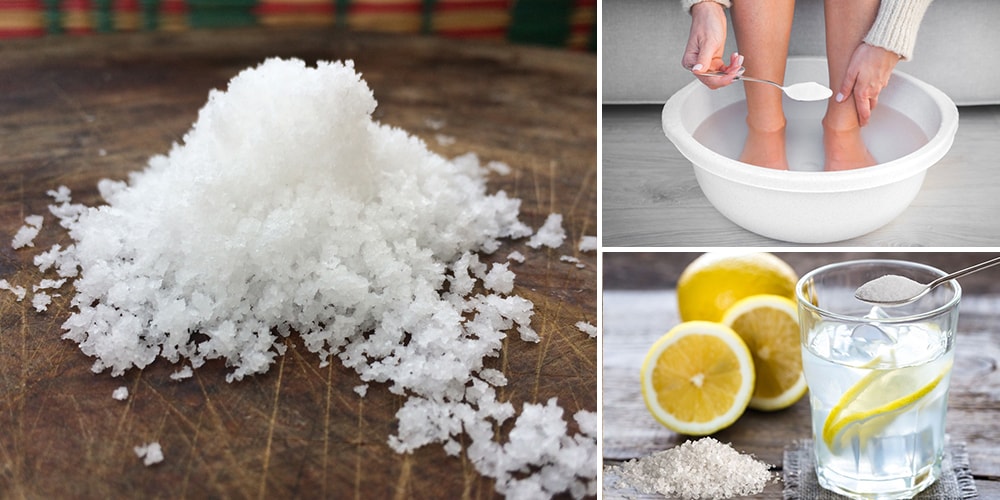 10 Essential Uses of Epsom Salt
If you're reading this blog, chances are that you may have heard of Epsom salt, but perhaps don't know much about what it actually does. Rest assured, you're not alone. Most people think of it as just another type of salt used for soaking in a hot bath, relieving sore muscles and relaxing. However, Epsom salt is much more than that.
In fact, it's a compound of magnesium and sulfate. These two elements possess a range of health and wellness benefits – from easing anxiety and improving sleep, to reducing inflammation in your body.  In this article, we will explore ten essential uses of Epsom salt, focusing on its remarkable medicinal benefits.
10 Essential Uses of Epsom Salt

Muscle Relaxation and Pain Relief
Dissolving Epsom salt in warm water and taking a soothing bath can help relax muscles, reduce inflammation, and alleviate pain. The magnesium in Epsom salt aids in muscle relaxation, while the sulfates assist in reducing swelling and promoting faster recovery from injuries. A warm Epsom salt bath can provide relief from conditions like muscle soreness, arthritis, fibromyalgia, and migraines. Soaking in an Epsom salt bath may also help alleviate the pain caused by menstrual cramps. Add a few drops of your favorite essential oil for added relaxation.
Stress Reduction and Improved Sleep
Epsom salt baths are known for their ability to promote stress reduction and improve sleep quality. The magnesium in Epsom salt helps regulate the production of serotonin, a neurotransmitter that contributes to feelings of calmness and well-being. Soaking in an Epsom salt bath before bedtime can help relax the body and mind, leading to a more restful sleep. Add a teaspoon of lavender essential oil to the bath, and you'll enjoy the added benefit of aromatherapy to calm your mind and nerves.
Treatment for Skin Conditions
Epsom salt can be beneficial for various skin conditions, such as eczema, psoriasis, and acne. The anti-inflammatory properties of Epsom salt help soothe irritated skin, reduce redness, and alleviate itching. Adding Epsom salt to a warm bath or creating a topical paste can provide relief and promote healthier skin.
Constipation Relief

When taken orally, Epsom salt can act as a gentle laxative. The sulfates in Epsom salt stimulate the movement of fluids in the digestive system, facilitating smoother bowel movements. However, it is essential to follow the recommended dosage and consult a healthcare professional before using Epsom salt as a laxative.
⇒ The Most Powerful Plant for a Healthy Digestive System (Video)
Wound Healing and Infection Prevention
Epsom salt can aid in wound healing and prevent infections. Its antimicrobial properties can help cleanse wounds and reduce the risk of infection. Soaking a clean cloth or bandage in a diluted Epsom salt solution and applying it to the affected area can promote faster healing and prevent the growth of harmful bacteria.
Treatment for Foot Problems

Epsom salt foot soaks are renowned for their ability to alleviate foot-related problems. Soaking feet in warm water with Epsom salt can help reduce swelling, soothe tired muscles, and eliminate foot odor. It can also assist in relieving the discomfort associated with conditions like athlete's foot and ingrown toenails.
Relief from Joint Pain and Inflammation
Epsom salt can provide relief from joint pain and inflammation caused by conditions like arthritis and gout. The magnesium in Epsom salt helps reduce inflammation, while the warmth of an Epsom salt bath or compress can soothe achy joints and improve mobility. Regular use of Epsom salt treatments can contribute to long-term joint health.
Detoxification

Epsom salt baths are often used as a natural method of detoxification and body cleansing. When dissolved in warm water, Epsom salt helps draw out toxins from the body through the process of reverse osmosis. This detoxifying effect can support overall well-being and help maintain a healthy balance of minerals in the body.
Alleviation of Headaches and Migraines
The muscle-relaxing properties of Epsom salt can provide relief from headaches and migraines. Soaking in an Epsom salt bath or applying a warm Epsom salt compress to the forehead can help ease tension, reduce inflammation, and alleviate pain. This natural remedy can be a valuable addition to your headache management routine.
Improved Nutrient Absorption for Your Plants

Epsom salt can enhance nutrient absorption in plants, making it an excellent fertilizer for gardening. Some gardeners believe that adding Epsom salt can lead to increased flower and fruit production, as magnesium is associated with the enzymes and hormones involved in these processes. Epsom salt is believed to help plants manage stress, whether it's caused by drought, transplanting, or other environmental factors.
The Bottom Line
Epsom salt is not only a household staple but also a remarkable remedy with a wide range of medicinal benefits. From muscle relaxation and stress reduction to wound healing and detoxification, Epsom salt has proven its versatility and effectiveness. Incorporating these ten essential uses of Epsom salt into your routine can lead to improved well-being and a healthier lifestyle.