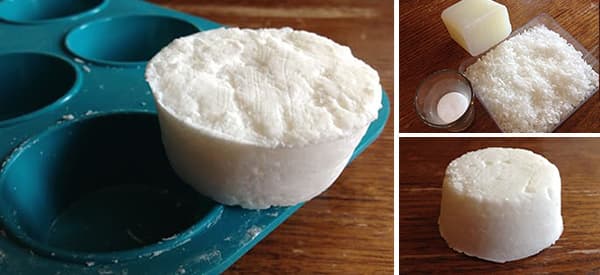 DIY Anti-Microbial Laundry Soap
Whenever possible, I try to use a natural product that is safe for me as well as the environment, but finding a detergent that fulfills both criteria can be difficult. So, when it comes to pre-treating stains and hand washing clothes, I prefer to use my DIY anti-microbial laundry soap bar instead. It is sulfate free as well as 100% natural and safe.
Soap Versus Detergent
First of all, let's look at soap versus detergent.
Both remove dirt and oil, but in slightly different ways. Both contain compounds that have a water-hating (hydrophobic) tail to attract oils on one end, and a water-loving (hydrophilic) head to disperse into the water so that everything can be washed away in the rinse.
Pretty simple so far. So, what makes them different?
Soap has a carboxylate base, whereas detergent must contain a sulfonate base to technically be called a detergent, and the primary way to make a true detergent is synthetically.
So, who cares whether it is soap or detergent? Well, anyone who lives in an area with hard water will care. Because soap + hard water = soap scum and residue build up on your washing machine and clothes. This is because the carboxylate tail will react to the minerals found in hard water to form soap scum.
Related: DIY Wilderness Soap And Shampoo From This Plant
Detergent is not affected by hard water like soap because of the sulfonates present as well as the addition of natural water softeners such as sodium carbonate (washing soda), but also with the addition of synthetically made linear alkylbenzene sulfonates (LAS), sodium laureth sulphate (SLES) or sodium lauryl sulfate (SLS), which I try to avoid (although it's somewhat reassuring to know that the surfactants found in all detergents purchased in the EU must be 90% biodegradable – shame about the final 10% though).
The other main difference between soap and detergent is that soap requires friction to be effective, whereas detergent only requires agitation – that's why soap always worked perfectly on your (great) grandma's washboard, but is comparably less effective in your washing machine.
So how can you use soap (instead of detergent) in the laundry, especially when you have hard water? By making a pre-treatment stain removal laundry soap bar with extra alkaline, usually in the form of baking soda, borax, or washing soda. You can also use this for hand washing your clothes. The severity of your hard water may determine what proportions you decide to use, and this is, no doubt, the reason why you find so many variations in what is essentially the same recipe for laundry soap online.
DIY Anti-Microbial Laundry Soap Bar
Whether you have soft or hard water, if you want a natural pre-treatment stain remover for your laundry, without any of the synthetic additives, then I would recommend adding one or two of the natural laundry additives listed below to work as a water softener in your soap bar.
The following laundry additives are all natural and safe:
Baking soda (sodium bicarbonate) is the least abrasive and has a slightly alkaline pH of about 8. This is a similar pH to many soap bars.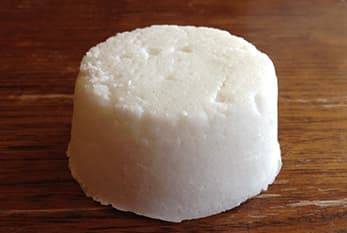 Borax (sodium tetraborate) is moderately abrasive and has a pH of around 9.5. (NOTE: requires hot water to dissolve). This is a similar pH to synthetic detergents.
Washing soda (sodium carbonate) is the most alkaline with a pH of around 11. It is a common water softener in many DIY and commercial products and I would recommend using it in areas with very hard water. This is a similar pH to ammonia.
If you can't find washing soda in your laundry aisle, then you can make your own by putting baking soda in the oven at over 400 °F (200 °C) for at least an hour. You will know the chemical reactions has finished because the weight of your baking soda will have dropped by 37%.
NOTE: The alkaline nature of many soaps being combined with acids such as Epsom salt, vinegar or lemon juice simply neutralizes each other, subsequently neutralizing their cleaning abilities (unless added in VERY specific proportions).
⇒ An Ingenious Eggshell Remedy and 25 Others Made from Things People Usually Throw Away
DIY Anti-Microbial Laundry Soap – Ingredients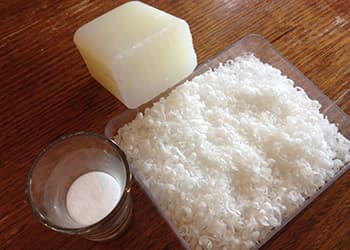 You can use any bar of soap, but let's hope you choose a biodegradable, natural soap that doesn't contain ANY sulfates. A soap made from 100% coconut oil produces a strong clean and hard bar of soap.
Note: the amounts here are for a 1.8 oz (50g) bar of laundry soap. Making a larger batch requires more melting time.
1.8 oz (50g) of natural soap bar, grated.
3 tbsp. of water – preferably distilled.
1 tbsp. of either baking soda, borax, or washing soda, mixed with a tsp. or so of hot water to form a paste.
optional: 3 drops of fragrance or essential oil of your choice.
DIY Anti-Microbial Laundry Soap – Method
Grate the bar of soap and put it into a heat-proof jug or a pot and place on very low heat (ideally around 130 °F/ 54 °C) and start slowly stirring. I'm using a double boiler set-up, but you can use a crockpot on direct heat.
After 10 – 15 minutes, the shredded soap will start to warm up and now you can add 1 tablespoon of water and stir again.
Stir the mix for another 20 minutes then add another tablespoon of water. Continue stirring while separately making a paste from 1 – 2 teaspoons of hot water mixed with either baking soda, borax or washing soda
The soap will never get to a pourable state; more like a thick mashed potato consistency, and this is when you add the paste and stir in thoroughly for another 10 minutes. Optional: Add your fragrance or essential oil.
Spoon the mix into molds and give the mold a couple of firm taps on the countertop, then press out any air bubbles with your spatula.
Allow to sit for about 5 days and then remove from the mold and it's ready to use.

Application
Pre-treatment: Dip the corner of your DIY laundry soap bar in some water and rub the stain then throw your clothes in the washing machine as normal.
Hand-wash: Dunk the whole bar in a tub of water, rub some on your clothes and give them a scrub. Rinse and dry.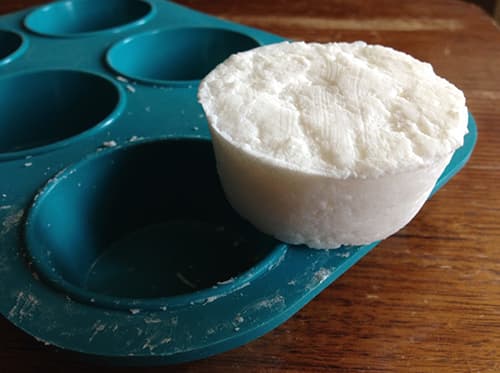 The fact is, no carboxylate soap is as strong as a sulfate detergent; the chemical structure of detergent makes its dirt-attracting powers and foaming ability stronger, especially in hard water. Also, most laundry detergents include bleaches, optical brighteners, and dye transfer inhibitors.
But soap is perfect for pre-treating stains and hand washing clothes due to the friction involved, all without the need for sulfates. Just be sure to add a natural laundry additive to your laundry soap bar if you live in areas with hard water like I do, and play around with the proportions to get an ideal cleaner for your area.