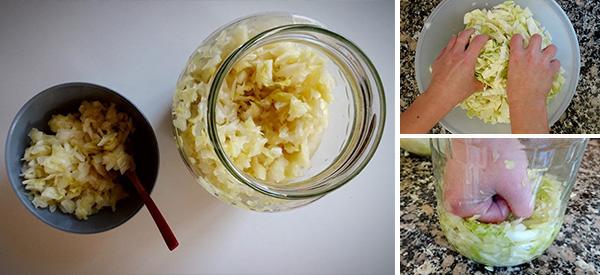 What Happens If You Eat Cabbage Every Day?
Cabbages are exceptional vegetables for the number of vitamins and nutrients they hold. Introducing cabbage to your diet as a regular staple is a great idea.
Health Benefits You Can Get From Eating Cabbage:
Can lower levels of inflammation.

It's full of insoluble fiber which helps the digestive system.

Can lower the risk of heart disease.

Includes minerals such as Iron, Manganese, & Potassium. Among other things, these help to boost your immune system, assist in blood sugar regulation, and lower blood pressure.

Has been shown to decrease 'bad' LDL cholesterol in people that have high levels of LDL.

The beta-carotene in cabbage reduces the chance of getting cataracts.

Can help treat a range of skin conditions from eczema to psoriasis.

Has powerful antioxidants that help fight free radicals and reduce certain types of cancers.

They contain Vitamin A, B6, C, K1 & U. Vitamin A is known for protecting your eyes and promotes a healthy immune system. Vitamin B6 is important for a healthy brain and the central nervous system. Vitamin C is essential for your immune system. Vitamin K1 (or phylloquinone) supports blood coagulation. Vitamin U-rich foods can treat a number of gastrointestinal disorders such as peptic ulcers and acid reflux.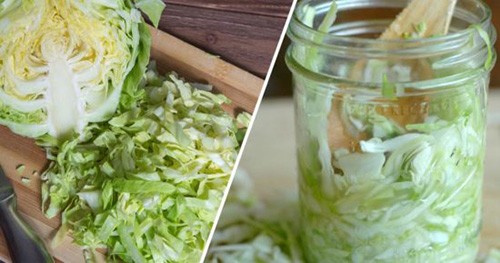 While cabbages are nutritious, sauerkraut is even more so than cabbage alone. This is due to the fermentation process it undergoes. Even though it contains just cabbage and salt, there are some surprising advantages to making and eating sauerkraut.
The Interesting History of Sauerkraut
It's widely agreed that the fermented cabbage dish we know as sauerkraut originated in China more than 2,000 years ago. However, the name as we know it comes from Germany, and variations of the recipe are now found in many countries around the world.
It also has a place in the USA today. In Pennsylvania, it's commonly eaten with pork on New Year's Day as a tradition to bring good luck for the new year. It's also used as a condiment in many states, most notably to accompany hot dogs or sandwiches.
Sauerkraut also makes a nice addition to potato salad, baked potatoes, and salads. It's one of the only condiments to have no fat or cholesterol and be low in calories.
There are different variations of sauerkraut but the base is always cabbage and salt. This is all you need to make nutritious sauerkraut. Other popular ingredients are sometimes added to enhance the flavor or color. The most common additions are caraway seeds, carrots, apples, cranberries, garlic, beetroot, and bell peppers.

Sauerkraut is made by a process called Lacto-fermentation. This process has been used for thousands of years as a way to preserve food. Historically, this was done in an open vat system. Today, it's also popular to make fermented foods in an airlock. Airlocks are a fairly modern invention and are useful because they eliminate the need to 'burp' your concoction. However, you can easily make this in a mason jar and still get excellent results. The main consideration to remember is the cabbage must be submerged under the brine so that it's anaerobic. 
Health Benefits of Sauerkraut
As I mentioned, sauerkraut is even more nutritious than cabbage alone and this is due to the fermentation process. Here are some of the nutritional benefits it contains (on top of the list above for cabbage alone):
Probiotics – The good bacteria in it helps keep your gut flora healthy. This aids your digestive system.
Vitamin K2 – Sauerkraut is one of the few plant sources that contain K2 (or menaquinone), which helps protect your bones.
As an added bonus, sauerkraut also aids weight loss. This is because it's low in calories and the high fiber content helps you stay fuller longer. Probiotics may also be key to weight loss by decreasing fat absorption.
How To Make Sauerkraut
This recipe is the quintessential sauerkraut base. As I mentioned earlier, there are variations that include other ingredients to change the flavor or color. However, it's really tasty as is, and great as a condiment or added to salads and sandwiches.
Ingredients
2 lb cabbage.

4 tsp salt – use pink Himalayan salt or sea salt. Don't use iodized salt or table salt because it can hinder the fermentation process.
Equipment
A vessel to house your fermenting sauerkraut – this can be any glass jar or a fermenting crock. I'm using a glass jar for this recipe as you probably have one lying around your house already. Make sure you sterilize it before use.

A weight – a jelly jar, plastic bag sealed with water inside, or weight of your choice (glass or ceramic).

Tool for cutting the cabbage finely – sharp knife, mandolin, or food processor.

Wooden spoon (optional) – for pushing down the sauerkraut.
Method
Step 1
Wash your cabbage well under running water.
Step 2
Peel off the outer layer or two of the leaves and discard them. Make sure you don't have any brown or damaged leaves. The cabbage should be as fresh as possible.
Step 3
Cut the cabbage in two, down the middle. Then cut out the core.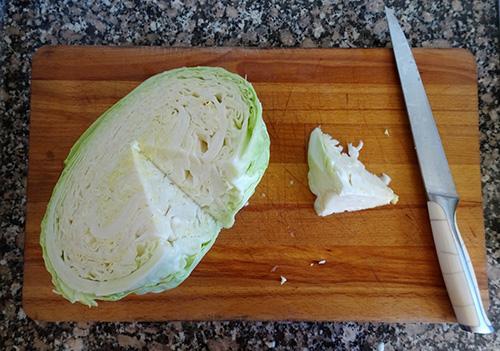 Step 4
Next, weigh one of your cabbage halves. Cabbages are generally large so you either want to find a small cabbage or just use half for your sauerkraut.

You will need two teaspoons of salt per pound of cabbage you are using. The cabbage half I used here weighed exactly two pounds, so I needed four teaspoons of salt.
Step 5
Slice your cabbage thinly using a sharp knife, mandolin, or food processor.
Step 6
Add the cabbage strips to a mixing bowl and pour your measured salt all over it.
Step 7
Wash your hands thoroughly, then mix it all together roughly. Then keep pressing hard on the cabbage and squeezing it together until it has become a moist mixture and there is brine at the bottom.

This process will take at least five minutes. It does get tiring on your hands so you can also use your fists to push down and change the position of your hands.

Keep massaging and squeezing the cabbage until you see your brine appear and you'll notice the shreds of cabbage have shrunk considerably.
Step 8
Transfer the cabbage to your jar and as you place new handfuls in, push the cabbage down with your fist. You are aiming to remove any air bubbles and compact the mixture as much as possible.

You can also use a wooden spoon to help you with any hard-to-reach areas. Pour any remaining brine into your jar.

The cabbage should be submerged in the brine. If it's not, try pushing down on it some more. Some cabbages hold a lot more liquid so will produce a lot more brine when you massage them.

If you don't get enough brine, simply make your own and add it – 1 teaspoon of salt to 1 cup of water. You may only need to add a couple of tablespoons, so just measure out what you need.
Step 9
Now you need to weigh it down. You can use a jelly jar or weight if it fits your jar, otherwise, I like to use a plastic bag filled with some water and tied up or sealed.

You can use a zip lock bag or a small plastic bag. Place it over the mixture so it seals it in.

Then place your lid on loosely so it's fingertight. Gasses will build in your jar so you don't want the lid on too tight.

You will also need to 'burp' the jar daily by removing the lid and weight, and check your cabbage is fully submerged.

If it's exposed to air it will be susceptible to mold. If you don't have a lid, you can also use a cheesecloth.

In the image below, the brine just covers the cabbage and the plastic bag filled with water sits on top, holding it down. Make sure your bag does not leak before adding it to the jar.
Step 10
It should ferment for a minimum of four days and you can leave it for up to four weeks.

Taste the sauerkraut after four days and when you are happy with the flavor remove the weight and put the lid on and transfer it to the fridge, using it as you please.
Note: Fermenting it at a temperature of 65-70°F is ideal. The cooler the temperature while fermenting, the crunchier the resulting sauerkraut will be. Conversely, if you are in a warmer climate or it's summer you can expect it will be a softer texture. If it's warmer, check it more readily. Always store your fermenting sauerkraut away from direct sunlight.
Due to the nature of the recipe, it does contain sodium. If you're on a low sodium diet you can lower sodium levels slightly by rinsing the sauerkraut under water before using it.
You may also Like: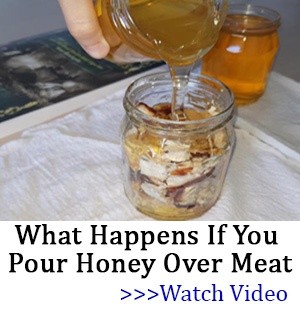 How to Make a Healing Salve with Cabbage and Aloe Vera
Add This "Unusual Nutrient" to Coffee or Tea, to Effortlessly and Fully Empty Your Bowels Every Single Morning (Video)
How To Make Your Own Probiotics
43 Remedies from My Childhood that Still Work Today
How to Make Cabbage Bandages to Treat Inflammation and Joint Pain