What Happens If You Drink Grapefruit Juice With These Common Meds ?
Nothing is quite as refreshing as a tall glass of grapefruit juice with your breakfast in the morning . . . but it may be a mistake to add it to your daily routine. This tasty citrus fruit may make a lovely breakfast, but it can also wreak havoc with your medications.
Many people know that certain medications can interact with each other, or even herbal supplements with medications, but few think of their regular diet. If you're drinking grapefruit juice or regularly enjoy the fruit, you could be in for a surprise. It can actually cause some side effects with your medications that you never expected.
The Benefits of Grapefruit Juice
If you enjoy a tart breakfast drink that is better for you than orange juice, grapefruit juice is often the option you'll reach for. It's also very good for you, as it's packed with nutrients and vitamins. The high levels of Vitamin C and Vitamin A help strengthen your immune system, so this fruit is handy for fighting off colds and the flu.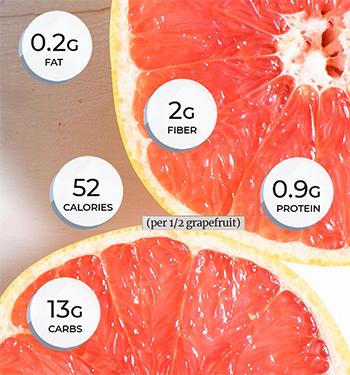 You may know grapefruit as diet food, which is due to the fact that it has relatively few calories, plenty of nutrition, and lots of fiber. The extra fiber helps your body feel full longer, so it's a great breakfast food or drink. That being said, it's also relatively low in carbs.
The downside to grapefruit juice in the morning, however, is that it may interact with some of the medications you're on.  There are a few medications that come with specific warnings about taking with grapefruit, but the vast majority are still not that well known.
They may not be listed as a problem when drinking the juice, which means you could be taking the medications and reducing or drastically increasing their efficacy without realizing it.
Which Meds Does Grapefruit Interact Poorly With?
You should always double-check with your doctor when mixing any kind of medication with your grapefruit, but there are certain medications that simply must not be taken with it. Let's take a closer look at some of the potentially bad mixes.
Anti-anxiety drugs: Some medications commonly taken for anxiety can react poorly with the juice, including buspirone.
Antihistamines: Not all allergy drugs react with grapefruit, but it's a good idea to be careful. Fexofenadine, which is found in Allegra, should be avoided.
Anti-rejection drugs: For those with an organ transplant, it's best to avoid grapefruit. Cyclosporine, the main ingredient in Sandimmune and Neoral, can react with the fruit.
Blood pressure meds: If you take some sort of medication for blood pressure, you should avoid adding grapefruit juice. Not only is the juice a nature blood pressure reducer, but it also interferes with the drugs such as aliskiren, also known as Tekturna
Calcium channel blockers: You should also avoid mixing grapefruit with clarithromycin (Biaxin) and other calcium channel blockers, including loratadine, which is also found in Claritin. Any of these types of medicines will tend to interact with the fruit.
Corticosteroids: These medications are frequently used to treat ulcerative colitis, Crohn's disease, and other similar issues. Avoid budesonide, which is found in Entocort EC and Uceris.
Erectile dysfunction: Men taking the drug sildenafil for erectile dysfunction can end up with some pretty drastic side effects if taking grapefruit at the same time. Avoid Viagra and Revatio when drinking this juice.
Statin drugs: If you take medication to reduce your cholesterol levels, you need to be careful. Simvastatin, found in Zocor, and atorvastatin from Lipitor, are both potentially dangerous.
How It Works
Grapefruit juice can actually change the way your body metabolizes the drugs, by reducing the cytochrome P450 3A4 enzymes in your blood that break down the medicines. This means you can't actually predict how much of the drug will end up in your bloodstream. In some cases, it may be a higher dose, while others may be lower. This drastically affects how useful your medications are.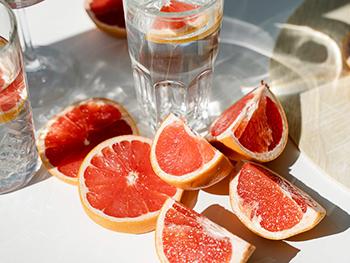 While some medications will not be very noticeable, others will change enough that you could be in danger. If you rely on medications to keep you alive, it's always a good idea to double-check what may interact with them, even a seemingly harmless glass of juice. You may have mildly increased side effects, or something much worse could occur.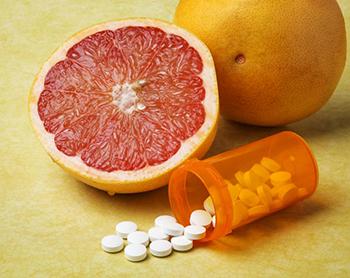 Keep in mind that the effects of grapefruit juice last more than 24 hours. If you're on regular medication, it's best to simply avoid the juice and fruit completely. Just 200 ml can change how your body reacts to a drug and it may even reach toxic levels in your bloodstream.
Before you take any type of medication, you should always ask your doctor about any potential interactions with common ingredients. You can also do this research yourself and then ask your doctor. In most cases, it's safe to drink fruit juice with your meds, but grapefruit is certainly one of the most problematic.
What Other Fruits Should You Watch Out For?
Apple juice can occasionally be an issue, but in general, it's fine. If you're taking fexofenadine, which is found in Allegra, or aliskerin, found in Tekturna, then it can interact. These same drugs can have interactions with orange juice, too.
Orange juice is often more volatile than plainer options like grape or apple juice, but it's rarely noted. For example, we know that atenolol, which is used to treat angina and reduce blood pressure, can react with orange juice. The result is lower drug levels in the blood, but no one knows exactly how this would affect the person taking it. It's best to simply avoid drinking a lot of orange juice with any major medication, just in case. However, grape juice should be just fine.
Another potentially bad fruit is pomegranate. It's more potent in juice form, of course, but it is known to interfere with breast cancer treatments. It can cause worse side effects and the patient is more likely to develop an infection.
Drug interactions are nothing new, but we're constantly learning new things about them. You should always be careful about what you eat or drink with a drug and if you're not sure whether or not it's dangerous, ask your doctor or double-check online. You don't want to find out because your medication isn't working or due to increased side effects.
Grapefruit juice is a wonderful way to start off your morning and it's a delicious drink that is highly prized in the world of weight loss. Just make sure you're not taking any drugs that could interact with it and you should be okay.
You may also like: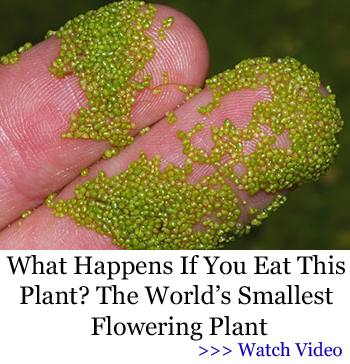 What Happens If you Drink Celery Juice for 30 Days?
1 Cup Before Bed Shrinks Belly Fat All Night (Video)
Foods and Herbs to Avoid When You Have Diabetes
3 Fat Burning Plants You Aren't Eating Right Now