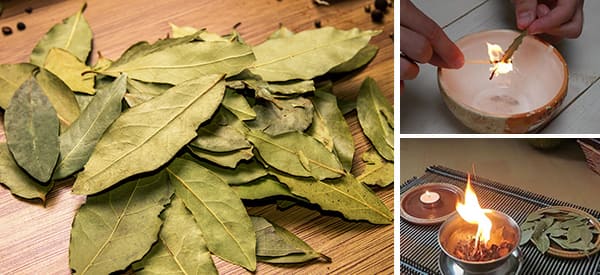 What Happens if You Burn Bay Leaves?
Bay leaves are a popular spice harvested from the fragrant shrub laurel. It has a woodsy and slightly pungent aroma that enhances the flavors in curries, soups, and stews. It is a popular spice for a number of dishes. Aside from culinary use, bay leaf is also an herb possessing many excellent medicinal properties.
The common method of preparing herbal medicine is boiling or grinding them into powder. But, uncommon to most herbs, bay leaves also activate their potent effect through burning. The smoke from burning bay leaves has a medicinal value that mostly impacts the area of the brain.
The history of burning bay leaves dates as far back as ancient Greek, with roots in Greek mythology. Accordingly, Apollo used to ingest bay leaves smoke to induce prophetic visions. Thus, it became a symbol of wisdom, peace, and protection that lasted throughout Roman culture and into the modern era.
Presently, bay leaf holds an important attribute in aromatherapy. Aromatherapy is a kind of treatment involving the sense of smell, touch, or a combination of both. Its smoke is used to treat anxiety, stress, and fatigue, and for boosting the immune system.
Burning bay leaves is also touted for their spiritual healing properties. It is often used in places of worship for spiritual rites, similar to incense and smudge sticks.
Bay leaf has the potential for treating conditions like: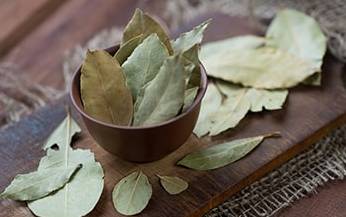 Anxiety
Depression
Respiratory issues
Insomnia
Fatigue
Nausea
Stomach problems
What Happens When You Burn Bay Leaves?
When a bay leaf is burned, it releases a chemical called linalool through its smoke. Linalool is a fragrance compound. It is also present in other plants like lavender and mint. However, when compared to lavender, bay leaves contain 7% less linalool. But still, the fragrance that bay leaf emits can create a calming and psychedelic effect for both the mind and spirit.
The smoke from the bay leaf is said to protect the user from unseen negative forces. It alters the state of the mind to instill peace and calmness, which in turn boosts the mood and improves well-being.
The good thing about inhaling bay leaf smoke is that it does not induce sleep. It only clears and calms the mind while maintaining mental alertness.
⇒ Better Than Sleeping Pills (Video)
How to Burn Bay Leaves

There are many amazing ways you can use bay leaf smoke for various health maladies. The most common is to crush the leaves into a fine powder and then sprinkle it into a candle flame.
The smoke from the burning leaves will fill the room with a pleasant aroma. Alternatively, you can also place the leaves directly onto an open flame.
But before you get started, here are a few safety tips:
Use a fireproof bowl like an ashtray or ceramic dish.
Bay leaves should be dried and not used fresh when burning. Fresh leaves do not burn easily.
Light the end of the leaves and blow off the flame to allow the leaves to slowly smolder.
Do not leave the burning leaves unattended and snuff them out fully after use. Keep them out of children's and pets' reach.
Benefits of Burning Bay Leaves
Anxiety-relieving
Burning bay leaves has a calming effect to help alleviate anxiety and fatigue. Just light a couple of dried bay leaves in a dish and inhale its smoke for 10 to 15 minutes. It should clear away your worries and give you a calmer feeling.
Clear sticky phlegm

Bay leaf is a tonic that clears away upper respiratory disorders and relieves clogged nose and dry cough. Its smoke can dissolve mucus and phlegm when used properly.
But this home remedy may not work for everyone. If you have sensitivity to smoke or have asthma, refrain from inhaling bay leaves as it may only irritate your airways. Dry smoke causes throat irritation, sneezing, and runny nose and may even exacerbate nasal congestion.
Yet, there is still an alternative way you can use the health benefit of bay leaves for cough and congestion. Instead of directly burning the leaves, inhale the steam that is treated with bay leaf. You can use either fresh or dried leaves for it.
Reduce inflammation
Laurel leaves contain eugenol, the aromatic compound extracted from its essential oil. When burnt, eugenol gets activated as the leaf releases smoke. Its anti-inflammatory and antioxidant properties are useful in reducing body inflammation. The eugenol from the bay leaf is particularly beneficial in alleviating joint and arthritic pains.
To boost its healing process, use bay leaf oil extract for massaging joints after breathing in the smoke from burnt bay leaves.
Clean bad energy

Negative energy from the environment and your own psyche is exhaustive mentally and physically. But these vibes are everywhere and may influence your feelings if you don't know how to deal with them. Though bad energy is inevitable, you can protect yourself and your home from discomfort by burning dried bay leaves.
Treat nausea
The compounds in bay leaves work against nausea by settling an upset stomach. It is also potentially calming to help ease the tension within the body. Inhaling burning bay leaves may help settle the stomach and effectively treat nausea and its causes.
Other Medicinal Uses of Bay Leaves
Bay laurel is a valued herb in ancient medicine with its effectiveness in healing flatulence and gastrointestinal problems. It is also most effective in treating dandruff and skin problems like acne.
Aside from burning bay leaves, there are also other ways it can be prepared for various health issues.
Clear Acne

Treat and prevent acne breakout with the strong antiseptic property of bay leaves. It is proven to minimize excess oil production and minimize the pores, which mainly cause acne and skin problems. To deal with acne, boil dried bay leaves in water for 5 to 10 minutes. Apply the concoction on the affected area twice a day for a week.
Get Rid of Dandruff
Bay leaf water is an excellent rinse for promoting healthier and shinier hair. Its potent compounds stimulate the scalp to manage excessive hair loss. It is also best for treating dandruff with its antifungal property. To get rid of dandruff and achieve healthier hair, mix bay leaves with water and apply them to the scalp after shampooing.
Alternatively, you may also use 10 to 15 drops of bay leaf essential oil and mix it with your regular shampoo. Massage into the scalp and let sit for a few minutes before rinsing.
Manage Diabetes
The powerful antioxidants in bay leaf lower blood sugar levels and aid in insulin production for Type 2 diabetes. It balances the glucose level and improves the function of insulin in the body. Linalool prevents the reaction of free radicals and protects the body from oxidative stress.
Take bay leaf with a proper diet and medication to manage the condition properly. With your doctor's approval, take 1 to 2 tsp of powdered bay leaves daily for a month.
Flatulence and Indigestion
Bay leaf has a carminative property beneficial for many digestive troubles like flatulence and indigestion. It is an excellent herb for treating acid reflux and heartburn.
To boost the digestive and stomachic properties of bay leaves, you can use them with ginger. Ginger helps in the proper digestion of food by stimulating the secretion of digestive juices.
Add about 5 dried bay leaves and a piece of ginger to two cups of water. Boil until only about a quarter of the liquid remains. Add honey to taste and take a glass for instant relief.
Wounds
A poultice of fresh bay leaves is traditionally used for treating minor wounds and rashes. Its strong astringent and antibacterial properties prevent infection while helping in the fast healing of the wound. Just chop a few bay leaves and apply them over the affected area. Reapply the poultice 2 to 3 times a day until the problem is resolved.
Takeaway
Burning bay leaves brings about a positive sensory experience that ultimately cures the body. Bay laurel is revered as a sacred herb and is often used in rites, rituals, and meditations.
Even inside the home, you can partake in its calming and peaceful effect to throw away negative energies. Just burn a few dried bay leaves and immerse in its smoke. You can almost immediately feel its rush of positivity coursing through your spirit to heal you physically and mentally.
You may also like:
Homemade Herbal Elixir for Fatty Liver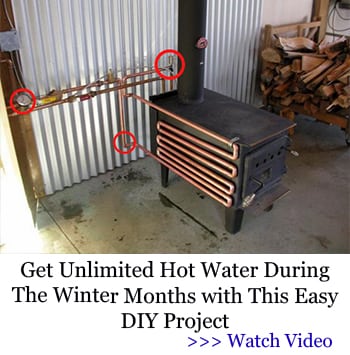 What Happens When You Put Raw Beef Over A Dead Fire? (Video)
Parsley Tea for Inflammation of The Urinary Tract
What Happens If You Mix Lemon with Bay Leaves?