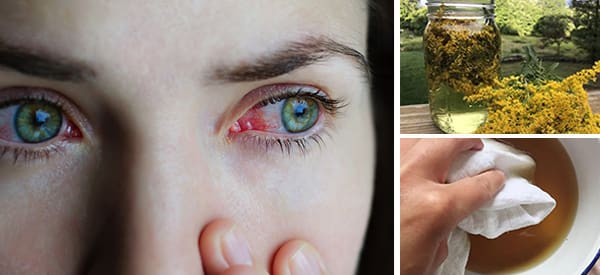 How to Treat Conjunctivitis Naturally
No one likes getting conjunctivitis. Conjunctivitis, also commonly known as pink eye, is when something infects or inflames the eye. Unless you have a bacterial infection, there really is no cure for pink eye, but there are ways you can reduce the symptoms. This means that you can work on treating pink eye at home naturally as well.
There are a few different kinds of conjunctivitis, but they all have similar ways to help reduce pain and inflammation, as well as make the recovery time shorter.
What Kinds of Pink Eye Are There?
There are three main types of pink eye, but five in total.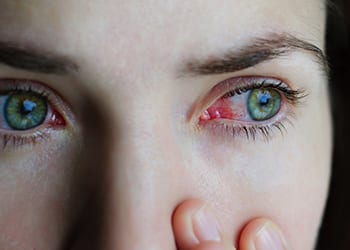 Viral – The same virus that can cause a cold can also cause conjunctivitis, and usually accompanies the cold. It can be highly contagious.
Bacterial – This version comes from a bacterial infection. It is the most contagious one, easily infecting a whole classroom or family.
Allergies – Airborne allergens that enter the eye can cause conjunctivitis.
Toxic – This is a chronic eye inflammation, usually from something in medication or preservatives.
Nonspecific – These are usually caused by chronic dry eye, chemical splashes in the eye, or something in the eye like dust or an eyelash.
Of these, viral, bacterial, and allergies are the most common. Viral and bacterial are the highest concern as they can easily infect a whole group of people in little time.
How Long Does Conjunctivitis Last?
Most of the time, conjunctivitis can last anywhere between 24 hours and two weeks. It goes away when the problem is removed. So, for cases where there is something in the eye like an allergen or an eyelash, these can be cured in just a few hours.
Does Conjunctivitis Go Away on its Own?
For the most part, conjunctivitis does go away on its own, unless there is something actively causing the problem, which is the case in many nonspecific and allergen cases. For the most part, there aren't cures for conjunctivitis and it is more about steps you can take to reduce the symptoms and maybe get the problem to go away faster.
This has caused a lot of people to look for more natural ways to cure pink eye. It isn't often easy to tell apart the different types of conjunctivitis. Since bacteria is the only one that can easily be cured, most doctors just prescribe the treatment for that one and call it done, though there are other options to help relieve the symptoms.
Bacteria are often killed with antibiotics. Recently, scientists have started to see problems with using antibiotics on everything, as it is creating waves of super bacteria that are more immune, and eye infections are a huge part of that problem.
So, while there aren't ways to cure it at home, there are ways to help reduce the irritation and heal the eye or eyes faster, and many scientists are pushing for these methods instead.
Ways to Help Conjunctivitis Go Away Faster
Herbs
There are a few herbs you can use to help treat or minimize the symptoms of pink eye. Certain herbs have antimicrobial and anti-inflammatory properties, which help to reduce itching and build-up in the eye.
The most common herbs to use are: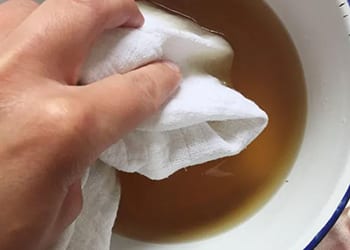 Chamomile (Matricaria chamomilla) – Chamomile is often used to make teas, due to its ability to help people sleep. However, the flowers can also be used to reduce itching and irritation in the eyes. You can soak it in water to create an eye wash, or use it as part of a compress.
Plantain (Plantago) – Plantain is often thought of as a weed, as it can be found just about anywhere. It is often found alongside dandelions. You can make an eye wash with the leaves or a compress in order to cool the eye and reduce any inflammation.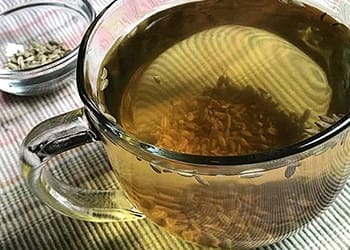 Fennel (Foeniculum vulgare) – Fennel has long been used for those suffering from allergies to relieve itching and burning symptoms in the eye. Let the fennel soak in water for a little bit and use that water as an eye wash to help relieve symptoms of pink eye, especially if caused by allergies.

Marigold (Tagetes) – Marigold has antiseptic and anti-inflammatory properties that make it a great option for pink eye. You can add it to a compress or eye wash.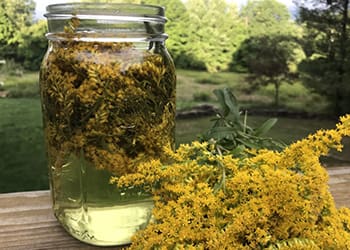 Goldenrod (Solidago) – Goldenrod is often used to reduce mucus, but it also has some antimicrobial properties that can make it beneficial for pink eye. Simply make a tea with the dried leaves and drink it often when you have symptoms of conjunctivitis.
Goldenseal (Hydrastis Canadensis) – Goldenseal has roots that are beneficial to fight conjunctivitis. You can buy these roots online or in some stores. Or, you can purchase a tincture of goldenseal root and take it a few times a day until your pink eye goes away.
⇒ How to Detoxify Your Vision (Video)
Hygiene
The first is to wash anything that touches your face or eyes daily. This includes sheets, towels, washcloths, and more. This helps to treat pink eye faster because you aren't continuously rubbing the bacteria or virus back onto your face. It also reduces the chances of it spreading. Like compresses, washing out your eye with water can help. This is especially true if an allergen caused the problem, but can also help with getting rid of any gunk that has built up in the eye. It can also reduce redness and itching. You can do this a couple of times a day with cold or warm water for about five minutes.
Zinc
Taking zinc is another great idea. Zinc helps to boost the immune system, which will help you to fight off bacteria, viruses, or allergens. You can take other vitamins that boost the immune system as well, like Vitamin C.
Compresses
Compresses can help with pink eye. You can place a moist washcloth on your closed eye two or three times a day.
These can be either warm or cold. Warm does better at reducing sticky buildup and crusting, but cold help to reduce any swelling or itching.
Allergy Medication
If your conjunctivitis was caused by allergies, it is important to take your allergy medication every day and on time to help your body recover and prevent the symptoms from occurring again.
Sleep
Sleep is always good when you aren't feeling well. This is the perfect time for your body to heal and make any repairs to the body it can. While you don't have to sleep the whole time, make sure you get plenty of sleep and rest when you can to make a difference.
Remove Contact Lenses
No matter what kind of conjunctivitis you have, you don't want to mess with your eye or put anything in there you don't have to. If you wear contact lenses, it is best to remove them for the entire time you have pink eye.
It is also recommended you toss out those lenses, or get a thorough cleaning with a specialized contact cleaner. Otherwise, you may just end up infecting yourself again or making the condition worse.
Lots of Water
Staying hydrated is just as important as sleeping. Don't forget to drink plenty of water and keep your body fully hydrated.
What Should I Not Use to Treat Conjunctivitis?
There are three bad myths about cures for conjunctivitis that don't work and actually might make your condition worse.
The first is breast milk. Some people believe that breast milk can cure conjunctivitis. However, most of the time, the bacteria present can make the situation worse. While it can help to fight certain infections, pink eye isn't one of them.
Urine is another one. This is a very bad idea as some studies have shown this can lead to permanent blindness.
Finally, one that most people don't tend to think about is eye redness drops. Redness drops may seem like a good idea as they normally reduce inflammation and irritation in the eye. However, when you have pink eye, it can make the symptoms worse or more painful.
The Bottom Line
While most of the time, pink eye can be taken care of at home, there are times it might be best to visit a doctor to prevent any permanent damage, especially to kids. If your child is under the age of five, the pus is green or yellow, or the cornea is opaque instead of clear, visiting your doctor for a thorough check can be wise.
You may also like: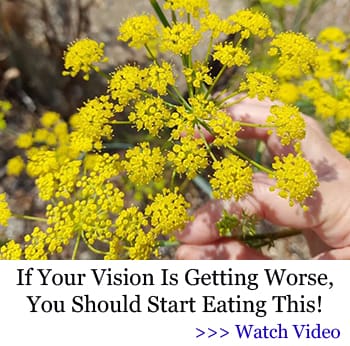 Improve Your Eyesight with These 3 Common Herbs
The 10 Plants That Help Every Part of Your Body At Once (Video)
How to Make Anti-Inflammatory Band-Aid Using Plantain
What Happens If You Eat a Carrot in The Morning?