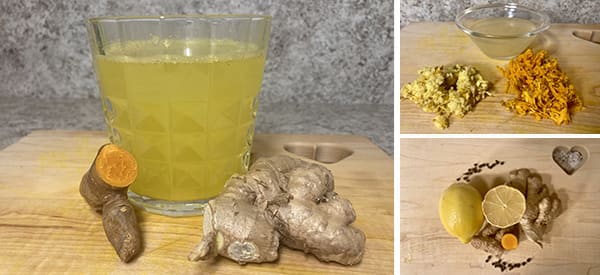 The DIY Turmeric Tonic That'll Help You Conquer a Cold
When it comes to fighting a cold, it can feel like nothing you do is having any effect. But there's hope! A DIY turmeric tonic can help you tackle cold symptoms naturally, and give you back your energy and well-being.
Turmeric is a powerful spice that has long been used for its anti-inflammatory, antioxidant, and immune-boosting properties. I'll now use it to make a tonic that can help support your body's natural defenses. Turmeric is a superstar on spice racks and medicine cabinets alike. It's both a delicious ingredient in curries and lattes and has incredible health benefits. Most notably, the spice has become famous for its health benefits! Read on to learn how to make this easy and effective DIY turmeric tonic for yourself.
What Is Turmeric?
Related to ginger, turmeric (Curcuma longa) is a flowering plant that grows in the forests of southeast Asia. It's a stunning herb with vibrant green leaves and beautiful white flowers. But it has truly gained popularity because of its roots! The roots can be used fresh or dried and ground up into a rich yellow powder. In any form, it's both delicious and nutritious.
And when combined with other immune-boosting herbs, turmeric can create a potent tonic to help fight off seasonal ailments.
What is it about turmeric that reduces inflammation, boosts immunity, and gives it that unmistakable yellow color? The answer to all of these is "curcumin." Curcumin is the active component of turmeric. The subject of a wealth of scientific research, curcumin is known to have antioxidant, anti-cancer, and anti-inflammatory effects.
Cold-Busting Benefits of a Turmeric Tonic

Winter is here and that means colds are coming too. But you don't have to succumb to the sniffles. There's a super-easy, DIY tonic you can make that'll help you combat it. A tonic is a medicinal drink that enhances one's well-being. Not only does this tonic help to fight off colds and flu, but it's also a great way to start your day feeling energized and refreshed.
From a health perspective, turmeric offers a cornucopia of benefits. Some of these boost the body's resilience to seasonal ailments. The immune-boosting benefits of a turmeric tonic include reducing inflammation and boosting immune health.
Reduce Inflammation
The cold virus causes inflammation of the sinus and throat membranes. Anti-inflammatory medications are some of the most common treatments to relieve cold symptoms. Curcumin's natural anti-inflammatory benefits make this tonic a powerful strike against the pesky cold.
Ginger also has anti-inflammatory and antioxidant properties. Mixing fresh turmeric and ginger in this DIY tonic attacks inflammation from all angles. If you have a sore throat or cough, honey can be soothing and might help reduce the symptoms of a respiratory infection.
Related: My #1 Go-To Herb for Avoiding Influenza, Colds, and Severe Respiratory Illness (Video)
Strengthens Immune System
Turmeric not only targets the inflammation caused by respiratory illnesses, but it also supports general immune health. The spice activates the immune response on a cellular level by firing up T cells, B cells, neutrophils, natural killer cells, and the body's natural antibodies. In fact, many of turmeric's health benefits seem to boil down to its ability to mobilize the immune system.
Another immune booster? Lemon packs an immunity punch with high levels of vitamin C. Incorporating some fresh lemon juice into your DIY turmeric tonic
How to Make Turmeric Tonic
The star of this tonic is turmeric, an ancient healing spice with anti-inflammatory properties. It's best to use the fresh root if you can find it, and if you have an organic option, then leave the skin on for the full brigade of benefits.
When combined with other immune-boosting ingredients like ginger and lemon, this tonic will help you stay healthy and fight off any cold that comes your way. If you like a touch of sweetness in your tonic, add a couple of teaspoons of honey. The sprinkle of black pepper helps the body absorb more curcumin.
This tonic is great any time of the day—it helps boost energy in the morning and settle you down before bed. If you drink caffeine and want to combine turmeric's benefits in your morning tea, check out this recipe for turmeric tea.
Ingredients and Materials
1 tbsp of Fresh Turmeric
1 tbsp of Fresh Ginger
Pinch of Black Pepper
1 Lemon, juiced (about 3 tbsp)
3 cups water
1-2 tsp Honey (optional)
1. Prepare Ingredients. Grate fresh turmeric and ginger roots. Measure out 1 tbsp of each. If you don't have access to fresh turmeric, you can use dried. Only use ½ tsp of powdered spices. Juice your lemon.

2. Heat in a Saucepan. In a small saucepan, combine the water with turmeric, ginger, lemon juice, and black pepper. Place on medium to medium-high heat and bring to a simmer. Cook for three minutes, stirring occasionally, then remove from heat.
3. Strain and Sip. Top a mug with a small mesh strainer and pour in a serving of the tonic. If it's too strong, feel free to dilute it with more water. If you enjoy a bit of sweetness, stir in a bit of honey. Leftovers will keep in the refrigerator for up to three days.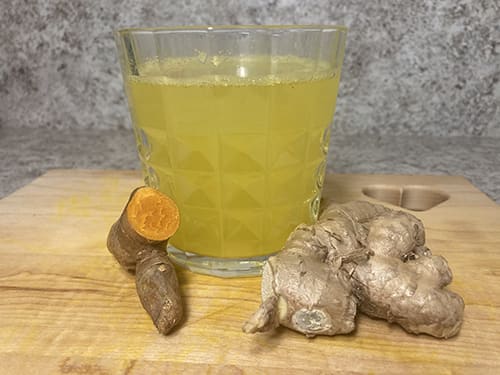 Turmeric is an incredible natural remedy for supporting your health. This winter, instead of (or in addition to) relying on over-the-counter medicines, try making your own turmeric tonic. This simple recipe is easy to make and contains powerful anti-inflammatory and immune-boosting properties to help fight off seasonal ailments. Enjoy this tonic to help conquer a cold and generally boost energy. With a few simple ingredients and just a bit of your time, you can create a delicious and nourishing tonic that will help support your health this winter.
You may also like:
How To Heat Your Home For Free Forever (Video)
Anti-Inflammatory Turmeric Tea
How To Make Medicinal Pickled Turmeric