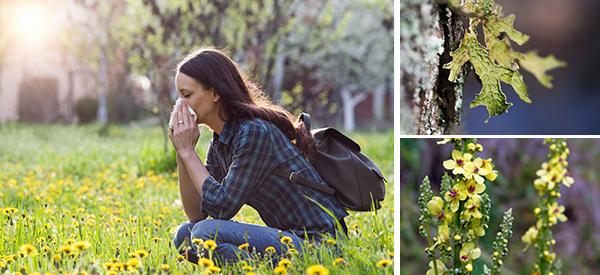 My Seven Favorite Herbs for the Allergy Season (and Asthma Too!)
As we enter into the allergy season, itchy eyes, sneezing, fatigue, and nasal congestion can be an ongoing issue. Instead of suffering through one of our most glorious seasons where new life is bursting forth, have a look at the following seven herbal remedies. Each is available individually and we've bundled them for you in the Allergy & Asthma Bundle. Every herb has unique properties to help calm hay fever and asthma so that you can get back to enjoying the great outdoors symptom-free.
Lungwort Lichen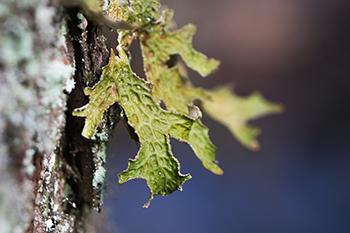 An excellent botanical for respiratory complaints, lungwort lichen helps to clear mucus from the bronchial passages and reduce inflammation.
It is a natural antibiotic and helps to clear chest infections like bronchitis, whooping cough, pneumonia, and tuberculosis. The herb is beneficial for those with asthma as well.
Safety: Those who are pregnant or breastfeeding should avoid lungwort as safety is unknown.
Mullein

A member of the Snapdragon family, mullein reduces the formation of mucus and is also a potent expectorant. It is a valued herb for treating bronchitis, asthma, and emphysema.
Safety: Avoid mullein if pregnant or breastfeeding. Some individuals are allergic to the herb. If you experience skin irritation, stomach pain, or breathing difficulties, discontinue use.
Yerba Santa

If you need an herbal remedy to dry up mucus fast, Yerba Santa is an excellent choice.
It contains potent chemical compounds that alleviate and loosen mucus in the chest and sinus due to allergies, infection, colds, and influenza.
Safety: Since it can negatively affect the absorption of iron and other important minerals, avoid use if you are pregnant or nursing.
Cordyceps

Traditionally used to treat respiratory disorders, Cordyceps is also a formidable anti-inflammatory.
It has antibacterial and antiviral properties, which is helpful for a range of respiratory illnesses.
Safety: Do not use if pregnant or breastfeeding.
If you have a bleeding disorder, avoid Cordyceps as it might slow blood clotting. Stop using two weeks prior to scheduled surgery.
Reishi

Known to treat chronic bronchitis, allergies, and asthma, Reishi is an outstanding anti-inflammatory that also reduces the release of histamines.
As an adaptogen, it can help to reduce fatigue associated with seasonal allergies as well.
Safety: Avoid Reishi if pregnant, breastfeeding, or have a known allergy to mushrooms. Consult a healthcare practitioner before use if you have a bleeding disorder. Since Reishi is a vasodilator, discontinue use two weeks before surgery.
Stinging Nettle
My number one herbal recommendation for the allergy season, nettle is an outstanding remedy for hay fever.
Couple it with local organic honey to increase its effectiveness. Nettle is also an excellent anti-inflammatory.
Yarrow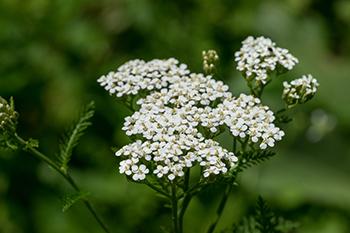 Research has found that yarrow may help lower blood pressure, relaxing blood vessels, and improving breathing. It demonstrates bronchodilatory effects that are beneficial for those with asthma.
Yarrow also has a natural drying property and soothes swelling in the nasal glands, which provides welcome relief for those suffering from allergies.
Safety: Do not use it if pregnant or breastfeeding. Avoid use if allergic to plants in the Aster / Daisy family. Discontinue if you develop a rash or irritation. Discontinue use two weeks before surgery.
Easy-to-Use Herbal Remedies
Each botanical above is available individually as well as in my powerful Allergy & Asthma Bundle. It's an easy way to defeat seasonal allergies, boost lung health, and calm asthma. Visit the Apothecary today to learn more.
You may also like: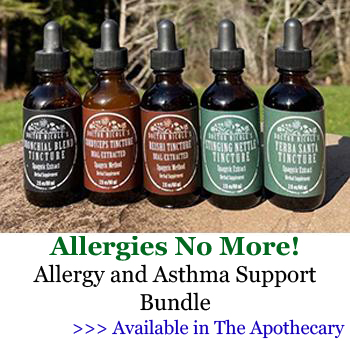 How to Make an Antihistamine Balm for Natural Allergy Relief
Similar to Morphine: The Best Natural Painkiller that Grows in Your Backyard (Video)
What Bad Breath Tells You About Your Health