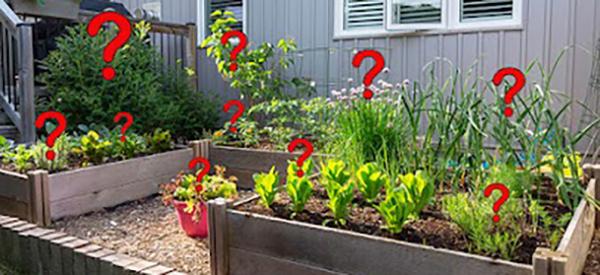 10 Medicinal Herbs to Plant in Early Spring
Spring is just around the corner, and it's time to start thinking about herb gardens. While herbs are often overlooked as a garnish or a condiment to add flavor to dishes, they can also be used for holistic medicinal purposes.
Not only are herbs safe for most people, but they are also effective in the treatment of common ailments like headaches and allergies.
This article will show you how to choose and cultivate the 10 best medicinal herbs that can be grown in early spring.
Why Herbs?
It is essential to grow your own herbs to cut down on the costs of buying fresh herbs.
These plants tend to be quite expensive, so you can save money by growing your own. Plus, it's always a really good idea to have a few different plants around the house for when you need them.
Herbal plants have been used for centuries as part of holistic healing, and they are often used in teas and cooking.
Some studies have shown that some herbal remedies may be as effective as pharmaceuticals with fewer side effects.
How to Plant a Herb Garden
Herbs are safe for most people, but they are also instrumental in treating ailments like headaches and allergies.
In order to grow a flourishing herb garden, it's essential to understand what you're planting and where you will plant them.
There are dozens of different plants that fall under the category of herbs, and they can either be grown from seed or cuttings.
Seeds should be planted about an inch deep in moist soil with light furrows between each row.
Cuttings should be put into potting soil, with each pointy end sticking out for air circulation.
After planting your plants, make sure to water them thoroughly so the ground is damp all around the plant.
10 Medicinal Herbs to Plant in Early Spring
Knowing how to grow your own herbs can be very useful for those who need access to them but don't want to buy them at the store.
In this article, you'll learn about 10 medicinal herbs that are suitable for planting in early spring.
Chicory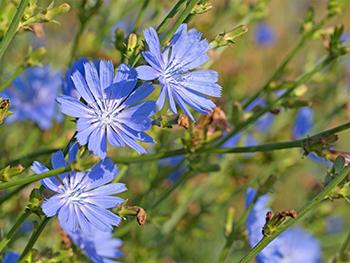 Chicory (Cichorium intybus var. intybus) is a perennial herb that is native to Europe and North Africa. Now it can be found growing wild in abundance in many parts of the world, including India, America, and Japan.
The plant can reach a huge height of around 50 cm, but it can also be grown in pots.
Both the shoots and leaves of this plant are edible and can be used in salads as a nutrient-dense bitter digestive, and it is often prepared like spinach.
The roots are also edible when roasted and can be used when dried as a coffee substitute.
Chicory contains a good amount of vitamin K and can be used for treating anemia, diarrhea, and constipation.
What Environment It Thrives In
The Chicory plant prefers gravel, dry waysides, or waste places.
Sow the seeds on the surface in fall or spring and thinly, to about 1 foot apart.
Related: Everything You Need to Know About Chicory
Yarrow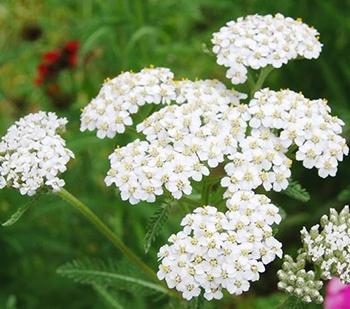 Great for Headaches!
Yarrow (Achillea Millefolium) is a great medicinal herb that can be grown in early spring.  Yarrow tincture is also one that everyone should have in their herb kit! Nicole likes this botanical for its antibacterial properties. It is effective for ear infections, wound care, relieving fevers, shortening the duration of the cold and flu, and helping to improve relaxation during illness. You can buy your own from the Apothecary!
Plant this perennial herb in your regular garden or woodland soil, and it will thrive.
What Environment It Thrives In
Best to sow the seeds into pots first, then when they grow, press them down against the surface of the soil, keeping them evenly moist until you see a little sprout- which happens very quickly!
After that transplant, make sure these plants are at least 18 inches apart and make sure you water them regularly so they can be loved.
Related: 50 Ways to Use Yarrow
California Poppy
California poppy, or Eschscholzia californica, is a perennial that can grow up to two feet tall. While it can be grown as an annual, spring is the best time to plant this herb.
California poppy has yellow flowers and grows in many places throughout the world.
What Environment It Thrives In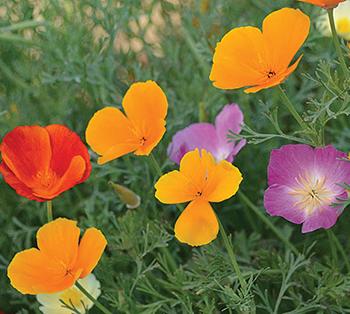 The poppy is a self-seeding perennial and can be planted as a companion to grasses.
It prefers fast-draining soil and exposure to direct sunlight, so sow it in fall or early spring by scattering the seed or using disturbed soil moistened with water.
For row crops, space the rows around 4 feet apart with 6 inches within each row for the best germination results.
The poppy will begin flowering once it reaches 18 inches long after growing rapidly from its basal rosette during this growth process.
Peppermint
Peppermint (Mentha piperita) is a beautiful herb to have in your garden. It has both medicinal and culinary uses.
Peppermint is used to soothe aching muscles, headaches, and stomachaches. You can also use peppermint to flavor certain foods to give them an exciting taste.
What Environment It Thrives In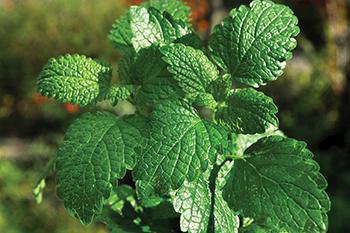 The creeping perennial plant prefers full sun to shade and moist soil.
Mix the tiny seed with a bit of sand for easier sowing, then scatter on the surface of the soil and press it in firmly.
Keep evenly moist until germination- which takes 1 to 2 weeks- by watering regularly; if necessary, cover seeds with the potting mixture or fine vermiculite.
Transplant or thin plants 6 inches apart after they've been growing for 3 months, harvesting during flowering stage (flowers are purple).
Bundle them up by hand when they're dry enough so that you can remove their stems from prime tea herbs.
Chamomile
Chamomile (Oenothera biennis) is one of the most popular herbs to grow in a garden. This herb is often used as a tea for its calming effects. It is also helpful in treating allergies, headaches, and insomnia.
Chamomile grows best in full sunlight and can be planted in well-drained soil.
What Environment It Thrives In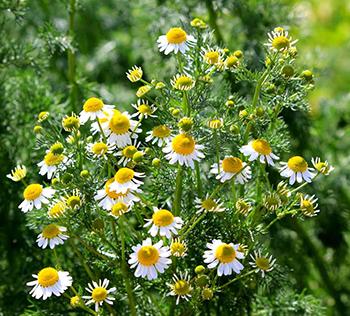 Self-seeding annuals flower in the spring and are ready to harvest for tea by early summer.
Plant them about 80 days before maturity alongside regular garden soil or alkaline soils in the sun (or part shade).
To make sure you stretch your seed supply, mix tiny seeds with sand and sprinkle them thinly on disturbed land or a weed-free seedbed.
Thin out each plant to be 3 inches apart and harvest flowers while they're still young as they will lose flavor when dried out too long!
Related: Soothing Medicinal Herbs for Deep Rest
Evening Primrose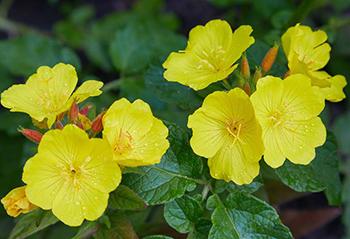 Evening Primrose (Oenothera biennis), an herb with a history in herbal medicine going back to the medieval era, is known for its ability to treat eczema, psoriasis, and dermatitis.
What Environment It Thrives In
Once you have evening primrose seeds, it's a good idea to plant them in either the fall or early spring and make sure they're planted in an area that gets full sun as well as cultivated soil.
Sow the primrose seeds on top of the soil and water thoroughly so they can germinate.
Make sure there is enough space for seedlings once they've sprouted – about 1 foot apart from each other should do!
Related: How to Treat Gastrointestinal Disorders With Evening Primrose
Meadowsweet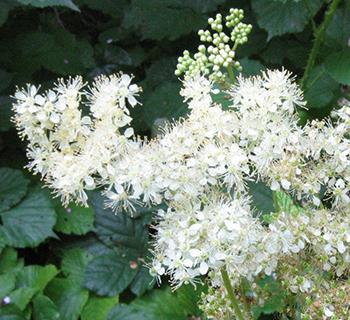 Meadowsweet has long been used for its natural anti-inflammatory properties. It can be used to treat coughs, sore throats, and asthmatic symptoms. Meadowsweet is rich in salicylic acid, which means it can also help relieve pain from arthritis.
It's easy to cultivate meadowsweet as it will grow well without a great deal of maintenance.
What Environment It Thrives In
A herbaceous perennial prefers sun to partial shade, moist soils.
In early spring, seeding should be done either directly into the garden or greenhouse.
Barely cover the seeds with excess soil and tamp well; keep evenly moist until germination is seen in 3-6 weeks (slow at first but eventually fast-growing).
Once plants have developed their second set of leaves, they can be thinned or transplanted out to 1-2 feet apart if needed.
Echinacea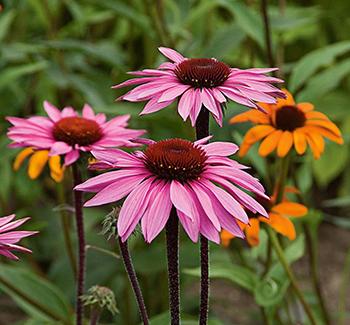 Echinacea, or purple coneflower, is a popular medicinal herb and can be found in many gardens. This herb is most commonly used as an immune system booster. It helps with symptoms of colds, flu, and other respiratory infections.
However, it should not be used for more than 10 days without consulting your doctor.
What Environment It Thrives In
This herbaceous perennial prefers moist but well-drained fertile soil in the full sun.
This is the most adaptable of all species and is a dependable choice for gardeners and medicine makers.
Sow during springtime by either directly planting into prepared garden beds or pots distributed at least 1 to 2 feet distance from one another; germination may take up to 30 days.
Carefully cultivate frequently while maintaining a height of 3 to 4 feet tall with flowers visible on its stem.
Related: Elderberry Syrup With Echinacea and Goldenseal
Calendula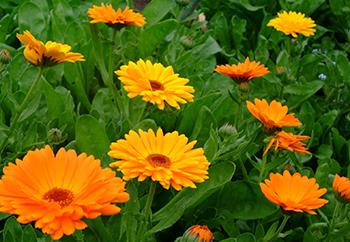 Calendula (Mixed Calendula officinalis) is a great herb to plant in early spring.
It's known for treating skin irritations and can be used as a poultice or tea to treat fever, respiratory infections, and chronic skin conditions.
What Environment It Thrives In
Self-seeding annual. 40 to 50 days to maturity.
The plant loves good garden soil, full sun, and regular watering in the springtime; go ahead and sow in pots or directly into your garden.
Barely cover, tamp securely and keep evenly moist, warm, and exposed at all times of day (not just when it is light).
Thin or transplant between 6-12 inches apart after appearing on their own after about a week!
Related: How To Make a Powerful Calendula Extract to Keep in Your Medicine Cabinet
Feverfew
Feverfew (Tanacetum parthenium or Chrysanthemum parthenium) is one of the most well-known herbs for medicinal purposes. It has such a variety of uses, including the treatment of headaches and migraines, inflammation and arthritis, menstrual cramps, and arthritis.
Feverfew can be grown in early to late spring and is easy to grow at home.
What Environment It Thrives In
Feverfew seeds are readily available, and the seeds are very fine and easily planted in smaller peat pots filled with moderately damp soil.
Sprinkle a fair few seeds into the pot and tap the bottom of the pot on the counter to settle them into the soil before covering them with more dirt; spray water to keep them moist as poured water may dislodge them from their planting site!
When placed under a grow light for about 2 weeks, you should start seeing signs that they have germinated well- just make sure not to plant too early because plants should reach 3 inches (7½ cm).
Once your feverfew plants reach this height, you can then plant them outside after having watered regularly until roots take hold.
Related: DIY Headache Recipe For Instant Pain Relief
Spring is the best time to plant herbal plants with medicinal qualities.
With the changing of seasons, you can use these herbs to help heal ailments brought on by the winter weather.
Starting your herb garden off right with some fresh medicinal herbaceous plants will help your immune system stay strong!
The Medicinal Garden Kit
Medicinal herbs are a fun and easy way to add an element of interest to your garden.
You may also like: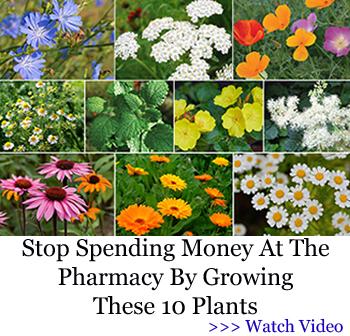 Soothing Medicinal Herbs for Deep Rest
How To Make A Scalable Self-Sustaining Greenhouse (Video)
How to Make Your Own Natural First Aid Kit
20 Edible And Medicinal Plants You Can Forage In March