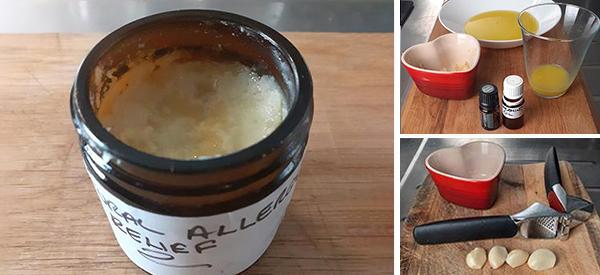 How to Make an Antihistamine Balm for Natural Allergy Relief
From the onset of spring, trouble looms for many in the form of allergies to pollen, grass. Antihistamines are medicines used to relieve the symptoms of allergies, such as hay fever. This recipe is for the relief of hayfever.  Most people who suffer from hayfever are having an allergic reaction to the pollen that comes into contact with their mouth, ears, eyes, and throat. It was vital for me to make this recipe from readily available products that are easy to find in supermarkets or at home. Numerous herbs can be used for their antihistamine properties. I thought fresh garlic and ginger combined with peppermint and black pepper essential oils would make a potent recipe that would act as natural allergy relief.
About The ingredients
Ginger

is known throughout the world and going as far back as ancient times as working well on the digestive system. The Romans used it in their wine for its aphrodisiac properties.  Ginger can help with catarrh, mucous, colds, coughs, and flu.

Black Pepper

has been widely used in cooking—less known for its healing properties. For thousands of years, black pepper has been used for cholera and malaria. Black pepper can also be used for colds, coughs, catarrh, and flu. Black pepper is usually used in combination with ginger and aniseed in Ayurvedic medicine for allergy relief. Can cause extreme skin irritation always use with a base oil or cream

Peppermint.

The essential oil is steam distilled from the leaves of the peppermint plant. Mint is mention in the bible. The aromatic oil was valued and Not to be used if you are pregnant and with caution if you have high blood pressure. Peppermint has been used for centuries by people who have needed to heal issues with the digestive system, headaches, heartburn, and freshen the breath. Peppermint is also an antihistamine. I used the essential oil of peppermint, which works well with any respiratory system problems. Peppermint can help with swollen eyes, hives, itching.

Garlic

The Ancient Egyptians used garlic for coughs and colds. Garlic is one of the most popular over-the-counter herbal remedies. It is beneficial for the respiratory system. Garlic has powerful antihistamine properties. It is a vaso-constrictor and thus reduces swelling of mucosa of the nose and conjunctiva of the eye.

Beeswax:

Beeswax is a natural wax produced by honeybees. Beeswax is an ingredient used in painting, candle-making, furnish polish, and cosmetics. Beeswax is a humectant which means it adds moisture to whatever substance it is added to.

Cocoa Butter

Cocoa butter is fat from cocoa beans. I have used cocoa butter and enjoyed its benefits for years. It is high in fatty acid. Hydrates and nourishes the skin
The recipe
Ingredients:
Fresh ginger 50 grams

Four cloves of Garlic peeled and pressed

One Tablespoon of Beeswax

50grams of Cocoa butter

15 Peppermint essential oil

Five drops of black pepper essential oil
Utensils needed:
Small cooking pot

One bowl

Garlic press

Juicer

Scales

Measuring spoons
Step 1
Peel and chop the ginger and then put it in the juicer.

Step 2
Cover, turn on, press down, and extract. I found I had some fibrous bits of ginger which I kept and added to tea.  In hindsight, it would have been better for me to juice the whole ginger root I bought, and what ginger juice was leftover put in an ice cube tray and freezer and use when need. There are so many parts to my juicer that it seemed a shame to get it out for a small piece of ginger. Lovely aroma.
I could have used ginger essential oil as essential oils are 40 times stronger than the actual plant. Substituting fresh ginger with ginger powder is also an option if you don't want the mess of cleaning your juicer.
Step 3
Lots of fresh garlic. Peeled and tailed.
Use a garlic press, and make sure you have a dish to collect the garlic. You will need a knife to scrape off the pressed garlic.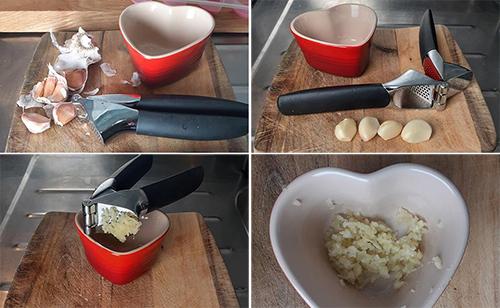 Now. we have all the ingredients that will create a balm or cream that will hold the active ingredients: Cocoa butter, beeswax, and essential oils of peppermint and black pepper.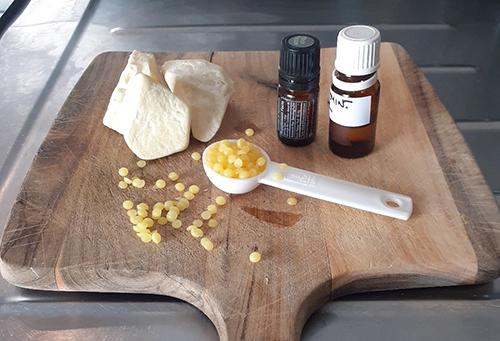 Step 4
Half fill a saucepan with water. Bring to the boil. Turn the heat down so that the water is simmering. Place a bowl on top to act as a double boiler. Some people prefer to put their storage jar and add all the ingredients to it. I like to melt and mix everything in a bowl and then add it to the container that I will use to store the cream, balm, or lotion.
Add the cocoa butter to the dish. Melt the 50 grams of cocoa butter in the dish.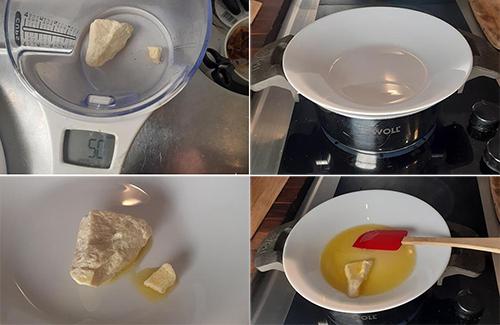 Step 5
Next, add two tablespoons of beeswax to the cocoa butter. Mix the beeswax into the cocoa butter until it has completely dissolved.

Step 6
I took the bowl off the heat to add the ginger and garlic as I did not want to cook it. However, this was a mistake, and I put the bowl back on the pot but kept the heat extremely low.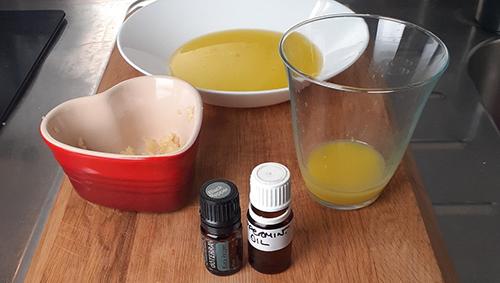 The cocoa butter and beeswax had to remain warm because the ginger juice was cold and made the wax solidify. It might have been an idea to warm the ginger juice a bit before adding it to the butter and beeswax mixture. Add half a teaspoon.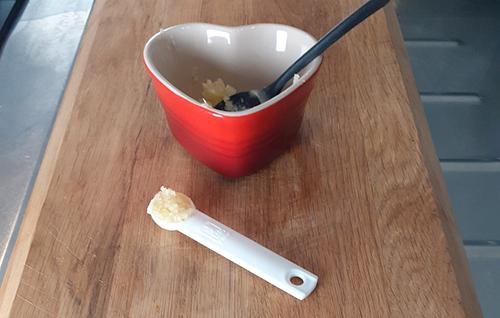 I added two teaspoons of freshly pressed garlic to the beeswax, cocoa butter, and ginger mixture. I thought about people who do have a problem with garlic, and there are several things you can do. You could add a quarter to half a teaspoon of garlic. Although I do not know how powerful garlic powder is compared to freshly pressed garlic, you could use a small amount of garlic powder. Start with an eighth of a teaspoon.
Garlic capsules are an alternative to using fresh or powdered garlic. If you do not like garlic's smell, some tablets have had the garlic smell taken out. If you do not mind the scent but want to cut down on preparation time, use garlic capsules.
Mix and stir well. It doesn't take too long.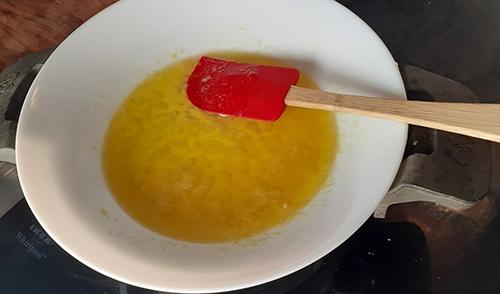 Step 7
Next, add essential oils to the mixture —20 drops of peppermint oil.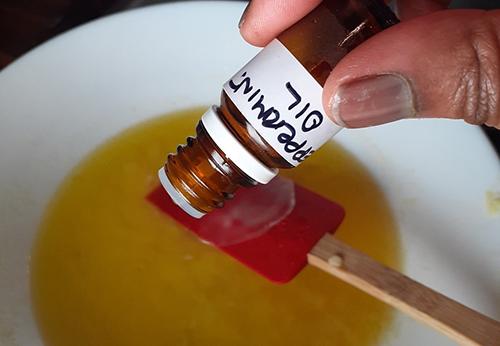 Step 8
Add five drops of black pepper essential oil.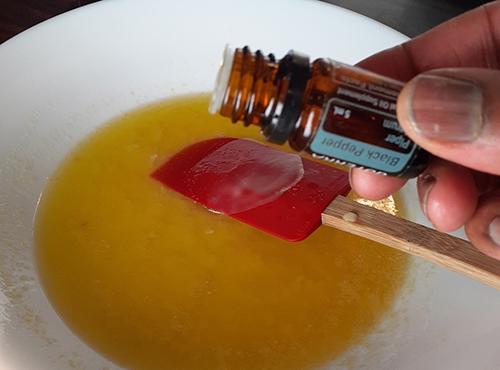 The bowl was so hot there was no way I could photograph pouring liquid into the jar. This is why many people opt for actually making their healing or cosmetic recipe in the container they will store it in. I intended actually to put less of the recipe in the jar. If you look back at the photographs, you will see that I had a heart-shaped ice cube tray. I wanted to make smaller amounts of the recipe to keep in the freezer and use one heart at a time or have the option to share with friends that suffer from allergies.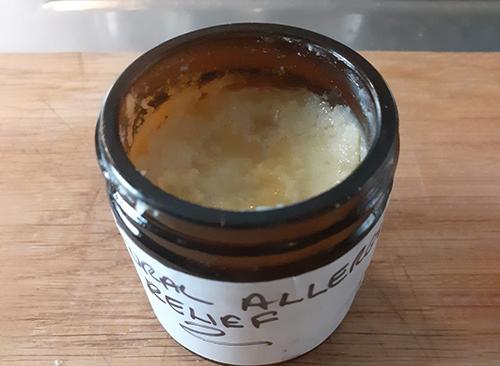 If you are using fresh garlic and ginger, this recipe's shelf life is up to 4 weeks when refrigerated. If kept out of the fridge, the ginger juice will separate. This recipe will have a longer shelf life if you use the essential oil of ginger and garlic oil (a herbal supplement). Then separation will not be an issue when kept out of the fridge.
How to Use: 
rub underneath and around nostrils

massage gently on the throat area
Apply first thing in the morning and evening.
If you have acute symptoms then apply as needed especially before going outdoors.
You may also like: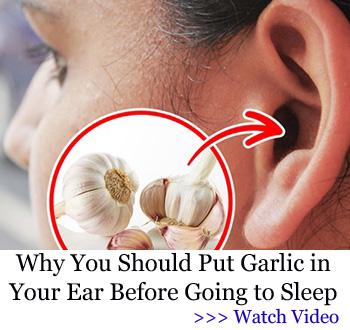 How to Make an Herbal Steam for Congestion and Allergies
Similar to Morphine: The Best Natural Painkiller that Grows in Your Backyard (Video)
How to Make Black Drawing Salve for Boils, Wounds, and Tick Bites  
Avoid Spring Allergies With These 7 Natural Remedies
How to Treat an Asthma Attack Naturally When You Don't Have an Inhaler