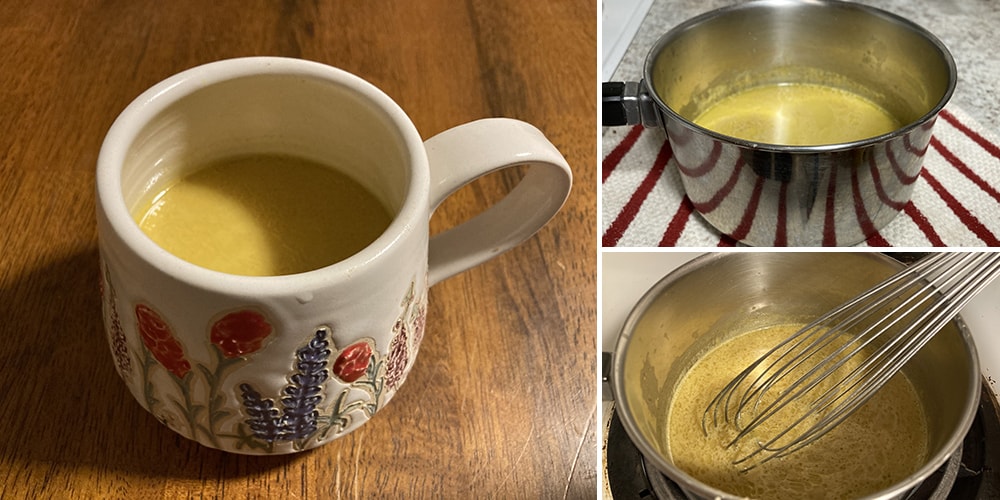 Moon milk is an ancient and traditional remedy for a good night's sleep. Unfortunately, too many of us suffer from lack of sleep. Whether it's insomnia, restlessness, or a churning, anxious brain, sometimes it can be hard to let your body and mind calm down and accept rest. Of course, you can support sleep health by limiting beverages like coffee and alcohol, but you can also add a tasty drink to your routine.
Warm, calming, and delicious, moon milk straddles the role of night-time treat and medicinal supplement. It's easy to make and it's a delicious way to relax and get some quality rest. Not to mention, it's a treat for the senses and provides a peaceful and calming atmosphere. With just a few ingredients and a few minutes of your time, you can be enjoying a warm mug of moon milk to bring on the sweetest of dreams.
What Is Moon Milk?
Moon milk is a calming elixir that blends warm milk with plant medicines for a soothing sensation and peace of mind. It promotes sleep and relaxation and is a great bedtime drink. Though trendy, moon milk is far from new. The recipes for moon milk that are popping up all over social media are all inspired by the Ayurvedic recipe for ksheerapaaka, which combines warm cow's milk with herbs to create a gentle, sleep-inducing concoction.
How Moon Milk Helps You Sleep
In the ayurvedic tradition, the herbs in this moon milk recipe are intended to help balance the Vata Dosha. An aggravated Vata Dosha can increase anxiety and have consequences on your sleep. To combat a Vata imbalance, incorporate grounding and warming foods into your diet. Moon milk is the perfect remedy to bring a bit of balance to your Doshas. And, each of the ingredients in the recipe offers its own value as a calming sleep aid. However, though it's mainly thought of as a bedtime drink, moon milk serves as a great drink for reducing anxiety, balancing hormones, and boosting your immune system. While it's calming, you can enjoy the calming properties of moon milk any time of the day. Below, we overview the calming properties of each element in moon milk.
Warm Milk
The milk and added fat in this recipe are key to helping your body absorb the nutrients from the herbs. Milk will capture the fat and water-soluble compounds in each of the herbs to make them more bioavailable to your body. Enjoying a warm cup of moon milk encourages the body to absorb the medicinal qualities of the herbs, allowing you to reap the maximum benefits from each cup.
Nutmeg
Nutmeg has amazing benefits for your brain. Along with improving concentration, nutmeg has a calming effect that improves the onset and quality of sleep.
Ashwagandha
This root has long been used as a sleep aid in Ayurvedic practices, and modern science has confirmed its benefits for sleep hygiene. Ashwagandha helps you both fall asleep and stay asleep!
Cinnamon
Cinnamon offers a wealth of benefits from improving digestion to lowering cholesterol. One of cinnamon's offerings is to reduce anxiety. Its calming effects bring a warm energy to this sleepy time drink.
Cardamom
Cardamom pods are excellent for digestive health. In moon milk, cardamom helps settle your stomach as you prepare for sleep. The pods also help with mood management by reducing stress and depressive symptoms.
Turmeric
Turmeric offers anti-inflammatory, immune-boosting, and calming properties.
Honey
Honey is included in our moon milk recipe as an optional sweetener, but it has soothing effects of its own. Raw honey has antimicrobial benefits that can support a healthy immune system and it also contains Tryptophan which is associated with melatonin production.
How to Make Moon Milk
There's nothing quite like a warm cup of moon milk to help you drift off to dreamland. This soothing, creamy drink has been gaining popularity in recent years for its medicinal properties and calming taste. Making moon milk is an easy and fun process that you can do at home with just a few ingredients. We've provided a simple recipe below, and some inspiration to spice up your moon milk with diverse flavors and herbs. Here's how to make your own moon milk for a peaceful night's sleep.
⇒ A Before-Bed Recipe to Sleep Like a Baby Again (Video)
What Type of Milk to Use
Traditionally, ksheerapaaka is made with cow's milk, but many modern takes have adapted the recipe to a dairy-free diet. We use oat milk in our recipe and add a bit of fat with coconut oil for a vegan take. If you just want to be lactose-free, ghee is another great option to add some richness and extract fat-soluble nutrients.
Ingredients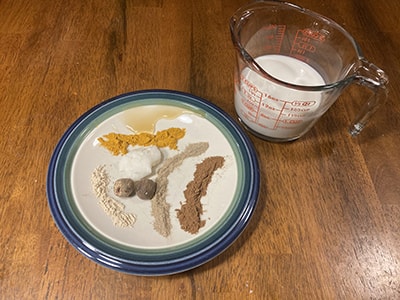 1 cup Oat Milk
¼ tsp. Ashwagandha
½ tsp. Cinnamon
½ tsp. Turmeric (plus a pinch of black pepper)
Pinch of Nutmeg
Pinch of Cardamom
1 tsp. Coconut Oil or Ghee
1 tsp. Honey or another sweetener
If you want to mix up the flavor profile, try making moon milk with other calming herbs like saffron, chamomile, rosemary, lavender, and rose petals.
Step 1: Bring milk to a simmer. In a small saucepan, slowly bring the cup of milk to a simmer.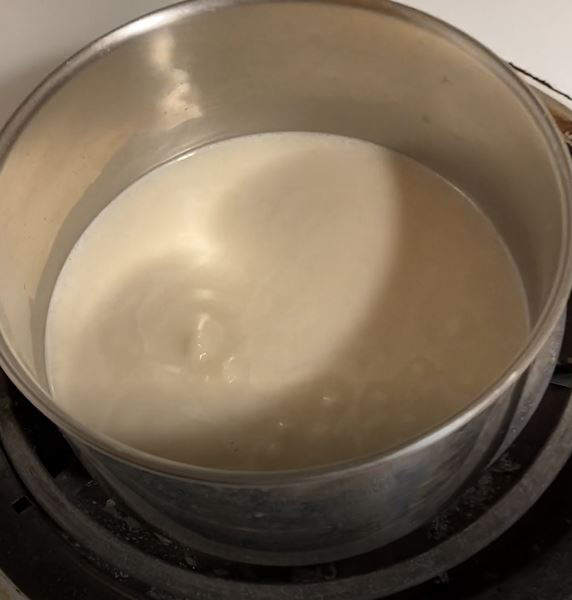 Step 2: Add the herbs. Whisk in the ashwagandha, cinnamon, turmeric, nutmeg, and cardamom until there are no clumps.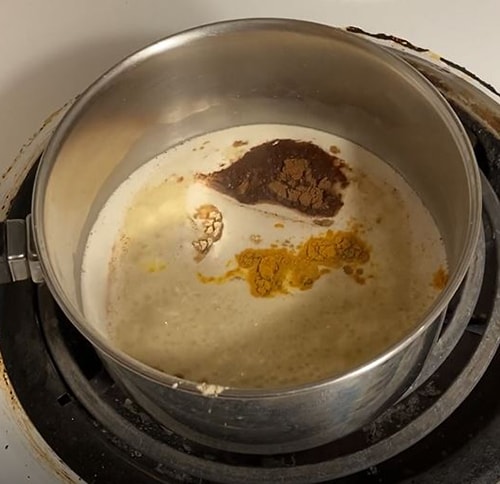 Step 3: Reduce heat. Reduce the heat to low and add a teaspoon of ghee (or oil), and cook slowly for 5-10 minutes until your desired potency has been reached. The longer you cook the herbs, the stronger the moon milk will be.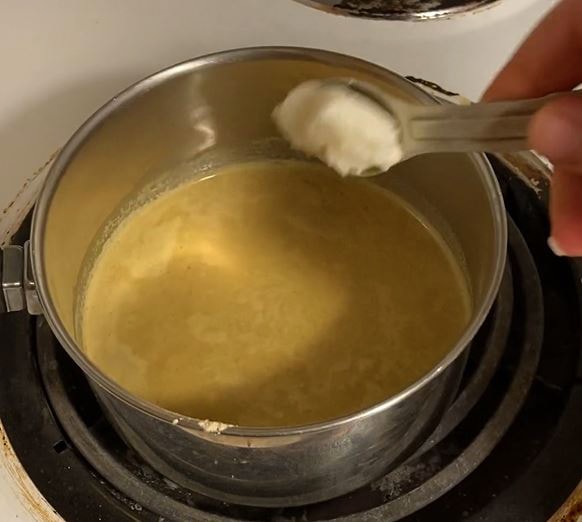 Step 4: Add sweetener. Remove the saucepan from the heat and let cool slightly. Stir in the honey.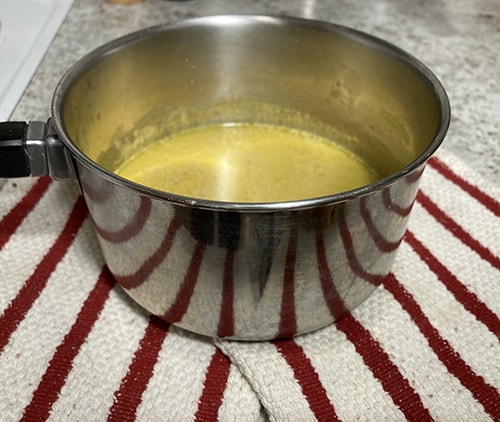 Step 5. Your Moon Milk is ready. Pour into a mug, and let the calm wash over you.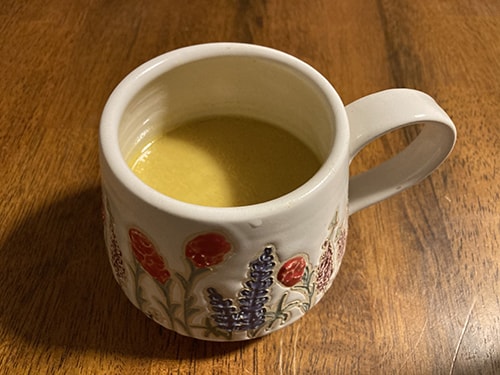 Watch the Video Recipe
Takeaway
Moon milk is an ancient herbal remedy that supports sleep health. It combines milk and warming spices to have a calming and soothing effect. By taking the time to prepare and enjoy a cup of moon milk before bed, you can relax and prepare for a good night's sleep.