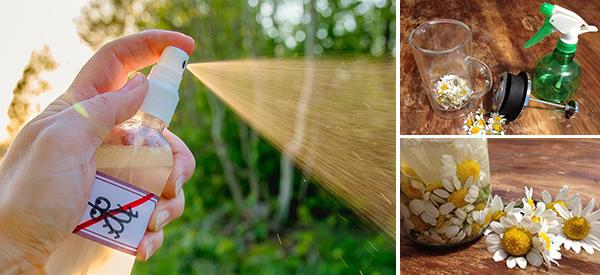 DIY Natural Tick and Flea Repellent For Pets
If you're looking to avoid the expensive, synthetic chemicals that are found in conventional flea and tick control treatments, then try chamomile. Chamomile has a compound called pyrethrin which is used in many products for controlling insects. It breaks down in sunlight into inert compounds within 2 days which makes it safer to use compared to many other insecticides.
On the other hand, the synthetic version, pyrethroid is much more toxic, especially for cats. Some 'natural' pyrethrin products contain synthetic compounds that substantially increase their potency.
Below you will find three different methods for making your own natural tick and flea repellent utilizing the pyrethrin that is found in chamomile to repel and potentially kill these pests.
The three methods of utilizing chamomile for tick and flea control are;
A water-based chamomile tea
An oil-based chamomile infusion with essential oils
An alcohol-based chamomile tincture that is diluted when applied
All three methods have different shelf-lives, but once they are exposed to sunlight, all three will start to break down which means they must be applied every 1 – 2 days.
Active Ingredients
Pyrethrin is a neurotoxin that affects the nervous system of all insects. It can be extracted from many plants from the chrysanthemum genus, including chamomile. Harvest chrysanthemums in spring and summer and dry them away from sunlight so that you can make a repellent throughout the tick and flea season, or pop to your local shop for some organic, 100% chamomile tea bags.
Sesame seed oil increases the potency of pyrethrum-based insecticides so will work best for the chamomile-infused oil.
Cedar and Juniper essential oil at a 1% concentration can repel and kill ticks.
Method 1: A water-based chamomile tea
This is the easiest and quickest method, although its shelf-life is only 1 day. Simply pour boiling water over some dry or fresh chamomile flowers or a tea bag and leave it to brew until it has completely cooled, then spray this on your pets. The tea should be brewed and applied every 1 – 2 days.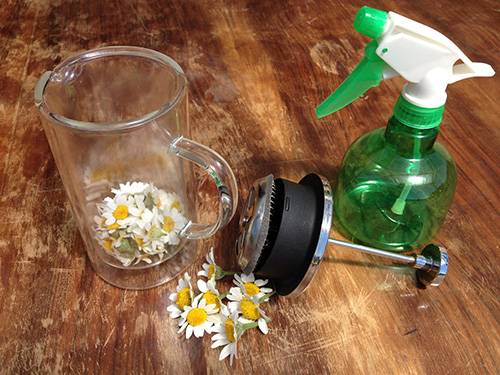 This method is water-soluble so it will wash off easily.
Spray the tea or diluted tincture onto the legs, chest, and belly of your pet before taking them for a walk or letting them outside to roam around. You should try to cover their fur but it shouldn't be dripping wet. Brush or rub it into their fur.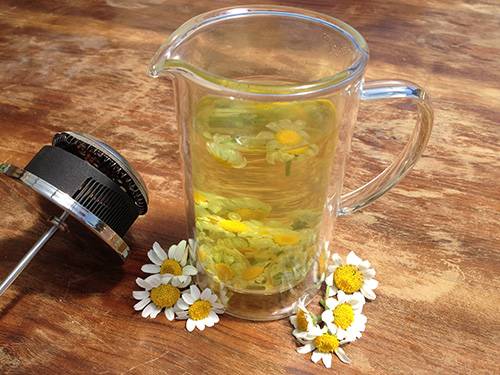 Collars soaked in chamomile tea are another good repellent.
Method 2: An oil-based chamomile infusion
Place a handful of dried chamomile flowers in a small jar of sesame seed oil. Make sure the flowers are completely covered and sit the jar in a pot of warm water (maximum 100 °F) for at least 3 hours. Do not use the solar method for this infusion, since the pyrethrin is UV sensitive.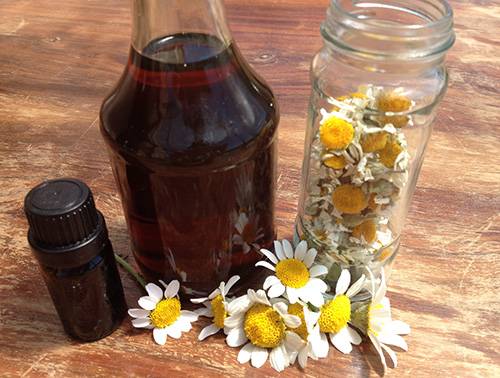 Strain the oil and add enough cedar or juniper essential oil so that it makes a 1% concentration. For example, if you have 1 ounce of chamomile infused oil, you will need 6 drops of essential oil (or if you have 100 ml of chamomile infused oil, you will need 1 ml of essential oil).
This chamomile-infused oil has a shelf-life of 3 – 4 months when stored in a cool, dark spot.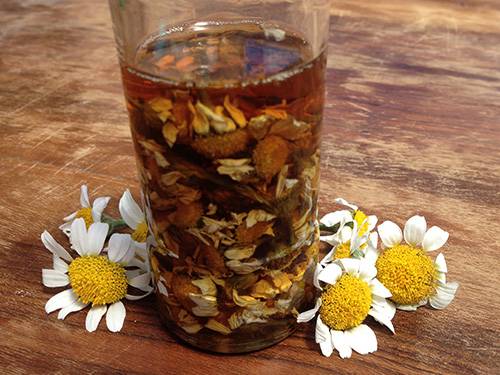 Apply a drop of this chamomile-infused oil between each toe on your dogs' paws. This way, the pyrethrin is able to stay longer on their paws, even if they get a little wet while walking through the grass.
Method 3: An alcohol-based chamomile tincture
This method is great because of its longer shelf life. Tightly pack a small jar with either dry or fresh chamomile flowers and fill the jar up with clear alcohol that is at least 40% alcohol (80 proof), such as vodka. You may need to weigh down the flowers inside the jar to make sure they are completely covered (I push some baking paper into the jar to keep everything down). Seal the jar, leave it in a dark, cool place for at least 3 weeks and strain it when it's ready.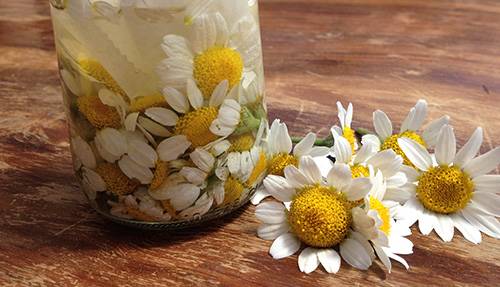 This alcohol-based method can be stored for up to 6 months as long as it's in a dark, cool location.
To apply the tincture, dilute it down with water to roughly a 5% concentration. For example, you will need approximately 1 tablespoon (or 15 ml) of tincture per cup of water. Spray the solution on your pets' legs, chest, and belly and rub or brush it in before going for a walk. Their coat only needs to have a light cover and it's especially important to avoid the head.
Other Applications
You can also lightly spray the tea or diluted tincture on your pet's bedding and carpet to kill infestations around the house, or leave small sachet bags of dried chamomile flowers around the house to act as a repellent if you're worried about the spray staining the soft furnishings.
If you're dealing with a flea infestation, repeatedly dip a flea comb in the tea or diluted tincture as you carefully comb through your pet's fur to remove the fleas and their eggs.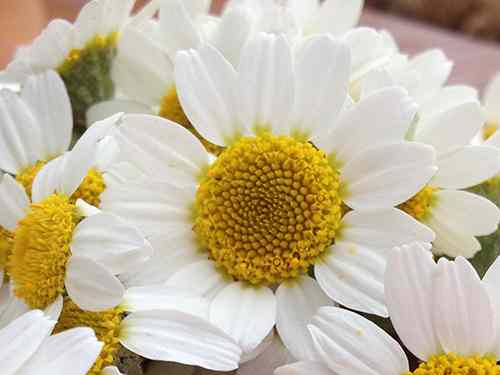 The effectiveness of the spray will vary with the species of chamomile you have as well as the potency of the flowers when they were harvested. German chamomile is more potent than Roman chamomile.
Storage 
Always store the dried flowers, tea, tincture, or infused oil in a dark place. This is because sunlight will make the pyrethrin break down and become ineffective.
Cautions
Test a small area on your pet first and wait for 1 – 2 hours to see if there is any reaction to the spray or oil.
The solutions may stain white fur or fabric.
Pyrethrin extracted from chamomile has low toxicity so is considered safe to use around the home and on your pets, but do not spray around your pet's head and keep it away from your fish tank or pond since it's toxic to fish and amphibians.
People who are allergic or sensitive to daisies and marigolds should avoid handling chamomile.
There is a wide variety of natural tick and flea treatments that you can make yourself using simple ingredients found around the house.
The great thing about using chamomile is that it can be used in so many situations. This makes growing your own chamomile both rewarding and beneficial.
You may also like: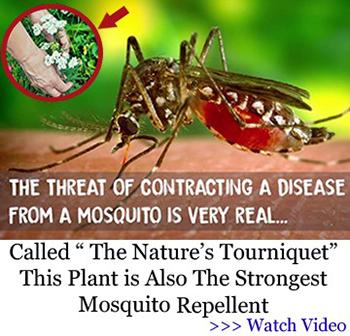 If You See This Plant, Don't Step on It (Video)
How to Make Your Own Natural First Aid Kit
If You Have a Pet, Get Rid Of These Plants Immediately!