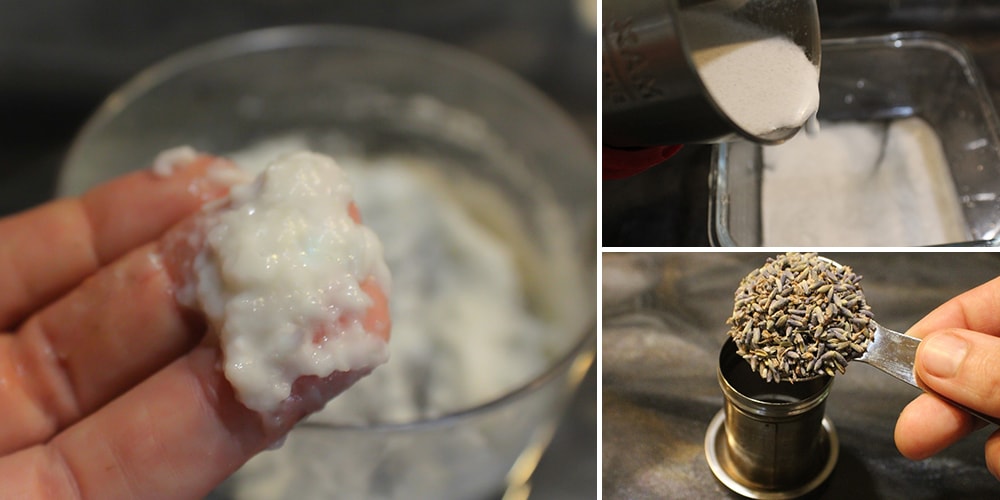 DIY Lavender Gel for Relieving Muscle Tension
If you ask someone what herb to use for anxiety or insomnia, there's a pretty good chance the answer is lavender. Yet, many don't know that this plant has healing properties for the body as well.  In this article, I will provide you with an easy lavender recipe for soothing muscle tension and pain.
The Connection Between Anxiety and Muscle Tension

There is solid evidence suggesting we both create and hold onto tension and pain by going through stress or by focusing on it too much. All body parts are susceptible to pain and tightness when we experience anxiety-related muscle tension. In fact, muscle tension is the most common physical symptom of anxiety and stress.
Muscles naturally contract when a person's fight-or-flight response is triggered, which happens when they are upset or anxious.
When you clench your muscles for too long (whether you're in danger or not), it eventually results in pain, discomfort, and difficulty with movement. And the immune system can't function properly either, lowering resistance to illness and infection.
So then, why wouldn't we address physical tension and pain by addressing its mental aspect too?
The Benefits of Lavender
More often than not, when coming up with herbal formulas, I look for multiple herbs to address different aspects of symptoms and their root causes. However, with this homemade muscle rub recipe, I wanted to celebrate lavender's multifaceted beauty without a bunch of other added ingredients. Lavender addresses the entire mind-body system, which is what getting to the root cause of a problem is all about. Now, let's look at the many things lavender can do for your mind and body.
Here are some benefits of lavender:
Since I've decided to keep this lavender muscle gel simple, I wanted to ensure it would penetrate and benefit the skin as best as possible. So, I decided to add a bit of aloe vera as well, which is great for the skin and helps the natural chemicals in lavender penetrate deep down into the dermal layers. Aloe vera itself is well known for its inherent painkilling abilities, which is another reason I added it to this homemade lavender muscle rub. And then I thought… why not make it smell amazing while I'm at it? So, I added a couple of drops of vanilla essential oil because I love how well it pairs with lavender.
DIY Lavender Gel for Relieving Muscle Tension
Because it contains natural gelatin, this homemade lavender muscle rub must be stored in the fridge. However, if you add vitamin E oil, which is a natural preservative, it will last up to an entire month in the fridge. Otherwise, it will last approximately one week. This recipe only makes a small amount, so if you use it quickly, you don't really need the vitamin E oil.
Ingredients: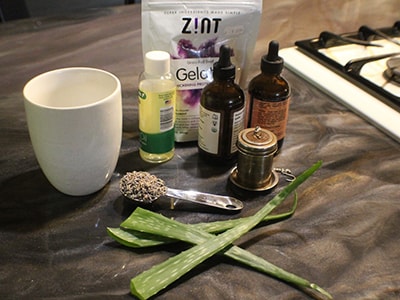 1 tablespoon of dried lavender flowers
1/3 cup of water
½ teaspoon vitamin E oil
½ teaspoon of gelatin powder (beef, vegetable, etc.)
3 medium size aloe vera leaves cut fresh
10 drops of lavender essential oil
3 drops vanilla essential oil
You will also need the following materials: a tea ball or cloth, several bowls, a spoon, a small knife, a container for storage, a wet/dry herb blender or emulsion blender.
Step 1. Aloe leaves should be lightly washed and then thoroughly dried. While you get everything else ready, place them upright against a cup or similar object so they can drain out the initial yellow discharge.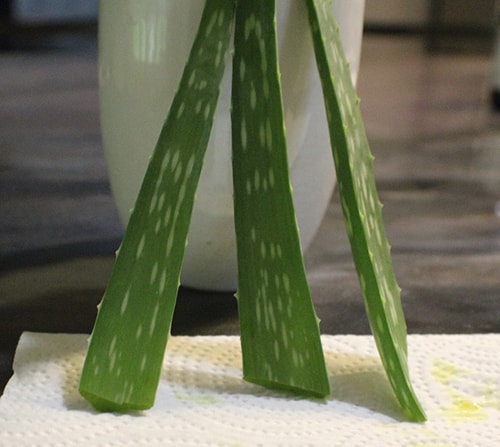 Step 2. In a tea kettle or other pot, simmer 1/3 cup of water. In the meantime, add the lavender flowers to a tea ball or piece of tea cloth and place it in a cup.  The tea ball will need to be covered with hot water and steeped for 5-7 minutes to make a lavender "tea." I personally prefer to use my homegrown lavender. You can get your own Lavender seeds here.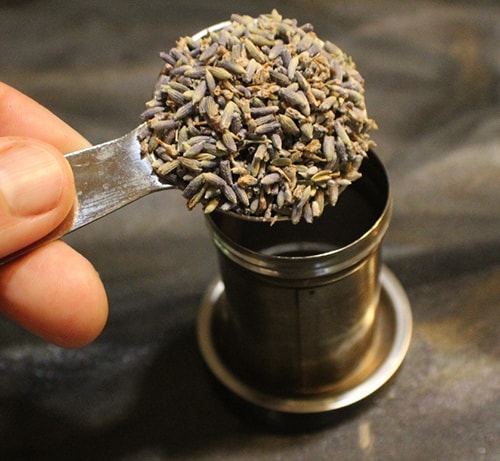 Step 3. Add the gelatin to a bowl with a few drops of cold water so that it can "bloom."  Let it sit for five minutes. It will become thick.
Step 4. With a small knife, carefully remove the edges from the aloe leaves.  Then carefully filet the flat side of the aloe leaf so that there is only one side left with skin on it.
Step 5. Now take a spoon and scrape the gel from the aloe leaves while holding onto one end of the leaf.  It'll be slimy and slippery.  Try to make sure you don't get any of the peel.  Place the inner gel of the aloe leaves in a bowl and set it aside.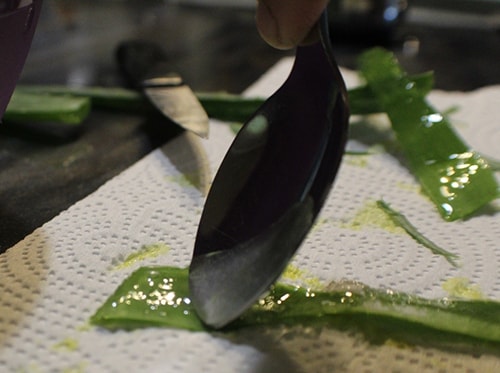 Step 6. Add the aloe gel to an herb blender.  You can also use an emulsion blender.  Blend it into a goopy liquid.
Step 7. Now add the lavender tea, both essential oils, the gelatin that's had some time to firm up, and the vitamin E oil (optional.) Blend it well while shaking the herb grinder vigorously. Your mixture will be frothy and very pale lavender-white color. Add this to a container and place it in the fridge for 2-3 hours.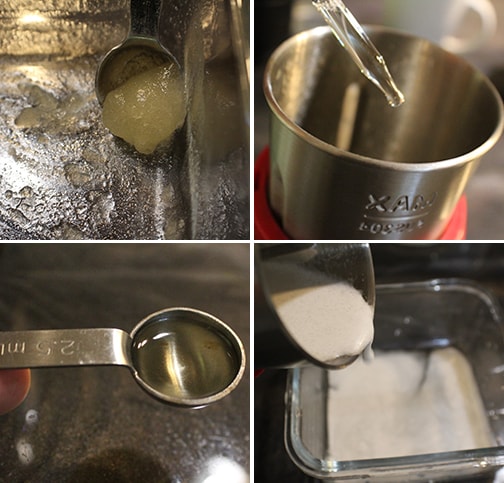 Your gel will be ready to use after a few hours. Storing it in a container with a lid is important to keep it from drying out.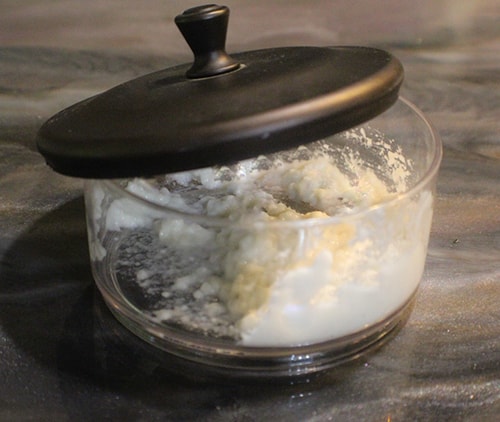 How to Use
Massage your lavender muscle rub into any tight or strained muscles. It absorbs rapidly and leaves no greasy residue on your skin. Also, everyone in the house can use it safely, as it's very mild.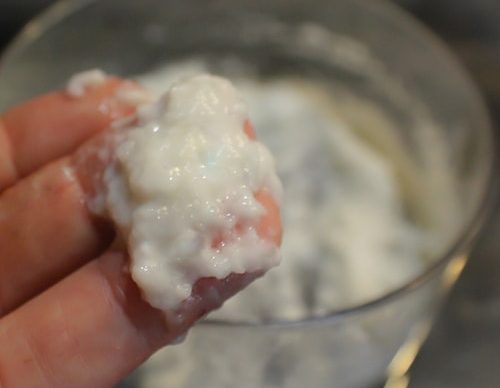 However, certain people may respond cytotoxically to lavender essential oil. If you have a lavender sensitivity, you might want to avoid trying this recipe or use the lavender "tea" without the lavender essential oil. Otherwise, enjoy your amazingly wonderful-smelling muscle remedy!
Final Thoughts
Whether used in massage therapy or applied topically, this lavender gel provides a gentle and pleasant solution for easing muscle tension, making it a valuable addition to your herbal toolkit.