DIY Magnesium Rub for Leg Cramps
Did you know that the average person takes between 6,000 and 9,000 steps daily and averages 43 miles worth of trekking in an entire lifetime? With those kinds of numbers, one might think that walking is the cause of leg cramps, but that isn't usually true. In fact, many experts recommend that you walk up to 10,000 steps a day! So, could a mineral deficiency cause this? Yes, and that is the case for many.
If you suffer from sore muscles, restless legs, and cramping, the mineral you're likely low on…is magnesium. I will show you how to make a super simple magnesium rub for your leg cramps that can be used anytime, day or night, with only two ingredients. But it's important to understand the reason leg cramps occur in the first place; to do that, we must first look at how magnesium influences the body.
Magnesium plays a role in over 300 biochemical reactions within the human body. It's crucial for proper nerve and muscle function and helps your body make protein, bones, and even DNA. It is also essential for blood pressure and glucose metabolism, and as a primary macronutrient, it's a significant factor in immunological activity too.
How Magnesium Affects the Muscles
Magnesium is an electrolyte, which means it carries an electric charge. It's also triggered by lactate during exercise or when you expend high amounts of energy. Your body loses magnesium during sweat and urination. You also lose an impressive amount of sodium, potassium, and iron when you sweat. All these minerals are necessary for muscle recovery.
Magnesium's role is to help the muscles relax and stop contracting; without it, we would all be in a lot of pain. So, when stores are low, your muscles can't relax, and you end up with cramps and restless legs. This mineral also activates other nutrients in the body like vitamin D, and low D also causes weakness, pain, and loss of muscle mass.
But it's about more than losing valuable magnesium stores. It's also important to understand that many of us don't get enough of it, to begin with, and add to that the overuse of pharmaceuticals medications and certain medical conditions like diabetes, and you have a society full of magnesium-deficient people.
So how do you know if you're magnesium deficient?  I'll tell you this… most people are. One study published by the Journal of the American College of Nutrition found that at least 68% of Americans don't consume enough magnesium, and that's not taking into account the magnesium lost from the body once consumed. If you think you are magnesium deficient, your doctor can perform a simple lab test to determine whether you are or not.  But let's look at a few symptoms of magnesium deficiency.
Magnesium Deficiency Symptoms
Our soil has become depleted of minerals like magnesium from industrialized farming practices mainly, and we no longer get adequate levels of them from our food. The other thing is gut issues can prevent the body from absorbing essential nutrients like magnesium. To top it off, it's not just pharmaceuticals that drain mineral stores from the body but also GMOs and pesticides. So, your likelihood of having inadequate magnesium levels is very high.
Possible signs of magnesium deficiency might include:
Leg cramps
Headaches
Insomnia
Anxiety
Muscle pain
High blood pressure
Muscle twitching
Type II diabetes
Fatigue
Osteoporosis
Weakness
Heart problems
Nausea
Stiffness
Seizures
Of course, one of the best ways to relieve these symptoms is to supplement with magnesium. But if some of the symptoms you're experiencing are muscle-related, such as soreness, cramping, restless legs and pain, making a magnesium muscle rub can help.
How to Make a Magnesium Rub for Leg Cramps
This magnesium rub is super easy to make. It's really more of an easy-to-use magnesium spray that you rub in. And, as I mentioned before, it only requires two ingredients. It's clear and has no smell. Your mixture will become a bit oily because of the magnesium flakes. Add three or four drops of lavender or chamomile essential oils if you want. Both are soothing for the skin and smell great too.
You will need:
½ cup of magnesium chloride flakes
½ cup of filtered water
Tea kettle
Glass measuring cup or bowl
Spray bottle for storage
Step 1. Add ½ cup of filtered water to a tea kettle and heat until it whistles or until it reaches a full boil. While you're doing that, go ahead and complete the next step.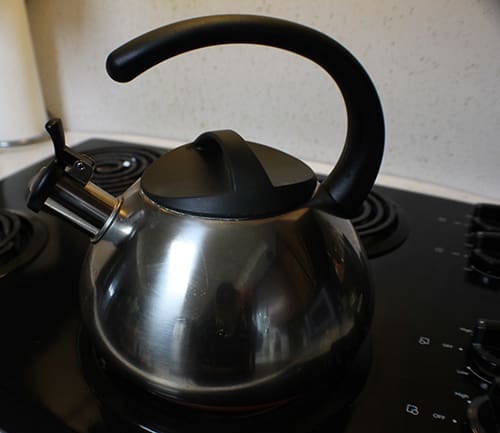 Step 2. Add the magnesium flakes to your glass measuring cup.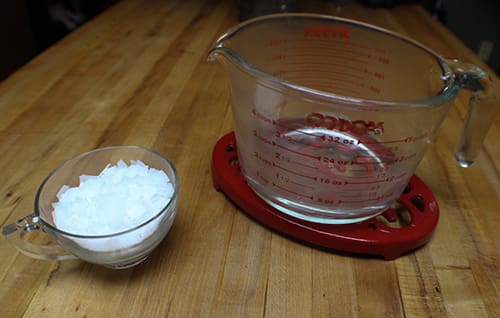 Step 3. Poor the boiling water over the magnesium flakes and stir until completely dissolved.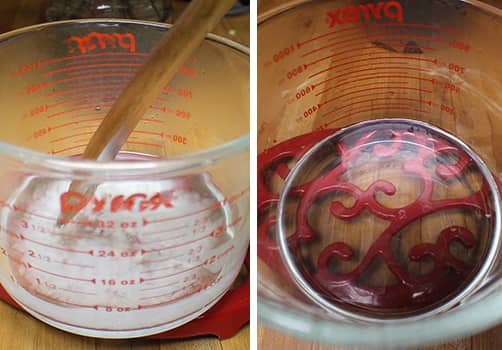 Step 4. Now add your magnesium muscle rub to a spray bottle and store it in a cool dry place for up to six months.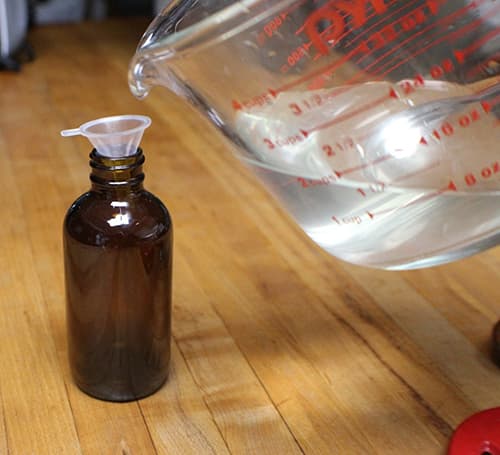 How to Use Your Rub for Sore Legs
You can use your homemade leg cramp remedy any time you experience cramping or sore legs, and honestly, you can use it anywhere you want. Just spray the oil mixture on the aggravated area and rub it gently until it's dry.
For restless legs at night, spray your magnesium rub liberally on your legs from the bottom of the calf up to the thigh and rub it really good. Make sure your legs are dry before getting into bed. The magnesium can leave a bit of "crust" on your sheets if not fully absorbed.
Lastly, you can use your magnesium spray as a deodorant. Simply spray a bit under your armpits and let it dry. I don't recommend adding essential oils if you apply it under the armpits, as the skin can be sensitive.
So there you have it! A super simple rub that works great for swelling, cramping, and even sopping up sweat. If you make this recipe, let us know how well you like it in the comments below. Take care!
You may also like: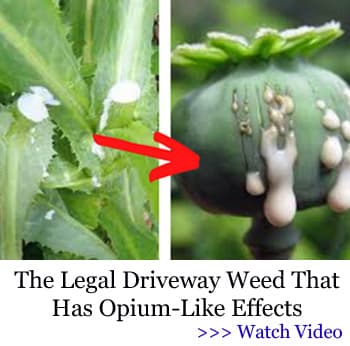 Cramp Bark Tincture for Muscle Aches, Cramps and Spasms
Your hip and low back are aching because… (Video)
Warming Turmeric and Cayenne Pain-Relief Balm
How To Make A Comfrey Salve For Arthritis and Joint Pain