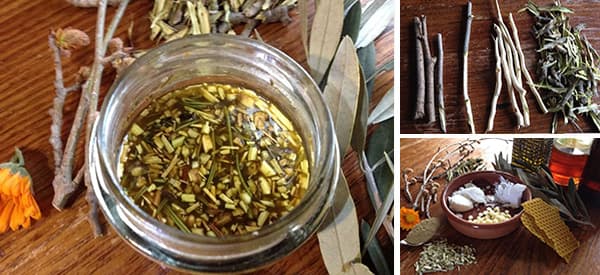 Beat Dry Winter Skin with This Homemade Salve
Being outside during the winter can have its challenges, and for me, it's cold hands. My frosty fingers tend to develop into dry, withered appendages more reminiscent of sticks to light the fire with, rather than actual fingers.
And while water-based lotions and moisturizers are good for the face, in winter, I prefer to use oil-based salves on my hands and feet, especially in our dry climate.
What Oils Can You Use to Beat Dry Winter Skin?
Let's consider carrier oils, lipids and fatty acids first.
The kinked, fatty-acid chains in both olive oil and soybean oil work in combination for deeper skin penetration. Olive oil improves skin penetration of the dermis (outer skin layers) thanks to the monounsaturated fatty acids found in oleic acid, which technically disrupt the skin barrier. Soybean oil, on the other hand, increases penetration into the deeper skin layers.
Coconut oil helps to retain moisture on the surface of the skin due to the straight-chained, unsaturated fatty acids, mostly in the form of lauric acid (usually over 40%). Lauric acid is a lipid that is found in the skin, so adding coconut oil to your salve will increase the surface lipids, thereby increasing skin hydration. It also happens to be antibacterial and antifungal, so it's always a good addition to any salve for dry, weather-damaged skin.
Borage seed oil and flaxseed oil both contain a high level of linoleic acid. Linoleic acid is the main polyunsaturated fatty acid found in the skin, so choosing ingredients that are naturally high in it can assist with repairing and maintaining your skin.
Shea butter is loaded with triterpenes which are important for skin repair.
Got some sesame or peanut oil in the kitchen? You can even add a small amount of these oils to your salve, just don't be too heavy-handed, otherwise, the odor can be a bit overpowering.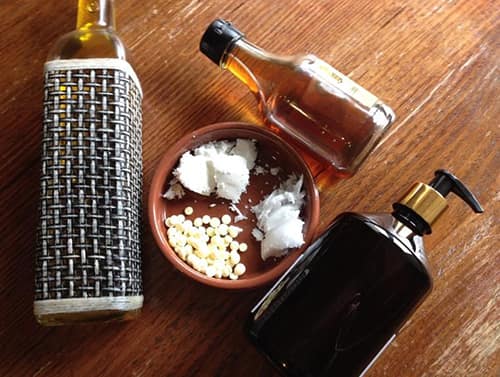 There are plenty of hydrating plant-based oils found in other plants, so don't be shy about being adventurous.
What Plant Compounds Combine Well with Carrier Oils?
Now that we have covered a few carrier oils, we can look into some other hydrating plant compounds which are soluble in our carrier oils.
You can add essential oils at the end of the process, but there is also the option to infuse dried plant material into your carrier oil, such as:
Soy (Glycine max) contains a number of phytoestrogens such as genistein aglycone, daidzein and coumestrol, all of which have positive effects on your skin and are soluble in oil.
Marigold (Calendula officinalis) was shown in a small study to improve skin hydration and firmness but only after 6 weeks of usage. You can get your own premium Calendula seeds here.
Birch bark (Betula spp.) is high in betulin, a triterpene known to help with skin repair and wound healing. Simply peel the outer layer of bark from a green branch (less than the width of a pencil) and allow to dry for at least a week.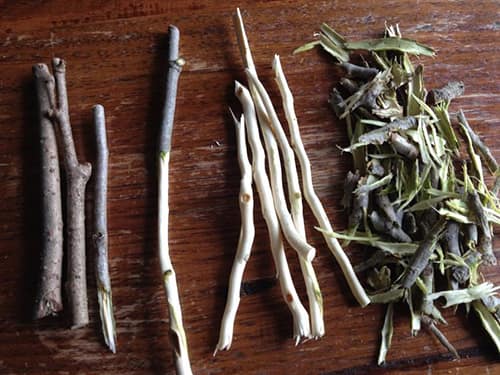 No matter which carrier oils you decide on, which dried plant matter you choose to infuse into it, or which essential oils you add, you can always find a fragrance and texture that suits your tastes by tweaking the ratios below. Just be sure not to increase the concentration of the essential oils and maintain roughly a 1:6 ratio of beeswax to carrier oils.
Ingredients
0.4 oz (12 g) of virgin olive oil
0.4 oz (12 g) of coconut oil
0.4 oz (12 g) of soy oil
0.4 oz (12 g) of shea butter
2 teaspoons of dried calendula flowers
2 teaspoons of dried soybeans or leaves
2 teaspoons of dried birch bark
0.3 oz (9 g) of beeswax
20 drops of essential oils such as lavender, rose hip or eucalyptus
Method
Place all of the ingredients except the beeswax and the essential oils into a glass jar and sit it in a pot of warm water (100 °F or 37 °C). Allow it to infuse for 2 – 3 hours (the long time is due to the birch bark) and stir every half hour or so.
Strain the mixture and increase the temperature of the water to no more than 150 °F (65 °C). Add the beeswax then stir until it has melted. It's easy to test the consistency by dipping a cold spoon into the mix.
Remove from the pot of warm water, stir in the essential oils and allow to cool and solidify.
Application
Apply after showering or washing your hands.
---
Storage And Shelf-life
Store in a cool location and it will last for a year.
Enjoy!
You may also like: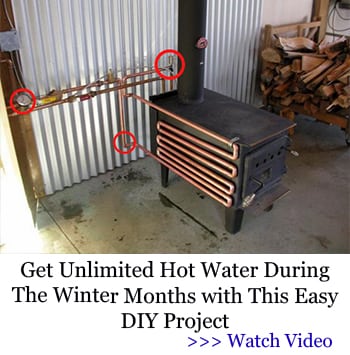 20 Toxic Ingredients to Avoid in Your Beauty Products
A Natural DIY Antibiotic Salve Recipe to Keep Around (Video)
Homemade Pumpkin Seed Oil for Hair Growth
How To Make A Comfrey Salve For Arthritis and Joint Pain