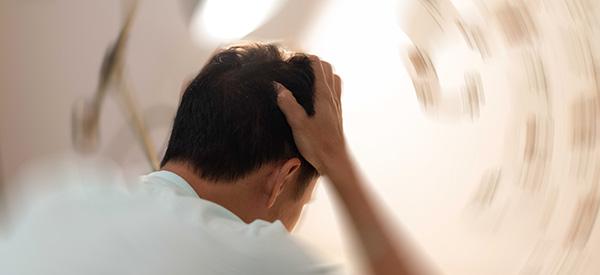 The First Thing You Should Do Immediately After a Stroke
Strokes affect millions of people across the world every year. These medical emergencies usually occur when the blood supply to your brain is reduced or interrupted, preventing it from getting oxygen and nutrients. Other times, they signify bleeding in the brain.
Common types of stroke:
Ischemic strokes occur when blood clots block arteries leading to the brain, often due to plaque build-up in the arteries.
Thrombotic strokes happen when a blood clot forms within an artery in the brain.
An embolic stroke can be caused by clots that form elsewhere in the body and travel to the brain.
A hemorrhagic stroke occurs when a blood vessel bursts in the brain and bleeds.
A transient ischemic attack (TIA), or ministroke, may be harder to detect because it's over with more quickly. The symptoms, which are caused by a temporary blockage of blood flow in the brain, usually resolve within 24 hours and last no more than five minutes. However, they are a sign that a more severe stroke may be on the way.
Prompt treatment is crucial to lower the chances of brain damage and even death. In this blog we go over how to recognize the signs of a stroke, what you should do in response, and treatments you can use (many of them natural) to recover more quickly and prevent a recurrence.
How Do I Know If I'm Having a Stroke?
Sometimes a stroke develops slowly over time, but you're likely to have one or more acute symptoms like these:
Dizziness
A feeling of weakness or numbness in your face, arm, or leg on one side of your body
Confusion or difficulty understanding others
Visual disturbances in one or both eyes
Having difficulty speaking
Problems with balance or coordination
Severe headache
If you suspect that you're having a stroke, use the FAST test, which evaluates your entire body for common symptoms.
Face: Smile and see if one side of your face is drooping.
Arms: Raise both of your arms. Does one arm drop?
Speech: Speak briefly to check for strange or slurred speech.
Time: Call an ambulance immediately if you notice any of the behaviors outlined above and note the time when your symptoms started.
What Should I Do If I'm Having a Stroke?
Do not attempt to drive yourself to the hospital, and don't wait to see if your symptoms disappear on their own. Breathe slowly, remain calm, and call Emergency Services in your areas.
With strokes, every second counts. When a blockage stops blood flow in the brain, the brain cells start dying from lack of oxygen and nutrients. Without treatment, two million neurons and 7.5 miles of brain fibers are lost each minute.
Depending on the type of stroke you have, doctors may prescribe aspirin or specialty medication that break up clots. This medication works best when you take it within three hours of when your symptoms first appeared. In the case of a burst blood vessel, doctors will make measures to stop the bleeding as soon as possible.
Regardless of the therapies involved, you want to address the reason for the stroke and prevent another one from happening. The remedies below can help you accomplish both.
Natural Remedies for Recovering From and Preventing Strokes
After experiencing a stroke, many of us recognize the importance of taking better care of our health. These natural remedies may help you fortify your health, improve your chances of recovering quickly, and reduce the likelihood of another stroke.
Black or Green Tea

Tea contains flavonoids, which lower cholesterol levels and can help people with high blood pressure. Drinking at least three cups a day can also reduce your risk of having a stroke. According to this study, individuals who consumed this much green or black tea had fewer repeated stroke incidents.
Pomegranate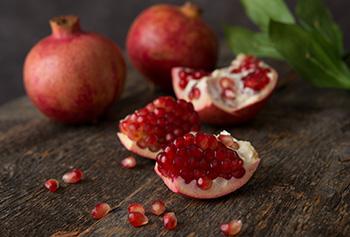 The antioxidants in this tart fruit are good for the heart and brain. Not only does it contain phytosterols, a type of plant steroid known to lower cholesterol, but pomegranate juice is excellent for hydration, which is beneficial for the brain.
According to the Israeli Institute of Technology, pomegranate concentrate consumption, combined with low-dose statin therapy or regular use of cholesterol-lowering drugs can lower cholesterol levels.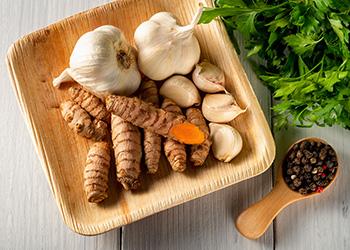 Garlic and Turmeric
Turmeric reduces inflammation in the body, and garlic is known for its ability to reduce blood clotting. Together, these foods provide a wealth of nutrients that can reduce the risk of strokes. They can be used in a variety of recipes, making them an easy addition to your daily diet.
Salmon
Salmon is a great source of omega-3 fatty acids, which have been shown to normalize BDNF levels and protect against neuroplasticity loss. BDNF, which stands for brain-derived neurotrophic factor, is a protein that supports new neuron and synapses growth in the brain.
Vitamin D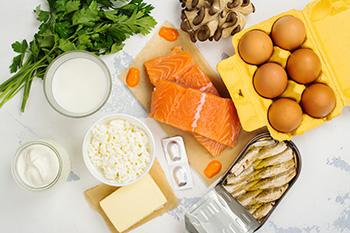 In this study, ischemic stroke patients who added more Vitamin D to their diets noticed an improvement in outcomes after three months.
Recommended sources include oily fish (salmon, sardines, and herring), egg yolks, and fortified breakfast cereals.
Dan Shen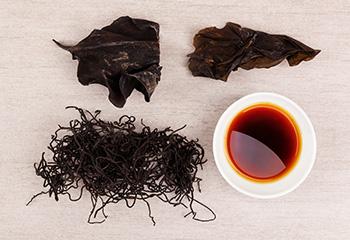 Another traditional Chinese herbal medicine, Dan Shen (Salvia miltiorrhiza) is widely used in China to treat acute ischemic stroke.
Heart disease is a risk factor for stroke, and research suggests that Dan Shen may reduce the disease. One study concluded that it has beneficial therapeutic properties and can be an effective alternative remedy for the treatment of cardiovascular diseases.
Ashwagandha
Ashwagandha (Withania somnifera) is another herb that has been successfully used to treat ischemic stroke. This study found that it could support stroke repair thanks to its antiapoptotic (prevention of cell death) and antioxidant properties.
Buchang Naoxintong
A natural blood thinner, the Chinese medicine, Buchang Naoxintong has been used to improve recovery in ischemic stroke patients. However, if you have a history of hemorrhagic stroke or any blood disorders, this remedy should be avoided.
Stroke recovery can be a long and frustrating process. It's normal to encounter obstacles along the way, but regular exercise, a diet rich in anti-inflammatory and antioxidant foods, and herbal remedies shown to be effective for stroke patients can support a full recovery.
To encourage cardiovascular and brain health, we've also put together an herbal remedy bundle that helps to regulate blood sugar levels, improve brain function, and support heart health. Visit the Apothecary today to learn more!
You may also like: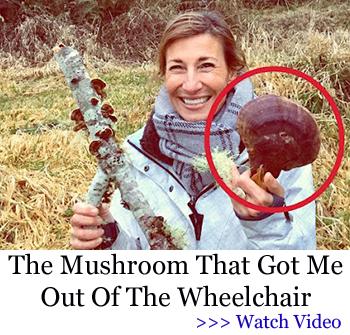 7 Natural Remedies To Reduce Blood Clots And The Risk Of Stroke
How to Recognize a Heart Attack and What to Do Next (Video)
Homemade Juice For Blood Pressure
7 Natural Remedies for Fibromyalgia Pain