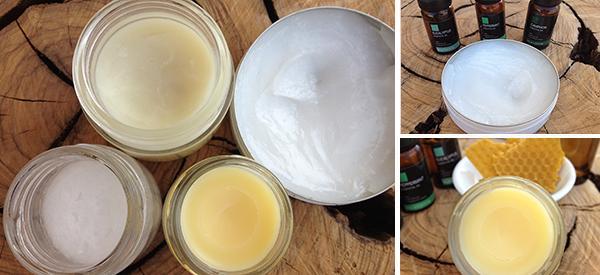 How to Make Your Own Vicks VapoRub Ointment at Home
There are multiple ways to make your own equivalent of Vicks VapoRub and they all include strong-smelling essential oils that have various medicinal properties, such as being antispasmodic or expectorant.
Some recommended essential oils for this ointment include peppermint, eucalyptus, and camphor. These three essential oils should be diluted down to a 5% concentration for an effective chest ointment, but this should be further diluted to about 2% for small children.
So, what does this mean in terms of quantities? For every quarter of a cup of base oil and/or other ingredients, you will need a total of 60 drops (5 ml) of essential oil. You can choose to distribute the 60 drops evenly between all three essential oils (20 drops of each) or you can even forego one of the essential oils completely if you don't have it on hand, just as long as the total number of drops for a quarter of a cup of base oil doesn't exceed 60.
Below are four different ways to make your own Vicks VapoRub to help clear your sinuses, unblock your nose and help decongest your chest.
1. Coconut oil with essential oils
This is a very popular way to make your own natural ointment since it only requires melting a quarter of a cup of coconut oil at low temperatures (approximately 78 °F or 25 °C) to be able to mix in the 60 drops of essential oil. Once the coconut cools down again, it will re-solidify at room temperature and is ready to use.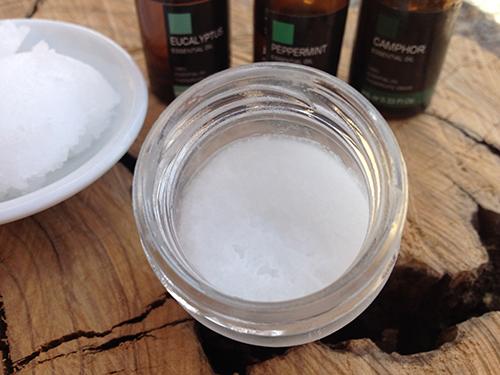 2. Camphor wax, coconut oil, and essential oils
Camphor has been proven to increase blood flow and ease a cough. At first, it produces a cooling sensation on the skin, but then after 10 minutes or so, it switches to a warming sensation. Camphor wax is a solid at room temperature but requires high heat (355 °F or 180 °C) in order to melt it and combine it with the coconut oil and essential oils. Do not heat this mixture above 390 °F (200 °C), otherwise, the coconut oil will reach its smoke point, in which case the health benefits are destroyed.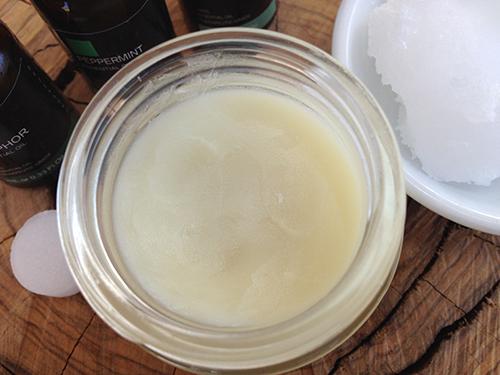 To make a camphor wax chest rub, melt 3 tablespoons of coconut oil in a double boiler system (like a glass jar sitting in a pot of hot water on the stovetop), then grate 1 tablespoon of camphor wax into the melted coconut oil and stir until the camphor has combined with the coconut oil. Remove the jar from the pot and allow it to start to cool down before adding 60 drops of essential oil.
3. Beeswax, oil, and essential oils
A well-known favorite, this method melts any plant-based oil with beeswax and essential oils to create a balm that can help to decongest the chest and clear the airways.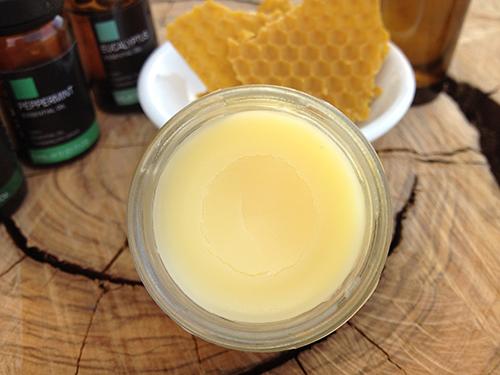 Pour 3 ½ tablespoons of oil into a jar and set it in a pot of warm water (about 150 °F) to form a double boiler. Add 1 ½ teaspoon of beeswax to the oil and stir until it has melted then remove from the pot of water and once it has started to cool, add 60 drops of essential oil.
4. Petroleum jelly with essential oils
Definitely quick and easy. These two common ingredients are simply combined and can be stored for as long as the used-by date on the petroleum jelly.
Simply add 60 drops of essential oil to a quarter of a cup of petroleum jelly and mix well.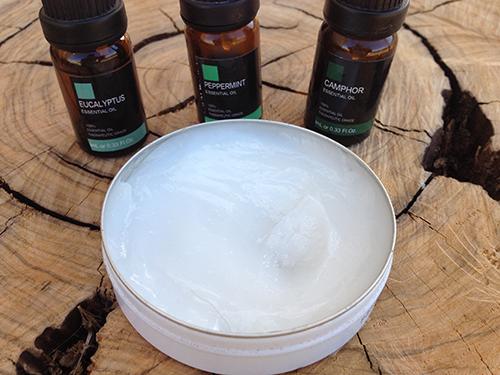 Application
Rub the ointment liberally onto your chest and back 3 – 4 times a day.
It can also be applied around the nostrils.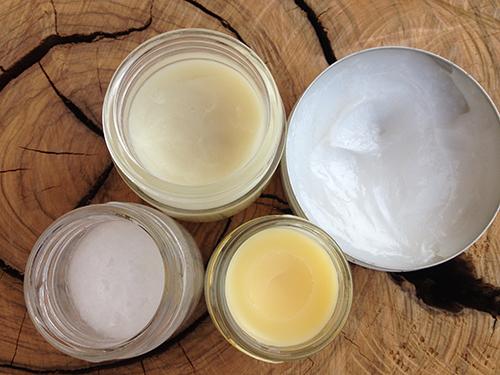 Storage and Shelf-life
All four of these ointments are oil-based, so they will last for 6 – 12 months at room temperature.
The coconut and essential oil method may melt in hotter conditions.
These four ointments can be just as effective as Vicks VapoRub to relieve a cough or chest congestion and they are all inexpensive and easy to make. They are particularly effective when used before going to bed to help you breathe easier for a good night's sleep.
You may also like: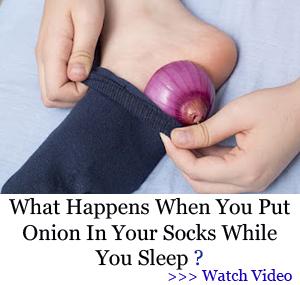 Avoid Spring Allergies With These 7 Natural Remedies
My Top 7 Remedies for Asthma and the Allergy Season – by Nicole Apelian (Video)
How to Make an Herbal Steam for Congestion and Allergies
5 Plants That Prevent And Remove Mold