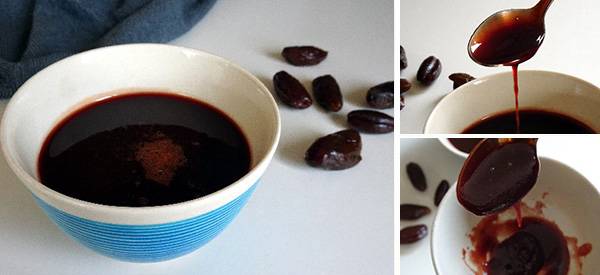 How To Make Your Own Natural Sweetener for Diabetes
If you are wanting to make your own natural sweetener at home, I'm going to show you how to make date syrup. Dates can be traced back to around the time of 5000 BC and are a staple in the Middle East and North Africa. They are naturally sweet and provide many impressive health benefits too.
Date syrup is easy to make, although a little time-consuming (2 ½ – 3 ½ hours). Most of the time you're just letting it simmer away so it's perfect to make a batch when you are doing other things. It will keep for a couple of weeks too, so you can prepare enough to last you.
By making date syrup at home you can monitor exactly how many dates you use and could increase the water content if you want it even less sweet. I have already increased the ratio of water to dates in this recipe compared to typical homemade recipes. It is still very tasty and you can get it just as thick and creamy or keep it relatively liquidy.
Dates are a good sugar alternative for people with diabetes because they have a low GI so they don't spike blood sugars as much as other options. Date syrup is also a completely natural sweetener and has just two ingredients: dates and water.
As with any sweet food, moderation is still needed, even though it's natural. It's important to note that dates contain fructose. However, due to their medium GL and low GI, they are a safer option for people with diabetes.
Health Benefits Of Dates
Dates are nutritious, making date syrup a better choice for sweeteners because it provides health benefits even though it still provides energy (calories).
Dates are known to have various beneficial properties and protect against different ailments:
● High in fiber – helps your digestive system by promoting regular bowel movements. The fiber helps control blood sugar levels and helps against blood sugar spikes after eating too.
● Antioxidants – dates contain many antioxidants which fight against free radicals. By doing so, they help protect against certain conditions such as eye-related disorders, heart disease, and cancer.
● Support bone health – dates contain several important minerals (including calcium and phosphorus) which may prevent osteoporosis.
● Alzheimer's Disease – by reducing inflammation, dates can improve brain health and memory function.
● Vitamin B6 – supports the central nervous system, a healthy immune system, and it helps in the creation of neurotransmitters like dopamine and serotonin.
● Prevent bacterial infections – most fruits have the capability to fight against microbes but dates are one of the most powerful.
● Kidney lesions – it can help your kidney stay healthy in many ways and also reduce kidney lesions.
Another surprising benefit is that dates are beneficial to your skin. They can improve skin's elasticity and have various nutrients that help to give skin a healthy glow. While not necessarily a medicinal benefit, it's something most of us would like to achieve as time marches on.
Dates can also reduce hair loss. Their high iron content promotes blood flow and means your scalp is receiving more nourishment. This helps facilitate new hair growth while reducing hair loss at the same time.
How To Make This Natural Date Syrup Sweetener
As I mentioned, the steps to make this date syrup are simple but you will need some time set aside. You can make a runny date syrup in 2 ½ hours and a thicker version in 3 ½ hours. I will let you know what to do in the instructions.
Ingredients
● 15 oz Dried pitted dates
● 48 oz (6 cups) Water
Note: This quantity makes five cups of runny syrup or one cup of thick date syrup. The recipe will keep in the fridge for two weeks. Reduce the quantity as needed depending on how many people will be using it and if you want the runny syrup which would be too great a quantity to use up in time.
Equipment
● Saucepan and lid – you will use this for putting all of your dates and water in, so choose an appropriate size based on the quantity you use.
● Fine mesh strainer – you will strain your liquid through this.
● Cheesecloth – you will use this to squeeze the remaining liquid out of the dates.
● Bowl or container – large enough to fit your strainer over so you don't lose any liquid when you strain the mixture.
● Ladle – to help get the pulp into the cheesecloth.
● Storage jar – any glass jar with an airtight lid to keep your finished date syrup in.
Instructions
1. Chop 15 oz of pitted dried dates up finely. I just sliced across each date roughly four times but it will depend on how large yours are.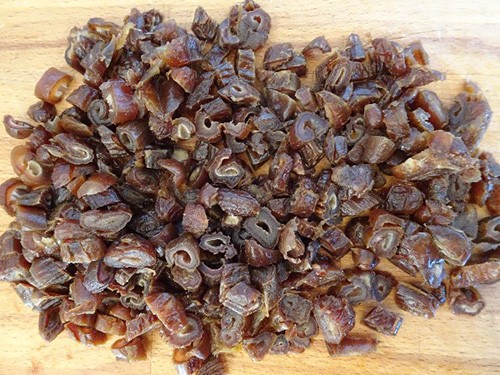 2. Add your dates to your saucepan.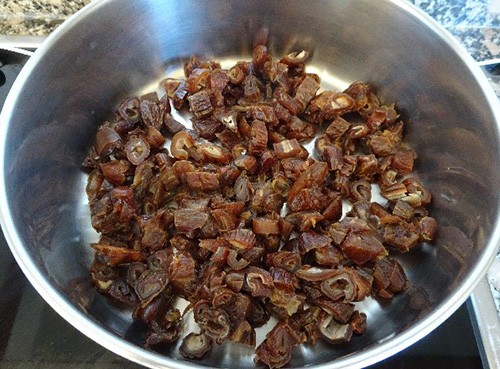 3. Add 6 cups of water (48 oz) to your saucepan and put the lid on and turn it onto high heat.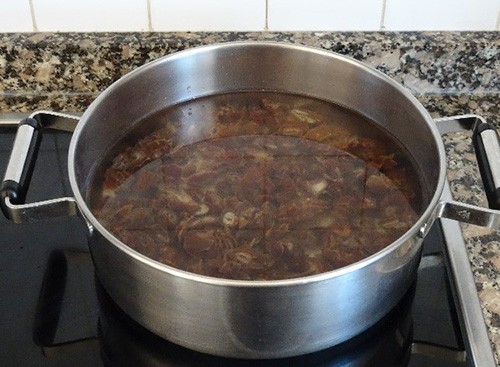 4. Once it starts simmering, turn it to the lowest heat. Set your timer for 2 hours.
5. Remove it from the heat after this time and take the lid off. Now you want to wait until the mixture has cooled down.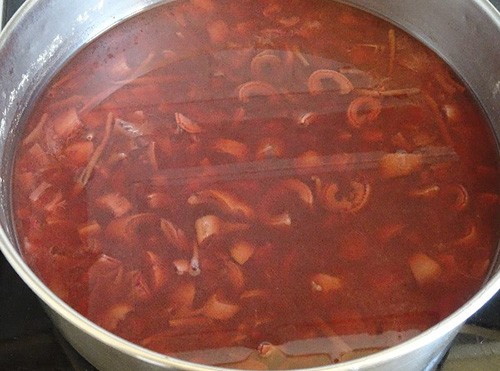 6. When the mixture is cool, put your fine mesh strainer on top of your bowl or container and place a few layers of cheesecloth over it so the strainer is fully covered.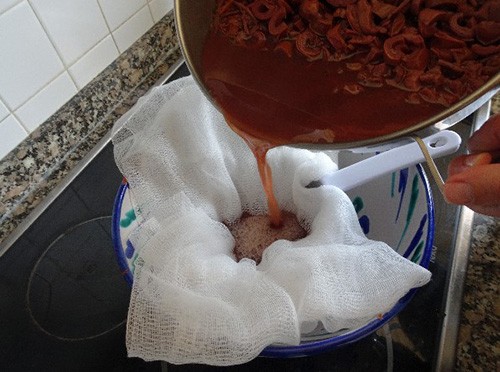 7. You now need to pour some of the liquid into the cheesecloth and the pulp. Make sure you leave some room on the four corners of the cheesecloth so you can wring it and squeeze the juice from the pulp. You will have to do this in a couple of rounds if you use the same portions as I did.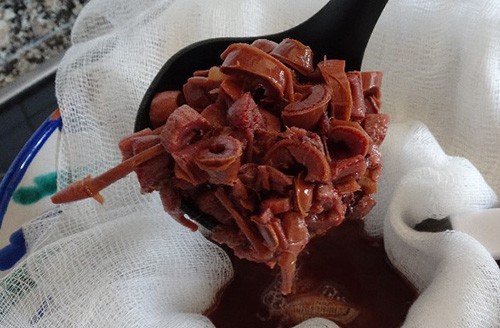 When you have squeezed as much juice from the pulp remove that pulp and add more in until you can no longer get any more liquid out. At this stage, you will have a runny mixture and you may want to store it as is. At this consistency, it's easy to use when baking or mixing the syrup with recipes. If you want a thicker gooey syrup continue to step 8. Of course, you could do half and half and play around with it too.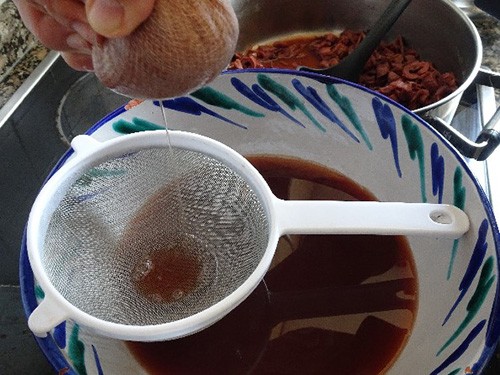 8. To thicken it, you need to reduce it. Clean the saucepan you used earlier and pour the liquid back into it. Bring it to a soft simmer and check back with it in 30 minutes to see if it's the consistency you want and then every 15 minutes thereafter. It will thicken slightly once you take it off the heat again too.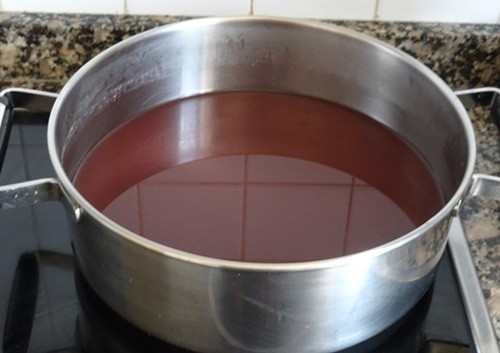 9. When you're happy with your date syrup you can take it off the heat and let it cool down, then it's ready to store. Put it in a glass container with a tight lid and store it in the fridge.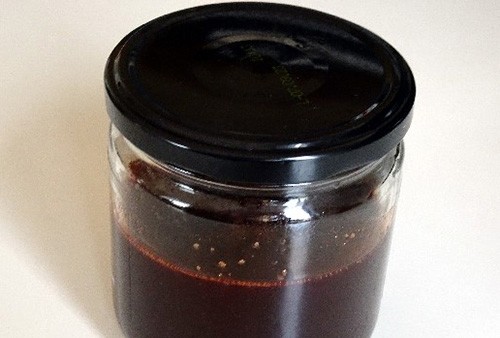 This was the consistency I got after 45 minutes.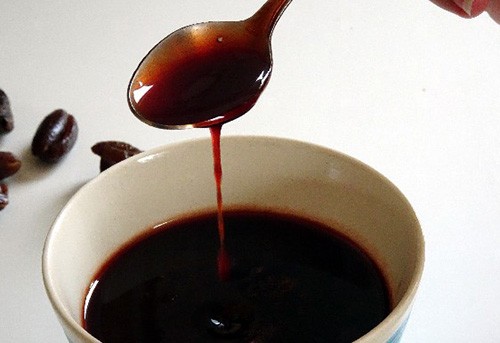 After 1 hour 15 minutes, it resembled a soft paste.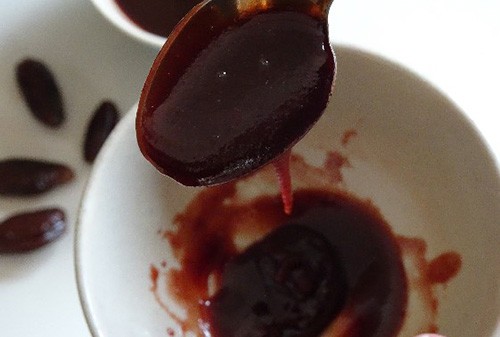 I hope you enjoy making date syrup and love the taste of it too. You can try using it as a sweetener for any recipe or meal that you like. It's particularly lovely drizzled over natural yogurt for breakfast. You can also use it to add depth and sweetness to a mug of tea or coffee.
You may also like: 
How to Stop Sugar Cravings Naturally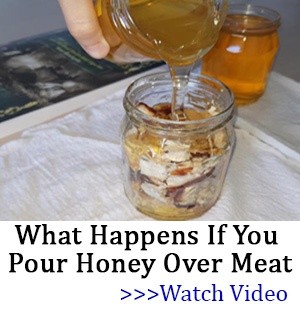 1 Cup Before Bed Shrinks Belly Fat All Night (Video)
Sugar Substitutes for Diabetics: Five Sugars That are OK to Eat
50 Amazing Uses For Honey You Didn't Know About