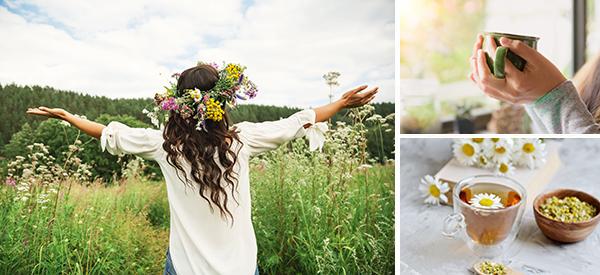 Herbs to Boost Oxytocin, the Happiness Hormone
Oxytocin is a hormone and neurotransmitter produced in the hypothalamus. Even if you've never heard of it until now, you've definitely felt the effects when you've hugged or been intimate with someone else. In addition to being involved with childbirth and breastfeeding, oxytocin is associated with trust, empathy, and relationships. For this reason, it is also known as the 'happiness hormone' or 'love hormone.'
Oxytocin is generally considered beneficial for mental health because it can relieve anxiety and stress and make us more social. It also appears to inspire some of humanity's more admirable qualities such as love, loyalty, trustworthiness, courage, and empathy. Typical signs of a deficiency include:
Difficulty feeling affection
Dislike of social interactions
Trouble maintaining relationships
Being told you lack empathy
If you feel that low oxytocin levels may be lowering your mood, certain herbs have been shown to naturally address deficiencies and boost your mood. Let's take a closer look at each one.
Chamomile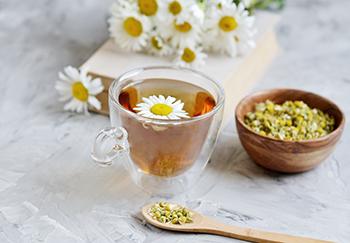 Chamomile (Matricaria chamomilla) has traditionally been used for its calming and anti-inflammatory properties. Its delicate taste makes it one of the most popular herbal teas on the market, and chamomile extract is a common ingredient in massage oils due to its soothing scent.
One study reviewed the effects of chamomile on patients with generalized anxiety disorder. It showed a gradual reduction of moderate to severe symptoms over a five-year period, although it did not have a significant effect on relapse. This suggested a correlation between chamomile and reduced stress indicates that a cup of chamomile tea a day can possibly chase the blues away!
You can purchase premade tea in any health food shop. If you have access to fresh chamomile, pour 8 oz of boiling water over three tablespoons of flowers (add a sprig of mint for extra taste) and steep for five minutes. Strain and serve.
Fenugreek
Fenugreek (Trigonella foenum-graecum) is a popular herbal supplement traditionally used to improve sex drive. Recent studies also suggest that it can tackle issues related to low oxytocin levels, such as depression and anxiety and reduced breast milk production.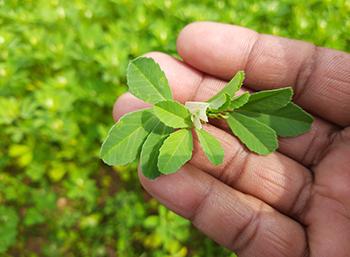 This placebo-controlled study examined the effect of fenugreek extract on perimenopausal women and found that it significantly improved symptoms like depression and insomnia.
This study assessed the impact of fenugreek tea on breast milk production and found that mothers who drank the tea produced more milk and their babies regained their birth weight more quickly.
Fenugreek seeds are a staple of East Indian diets, so incorporating more of these foods into your diet can have a positive impact on oxytocin levels. You can also grind them into flour for addition in bread recipes or make a tea by simmering one teaspoon of lightly crushed seeds in a cup of boiling water for approximately three minutes, followed by 15 minutes of steeping. Strain and add honey or nutmeg (or both)!
Coffee Berry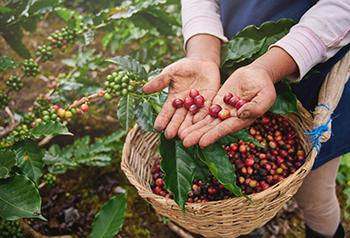 There's a reason why so many people start their day with a cup of coffee (Coffea). Not only does it wake you up more quickly, it also leaves you feeling more energized and productive. In a social setting, it also brings people together and encourages conversion, which is why we love to get together with friends for coffee.
If you're not a coffee drinker, you can try boosting oxytocin by consuming the whole coffee berry instead. To roast coffee, the bean is traditionally removed from the coffee fruit, which is then discarded. However, this fruit contains healthy compounds not found in the beans themselves. This study found a positive correlation between the consumption of whole coffee cherry extract and reduction of cognitive impairment in older adults, improving their overall mood.
Clary Sage
Clary sage (Salvia sclarea) is an aromatic member of the mint family and has been used as a culinary and medicinal herb. Research suggests that its essential oil increases oxytocin levels in the brain while reducing cortisol and improving thyroid hormone levels, especially in women. This study in particular found that inhaling clary sage oil can increase oxytocin in women during pregnancy.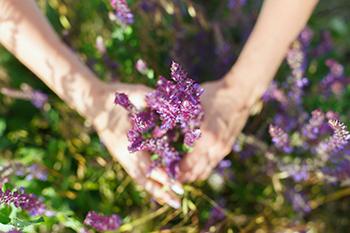 You can inhale the oil, apply it directly to your skin, or mix two or three drops with water and diffuse it via a burner. 100% essential oil may be added to food, smoothies, or tea for a soothing and uplifting effect. You can purchase it in shops or make a cooking oil by following the directions below:
Wash and dry two cups of lightly packed clary sage leaves, then place them in a jar with a tight-fitting lid along with around 20 lightly crushed peppercorns.
Heat two cups of pure olive oil to around 105 degrees F / 40 degrees C before pouring it into the jar. Make sure all the leaves are covered.
Allow the oil to cool.
Secure the lid on the jar and store it in a cool, dark spot for three weeks. Shake the jar three or four times a week.
Once the infusion process is complete, pour the oil through a strainer, add 10 more peppercorns, and store,
Anise Seed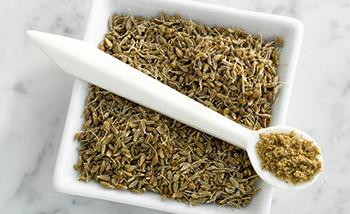 Anise (Pimpinella anisum) is a member of the parsley family. Its aromatic seeds have been used in cooking and traditional herbal medicine for centuries, due to their rich nutrients and ability to treat a wide range of health concerns, including depression.
One study carried out in the Middle East found that consuming anise seeds could increase oxytocin levels in pregnant women. Another study, also involving pregnant women, noted that it was equally effective at reducing symptoms of postpartum depression. This is not to say that men won't benefit from taking anise seeds: this study found that male and female IBS (irritable bowel syndrome) patients who took anise oil experienced a reduction in mild to moderate depression.
You can add whole or ground anise seeds to bread dough, pastry filling, and even ground meat before cooking. A high-quality anise extract can be used to flavor drinks such as coffee and hot chocolate. If you have access to the seeds, you can make a delicious tea by placing one teaspoon of slightly crushed seeds in a teapot, pouring one and a half cups of boiling water over them, and letting them simmer for three minutes on low heat. Strain and serve.
Take Away
Healthy oxytocin levels can boost feelings of security, contentment, and love for those you are already close to, as well as make you more open to new relationships and opportunities. If you've been encountering difficulties in any of these areas, the herbs outlined in this guide can help you overcome them and reclaim the zest for life that you deserve. If you find yourself struggling with depression, anxiety, social withdrawal, or disconnection with those around you, you can also adopt one or two of these simple methods to naturally increase production of oxytocin: listen to music or sing, share a meal with friends and family, give a loved one a hug, practice altruism and/or pet your pet.
Nicole Apelian: If I find I am facing a particularly stressful life event, my Anxiety & Stress Tincture helps to soothe my nervous system so that I can move forward from a place of clarity and calm. It is a blend of potent botanicals, including Lemon Balm, Reishi and Lion's Mane mushrooms, and the adaptogen Ashwagandha. 
You may also like: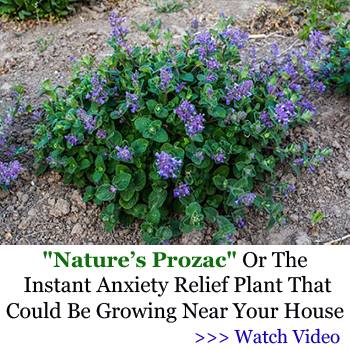 Homemade Anxiety and Stress Tincture (Learn More)
Best Herbs and Foods to Fight Adrenal Fatigue
Soothing Medicinal Herbs for Deep Rest