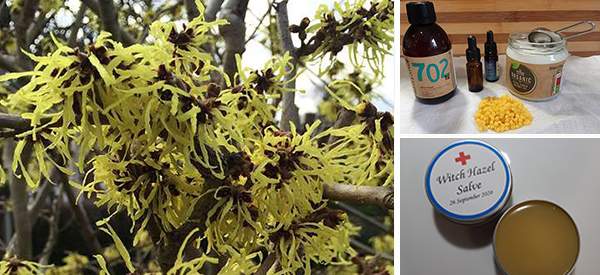 Witch Hazel (Hamamelis Virginiana) is a large, flowering shrub that is endemic to most of North America and Asia. However, it is now also grown across much of Western and Central Europe.
The leaves, twigs, and bark are used to manufacture a clear liquid that is sold commercially and is used in the preparation of a range of health and beauty products, including in DIY or home-made remedies.
What is Witch-Hazel Used For?
Witch-hazel contains gallic acid, which is an anti-inflammatory, and tannins that have antioxidant properties. As a result, preparations made using this plant are used to ease a range of symptoms and conditions. The focus of this article, though, is on Witch Hazel Salve which is good for skin-related and external problems:
Inflammation and the pain and swelling that often goes with it

Mild bacterial infection of the skin

Minor bleeding

Mild itching and skin irritation

Cuts, scrapes, and other minor wounds

Hemorrhoids

Insect bites and stings

Cold sores.
There is anecdotal evidence that witch hazel—in one form or another—eases bruising, diarrhea, sore throats, some post-menstrual symptoms, and improves overall skin tone and health. However, further study is required to make these claims with greater certainty.
How To Make a Witch Hazel Salve 
This salve is easy to make and the most useful addition to your home, herbal first-aid kit.
Ingredients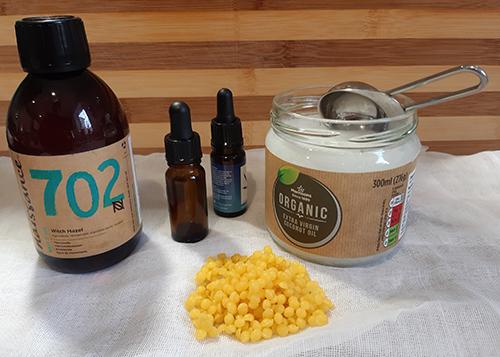 1 tablespoon witch hazel

2 – 3 tablespoons beeswax pellets, depending on how soft you want the salve. The more used, the firmer the salve will be.

½ cup of coconut oil.
You can also add one or a mixture of the following essential oils:
12 – 15 drops of Tea Tree oil

10 – 12 drops of Lavender oil

8 – 12 drops of Lemon oil

2 – 3 drops of Vitamin E oil.
Each of these optional oils offers further properties that are useful when treating the listed skin problems. Vitamin E, however, is a useful preservative that may extend the shelf-life of your DIY salve.
It doesn't matter what extras you choose, but don't add too much additional oil or your finished salve may be too greasy.
Method:
Place 2 inches / 5 centimeters of water into a saucepan/pot. Bring the water to a simmer and keep the heat low.

Put the coconut oil and the beeswax into a metal bowl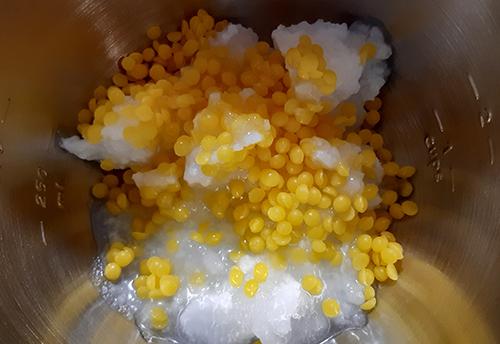 Place the bowl inside the pot, ensuring no water gets into the mixture

Melt the oil and beeswax. Don't let the mixture get too hot or the oil will burn.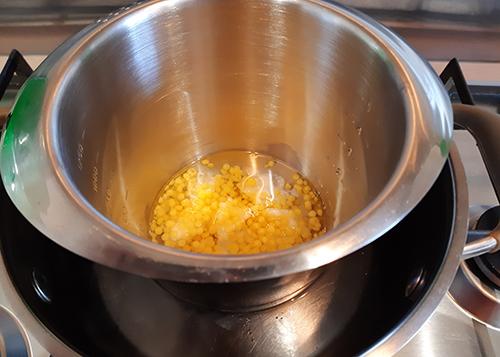 Remove the bowl from the pot

Add the essential oils you have chosen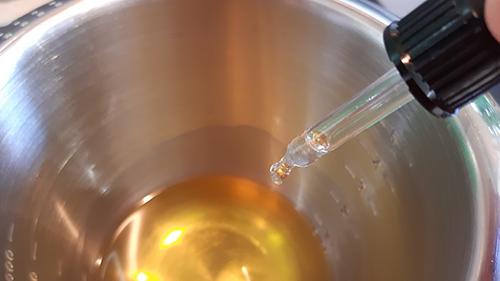 Stir the mixture well using a spoon or a hand mixer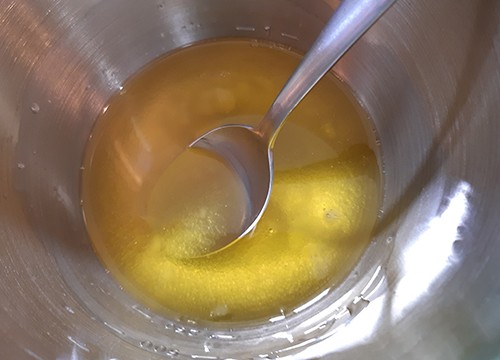 Add the witch hazel and the vitamin E oil if you are using some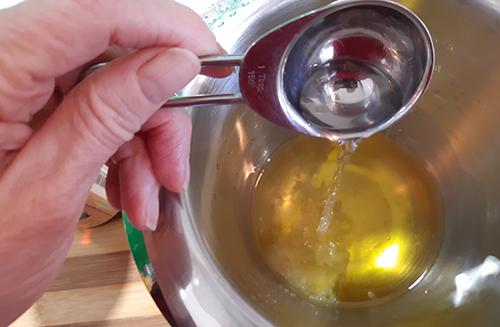 Mix all the ingredients well

Place the mixture into aluminum or glass jars and put the lid in place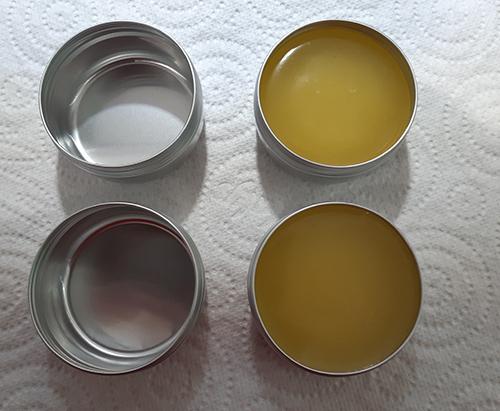 Label and date the jars of salve.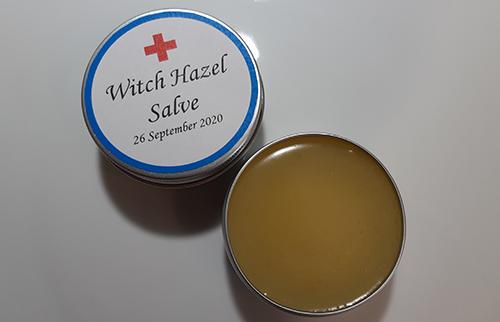 You can use a double boiler if you have one instead of a pot and a bowl. Also, an electric mixer will achieve the smoothest consistency, but a spoon or spatula also works.
Using Witch Hazel Salve
It's advisable to use a cotton bud or gauze to apply the salve rather than your finger even if you have washed your hands. This prevents dirt and bacteria from being introduced into the ointment.
Apply a small amount of the salve to the damaged skin. With both adults and children older than 2, you can use the ointment twice a day until the wound or problem has healed.
If you are using the salve to treat the pain, swelling, and itching caused by hemorrhoids, rub the ointment gently onto the affected tissue twice a day and after each bowel movement. Don't apply it more than 6 times a day, though.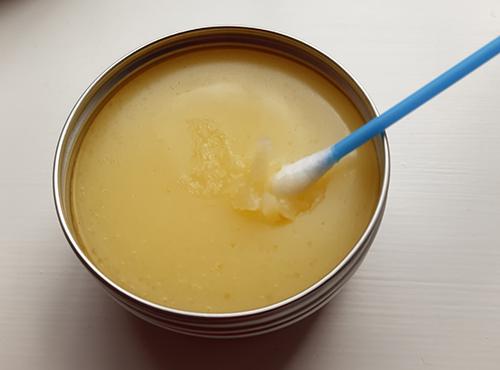 How Do I Store Witch Hazel Salve and What is The Shelf-Life?
A home-made salve like this usually has a shelf-life of a maximum of 8 weeks. To increase this to an impressive 6 months add vitamin E to the mixture when you make your salve.
You don't necessarily need to store it in the fridge, but it must be stored somewhere cool or it will become a little liquid and will spoil faster.
Adverse reactions to witch-hazel and uncommon but they do happen. There are individuals that will experience an adverse or an allergic reaction. Fortunately, these reactions are usually mild. Interestingly, skin irritation is more likely to be due to the essential oils than the witch-hazel.
However, if you haven't used this plant before, it's a good idea to apply some salve to a small area of skin first to make sure there's no problem. In addition, witch-hazel, even a topical application, is not recommended for babies and children under 2.
Although other witch-hazel preparations (toner, tea, etc.) can pose additional risks when used long-term, this salve is for use as a first-aid ointment and shouldn't cause any problems. Quite the opposite, in fact: it is a useful, gentle addition to your medicine chest at home.
You may also like:
DIY Cracked Hands and Feet Salve
A Natural DIY Antibiotic Salve Recipe to Keep Around (Video)
7 Benefits and Uses of Witch Hazel
Natural DIY Neosporin Salve Recipe