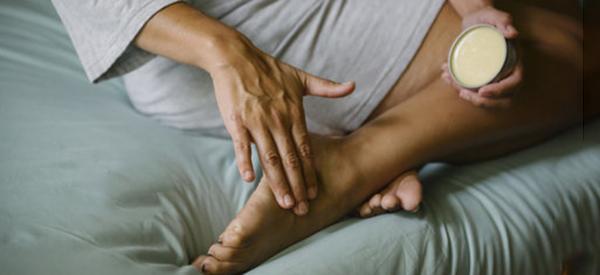 DIY Cracked Hands and Feet Salve
This DIY salve combines common, medicinal herbs and ingredients with beeswax. It's fantastic on dry, cracked hands and feet, and many of the ingredients can be substituted for similar ones that you have readily available at home.
Vitamin K, zinc, and magnesium are often prescribed to people with chronic cracked skin, while vitamin C helps to increase the elasticity of your skin. Therefore, a homemade salve should contain a few herbs that are high in these minerals.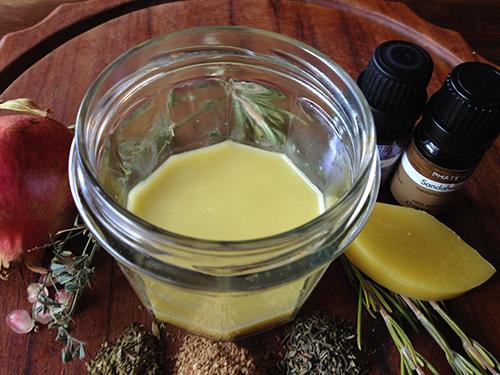 Biotin and other B vitamins are essential for growing healthy nails and can be found in some carrier oils.
Adding some ingredients that are also high in anti-oxidants and have anti-bacterial or antiseptic qualities results in a salve that protects the elasticity of your skin as well as repairing, hydrating, and cleansing it.
Common Herbs that Treat Cracked Skin
Below is a list of common herbs and plants that I have chosen for this salve to treat cracked hands and feet. They either contain a specific mineral, produce a type of antiseptic ability or condition, and nourish your skin, and most of them are easy to grow yourself.
Oregano has all the compounds you need for a brilliant salve thanks to its numerous medicinal and cleansing characteristics; anti-oxidant, anti-inflammatory, anti-bacterial, anti-fungal, and anti-microbial. It also contains vitamin K and magnesium.
Coriander contains a very high amount of vitamin C compared to other culinary herbs, as well as a decent amount of magnesium.
Thyme has a reasonably high level of vitamin C, and it is also easy to grow in most climates. It's also high in antioxidants and contains some zinc.
Rosemary protects the elasticity of your skin due to the antioxidants present, and it's also anti-microbial.
Lavender is also an anti-inflammatory and conditions the skin, but it is also a known allergen, so be sure to test your reaction on a small area before using it.
Pomegranate Seed is another great ingredient for repairing and moisturizing your skin and is full of antioxidants and vitamin C. It improves the texture of your skin, reduces scarring, and can treat sunspots.
Some other herbs and plants that are good for treating cracked hands and feet include;
Sandalwood:

Anti-inflammatory, anti-bacterial and helps retains moisture

Stinging nettle:

Incredibly high in vitamin C and contains magnesium

Geranium: 

Anti-septic and increases cell production, including collagen

Plantain:

Anti-inflammatory, anti-bacterial and increases circulation

Calendula: 

Anti-oxidant and promotes collagen production

Yarrow: 

Strong healing properties and reduces scarring

Alfalfa: 

Anti-oxidant and high in magnesium
All the herbs listed above can be added or substituted with those in the herbal infused oil below or added as a couple of drops of essential oils at the end of the process.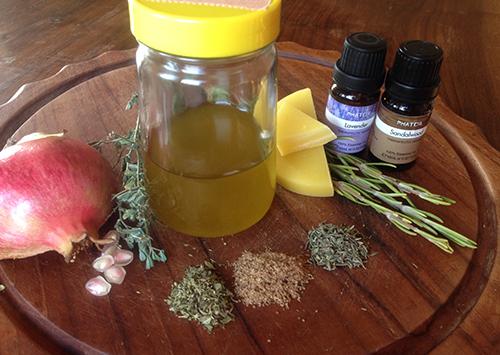 Carrier Oils to be Used:
Sesame Seed Oil is one of the best carrier oils for making an infused herbal oil for cracked skin because it's high in zinc and vitamin E, and also contains some magnesium.
Almond Oil is another good option since it is very high in magnesium and has a reasonable amount of biotin.
Sunflower Oil contains biotin and other B vitamins that promote healthy nails.
Extra Virgin Olive Oil is my go-to carrier oil since I always have some in the cupboard and it supports my local olive producers. It is an anti-inflammatory as well as a good anti-oxidant.
Of course, most plant-based oil can be used, but avoid 'drying' oils such as linseed and poppy seed oil.
Step 1: How to Make an Herbal Infused Oil
To make an infused oil from fresh produce such as pomegranates and herbs, the first step is to dry out all the ingredients so that there is no moisture present anymore. Moisture in a salve will cause it to split from the oil, and it will rapidly grow mold once you have stored it.
Remove the tiny fruits from the pomegranate pod, and squeeze the juice away with a sturdy tea strainer. Spread the seeds out on a piece of mesh or paper towel to dry for 2 days.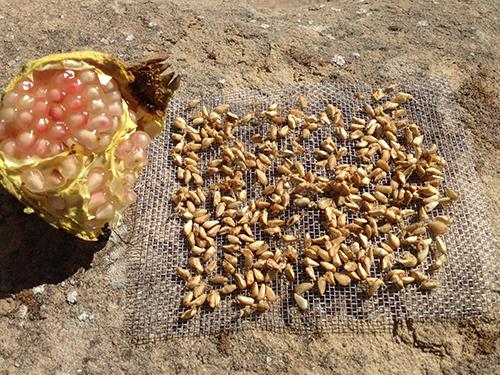 Once dry, put the seeds in a glass jar with some dried rosemary, oregano, thyme, coriander, and alfalfa and fill the jar with your choice of carrier oil (I use olive oil).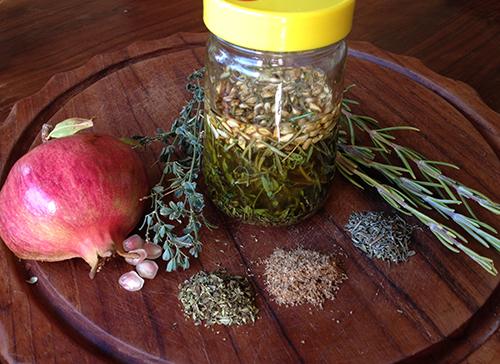 You can either place the jar in the sun for 4 weeks or place the jar in a pot of hot water for at least 3 hours (occasionally re-heating the pot of water again and shaking the jar). Do not fry or overheat the oil, as this will cause all the medicinal components to break down.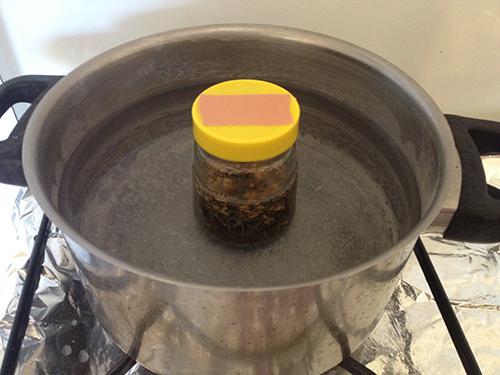 Strain your herbal infused oil and label it (including the date it was made).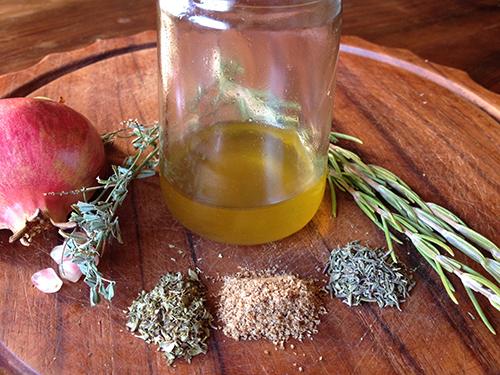 Step 2: How to Make the Cracked Hands and Feet Salve
A general guide for making a salve is to use 1-part beeswax to 5-parts herbal oil (i.e. for every 10 grams of beeswax, you need to add approximately 50 grams of herbal oil).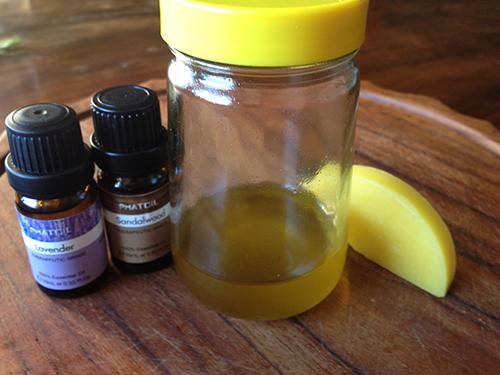 Boil some water in a pot and sterilize all of your tools and jars. Ensure everything is completely dry before use.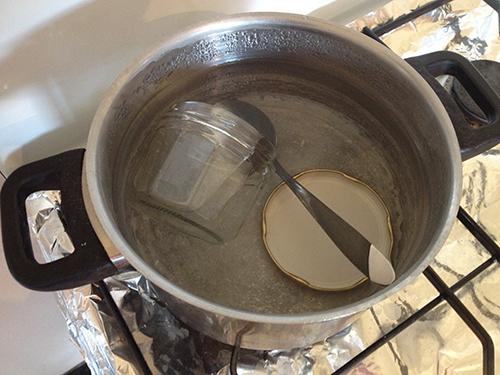 Place a teaspoon in the fridge (you will need this later).

Stand a small glass jar in the pot of hot water, and weigh it down with another spoon.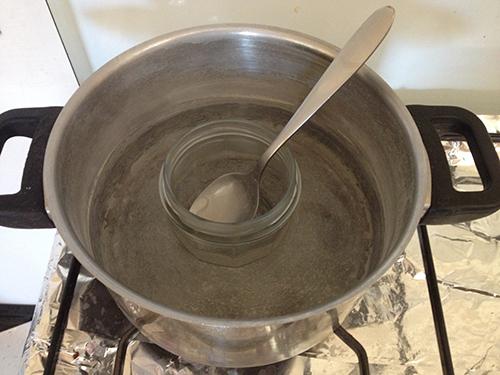 Add 4 tablespoons of your herbal infused oil from STEP 1 to the jar sitting in the pot.

Add about 8 – 10 grams of beeswax and stir until it has melted.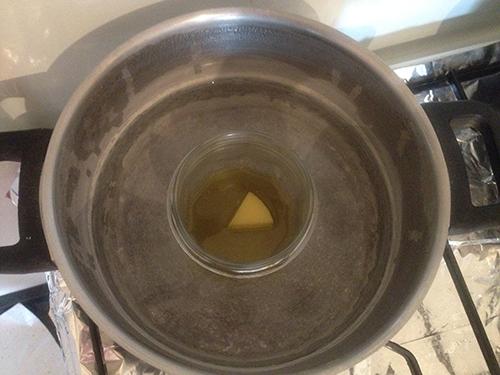 Use the cold spoon in the fridge to test the consistency of your salve. If it is too hard, add some more herbal oil. If it's too soft, add a few more slithers of beeswax. You want it to be easy to rub into the skin.

Add 2-3 drops of lavender and sandalwood essential oil and stir.

Remove the jar from the hot water and wait for it to cool and solidify (or quickly pour into containers).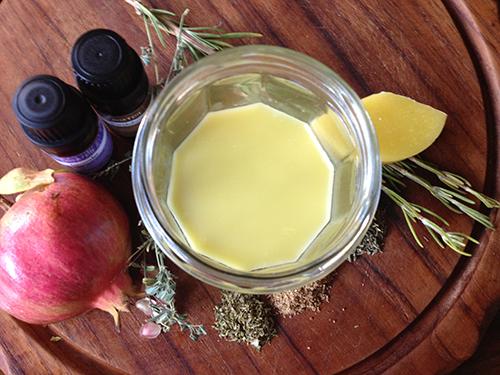 Apply the salve to your cracked hands and feet, especially after showering or washing your hands.
You may also like: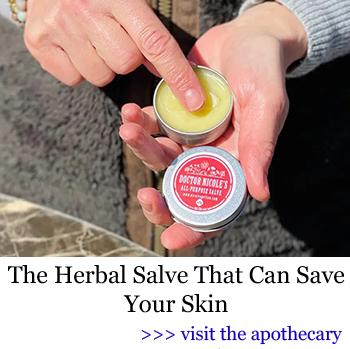 How to Make a Healing Salve with Cabbage and Aloe Vera
The 10 Medicinal Seeds You Should Plant for a Complete Backyard Pharmacy (Video)
How to Treat Fungal Infections with Oregano