DIY Elderflower And Rosehip Salve
This salve is very special to me because it can work wonders on the winter-fatigued soul and skin. 
For this salve, we will be making elderflower and rosehip-infused oil. Delving into the wonderfully Spring-like scents of rose and elderflower has soothed my cabin-fever, cracked skin, and put a shine on my senses for the upcoming season. Don't get me wrong. I love winter. It's just well, enough already.
Ingredients And Their Benefits
In this recipe, I'm using up the last of last season's dried elderflowers. They are available from health food stores and herb suppliers if I need more and just can't wait for the fresh blooms. For many places, elderflower (Sambucus nigra) blooms appear in May but in my northern area, it is closer to June.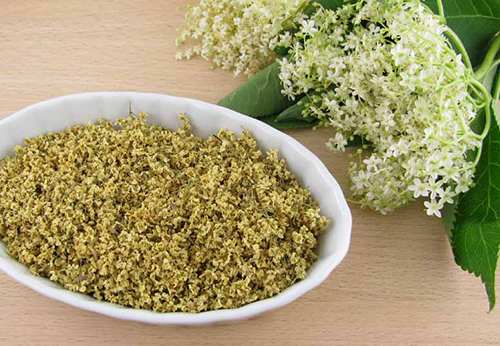 It is best to harvest once the flowers have fully opened but have not started to turn brown. They smell delicious when opened and can be made into teas or even battered and fried. It is best to keep the umbrella-shaped flowerheads upright to not spill the precious pollen. If little insects have found the flowers, just set the umbels aside for a bit and the bugs should move off on their own.
Elderflowers have excellent antioxidant and skin softening properties.
Rosehips and seeds are renowned for their high vitamin C content and curative abilities for dry, cracked skin.
The combination of the two is a powerhouse remedy for dry skin and helps to deter wrinkles and other signs of aging.
How To Harvest Rosehips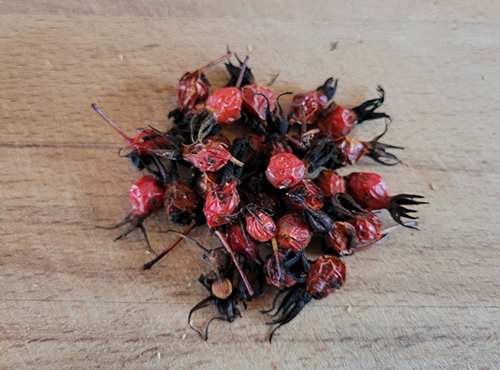 Who would think about harvesting rosehips on a day like today? My rosehip stash is depleted, and my local health food store is also out. There are 5 varieties of wild roses close to my home but most of the rosehips have been eaten by birds by this time of year. Even my ornamental roses in the garden have been scavenged.
Close to our dog yard, there is a colony of Nootka roses. My last chance to use rosehips in this recipe. I was in luck as the hips have been under the snow, relatively preserved until now.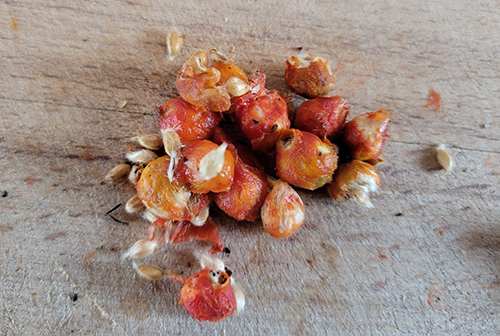 Admittedly, these are not very pretty. They do smell quite delicious, surprisingly!
Once squeezed out of their winter-hardened skins, the pulp and seeds are in a nice, usable condition.
This recipe takes place in two stages. The first is infusing oil. The second is using the infused oil to make the salve.
Elderflower and Rosehip Infused Oil
1 tablespoon dried elderflowers

1 tablespoon rosehips

1 teaspoon dried lavender flowers

2 to 3 ounces of high-quality oil

Sterile container.
Step 1
In an herb grinder or small food processor, blend the plant ingredients together.
Step 2
Grinding the plant material allows more surface area for the oil to be infused by the healing properties and wonderful aromas of these plants.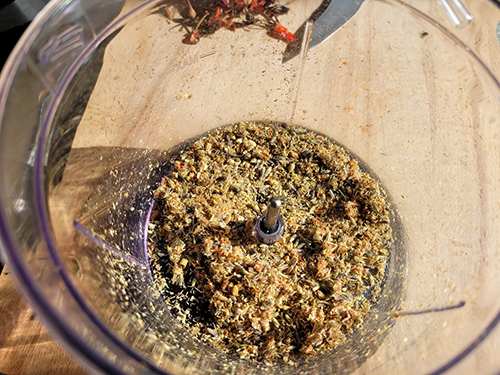 Step 3
Put the ground plant material into a clean, sterile, preferably glass container.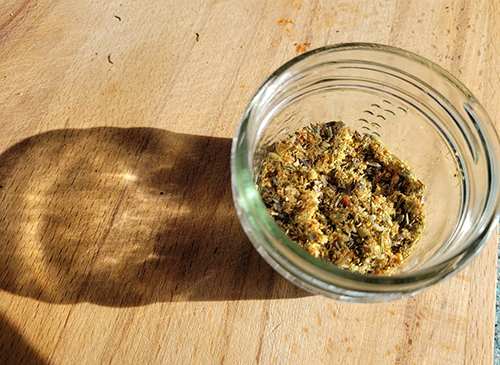 Step 4
For this special salve, I'm using an organic, cold-pressed sunflower oil because it is clear and light. Any oil such as olive, almond, avocado, or grapeseed would also be excellent choices.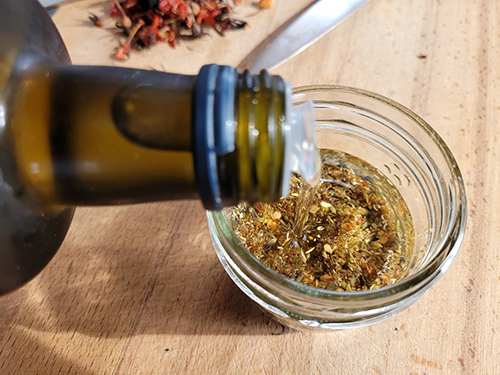 Step 5
Three ways to infuse the oil.
Using a double boiler or slow cooker, place the jar in 1 to 2 inches of water and bring to a simmer for 3 to 4 hours. The jar could also be placed in an oven at a very low temperature. The oil, heated to less than 100° F will absorb the plant's beneficial and skin softening properties.

Put the jar in a sunny window or a warm location for two to three days. This is what I did to make this infused oil.

Put the jar in a dark, cool place to allow the ingredients to meld together for 1 to 4 weeks. This is often considered the best method because there is little risk of damaging essential beneficial properties with high temperatures.
Step 6
Once the infused oil is ready, gather the supplies for the next stage of salve making.
Elderflower and Rosehip Salve
1 part beeswax to 2 parts elderflower and rosehip infused oil.

Containers.
Step 1
Sieve plant material from oil. I use a fine-mesh strainer. This one came with a high-quality juicer. The mesh is very fine. It is possible to use cheesecloth or other filter material.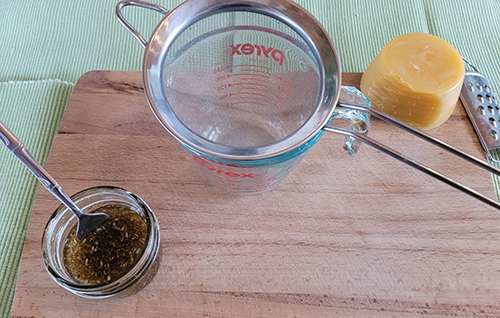 Step 2
Press the plant material to squeeze as much oil out as possible.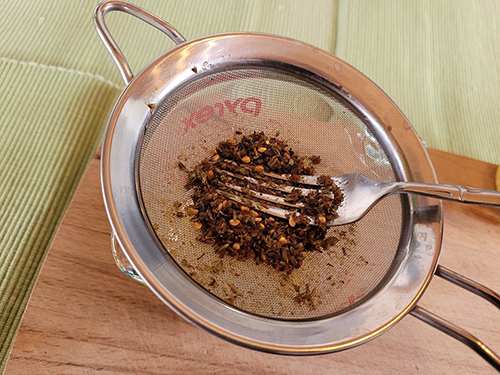 Step 3
There is some plant material that made it through the sieve. One option is to filter the oil again to remove the small particles. In this situation, I am choosing to allow gravity to do the work for me. The particles will sink to the bottom. When I pour the oil, if I'm careful, they will stay in the cup and not flow into the salve.
Step 4
Grate the beeswax. Sometimes you can find pre-grated beeswax which will save this step.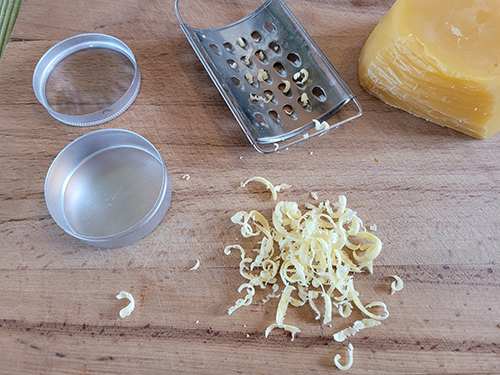 Step 5
Place the beeswax in the container and cover with twice as much infused oil.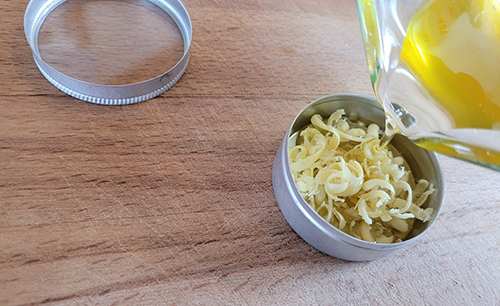 Step 6
Melt the ingredients together in a warm place such as in an oven or on a woodstove. For large batches, or if it is preferred, the ingredients can be melted together in a double boiler at low heat. Making the salve directly in the final container eliminates any waste and saves on cleanup.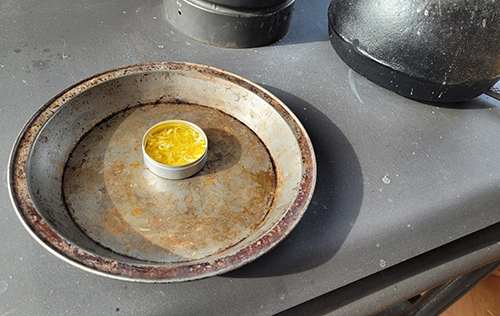 Step 7
In about 10 minutes, all the ingredients have melted together.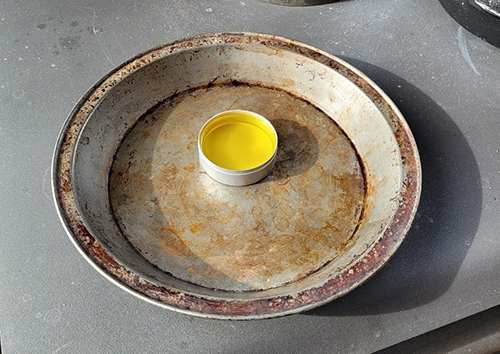 Step 8
Put the salve in a cool (cold to frozen!) place to harden. Make sure it isn't windy.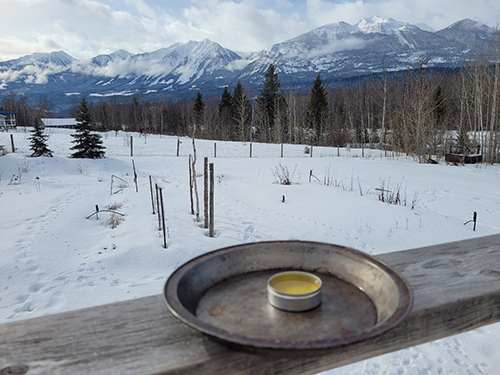 What To Do With The Remaining Infused Oil
Pour the remaining infused oil into small glass containers or vials. Using brown bottles to protect the oil from light would be recommended.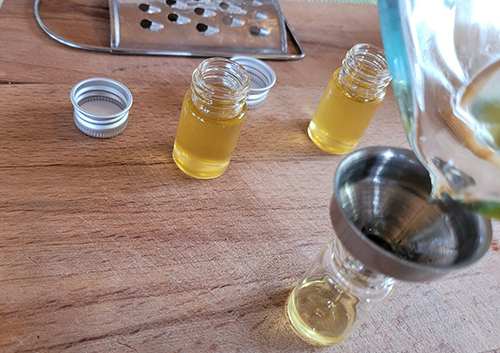 Here, I have used clear bottles to show how few particles are in the oil by just allowing them to sink to the bottom. This saves the work, waste, and mess of squeezing the plant material through the cloth.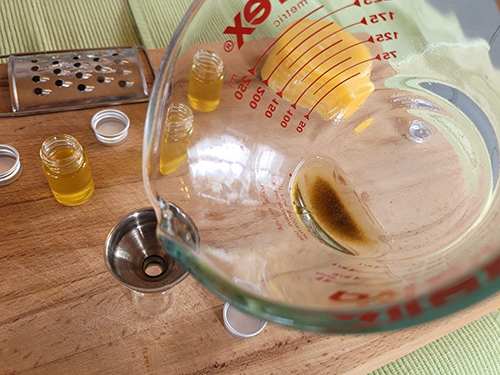 The fourth 5 ml jar does end up with some particulate, so I will use that jar first. I might use it in some bath salts or possibly even a salad dressing. This way, if it does feel gritty at all, it won't be placed on the skin.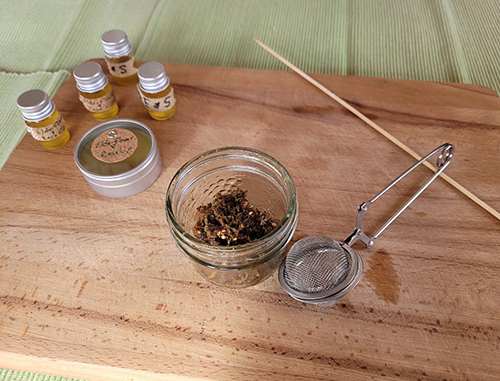 Easy Clean-Up
After labeling the products, it's time to clean up. If you have read any of my other articles, you know how much I strive to avoid waste. So, craving spring, I'm turning the leftovers into a luxurious bath extravaganza.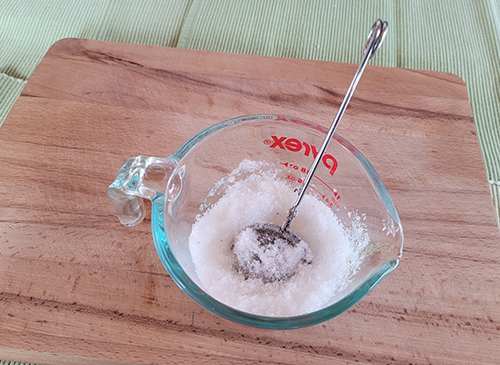 I'm stuffing the oil-soaked elderflowers, rosehips, and lavender into a tea ball that will be plunged into Epsom salt. This way the residual oils will be absorbed into the salt and won't scum up the tub.
The effects of the skin-softening elderflower, rosehip, and sunflower oil not only soften and moisturize dry, cracked, winter-fatigued skin, they also balm and soothe any desperate-for-spring soul.
You may also like: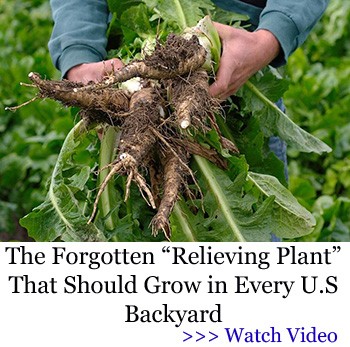 How to Make Immune Boosting Elderberry Syrup
Greek Ritual Reverses Diabetes. Do This Before Bed (Video)
Garden Homemade Salve for Wrinkles
How to Make a Chaparral Salve for Wounds And Skin Infections