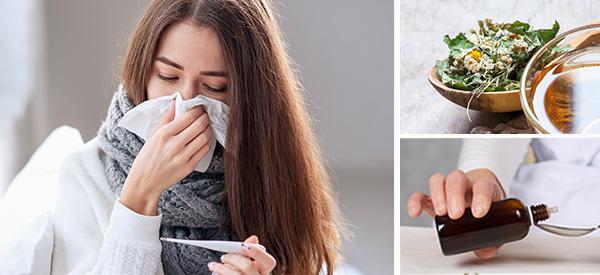 Soothing Elixir For Cold and Flu Season
You only have to search for "influenza herbs" in any respectable science journal to find a plethora of research on which herbs are effective against the flu. Some are only laboratory studies while others include human trials.
Research shows that the active compounds that work specifically against flu viruses are flavonoids (especially aurones), tannins, alkamides, phenols (usually in the form of glycosides), and even some essential oils.
Since this remedy is an elixir, I am using glycerin to sweeten it. Glycerin extracts tannins, acids, essential oils, alkamides, and some glycosides quite effectively, but it only marginally extracts mucilage.
Herbs to Prevent or Treat Flu
Below is a sample of plants that have been proven to help treat and prevent the flu.
Echinacea (Echinacea purpurea) flowers and leaves have alkamides and other compounds that can destroy virus membranes.
Rockrose (Cistus incanus). Lab studies showed the flu virus didn't form a resistance to rockrose extracts.
Bloody Crane's bill (Geranium sanguineum L.) significantly inhibited the flu virus and also made a good pre-treatment.
Mysore Thorn (Caesalpinia decapetala) leaves and flowers significantly reduce flu virus replication.
Licorice (Glycyrrhiza spp.) root regulates the immune response and is a strong anti-inflammatory and anti-viral due to the triterpenoid saponins and
Joint Fir (Ephedra spp.) contains small amounts of ephedrine, with the Asian species typically containing a higher concentration of up to 2%.
Agrimony (Agrimonia pilosa) was able to effectively inhibit H1N1 and H3N2 influenza subtypes A and B viruses in the lab.
Thyme (Thymus vulgaris) is a strong anti-spasmodic, anti-viral and anti-inflammatory.
Yarrow (Achillea millefolium) decreases fever by promoting sweating and is anti-spasmodic. It contains a small amount of salicylic acid and a wide variety of anti-inflammatory compounds including flavonoids. COOL BUT ALSO WARM?
Variegated Croton (Codiaeum variegatum), a lab study showed a sustained anti-flu activity.
Yellow snapdragon (Antirrhinum majus) flowers are one of the best sources of flavonoid aurone.
Yellow Cosmos (Cosmos spp.) flowers are also high in aurones, but only the yellow varieties.
Plantain or ribwort (Plantago lanceolata) leaves are astringent and anti-inflammatory due to a high variety of tannins and acids.
White willow (Salix alba) bark is an astringent so can help to dry up a runny nose. It contains similar amounts of salicin (a.k.a aspirin) and tannins, which inhibit the influenza A virus. COLD
Elder (Sambucus nigra) flowers and berries have antiviral and anti-inflammatory properties by decreasing the replication of influenza strains. They are high in vitamin C, some of which are extracted into the water and glycerin as long as freshly picked berries and flowers are used and kept chilled. The leaves are TOXIC. COOL (BARK WARM)
Linden or Lime Flower (Tilia spp.) leaves are a relaxant as well as anti-spasmodic. The medicinal compounds include phenolic acids and glycosides such as quercitrin and rutin. It can encourage sweating. WARM
And the list goes on…
But which ones should you use? I would recommend finding out which plants grow well in your area and planting yourself a little "influenza garden" to have on hand over the winter.
My Soothing Elixir For Cold and Flu Season
Ingredients:

1 teaspoon of chopped thyme
1 teaspoon of chopped licorice root
1 teaspoon of chopped echinacea flowers and leaves
1 teaspoon of chopped yarrow leaves
1 teaspoon of chopped white willow bark
1 teaspoon of chopped joint fir leaves
1 cup of water
3 cups of glycerin
Method:
For this remedy, I have tried a new method of extraction. First, put all of the herbs into a large jar or jug and pour a cup of boiling water over them. Cover and allow it to brew for 1 hour.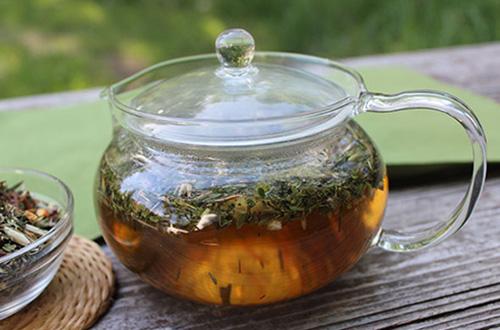 Next, add 3 cups of glycerin to the jar and stir.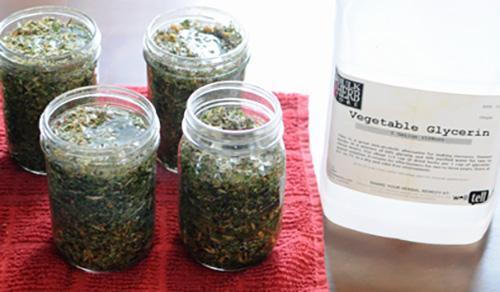 Now you have to give it enough time for the extraction. Heating the elixir to no more than 180 °F (82 °C) will speed up the process to around 24 hours, and thanks to the glycerin, fewer terpenoids, and essential oils will start to evaporate at this temperature. However, the most effective way is the slowest method. Allowing the extraction to take place in a sealed jar at room temperature will maintain the concentration of terpenoids and essential oils, but it will take at least 4 weeks to finish the process (or up to 6 weeks if you are using any heavier plant matter such as roots or nuts).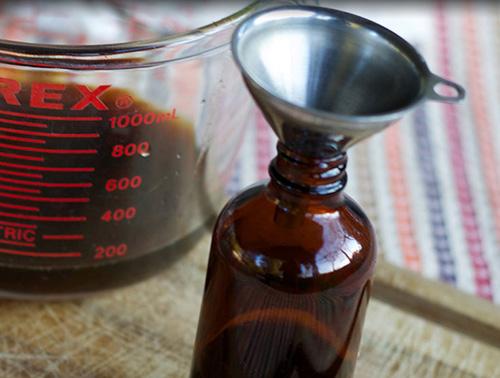 Whichever method you opt for, once it has finished, strain the extraction, label, and store either in the fridge or in a dark, cool location.
Dosage and Cautions:
As a preventative, take 1 teaspoon every two weeks during winter.
As a treatment for flu, take 1 teaspoon per day. Do not take for longer than 2 weeks due to the risk of liver damage by the high tannin content.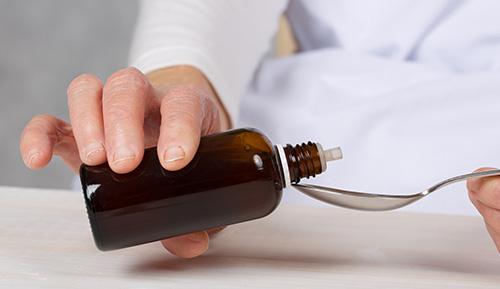 Do not use in combination with anti-coagulants or if you are allergic to aspirin.
Shelf-Life:
A pure glycerin extract can be stored for up to 2 years, but this elixir needs water (or even vinegar) to make it easier to swallow, which means the shelf-life is reduced to approximately 1 year.
You may also like: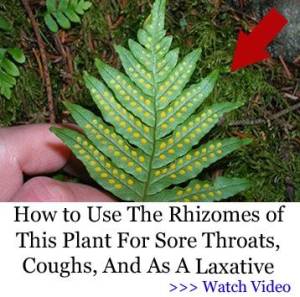 My #1 Go-To Herb for Avoiding Influenza, Colds, and Severe Respiratory Illness
A Simple "At-Home" Protocol for the Flu and Other Respiratory Issues (Video)
Herbal Mixture for Chronic Cough
Easy Hot Toddy Recipe For Cough and Cold