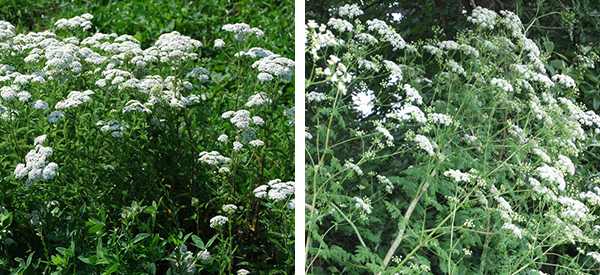 How to Tell the Difference Between Yarrow and the Poisonous Hemlock
When gathering herbs for edible or medicinal use, it is vitally important that you are able to positively identify your herbs. Yarrow is an extremely useful herb that can be gathered from the wild, but it looks a lot like poisonous hemlock. So, it pays to be careful in your identification and learn as much as possible about the two plants. Here is how to Tell the Difference Between Yarrow and the Poisonous Hemlock
Yarrow – Plant Characteristics
Common yarrow, Achillea millefolium, is a mat-forming perennial that is often considered an aggressive weed. It grows to be 12 to 40 inches tall and prefers sunny locations on sandy soil.
Yarrow spreads by rhizomes below the soil surface and has deeply-dissected leaves, fern-like in appearance and aromatic. The leaves are alternate, between 2.7 to 4.7 inches long, with a central rib and many leaflets, further divided into smaller leaflets on each side, giving them lacy, fern-like appearance.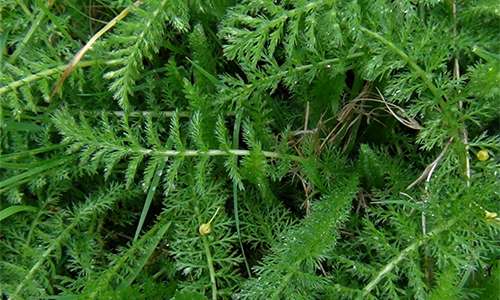 The white flowers are tiny, and densely packed into flat compound inflorescence clusters. Some varieties have pink, red, cream, yellow, or multicolor pastels. Flower heads have 20 to 25 ray flowers that bloom from spring to fall. The flowers have a scent similar to chrysanthemums.
Yarrow – Edible and Medicinal Use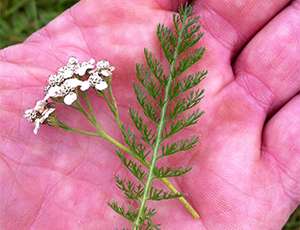 Yarrow leaves are eaten raw or cooked in small quantities. They are somewhat bitter, with bitterness increasing as the leaves mature.
The leaves are also used as a flavoring and preservative for beer, and as a tea.
Yarrow is most famous for its use to stop bleeding, but it is also useful for treating bruises, sprains, menstrual problems, colds, fevers, measles, headaches, and sinus congestion.
Related: Best Natural First Aid: Stops Bleeding In 10 Seconds!
Poison Hemlock – Plant Characteristics
Poisonous hemlock, Conium maculatum, is similar in appearance to several beneficial plants so it is important to know the physical characteristics and be able to identify it. It is sometimes mis-identified as yarrow, Queen Anne's lace, wild fennel, or elderflower.
Poison hemlock is a highly poisonous member of the carrot family. It is a biennial that can be found in moist areas, such as ditches.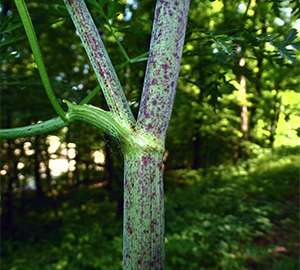 It grows from 5 to 10 feet tall and it has a smooth, hollow stem. The stem is green and often spotted or streaked with red or purple on the lower part.
These purple splotches are a major difference between the plants and indicate poison hemlock.
The plant is hairless, finely divided and lacy with a triangular shape.
Hemlock flowers are small and white, gathered in loose clusters. They are similar in appearance to yarrow flowers. The tiny flowers bloom in late spring and have five petals each.
The hemlock fruits are small, green, and have wavy ribs and highly poisonous seeds.
How to Tell the Difference Between Yarrow and the Poisonous Hemlock
The most obvious difference between yarrow and poison hemlock is the stem. Yarrow has a green, slightly fuzzy stem, while hemlock's stem is smooth, completely hairless, and often has purple spots or splotches near the base.
Another remarkable difference between hemlock and yarrow is the foliage. Hemlock is often taller than yarrow and has flat, parsley-like leaves; while yarrow's foliage is frilly and feather-like.
Yarrow leaves are thin, delicate, with feathery lobes. Hemlock leaves are broad in the center, flat, with spiky lobes projecting on either side. Notice the leaves of poison hemlock in the picture below:
The Poisonous Effects of Poison Hemlock
It is worth noting that poison hemlock is very poisonous and dangerous to handle. Never harvest the plant to check out later. While the roots are the most poisonous part, all parts of the plant contain the toxins. The toxins can remain active for years, even after the plant has been pulled from the ground.
Even handling the poison hemlock while trying to identify it or remove it from the property can cause toxins to be absorbed through the skin and cause harm. The poison can enter the body through the eyes, nose, mouth, or skin. Death happens within one to three hours after ingesting hemlock. Usually death results from respiratory failure or paralysis.
Yarrow is a very beneficial plant and an asset in your medicinal arsenal. However, you must be absolutely sure that you have the right plant. If you are not sure of your identification, grow your own yarrow from seeds or a plant obtained from a nursery. You'll be able to be sure the plant in your garden is the beneficial yarrow.
You may also like: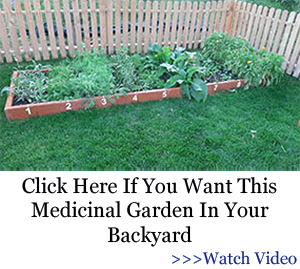 The Only Plant That Should Be in Your First Aid Kit
10 Things Cowboys Carried with Them in the Wild West to Survive (Video)
How To Make Moringa Powder and Improve Your Liver (DIY – With Pictures)