The gut always seems to be at the root of all problems, aggravating one set of symptoms before moving on to another. Likely you've heard about how important gut health is and how it connects to so many other areas of the body. So, first, a quick kudos to us for identifying this crucial detail. Now… if only we can figure out how to keep our overworked and overstressed digestive system in check—we'll have it made.
But a few flavorful and gut-friendly herbs can help with your digestive health across the board, and they work exceptionally well when paired with other herbs of their caliber.  And one of the best ways to deliver these potent herbs into your body is by making a gut-healing tea.
Herbs often work in multiple ways on specific body systems like digestion, for example, because symptoms often have a shared root cause.
Reasons for Gut Health Issues
Of course, your digestive wellness habits will depend on your specific body and symptoms. However, many mild herbs can help relieve gut-related symptoms, especially when used synchronically.
One of the things that cause digestive upset that you may have heard about is Leaky Gut Syndrome. A leaky gut means the intestinal lining has become damaged, allowing toxins to enter the bloodstream.
Sometimes underlined diseases are responsible, like IBS (Irritable Bowel Syndrome) and even Irritable Bowel Disease (IBD). Both IBS and IBD diagnoses are growing at an alarming rate and can even exist simultaneously.
Other common reasons people experience digestive problems include:
Age
Poor diet choices
SIBO
Food allergies
Inflammation
Gut dysbiosis
Intestinal parasites
Too many antibiotics
Metabolic issues
Hormone imbalance
Stress
Prescription drugs
When let go, gut imbalances can have damaging, even long-term consequences. It's important to address digestive problems fully if you want any real resolution. However, it is preferable to manage symptoms whenever possible, which is exactly what many of these gut-healing herbs can do. Each plays a supportive role to varying degrees; some may even assist in correcting some core issues.
⇒ Ready to heal and fertilize your gut for optimal health? Visit the Apothecary today and learn more about the Balanced Leaky Gut Tincture.
Again, though, herbal helpers are only a piece of the puzzle. Take a quick look at these useful gut-supporting herbs.
Slippery Elm
Slippery elm (Ulmus rubra) becomes gelatinous when mixed with water, coating the digestive tract from the mouth to the colon. Slippery elm is excellent for sore throats, coughs, gastroesophageal reflux, IBS and IBD symptoms, diverticulitis, and diarrhea. It can also help alleviate constipation and gives the tea a silky texture.
Marshmallow Root
Marshmallow (Althaea officinalis) is another mucus-stimulating herb that becomes gelatinous when wet. This herb can help repair the gut lining and discourage leaky gut syndrome. In addition, it can lower inflammation, soothing the entire digestive tract. Marshmallow root also fights bacteria and can be great for mouth sores, ulcers, sore throat, and cough. It helps the body make fluids like mucus and urine which grab hold of toxins and eliminate them through various channels.
Peppermint
Peppermint (Mentha piperita) is anti-inflammatory and antispasmodic.  Peppermint is often used in tea to combat nausea, vomiting, and dizziness. This common leaf has strong anti-reflux properties and is nurturing to the liver and bile duct, which stimulate digestion. Peppermint helps move trapped gas through the digestive tract that could be causing bloating, flatulence, and even pain. In addition, it can be very soothing for the intestines… and the mind. So much so that you can use it in the evening to wind down and to help facilitate a restful night's sleep. Peppermint can also help balance hormones, which play a special role in digestion.
Chamomile
Even though it may not taste bitter, chamomile (Matricaria recutita) is technically a bitter herb that is known to stimulate bile production and assist with digestion. It's also great for prompting the walls of the intestines to move waste through and can be beneficial for people with slowed digestion. Lastly, chamomile is antibacterial and has been proven effective for colic, indigestion, muscle spasms, tension, inflammation, and infection.
Licorice
Licorice (Glycyrrhiza glabra) is an adaptogenic herb that helps the body adjust to different stressors. Licorice has anti-inflammatory, anti-viral, and antispasmodic properties that can help alleviate muscle cramps and pain. Furthermore, this sweet-tasting herb is helpful for heartburn and indigestion and can help regulate metabolic hormones that fight adrenal exhaustion.
Cinnamon Bark
Research suggests cinnamon can help feed good gut bacteria while eliminating harmful bacteria. It's also antiparasitic, and antioxidant and can help reduce inflammation and support cellular metabolism. In addition, cinnamon can help maintain the integrity of the stomach walls and also helps reduce gas, bloating, and abdominal discomfort.
Ginger
Ginger (Zingiber officinale) may be best known for its anti-nausea properties, but it's also a potent anti-inflammatory, antioxidant, and anti-bacterial root. It helps activate digestive enzymes and protects against toxins and pathogens. Ginger can also help relieve gas and bloating, and as a warming spice, ginger helps with circulation and digestive flow too.
Gut-Healing Tea
You will need:
A tea ball
A tea (coffee) cup
8 ounces of scalding hot water
½ teaspoon of dried peppermint leaves
½ teaspoon of chamomile flowers
¼ teaspoon of marshmallow root
1 pinch of slippery elm bark
¼ teaspoon of licorice root
¼ teaspoon of cinnamon bark (or 1/8 teaspoon ground cinnamon)
¼ teaspoon of ginger
Sweetener to taste (honey, stevia, monk fruit; optional)
⇒ Add This "Unusual Nutrient" to Coffee or Tea, to Effortlessly and Fully Empty Your Bowels Every Single Morning (Video)
 Instructions
Gather your dried herbs, tea ball, and teacup.
Measure each herb directly into the tea ball one by one.
Place the tea ball in the cup and cover it with hot water.
Let it steep for at least seven minutes before adding any sweeteners.
Enjoy!
The true path to restoring the gut lies somewhere in the middle of all the hype and within a combination of things such as gut-healing foods, supplements, and gut-supporting herbs. You can choose to add all kinds of things to your gut healing routine, like taking probiotics and digestive enzymes or eating anti-inflammatory foods.
You may also like: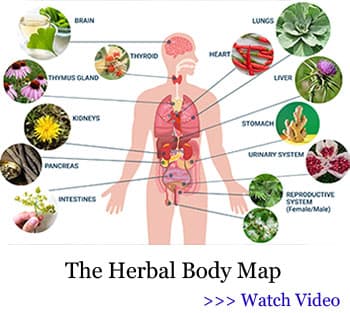 Homemade Healing Broth from Vegetable Scraps
Eat This to Fertilize Your Gut (Video)
Probiotic Elderflower Kefir Recipe